Our Conclusion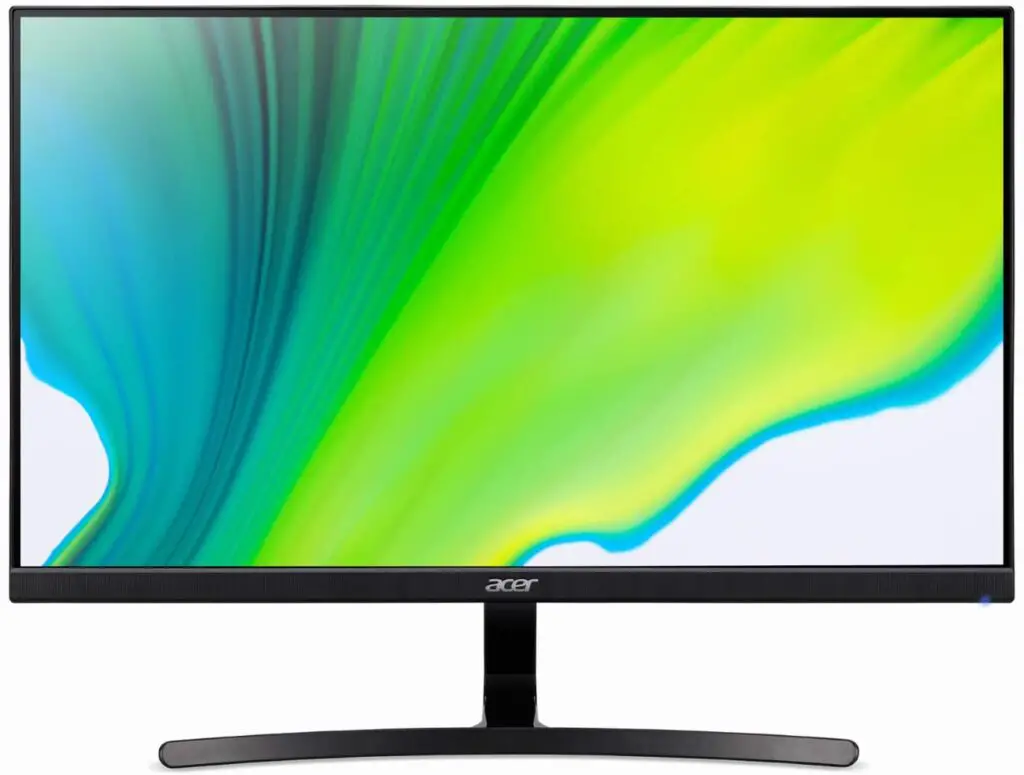 With all of the features of this monitor, we may conclude that the Acer K243Y is a good budget-friendly choice for professionals looking to save money, or for those in need of a good IPS secondary monitor. Keep in mind, however, that this display lacks several ports as well as an out speaker. If you're looking for a budget monitor with better image quality than this one, the LG 24QP500-B is a good alternative.
Pros
✓ IPS panel
✓ 1ms
✓ AMD FreeSync support
✓ Affordable professional display
Cons
✘ Lacks Display port and speakers
✘ Limited stand adjustments
So far this year, it seems that Acer has not prioritized the release of affordable professional monitors. Despite this, they chose to announce the Acer Nitro KG252Q, one of Acer's best balanced professional launches for 2021.
However, we find this 2020 monitor with the same prices and likely the same features as the above monitor. So, without further ado, let's look at the features and prices of the Acer K243Y as well as its pros and cons in order to see if it's a decent deal or not. Follow bellow.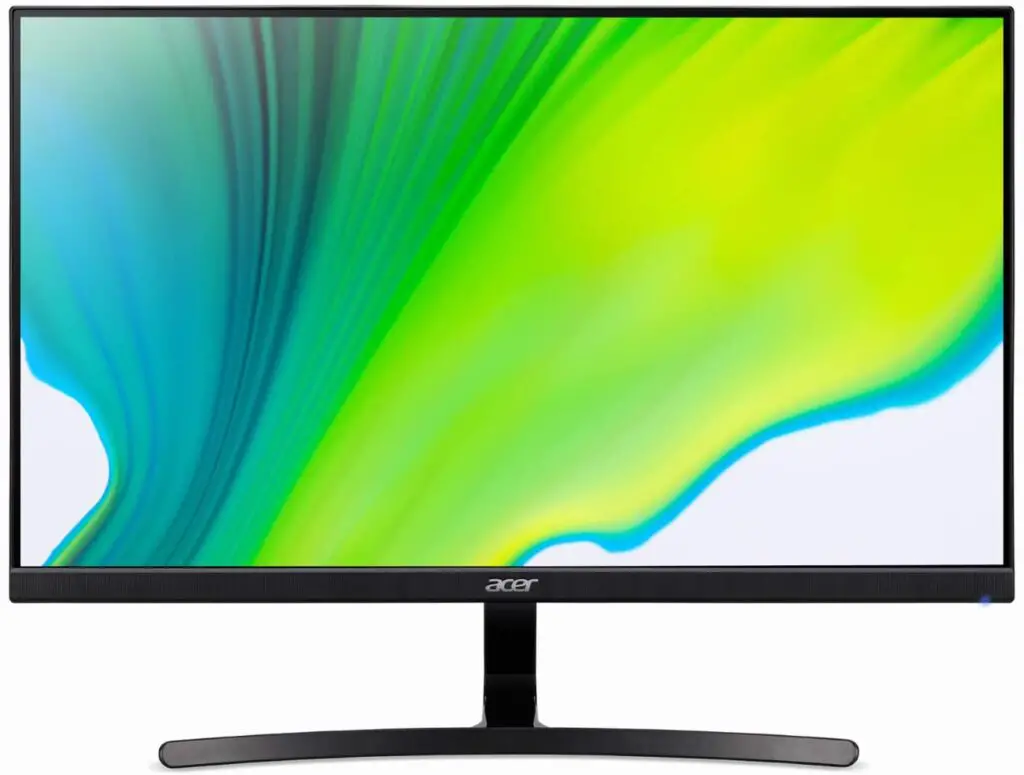 Design
When it comes to an inexpensive display, it's understandable that they won't exceed design standards. Nonetheless, they have included a nice-looking back for this monitor, which is similar to the already mentioned Acer Nitro KG252Q.
This monitor has simple-solid overall aesthetics that is entirely finished in black, with a polished plastic stand and stand support. The stand has this classic usual half-circular aesthetics, allowing you to tilt forward and backward (-5°~15°) only.
The Acer K243Y has the mainstream currently borderless bezels design, and this monitor aesthetics is not thin as it could be; Even so, it is not quite thick as well, measuring 8.2 x 21.3 x 16 inches and 7.04 lbs.  
Furthermore, looking at the back, we can see a triangular area with some small ventilation spaces that appear to be speakers but aren't. 
Besides that, you can notice that all the buttons of this monitor were placed bottom right on the back of this display, which is a really uncommon thing to see. You'll also note VESA support, which helps you to mount this monitor on the wall with ease.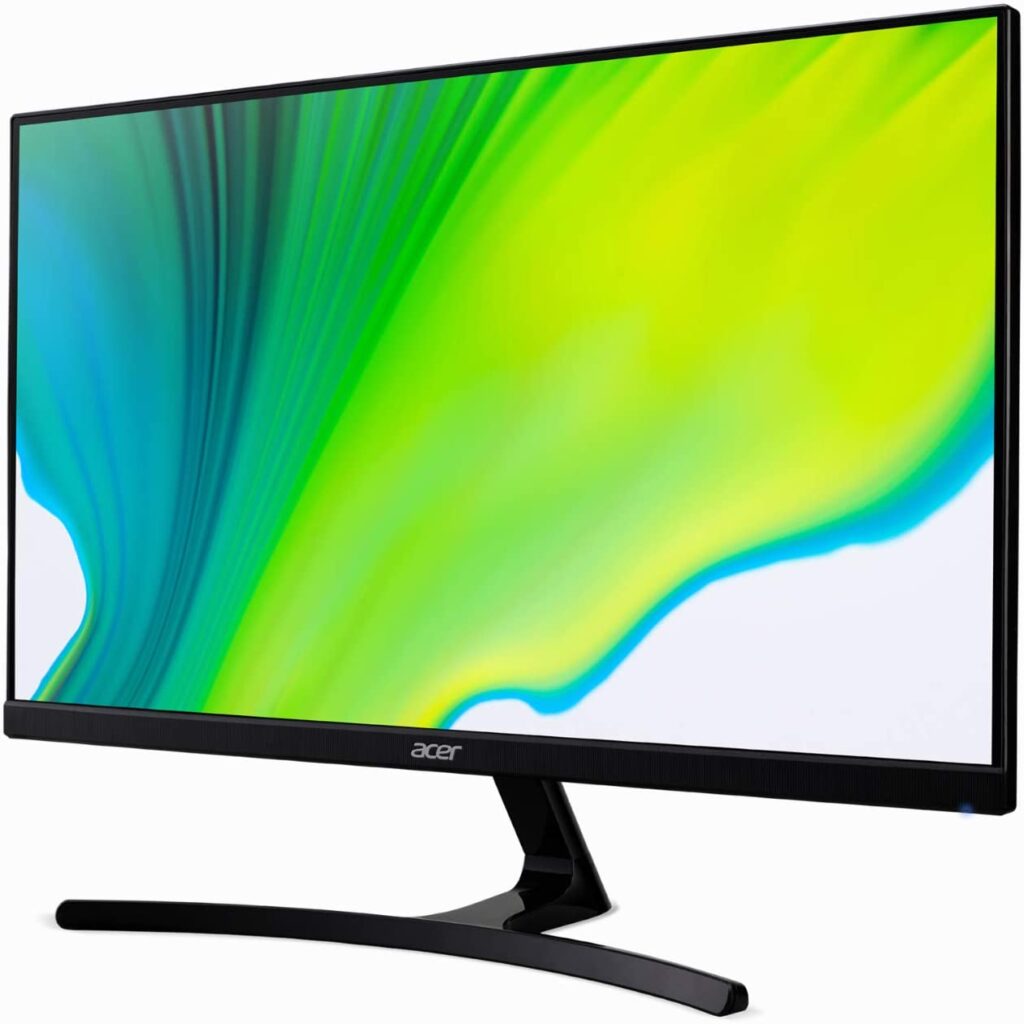 Connectors
As for connectors, this monitor features only an HDMI input and a VGA input, lacking some other good ports like audio out or even a display port. Speaking of which, this monitor supports the AMD FreeSync technology.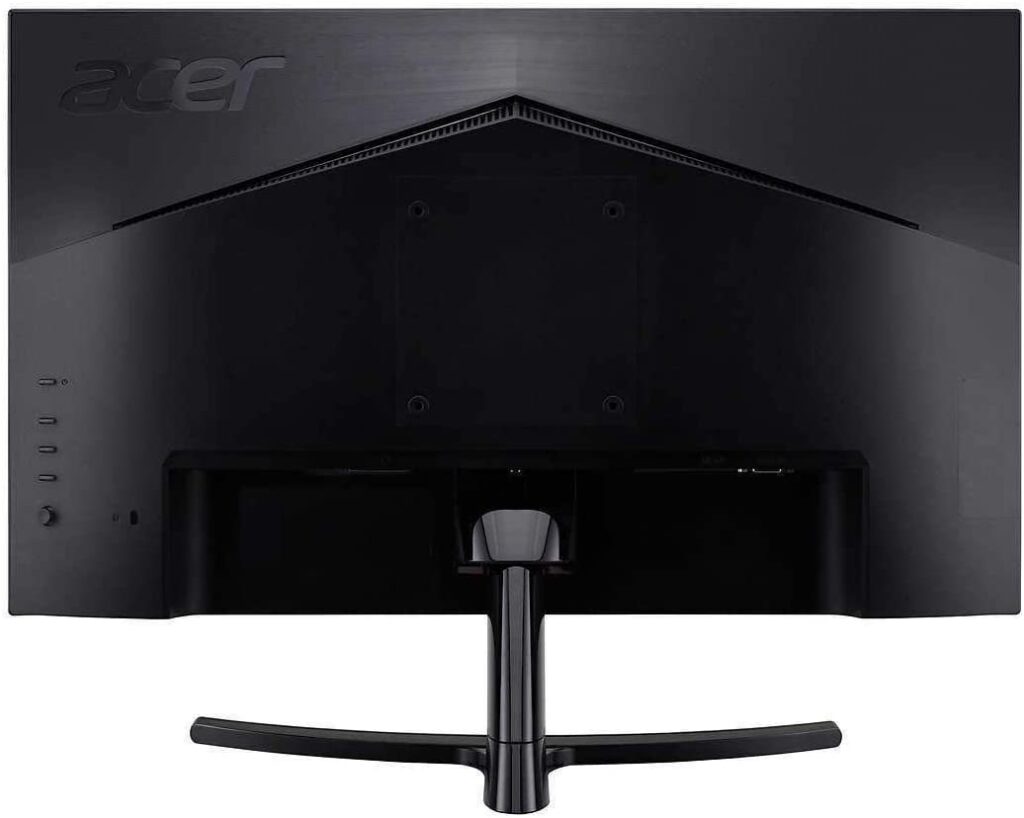 Features
Panel type
The panel type is one of the most common features used to identify the monitor's target buyers. While competitive gamers prefer the TN panel due to its high response time ratios, professionals prefer the IPS panel.
As a result, Acer designed this monitor with an IPS screen, which improves image quality and color accuracy, making it the best choice for those who need the most accurate colors possible.
However, one of the most significant disadvantages of the IPS panel is IPS glowing. The IPS glowing, also known as backlight bleeding, is present in every IPS panel display and refers to certain bleeding lights that are visible on the display's edges during a black displayed frame.
The amount of IPS glowing, on the other hand, varies depending on the monitor's panel type quality. Fortunately, Acer did a decent job on the Acer K243Y panel, greatly reducing IPS glowing.
The IPS panel also gives this display 16.7 million supported colors and 178° horizontal and vertical viewing angles. The contrast ratio on this display is 1,000:1, which is typical of IPS displays.
That said, you're going to find high contrast ratios on a monitor with the VA panel, such as the AOC Q32V3. Aside from that, this display has a total brightness of 250 cd/m2, which is standard for this price range, giving you an average bright that should suffice for nearly all buyers.
Refresh rate and Response time
Now, let's look at the gaming features. Starting with the refresh rate, we have a fairly balanced Acer decision. Even though 75hz isn't considered a competitive gaming frequency, it's still a well-balanced number that makes everyday tasks like scrolling through a website page or playing casual games go more smoothly.
Acer, on the other hand, chooses to add 1 ms of response time to this display, which does not change much in terms of professional use and just adds to the final price, making it an unnecessary feature for the majority of customers. This display would most likely be a better choice if it had 5ms but also had more ports or even a speaker.
Image Overall Quality
To summarize, the Acer K243Y is a 24-inch 1080p IPS display with average total brightness and outstanding image quality that is suitable for professional use or even as a secondary monitor.
However, for image quality enthusiasts, this resolution is not the best choice, as you won't get the same high PPI in this display as you would with a 1440p 24″ monitor, for example.
One of the biggest disadvantages of 1440p is the price difference between it and 1080p, which is currently a bit too much for the wallet. So, in the end, it's up to you to determine if it's worth it to spend the money on a 1440p monitor and get a future-proofed display or save money by opting for a 1080p screen instead.
It all depends on your usage and your settled budget. As for a 1440p affordable option, you can check out the Dell P2421D, which has one of the best image sharpness and quality on the current monitor market.
Final thoughts
When to buy it
If you need a low-budget IPS monitor, you won't go wrong with the Acer K243Y. Also, this is a good choice for those of you searching for a good IPS 75hz monitor at cheap prices.
When not to
However, this monitor lacks some ports and an out speaker. The 1080p resolution ends up being not too advisable for future-proof choices. Also, this is not a gaming competitive monitor, even featuring 1ms of response time.
As for recommendations, you can check out the LG Ultragear 24GL600F-B as a cheap gaming option and the LG 24QP500-B as a cheap image quality 2021 release.
You may like