As we can see in the LG 24mk430h, as well as in the LG 27QN600-B, the LG brand is known for always trying to create an accessible display for all. And on the LG UltraGear 24GL600F-B, it was not different either.
It looks like LG attempted to build an inexpensive version of a dedicated gaming display here on this one by eliminating those features that only boost the picture quality and overall design and sticking with the gaming characteristics. And we are going to tell you in today's LG Ultragear 24GL600f-B review, whether this monitor is worth it or not. Continue below.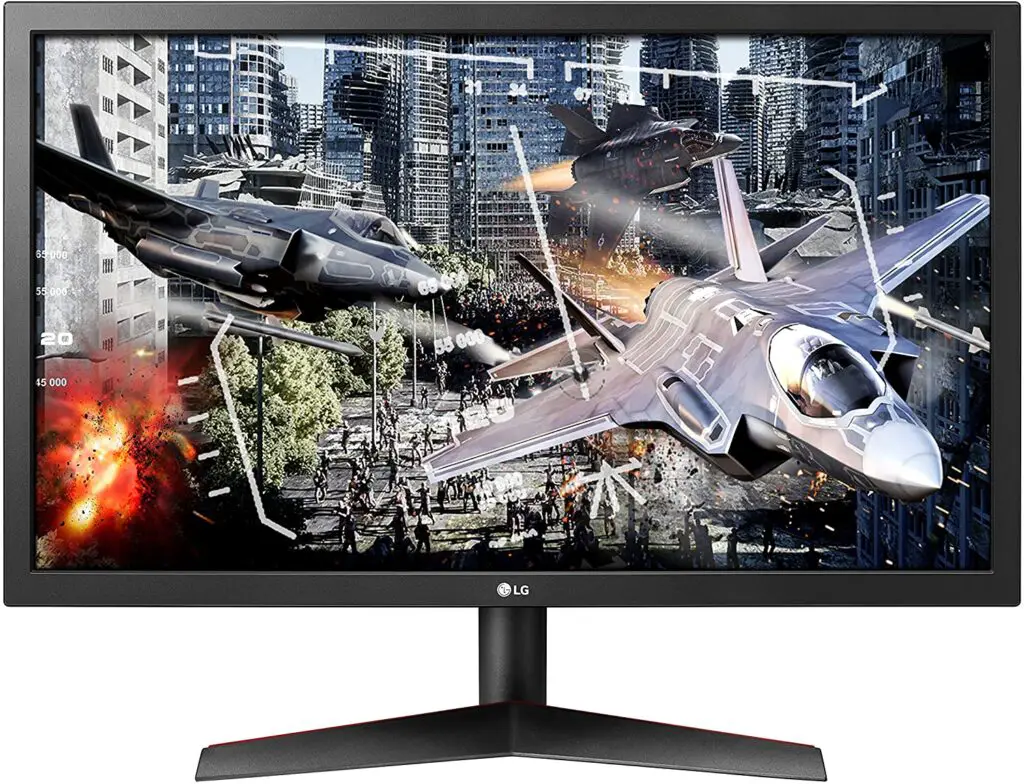 At first, when I took it out of the box, one monitor came to my mind, the LG 27GL83A-B, which is extremely close to the 24GL600F-B. There are, however, some distinct components that we'll check down below in the design.
Design
This monitor looks like the LG 27GL38A-B indeed, except the 24GL600F-B is smaller, being a 24-inch monitor. It seems like if the LG 27GL38A-B had a son, this child would be the 24GL600F-B. In addition, the stand of this one is pretty well built, and it definitely suits the gaming pattern.
Further, this monitor is also fully covered in black, with a red circle on the back. Which again looks almost identical to the 27GL3A-B, like you can see on the images below.
Also, note that this monitor has VESA support, meaning you can place it on the walls. However, you're probably won't want to use this because of the panel type of this display, which we're going to talk more about later in the features.
Overall, this monitor has a basic design, nothing innovative, without borderless bezels, and a pretty common and usual design pattern. However, in order to save the final cost of this monitor and concentrate on the display features, LG seems to have attempted to finish it as simply as possible.
Dimensions and inputs
Last, speaking about dimensions and connectors, this monitor has 556.8 x 333.8 x 61.1 mm without the stand. Weighing 3.7kg with the stand and 3.2 without it. Further, it features inputs to 2x HDMI, 1x DisplayPort, 1x Headphone Out.
Features
Panel type
Unfortunately, the 24GL600F-B features the "worse" panel type between the three regular ones (TN, VA, IPS). With a TN panel, this display won't have accurate colors like an IPS one and, the visual angle will be compromised.
In other words, if you place it on the walls, for example, and do not point it straight to you, the image may be a little distorted in black or white tones depending on your point of view.
However, this monitor is certainly designed for those who need a cheap gaming monitor option and does not care much about color precision or image quality.
Color gamut and color acuraccy
Also, you cannot expect much of the color precision of this monitor, since it features only NTSC 72% color gamut and 16.7M of color depth. With a reference point, an IPS display normally gets 1.00B of color depth, which is the same as the number of colors. Meaning that it is capable of reproducing different colors that the TN monitor usually wouldn't be able to display.
Image quality
As said, the TN panel does not help much concerning image quality, so you can't expect much here for an around 150 bucks monitor. However, the image quality does not disappoint too much. Even with the TN panel, we can delight in some good movies.
This is a 24″ 1080p monitor. Although the 1440p has become one of the most chosen monitor resolutions, the 1080p is still one of the most balanced between cheapness and quality choice.
Brightness
Besides, the brightness of the 24GL600F-B isn't the best on the market, but it is actually too nice for this price range. In this monitor, you will have 240cd of minimum brightness and 300cd of maximum.
Refresh rate
Now we're getting into the masterpieces of this monitor. Remember I said this is a gaming dedicated monitor? Well, here is one of the reasons why. With 144hz of refresh rate, the 24GL600F-B turns your gameplays and daily usage smooth as butter. Besides, this is the most chosen refresh rate for a competitive FPS gaming scenario.
In order to remove screen tearing, this monitor features Free-Sync technology, which you can activate in your graphics card control panel. However, this monitor does not come with a Display port in the box, so keep that in mind if you want to use it with DP cable, you're going to have to buy one by yourself.
Response time
Another gaming feature focused on competitive FPS scenario is the famous response time. This monitor features 1ms of response time, which is one of the fastest on all display market.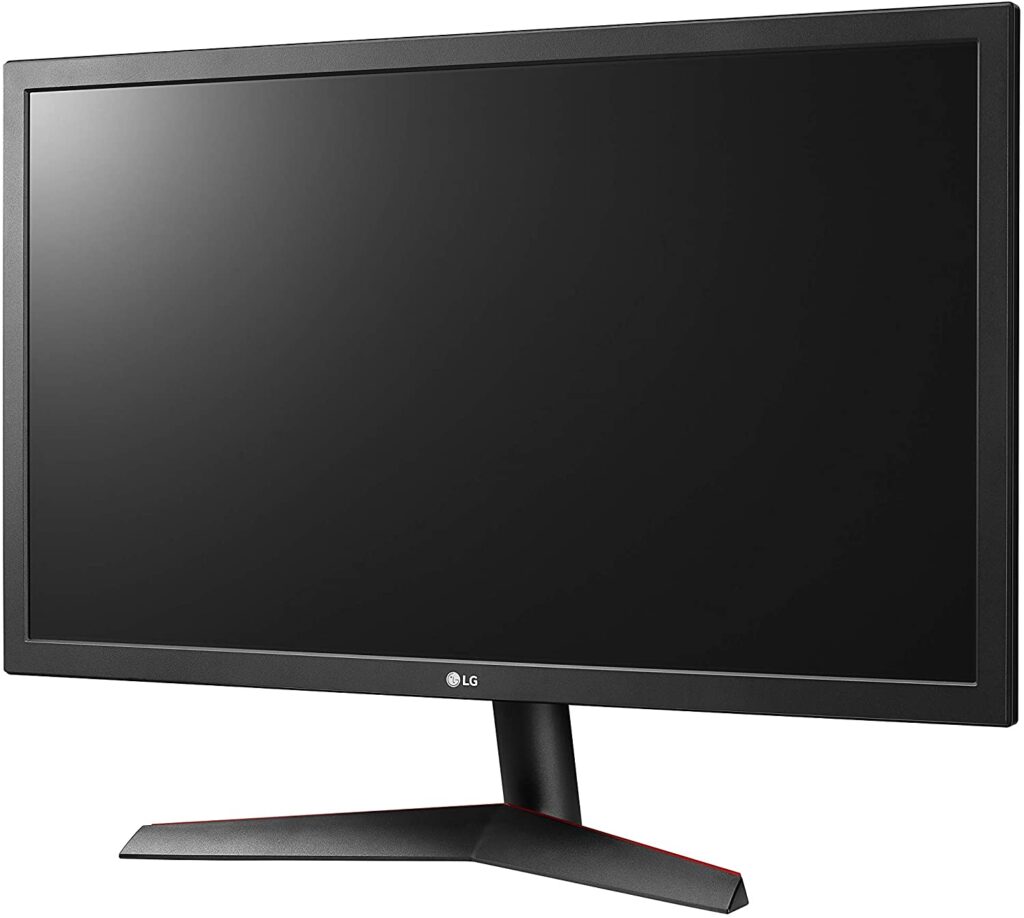 The response time determines how fast your command, such as moving the mouse from an edge to another or pressing one keyboard key, will appear on the screen. Meaning that the lesser the response time is, the faster you will get the image return.

LG Ultragear 24GL600f-B Review Conclusion
The LG UltraGear 24GL600F-B is a gaming affordable monitor option from LG. Unfortunately, this monitor has a dated design finish, without the usual borderless bezels design.
With 1ms of response time and 144hz of refresh rate, you can expect this monitor to do very well in the competitive gaming scenario.
However, if you do prefer the image quality of a monitor, rather than the said above features, then this monitor isn't the one for you.
And you should check out this one: LG 27QN600-B, another LG option but this time focusing on the image quality.
When to buy it
If you want to join the FPS competitive scenario and want an affordable monitor choice. Or if you really do not care about the quality of the image and want to play your games smoother with the 144hz and 1ms.
When not to
If you are a video or image editor, you definitively shouldn't buy this one. Also, if you don't have a graphics card with enough power to run your games in the 144FPS range. And last, if you want a modern designed monitor.
You may like