Nowadays, with its latest releases providing an extreme price-performance balance, the Gigabyte is really impressing everyone. We can see this clearly in the recently reviewed Gigabyte B550 AORUS Elite V2, an AORUS AM4 board, which is possibly one of the best cost-benefit boards with an AM4 socket.
And we will check out the release before the b550 board in today's review, from Gigabyte, first available to buy in May 2020: the Gigabyte H470 AORUS PRO AX, with a price comparable to the B550 but with better output and features.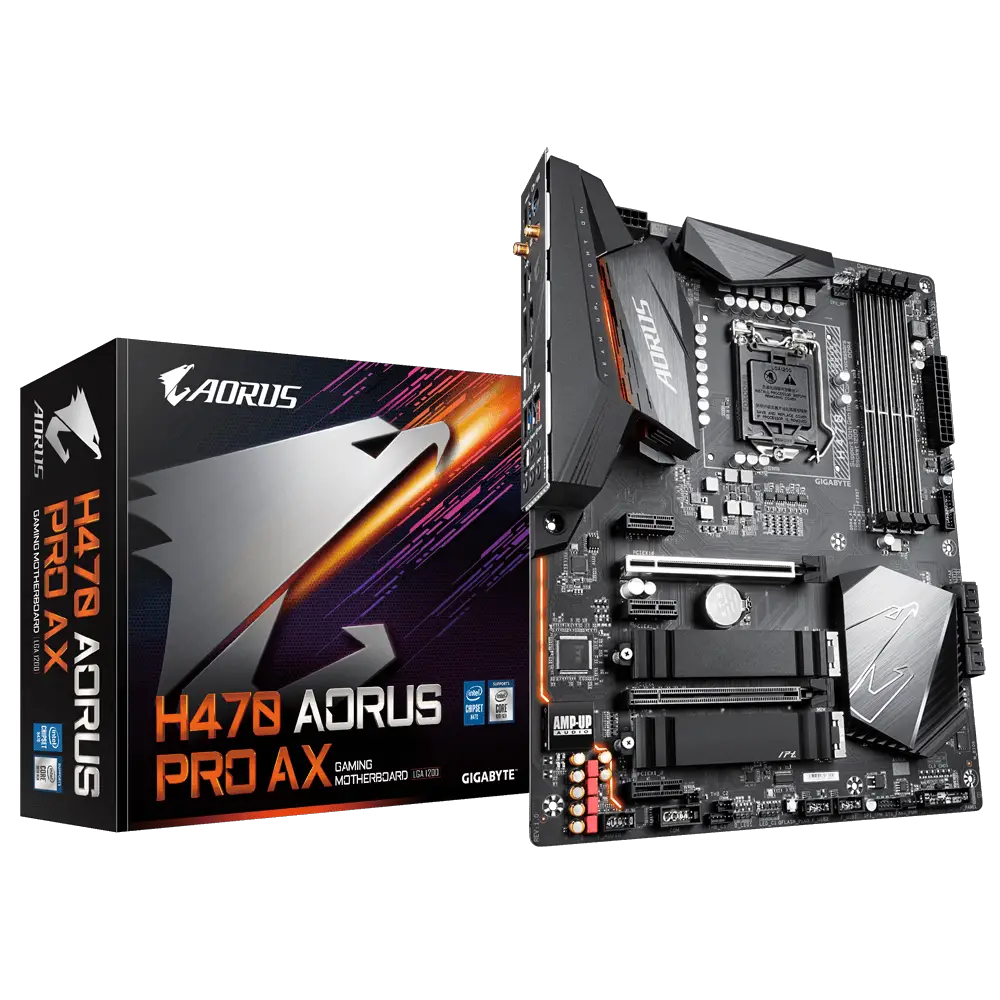 Socket and Chipset
Starting with the socket and chipset, this board features the LGA 1200 socket, which means that you can not use any processor other than the Intel 10th generation line, such as an i7 9700k or i5 9400F.
If that's the case, you'll probably break your motherboard socket, and it'll be useless. So, again, bear in mind that you only want to buy this board if you pair it with a 10th gen intel processor.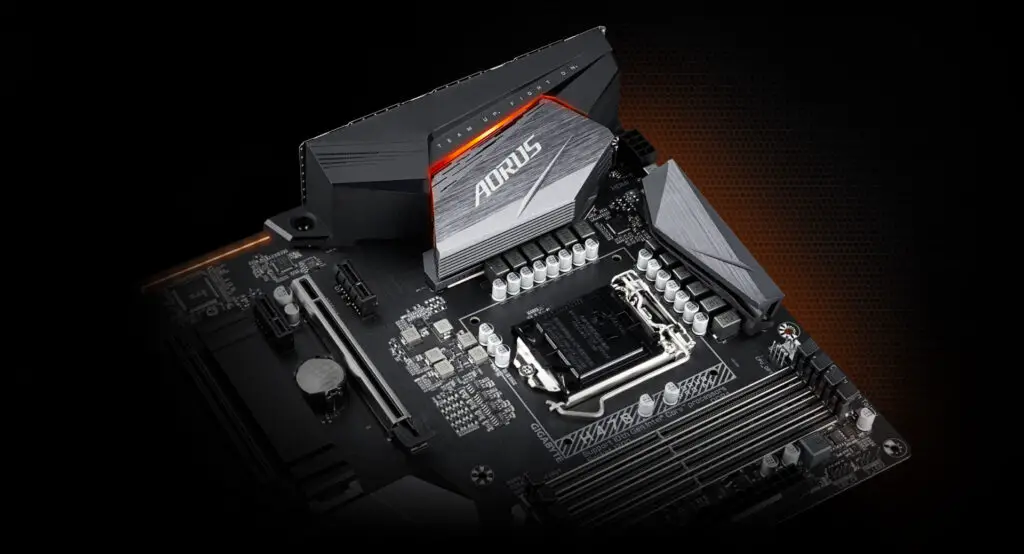 In addition, the Gigabyte H470 AORUS PRO AX features the H470 chipset, which can already be considered a high-end one.
Design
Being a trend of all the Gigabyte Aorus boards, this board also has a sleek and beautiful style, entirely covered in black, except this time it's more of a matte black.
Again, this one is very similar to the B550, with the same orange from store pattern LEDs, one on the heatsink fairing, and another line located at the bottom left. Sure, there could be more RGB LEDs like a Strix board, but even so, this board is still pretty. Besides, users may customize these RGB lights with RGB Fusion 2.0 software via desktop or smartphone.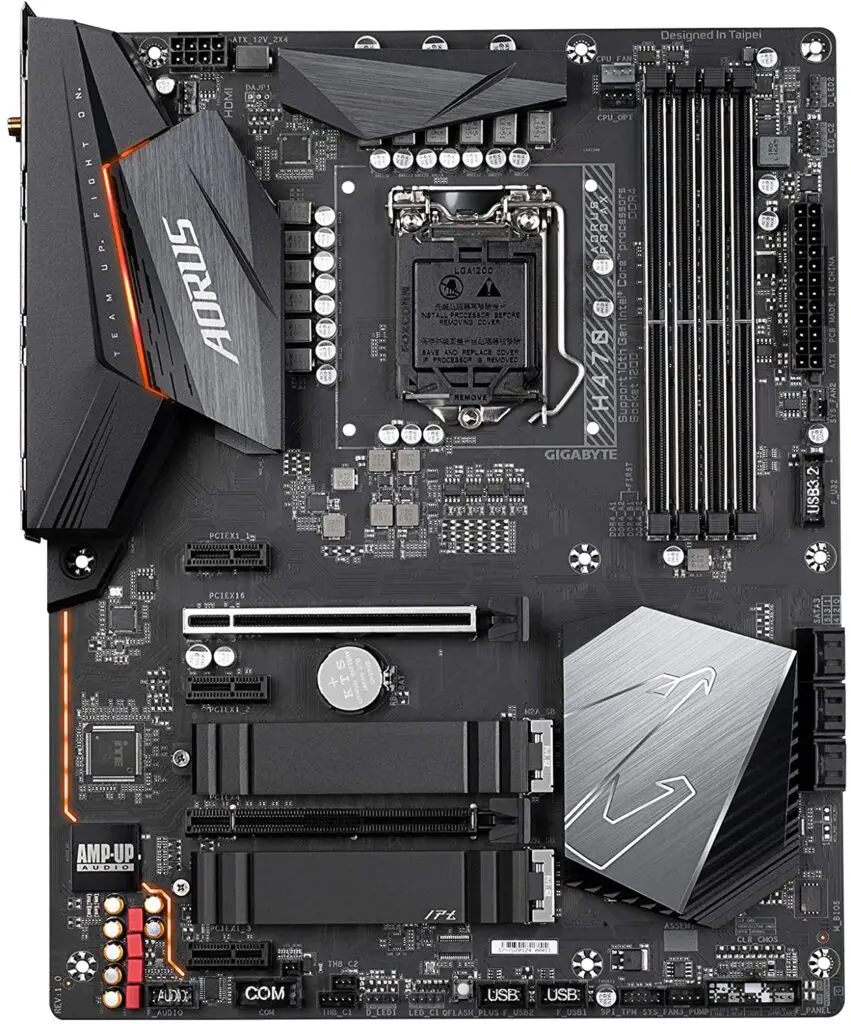 Using RGB fusion 2.0, you can switch between (random, circle color, static, game, pulse, digital A, flash, digital B, double flash, digital C, music). You can also try out a demo on the Gigabyte site to see how these color patterns can work on your board.
Last, about dimensions, this is an ATX form board, measuring 13.18 x 10.62 x 3.14 inches, weighing 2.43 lbs.
Memory
On this board, we have 4 x DDR4 DIMM sockets supporting up to 128 GB (32 GB single DIMM capacity), with dual-channel support. It also features XMP support for those of you who want to increase the speed of memory. The H470 AORUS PRO is capable of keeping up to 2933Mhz whether you are using i9 or i7. Above that, this board can only handle up to 2666Mhz.

Besides, with the stainless steel shielding design, the memory armor on this board prevents twisting, PCB distortion as well as plate bending. As also any possible ESD interference.
VRM and Connectors
In order to provide balanced energy to the CPU, this board counts with 11+1 phases of the VRM circuit. It also features a heatsink on top of it to prevent overheating during overclocking.
Besides, this board, as well as the b550 v2, features 2x M.2 connectors reading up to 32GB/s, both with the thermal guard to ensure that the SSD M.2 operates at lower temperatures. Further, the H470 AORUS PRO has 3x PCI Express x1 slots and 2x PCI Express x16 slots running at x16, being the first one covered in metal to support the heavy graphics card models.
It is important to remember that it is always advisable to use your main graphics card in the first PCI E x16 slot because you will have a lot more performance on this one than if you use it in the second. Last, this board has 6x running up to 6GB/s SATA connectors, located bottom right on the board.
Overclock and Recommended processors
To better monitor the temperature over the board, Gigabyte managed to use the Smart fan 5 feature. The Smart fan 5 can be used to interchange the fan headers to reflect different thermal sensors at different locations on the motherboard. Being 6x temperature Sensors and 5x Hybrid fan headers.
Around overclocking, you don't have any limitations with this board. Just make sure you keep an eye on the VRM temperature while using tough processors. If it's overheating, you have to ease a little bit on the overclock. However, with this enlarged heatsink, you're probably not going to face any problems.
Back panel

As already a pattern of the AORUS boards, this one also features the Pre-installed IO shield. As for connectors, we have 1x PS/2 keyboard/mouse port, 2 x SMA antenna connectors, 1 x HDMI port, 1 x DisplayPort, 1 x USB 3.2 Gen 2 Type-A port, 1 x USB Type-C port, 2 x USB 2.0/1.1 ports, 4 x USB 3.2 Gen 1 ports, 1 x optical S/PDIF Out connector, 5 x audio jacks, 1 x RJ-45 port.
Q-flash plus
Already presented in the B550, the H470 AORUS PRO has the Q-flash plus feature as well. You can use this feature to quickly and easily update your bios. And the best part is that you're not going to need any processor or RAM memory, only a flash drive.
To update the bios, you will have to download the driver installation and put it in your flash drive, unzip it, and rename the archive to "gigabyte.bin" Then plug it into the USB Q-flash port and press the Q-flash button. If you did it all correctly, the installation will start automatically. Note that you need to connect the 24 and 8 pin power supply cable before the entire process.
LAN and Audio
Using the H470 AORUS PRO, you are able to delight extremely fast internet with an up to 2.5GB LAN connector. Also, Gigabyte left nothing to be desired about the audio. You will have clear and without interferences audio and mic if you use a P2 headphone.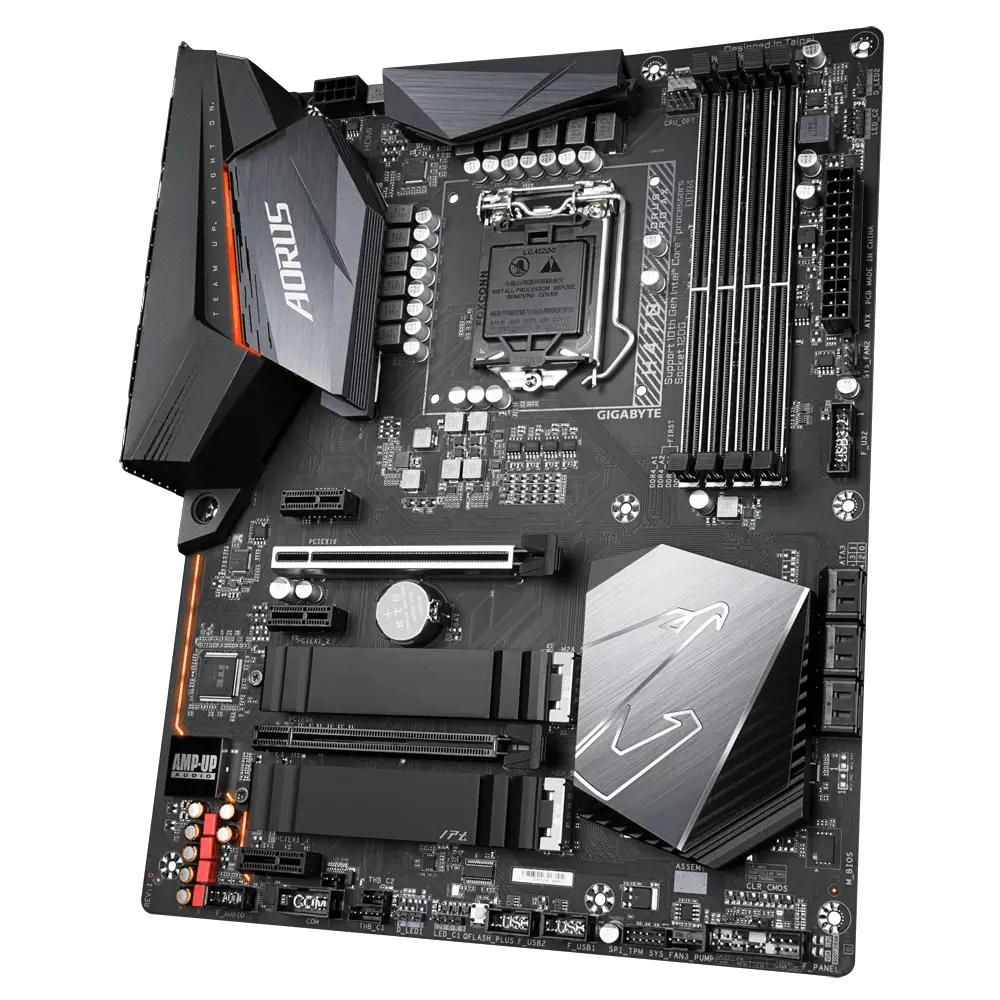 Gigabyte H470 AORUS PRO AX Review

Conclusion
Summing things up, the Gigabyte H470 AORUS PRO AX is almost a sibling of the B550 v2, but the H470 is designed for Intel processors and includes just a few plus features. This board is an excellent choice for those of you who need a high-end intel motherboard and do not want to spend too much on the best models around the market.
When to buy it
If you need a futureproof intel motherboard, that you won't need to switch to another sooner. Also, If you are the enthusiast one that likes to overclock processors. Last If you are going to use a mid-end or a high-end processor and want to save money on the motherboard but at the same time need a quality one.
When not to
If you are going to use a low-end processor, there is no need to buy a board like this one. You can check out more affordable models already with the LGA 1200 like the Gigabyte B460M DS3H.
You may like