Our Conclusion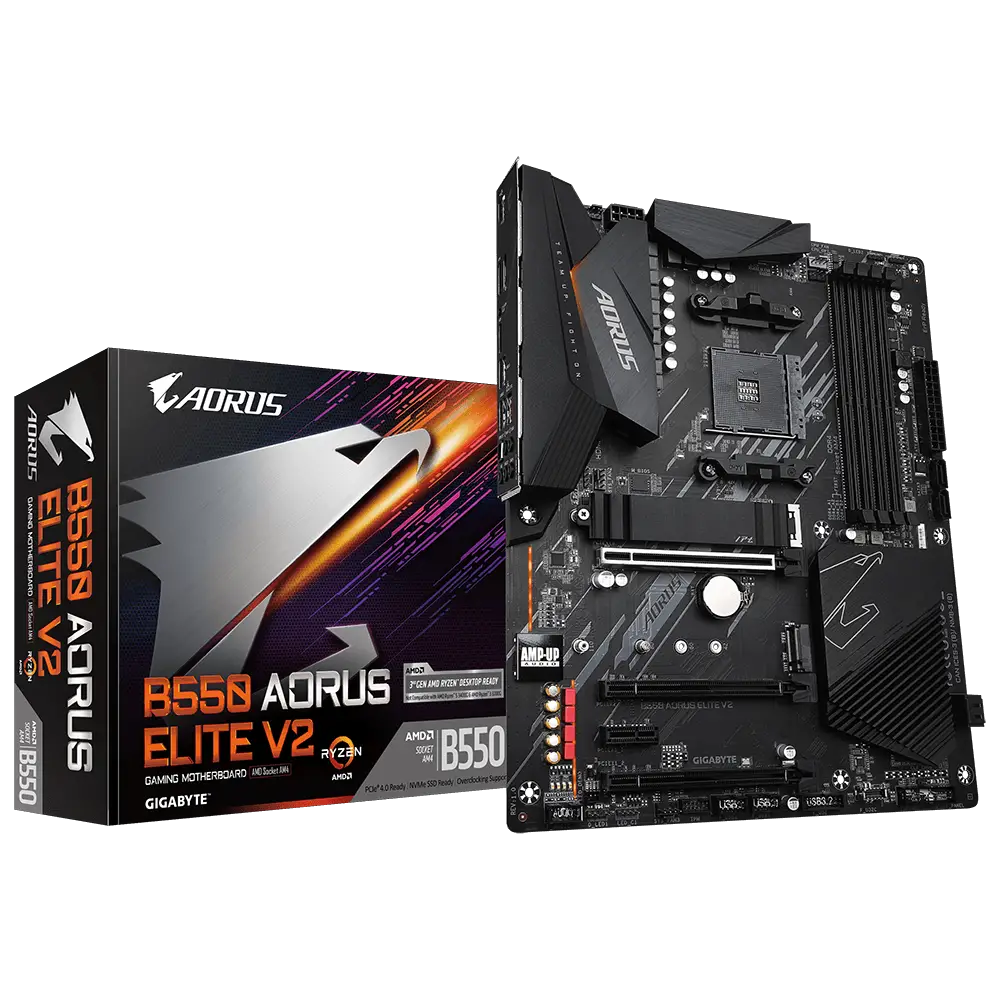 The Gigabyte B550 AORUS Elite V2 is undoubtedly a fantastic motherboard. Indeed with its current prices, this one is clearly one of the cheapest and balanced B550 board options from Gigabyte. On the other hand, if you need a little more power, you can check out the Gigabyte X570 UD, costing 10-20 bucks more.
Pros
✓ Enlarged heatsinks
✓ Good amount of VRM phases
✓ Shielded PCIe x16 slot
✓ Affordable
Cons
✘ RAM slots witouth protection
✘ Only 1x M.2 with shield
Gigabyte B550 AORUS Elite V2, one of the most recent Aorus motherboard releases (September 18), and today we're going to review this board to show you every feature presented in this as well as its pros and cons. To confirm whether it is worth it or not. Check it out.
B550 Aorus Elite V2 Deals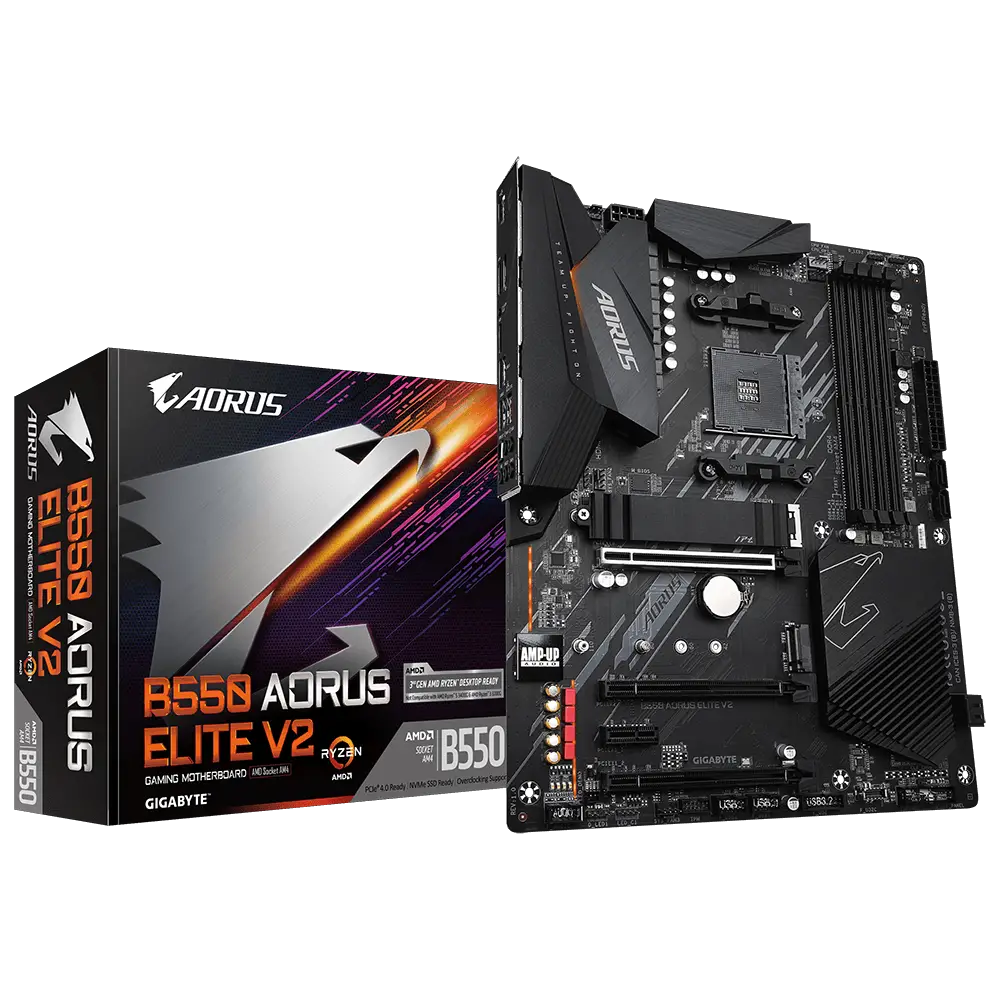 Socket and Chipset
To begin, the Gigabyte B550 AORUS Elite V2 features the AM4 socket; that is, it has the support of 3rd gen Ryzen processors and will have as well the 4rth gen support, soon as it launches. It also features the B550 chipset, an intermediate chipset, being just 1 model below the great X570 chipset.
Ahead we'll check the recommended processors to use with this motherboard, considering that it is a mid-end motherboard almost getting close to a High-end one. But by now, we'll proceed with the technical specifications of this board, follow below.
Technical specifications
| | |
| --- | --- |
| Socket | AM4 |
| Chipset | B550 |
| Memory socket | 4 x DDR4 DIMM |
| Memory OC | up to DDR4 4733(O.C.) |
| Memory capacity | up to 128GB |
| Onboard Graphics | 5120×2880@60 Hz (DP) |
| Audio codec | Realtek® ALC1200, 7.1 |
| I/O controller | iTE® I/O Controller Chip |
| LAN | Realtek® 2.5GbE LAN chip |
| Form factor | ATX Form Factor; 30.5cm x 24.4cm |
See further at Gigabyte site
Design
About design, this board has the pattern of Aorus, an entirely in a black motherboard with some orange RGB LEDs on the left side and top of the heatsink.
It has a very modern design that may meet every buyer's needs and perfectly combine with your build color. On the back panel, the Gigabyte B550 AORUS Elite V2 features the Pre-installed IO shield for easy and quick installation.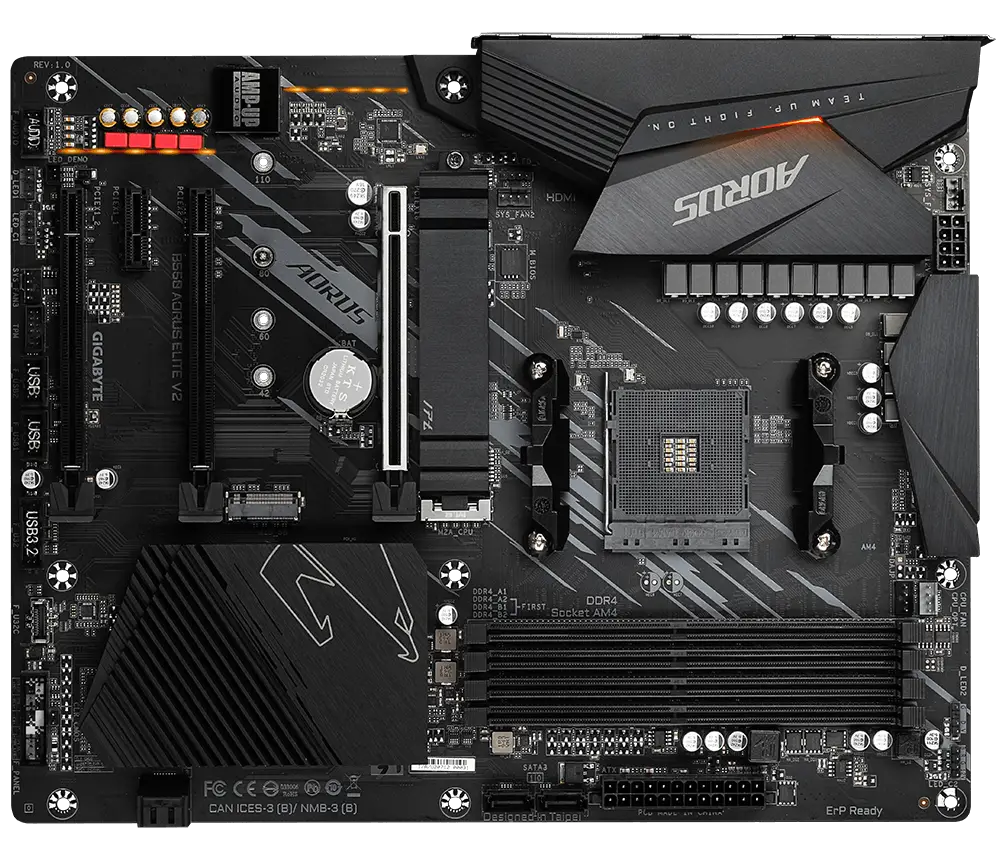 Also, you can control the RGB pattern colors with the RGB fusion 2.0 software, which also has a mobile app version, making it a pretty versatile way to change between the LED colors all over the board.
Memory
On this board, we have 4x DDR4 slots that can be placed up to 128Gb of RAM modules, with dual-channel support. Therefore the recommended is to use 2x modules or 4x modules in order to potentialize the performance and the speed of your daily usage.
Besides, if you are using a Ryzen 3rd gen, this motherboard supports a frequency up to 3200MHZ without overclock, but overclocking it can go up to 4000Mhz.
VRM and Connectors
This board presents 12*+2 Phases Digital Twin Power Design with DrMOS with a heatsink fairing on it. By the way, about heatsinks, this board has 1x on top of the VRM circuit to guarantee unthrottled performance, making the overclock possible with lower temperatures and 1x right side of the M.2 slot.
Besides, this board has 2x M.2 connectors that support Read up to 6560MB/s and Write up to 6669. It also features 4x PCIe slots, being the first one(x16) covered in metal to keep the graphics card more stable and support a heavier graphics card, which is also the recommended plug to use your graphics card to potentialize your card performance in relation to the 2nd connector.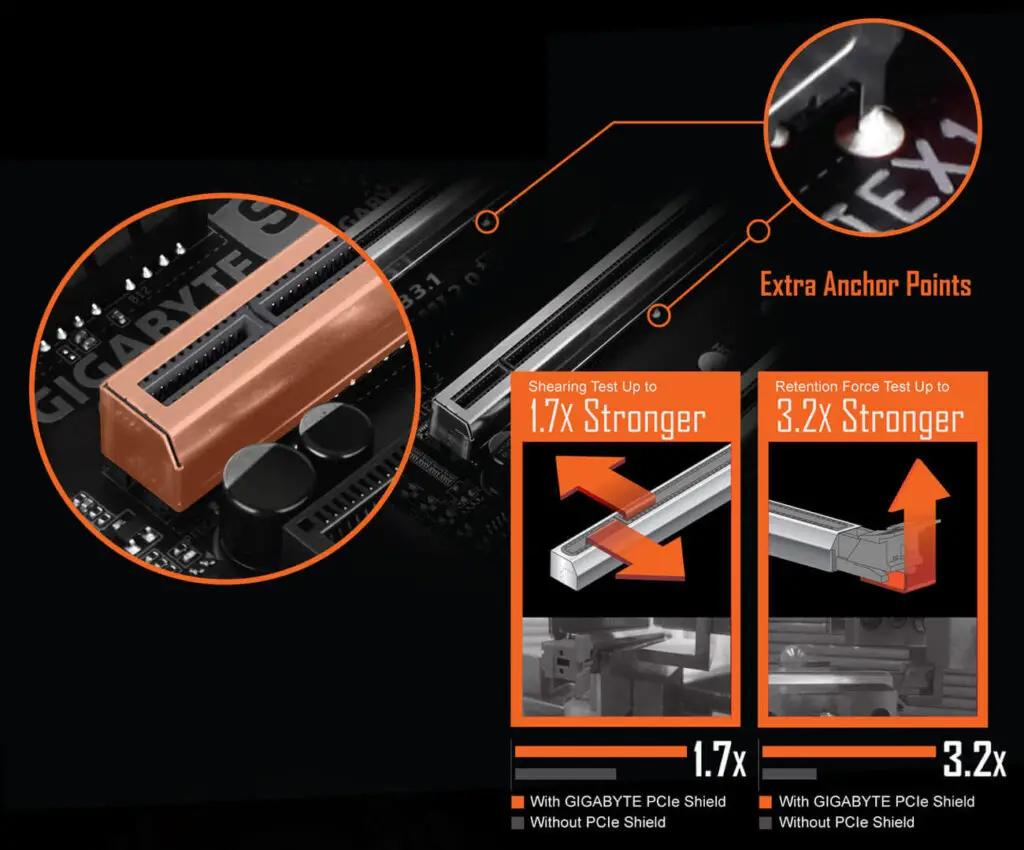 Noting that, all PCIe presented in this board features the 4.0 technology. However, if you want to use this additional speed, you'll have to use a processor from a Ryzen 3000 line above. Not that case, the 4.0 technology wouldn't be supported. About SATA connectors, this board has 4x split SATA slots being two of them a little high on the right side and the other two on the bottom right.
Overclock and Recommended processors
The Gigabyte managed to create the PCB of the B550 AORUS ELITE V2 with the double of copper, thus, making it easier to overclock without reaching high temperatures, in addition to working in better efficiency, consuming less energy.
Continuing with temp, the B550 AORUS ELITE V2 has a 6x temperature sensor to help to manage the temperature on your board easily with software.
First, as said, the PCIe ports of this board can only run at 4.0 with the Ryzen 3000 line. Therefore, the processors I would choose for this board are from a Ryzen 5 3100 up to a Ryzen 9 3900X without overclock.
And with overclock, I would choose again from a Ryzen 5 3100 but this time up to a Ryzen 7 3800XT. Above that, with overclock, this board would certainly overheat.
Back panel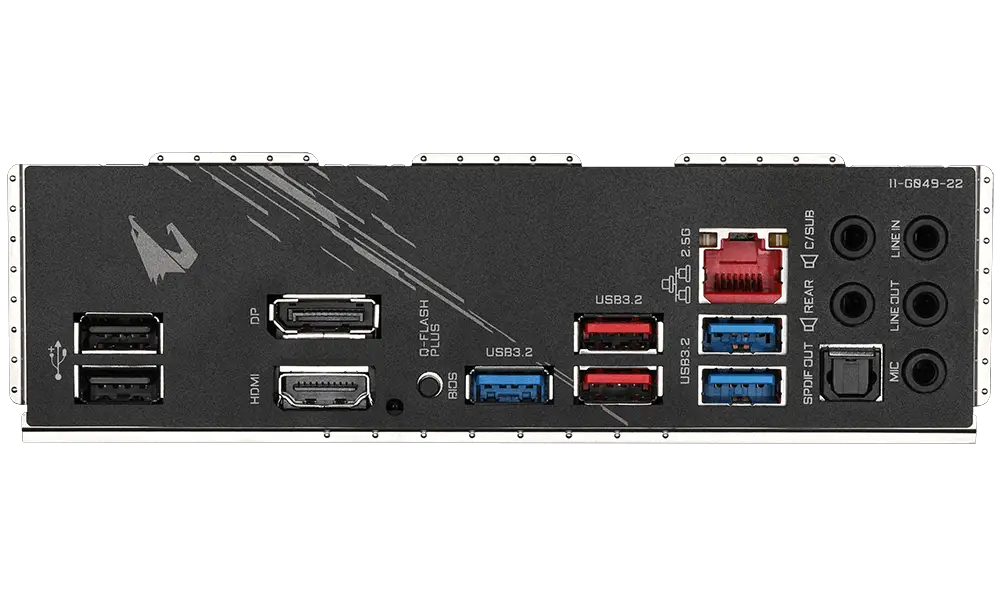 As said, the Gigabyte B550 AORUS Elite V2 features the Pre-installed IO shield. As for the connections, we have 7x USB ports (2x USB 3.2 Gen 2 Type-A, 3 x USB 3.2 Gen 1, 2 x USB 2.0/1.1), 5x audio jacks, 1 x DisplayPort, 1 x HDMI port, 1 x RJ-45 port.
Q-flash plus
Q-flash plus is an interesting feature that you can use to update your bios without any processor and RAM, just with a flash drive. All you have to do is, download the Bios, unzip it and rename it as "gigabyte.bin" put it on your flash drive, plug it in the USB Q-flash port, and click the Q-flash plus button. Then the installation occurs automatically. Don't forget to connect your 24 and 8 pin power supply cable before the process.
2.5Gbe LAN and Audio
The LAN of this board can hold up to an incredible 2.500 Mbps of internet speed. Audio-wise this board has 1 x optical S/PDIF Out, that in case you have a tougher Audio component, you can use this port. About the audio quality, this board really surprises everyone.
At first, just when looking at the tough capacitors of the audio, you can see a red shield that helps the electricity that passes through the board, not interferes on the audio, making it clear as possible. Thus, it features surprisingly clean audio that makes clear the GIGABYTE tried to really make it a good feature.
Conclusion
The Gigabyte B550 AORUS Elite V2 is surely a great motherboard; however, there is the strongest Gigabyte X570 UD currently costing not much than the B550, but if you find a cheap deal on the Gigabyte B550 AORUS Elite V2, you should definitely afford it; seen that the features presented in this board have a pretty good cost-benefit.
Gigabyte B550 AORUS Elite V2 Deals
You may like