Our Conclusion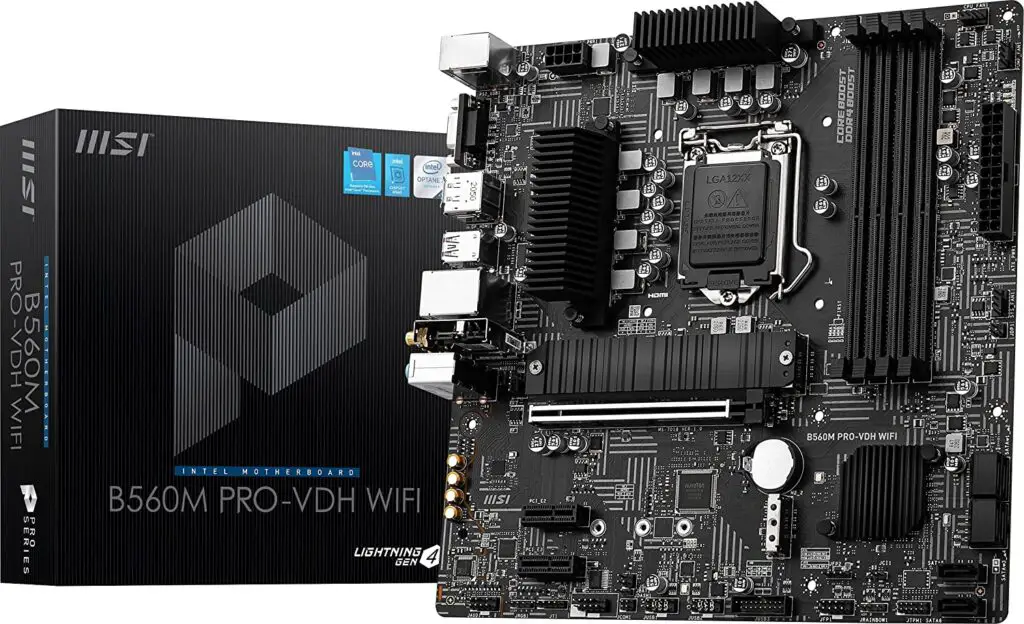 The MSI B560M PRO-VDH WiFi is presently one of the finest B intel line motherboards we've reviewed this year in terms of price and performance. If you don't intend on overclocking and need a budget board for an Intel 11th or 10th CPU, this is the board for you. However, keep in mind that if you want to overclock your CPU, you should go with the MSI MPG Z490 Gaming Plus, which is a similar board concerning features, but with overclocking support.
Pros
✓ Up to 5066 Mhz  Memory OC
✓ PCIe 4.0 support
✓ 7.1 built in audio
✓ Affordable
Cons
✘ Unable to Overclock the CPU
✘ Basic cooling system
Although the B line of Intel motherboards isn't as popular as it once was, it is still one of the most cost-effective options. One of the reasons it isn't a well-known model is its inability to overclock the CPU, which is a significant gripe among enthusiasts.
On the other hand, because the manufacturer may focus on other desirable characteristics rather than those related to the CPU socket, those boards are generally less expensive.
And for today's article, we've got a new MSI release with some great pricing. So, without further ado, let's have a look at the MSI B560M PRO-VDH WiFi Review and see if this is a motherboard worth investing in.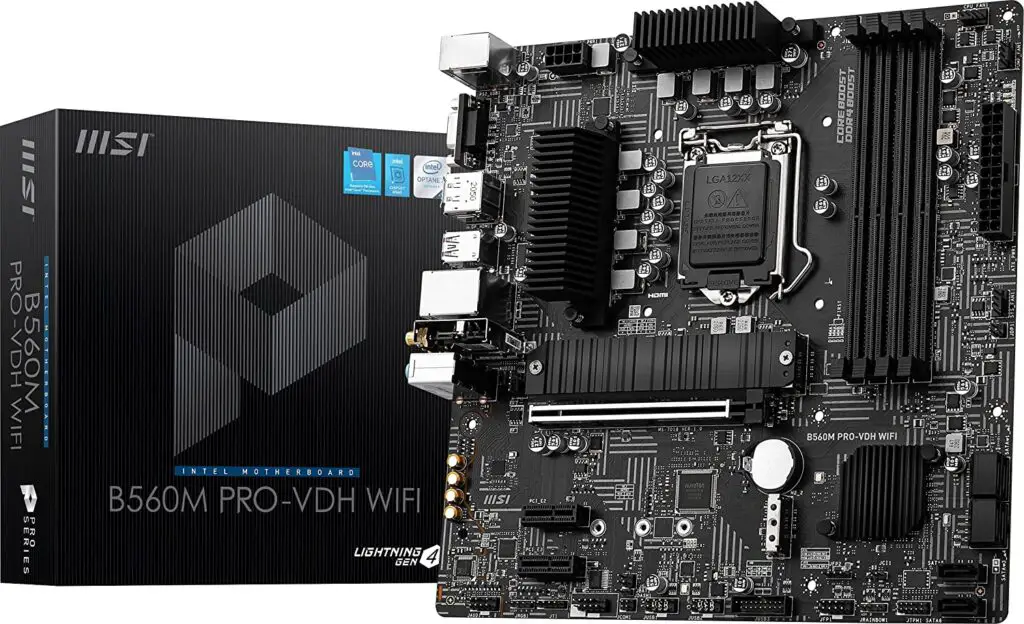 Design
At first look, we can see that it does not follow the gaming-inspired trending style, with solid aesthetics, black color throughout the board, and white detailing. 
Also, because this board cannot overclock, they opted to focus less on the heatsinks, keeping it as simple as possible without compromising the design.
It's worth noting that this board lacks any RGB LEDs, which is to be anticipated given its price point. If you want your motherboard to have some LEDs, you should look at the Aorus B460 Pro AC. 
Aside from that, this board is a Micro ATX version with dimensions of 9.6 x 9.6 x 2.5 inches. So, in general, we can say that this board will have a plain yet sturdy look, with nothing too gleaming on it.
After then, it's time to examine its features and determine whether there's anything out of the ordinary.
Socket and Chipset
Furthermore, this board features the Intel B560 B-line chipset, which, as previously stated, does not support overclocking. However, the limitations were considerably more severe a few years ago, when there was no way to overclock the RAM with this chipset.
Fortunately, it was recently upgraded to include support for memory overclocking, bringing this chipset line up to date. Aside from that, this chipset enables this board to use PCIe 4.0 technology, which boosts the speed of your connector to new heights.
This board, on the other hand, uses the LGA 1200 socket, which allows you to choose from a broad range of Intel CPUs, including 10th and 11th generation Intel processors.
Memory
Additionally, because the B560 is one of the finest in the B-line, you can anticipate it to have excellent memory overclocking margins. 
So it is with this motherboard, which features 4x DDR4 Memory slots with dual-channel and XMP compatibility, with each slot capable of reaching 5066 Mhz when overclocked. Aside from that, if you use an 11th generation Intel CPU, this motherboard provides native 3200 MHz.
Overclock and Recommended Processors
As a result, the MSI B560M PRO-VDH WiFi becomes an excellent option for an 11th Gen Intel CPU. Note that, as this board doesn't have CPU overclocking support, you won't have to concern too much about the VRM temperatures depending on which processor you chose. 
And the best part is that, due to that, you won't have any limitations while choosing the best CPU for this board. However, assuming that you want a budget combination of CPU and motherboard, I would recommend you the Intel Core i7-11700F or even the Intel Core i5-11500.
The one thing you have to bear in mind while choosing the CPU for this board, it to not waste your money affording an unlocked Intel CPU (Those with a K at the end of the name) since this board doesn't support overclocking as well.
And if you don't have plans to switch motherboards soon, you would be wasting your money.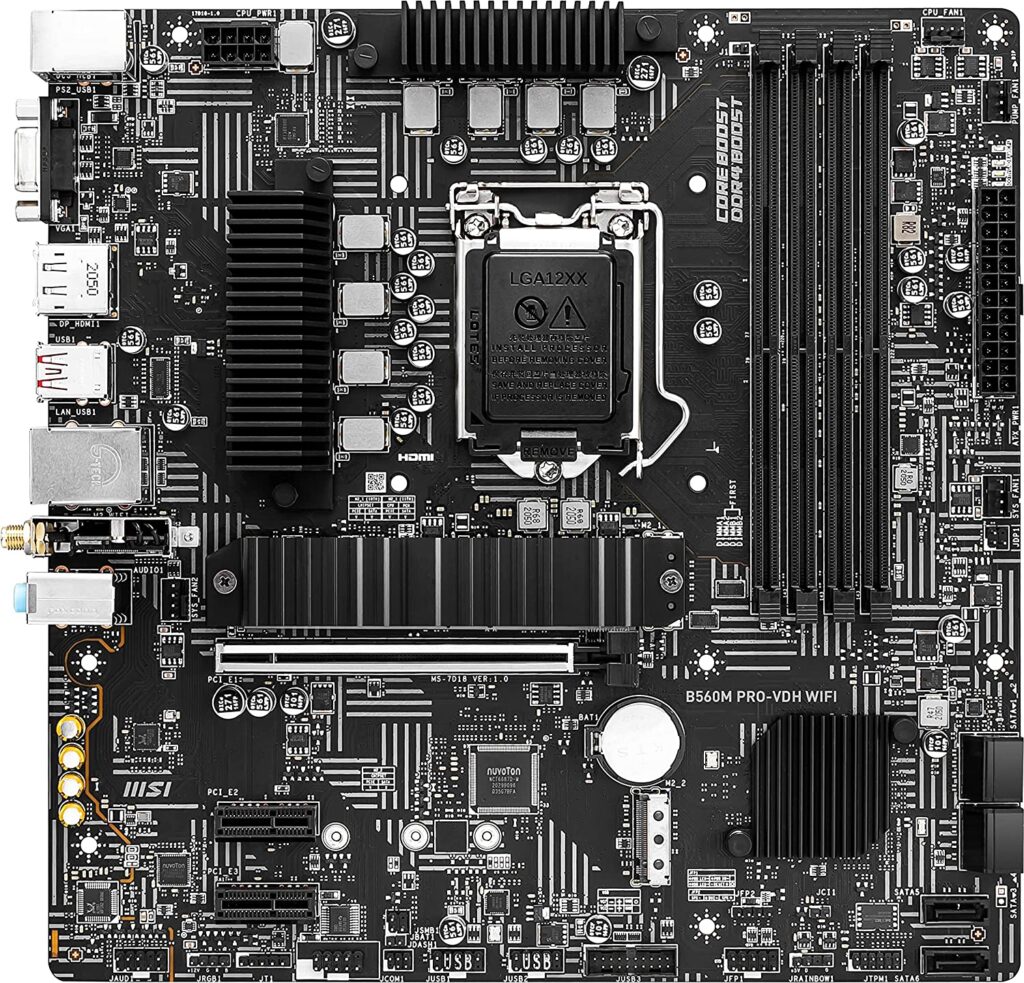 VRM and Connectors
Although the VRM circuit of this board isn't the focus, it still has a decent amount of VRM phases, which may help a little depending on which CPU you pick. That said, now let's check out which connectors this motherboard provides.
Power connectors and SSD
As this board has an overall basic system, it'll only need an 8-pin ATX 12V power connector and the usual 24-pin ATX main power connector to receive enough energy to work properly.
Also, you're going to have 2 x SSD M.2 slots, being the first one connected to the CPU, with support for the PCIe 4.0 as well as further protection by the shield on it.
Fan, RGB, SATA
In addition, you're going to find: 
1x USB 3.2 Gen 1 5Gbps connector (supports additional 2 USB Gen 1 ports)
2x USB 2.0 connectors (supports additional 4 USB 2.0 ports)
1x 4-pin CPU fan connector
1x 4-pin water-pump fan connector
2x 4-pin system fan connectors
1x Front panel audio connector
2x System panel connectors
1x Chassis Intrusion connector
1x Clear CMOS jumper
1x TPM module connector
1x Serial port connector
1x Tuning Controller Connector
6x SATA 6Gb/s connectors
PCI connectors
The MSI B560M PRO-VDH WiFi also counts with 3x PCI ex slots, while the first one runs at x16, with a steel shield for a heavy graphics card and the support for the PCIe 4.0. Note that the PCIe 4.0 will only work if you are using an 11th gen intel CPU.
Back panel

Now, it is time to check out what the MSI decided to provide on the back panel of this board. Note that to reduce the final prices, they decided to not implement the pre-installed I/O shield, which would give a plus charm to this board. This board back panel counts with:
Keyboard / Mouse
VGA
DisplayPort
USB 3.2 Gen 2 10Gbps Type-A
LAN port
WiFi / Bluetooth
Audio connector
USB 2.0
HDMI
USB 3.2 Gen 1 5Gbps Type-A
Final thoughts
When to buy it
With all the features the MSI B560M PRO-VDH WiFi provides, it becomes one of the best choices for those in need of an affordable intel motherboard, with the LGA 1200 socket. 
However, if you are the enthusiast one, be aware that this chipset line does not support CPU overclocking. In case you need overclocking support, you should check out a Z line board, such as the MSI MPG Z490 Gaming Plus. 
You may like