Our Conclusion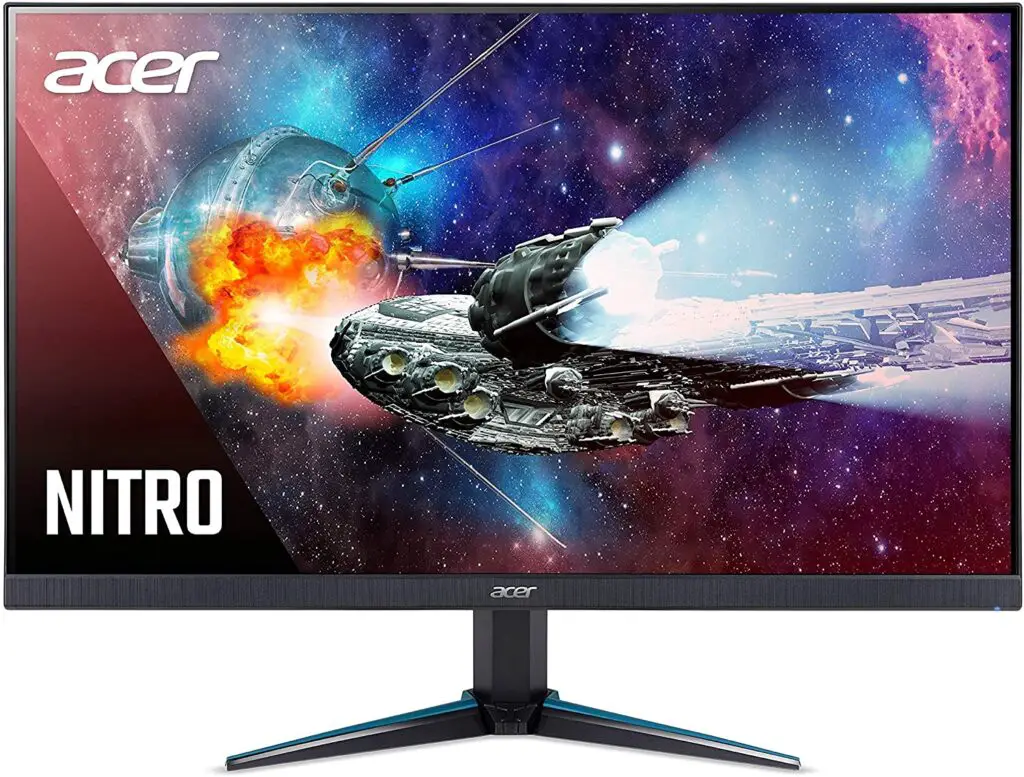 Given all of this display's features, we can confidently state that the Acer Nitro VG280K is the most affordable 4K professional monitor in the Acer Nitro series and THE cheapest 4K monitor reviewed on Reatbyte. It offers an excellent price-performance ratio, with low pricing (often on sale around $250) and some of the greatest image quality available, even better than some $400+ displays.
Pros
✓ 4K 28-inch
✓ IPS panel
✓ DCI-P3 90%
✓ HDR 10
Cons
✘ Lacks USB inputs
✘ 60hz
This week, we've already reviewed numerous great Acer Nitro models with professional features that stand out above the others, such as the Acer Nitro KG252Q and the Acer Nitro QG241Y. 
However, the one picked for today's post appears to be far superior to the others, both in terms of features and pricing. This monitor includes several high-end professional capabilities at a far lower price than the norm, which is the major selling point of this display.
So, without further ado, let's take a look at the Acer Nitro VG280K Review to see if this is really the finest Acer Nitro professional monitor 2021 release yet.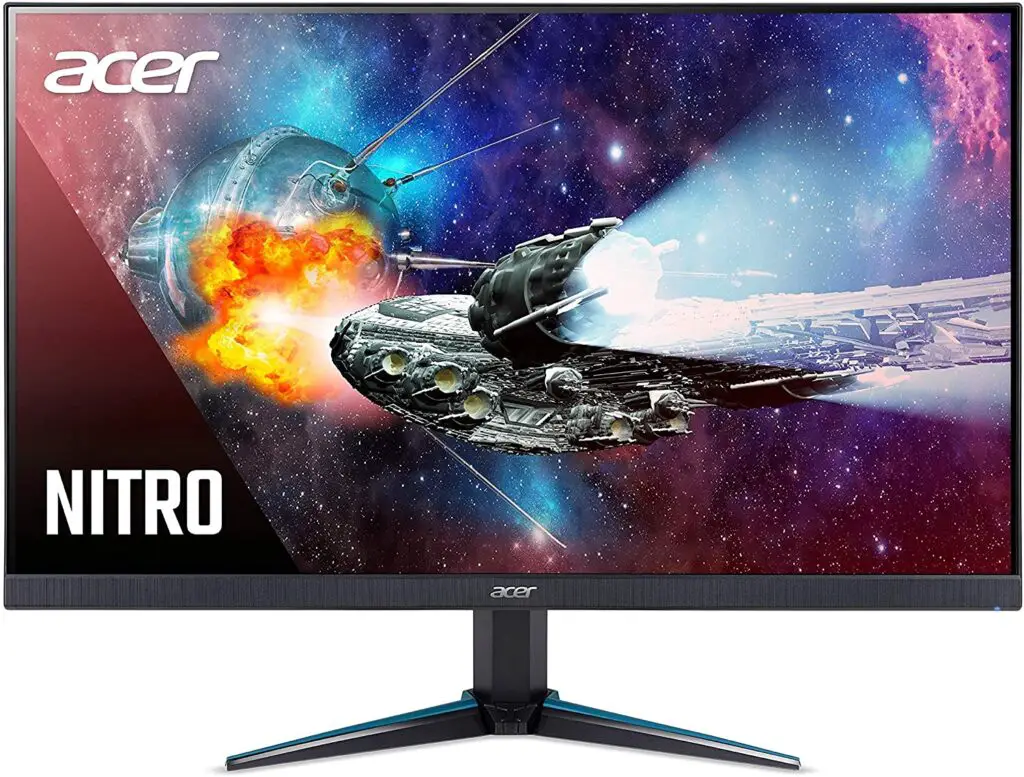 Design
Starting with the design, we can see that it isn't very unique when compared to other Nitro models. The only thing that makes this one stand out is the blue detail on the rear of the stand, which is a polarizing addition but also common for nitro versions. 
Overall, this monitor looks a lot like the Acer Nitro VG270, however, instead of blue, this one has red detailing on the stand. The Acer Nitro VG280K's stand, by the way, has limited adjustability, enabling you to simply tilt it forward and backward. 
The Acer Nitro XV240Y, which emphasizes gaming capabilities, is currently the only Nitro model reviewed on Reatbyte with broad stand adjustments. 
Aside from that, the texturized vertical stripes decoration on the borderless bezels distinguishes this model from previous Nitro variants. 
Looking at the rear of the monitor, we can see that it has the same gaming-like aesthetics as every other Nitro display. Furthermore, we can see the VESA support straight away, which will allow you to mount the monitor on the wall, and the 2x 2W out speakers will eliminate the need for headphones when watching movies.
Connectors
On the display's rear, there are just a few connectors, including 1 x Display Port, 2 x HDMI 2.0, 1 x Headphone-out, including also an HDMI cable in the package.
Meaning that, if you need a monitor with USB ports, this one is not the one you should go for, instead, you should check out the LG 32UL750-W, currently on sale at awesome prices.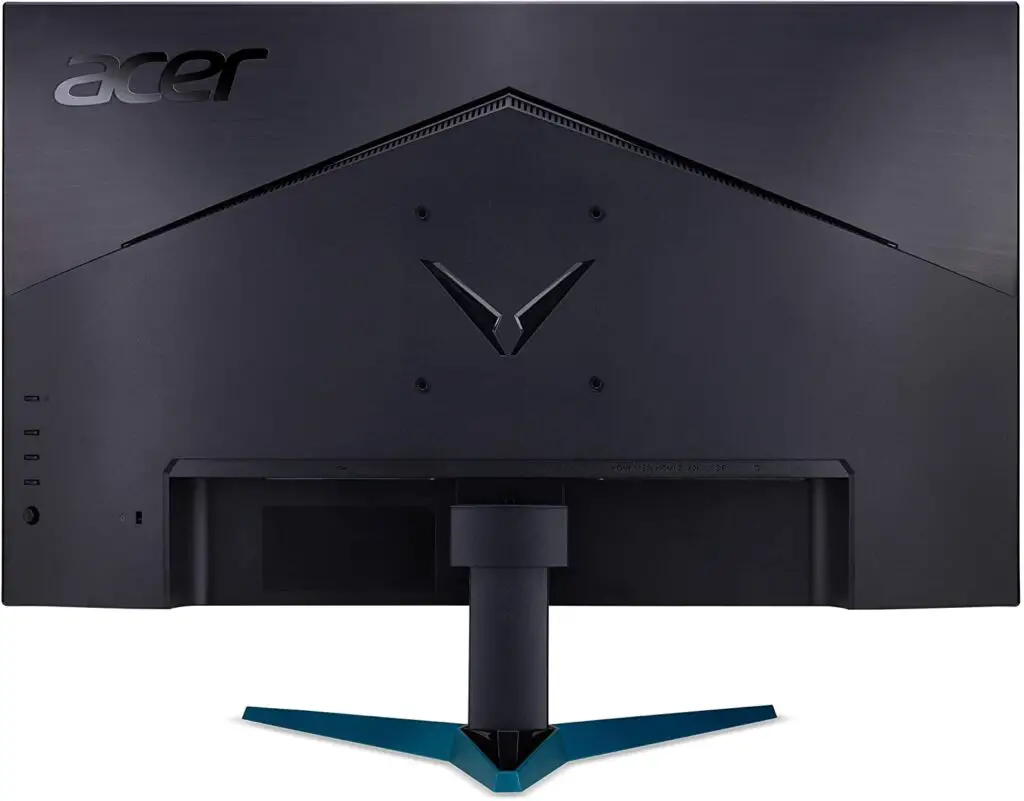 Features
Panel type
Now, let's look at the display's main characteristics and see whether there's anything out of the ordinary for this price range. Starting with the panel, they chose an IPS panel for this display, which was a wise decision given that this is a professional dedicated model.
Because of the color fidelity given by this panel, this monitor is practically guaranteed to be a fantastic choice for media editors. And it appears that they didn't even consider cut edges, opting for one of the most widely approved supported color values: 1.07 B. 
If you want a wide diversity of colors near to but not quite as far as the human eye can distinguish, this is the number to aim for. 
In addition, they also implemented a DCI-P3 90% of color gamut, which is a great feature for media editors due to the provided gamut accuracy as also for those who prefer saturated colors. Nonetheless, this is a high-end function that isn't frequently found in screens at this price point.
Brightness
However, in order to include such functions without significantly increasing the price, they had to eliminate certain other features. 
As a result, the total brightness of this monitor is 300 nits, which is still a decent average brightness but not the greatest you can get for an IPS screen. 
Don't get me wrong: I'm not implying that this is insufficient; it simply took me off surprise given the prior display's characteristics. 
If you're not using your monitor in front of a window with direct sunlight, on the other hand, this brightness ratio will suffice in the vast majority of instances. 
You'll also be able to see the displayed images well owing to the IPS panel's wide viewing angles, regardless of the brightness ratio at some low levels.
Refresh rate and Response time
Furthermore, on the gaming features, things will finally start to fit the price range of this model. To preserve room for increasing the image quality, they reduced such features to a limit, as one would expect from a professional monitor.
As a result, you'll only get a 60hz refresh rate with this monitor, which lacks the smoothness that higher refresh rates give. Aside from that, they selected a response time of 4ms, which isn't awful in and of itself but isn't useful for a professional monitor. 
So, overall, we may conclude that it follows the standard non-gaming model.
Image Overall Quality
However, we must remember that the Acer Nitro VG280K is a 4K display, and even if it had a higher refresh rate, your graphics card would struggle to achieve those ratios, depending on the game graphic quality. 
So having a lower value for the Refresh rate makes sense at some point. Aside from that, because it's a 4K monitor with a 28-inch display, you'll be able to take advantage of a high PPI rate, which boosts the image's sharpness to new heights.
This, along with the display's high-end IPS screen, results in one of the greatest image quality we've seen on the Reatbyte site. Because this display supports HDR 10, you'll get deep darks and an excellent contrast ratio. 
However, since this HDR is the most basic, don't anticipate the best images with it; if you truly need a good HDR, go with an HDR 600 at least, as shown in the LG 32UL750-W. Finally, they chose to use FreeSync technology for this display, which reduces visual tearing during gameplay.
Final thoughts
When to buy it
If you need an affordable 4K professional monitor with awesome image quality to work with media edition, you surely won't go wrong with the Acer Nitro VG280K, since it is probably the best 4K Acer release of the year due to its current prices.
However, it does lacks some gaming features, which is plausible since it is a professional display. But even so, if you want good gaming capabilities, you should check out the Acer Nitro VG270.
You may like