Our Conclusion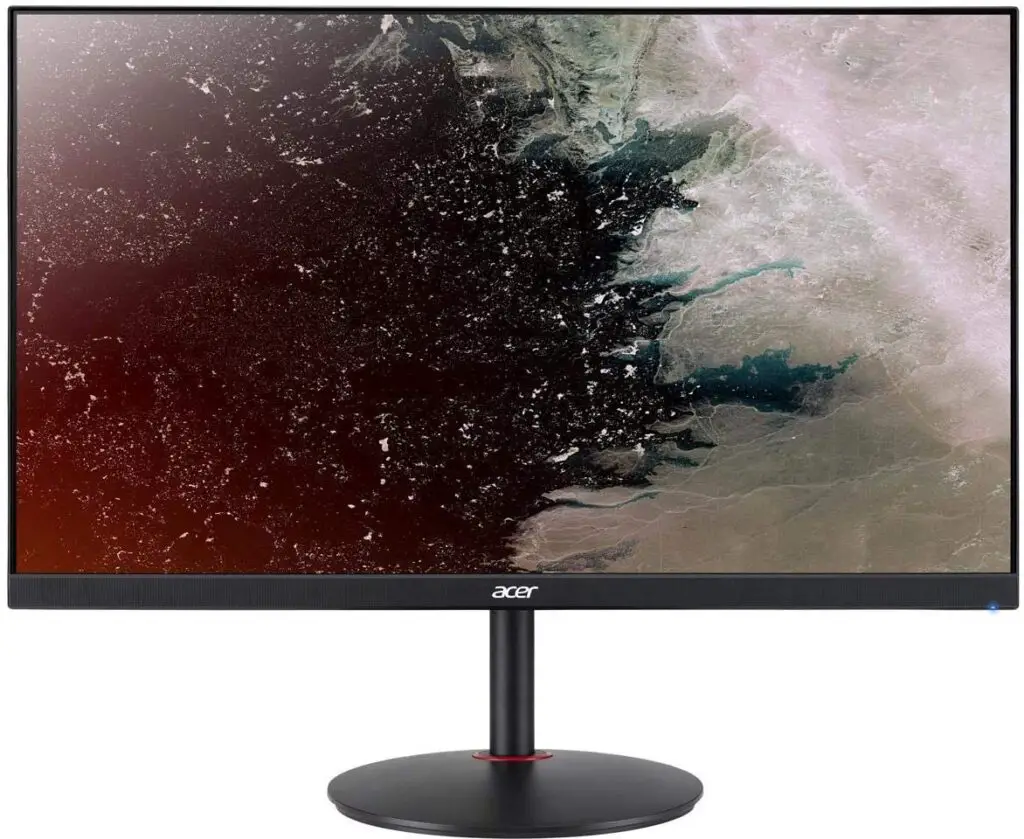 Due to its high image quality capabilities, such as the IPS panel and HDR 10 compatibility, paired with gaming-focused features, such as 144hz of refresh rate, the Acer Nitro XV240Y stands out over certain other Nitro models at its current pricing. As a result, it is presently the most affordable display that combines gaming features with excellent image quality.
Pros
✓ 144hz 2ms
✓ Wide Stand Adjustments
✓ IPS panel
✓ 1080p
Cons
✘ 250 nits of overall brightness
✘ Lack of USB ports
This year, Acer has released a slew of great display models. The Nitro series, in particular, has stood out among the other models due to its usual price-performance ratio. 
As a result, Acer is able to convince people to look at this line through different eyes, increasing total sales. Dedicated to the nitro line models, we decided to take a look at the gaming displays from this line, both new and old, to see whether they're still worth it. 
Surprisingly, there were several fantastic models available, such as the Acer Nitro VG272 and the Acer Nitro XZ270, both offered outstanding gaming capabilities for their respective budgets.
In today's post, we'll look at another lesser-known Acer Nitro monitor, the Acer Nitro XV240Y, to see whether it's still a viable option for those looking for an inexpensive gaming monitor. So, without further ado, check out the Acer Nitro XV240Y Review below.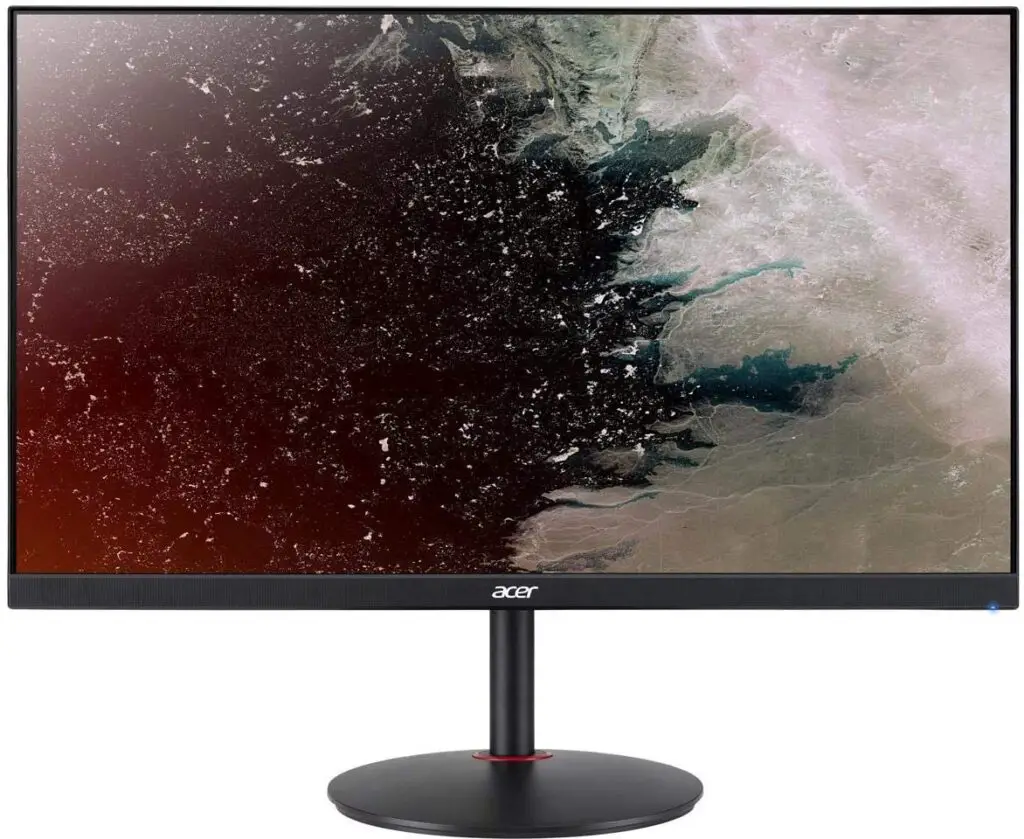 Design
This model, like the others reviewed this week, has the same standard aesthetics as the Acer nitro monitors with the circular stand, being completely in matte black with minor red accents on specific places. 
Unlike several half-triangular stand Acer Nitro models, however, this monitor's stand can be adjusted in a variety of ways, including tilt (-5°25°), swivel (360°), and height (120 mm). 
Aside from that, it adheres to the current trend for borderless bezels on display, which gives this screen a modern look. When we look at the rear of the monitor, we can see that it has the same gaming-like aesthetics as any other Acer nitro display.
It also includes VESA compatibility and 2x 2W out speakers, which produce a respectable but not very excellent sound, which is to be anticipated for this price range.
Overall, I would say that this display aesthetically stands out among the bulk of Acer nitro monitors, thanks to its broad stand adjustments and VESA and out speakers support. 
Connectors
With only a 2x HDMI®-in1x DisplayPort and a Headphone out, this monitor falls in line with the norm for this price range. Now it's time to look at the characteristics of this display and determine whether they're appropriate for its price range.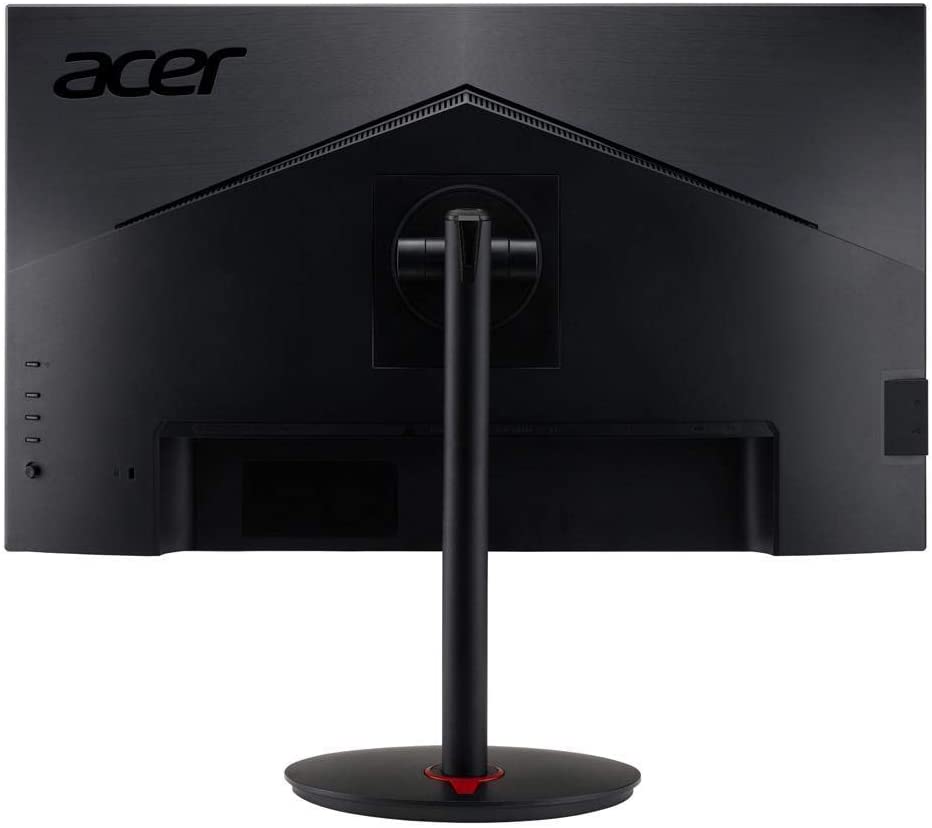 Features
Panel type
This monitor is already making an impression on us. It's quite unusual to see an IPS panel on a gaming monitor in this price range. When a manufacturer wants to make a gaming display as inexpensive as possible, they generally choose a VA or TN panel over an IPS panel, which would increase the final price by a significant amount.
They can, on the other hand, sacrifice some other characteristics to fit the IPS panel within the pricing range, which is likely the case with this monitor. Aside from that, when it comes to color accuracy and image quality, this panel is the finest of the three typical ones.
As a result, it is a panel that is frequently chosen by professionals that demand the highest possible image quality and the highest level of accuracy.
Nonetheless, this panel aids your gaming by providing a more ambient atmosphere with vibrant and accurate colors. On the other hand, it has the IPS glow and, in most cases, poorer contrast than VA panels.
Overall, we believe that Acer made a wise decision to include this panel type, since it makes a significant difference in quality, particularly when switching from a TN or VA panel.
The brightness, on the other hand, must be able to follow the flow in order for the IPS screen to display precise colors with accuracy.
Brightness
The overall brightness of 250 cd/m2 nits is the industry standard for screens in this price range, and we'd be very pleased if they could increase this number without raising costs. However, I'm now using this display, and I'm pretty good with only an 80% brightness ratio.
So believe me when I tell you that this number will be useful to roughly 95% of those who read this post. On the other hand, there are others that require a higher number, generally owing to the monitor's place of usage. 
If this is the case, I recommend the Acer Nitro VG270 display, which has good gaming performance and has an overall brightness of 400 nits. That all said, let's take a look at some of the monitor's best highlights: Its gaming features.
Refresh rate and Response time
So it is here that we can see which features have been reduced in order to improve image quality with the IPS screen. They chose a response time of 2 milliseconds for the Acer Nitro XV240Y, which is a touch slower than the industry norm for gaming monitors of 1 millisecond, but it's still very close in practice.
This was, in my opinion, a wise choice by Acer since it resulted in a very inexpensive gaming monitor with excellent image quality. Aside from that, it has a refresh rate of 144hz, which is normal for this price range.
This number will make your gameplays much smoother, and if you were previously utilizing a 60hz monitor, you'll notice a significant difference. However, usually for a monitor to reach those framerates, it becomes totally dependent on the graphics card power.
So that's why it is not advisable to afford a 1440p gaming display if you have a low-power graphics card.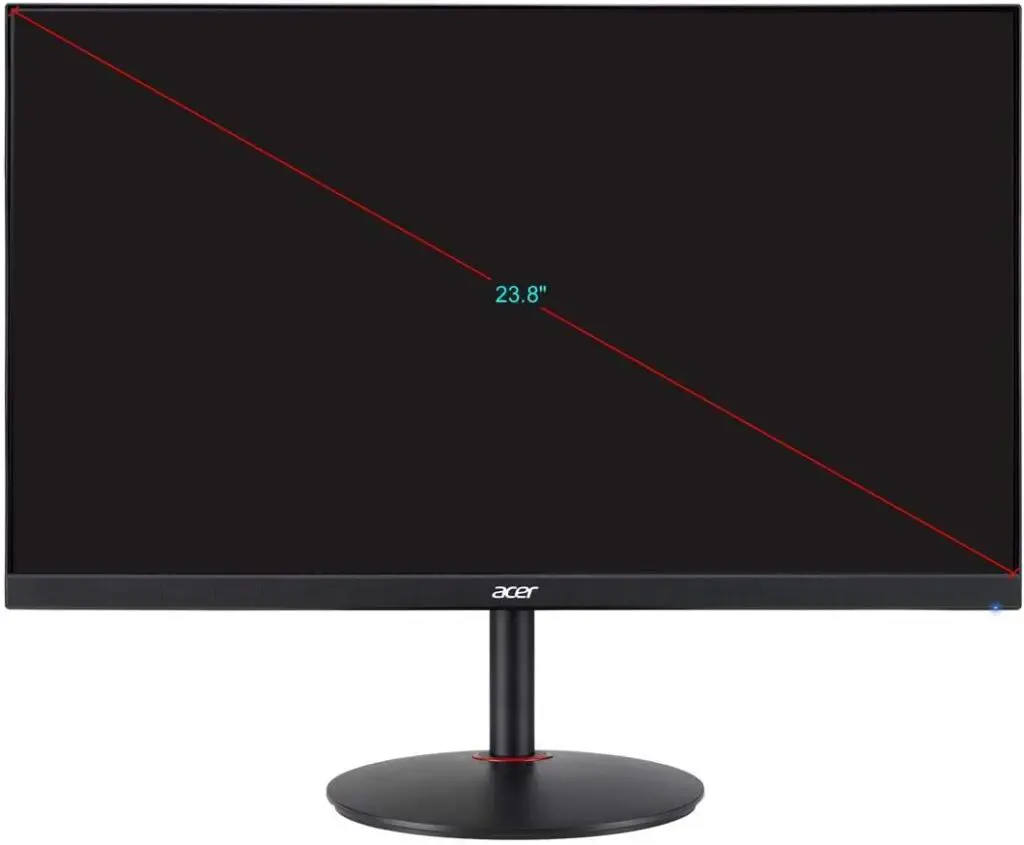 Image Overall Quality
However, they, fortunately, kept with the usual but functional here. Concerning its overall image, they opted to maintain the average quality for this price range, with 16M of supported colors for the IPS panel and the 1080p resolution. 
It also boasts a high PPI owing to its 24-inch screen, which provides crisp and clear images. Furthermore, they were able to include HDR 10 compatibility while keeping the price cheap, providing you with deeper darks and better contrast ratios.
As a consequence, we can already claim that this monitor is the most affordable one that includes: excellent gaming-focused features, HDR 10 compatibility, and an IPS panel.
Final thoughts
When to buy it
The Acer Nitro XV240Y is recommended for those in need of a good display for competitive gaming with good image quality features such as an IPS panel with HDR 10 support.
However, it is not the cheapest gaming-focused display you can afford due to those image quality features. So if you are willing to spare some image quality features to reduce the final prices, you should consider affording a model such as the Acer Nitro VG270.
You may like