Our Conclusion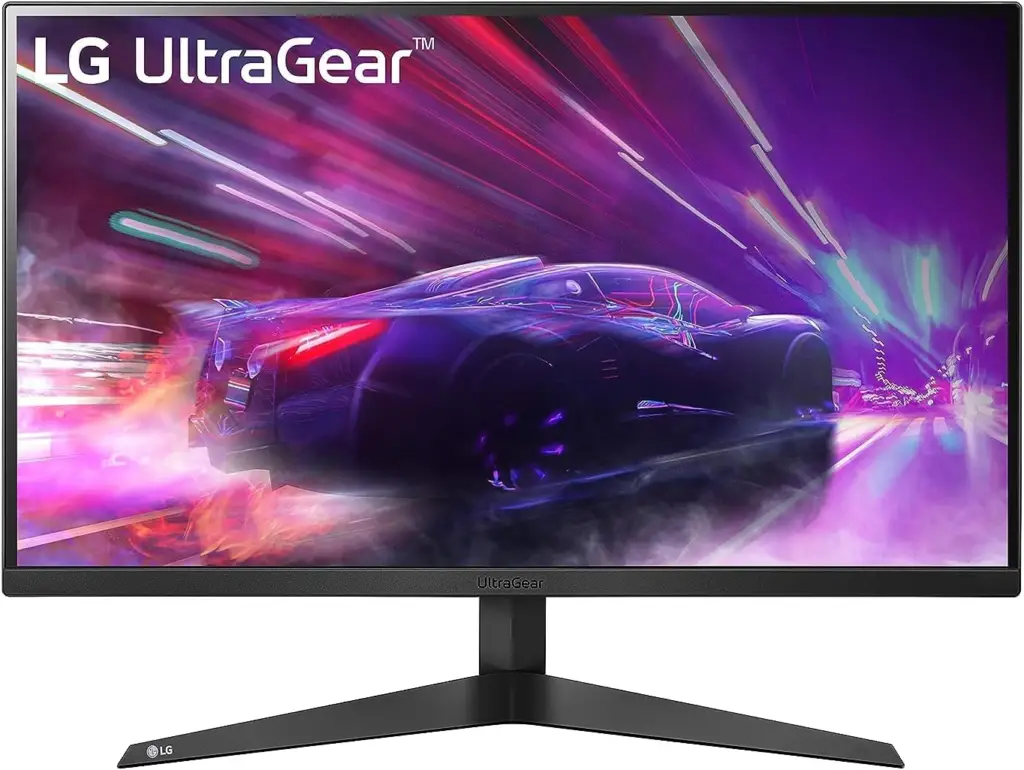 If it wasn't for its low PPI, the Lg 27GQ50F-B could be a great contender for the top of the budget 27-inch monitors list, but that issue is too large to be overlooked. It has a VA panel and its colors are vibrant. Besides that, it has great responsiveness for its price, but everything falls apart when we reach its resolution. In case you need a 1080p monitor, maybe a 24-inch monitor like the Dell S2522HG will be the better choice. What I recommend though is to save more money and go straight to a 27 1440p one, like the Acer ED273UR.
Pros
✓ 27-inch
✓ Vibrant colors
✓ Affordable
Cons
✘ Low PPI
✘ Low brightness ratio
Continuing with our streak of budget monitor reviews, today, we're taking a closer look at another one of LG's latest Ultragear releases. Last week, we reviewed a different monitor, the LG 24GN60R-B, which, unfortunately, didn't turn out to be the best option available. While it boasted a relatively high brightness ratio, its other features were quite average, making it just another affordable monitor in the crowded market.
Now, we're hoping that this new addition won't inherit the same characteristics from its sibling. Given its lower price point and appealing appearance, we have high expectations for it. We aim to answer a crucial question today in our LG 27GQ50F-B review: Is this the best 27-inch monitor you can find right now at an affordable price? We'll provide you with all the details, including the monitor's drawbacks and advantages, to help you make an informed decision.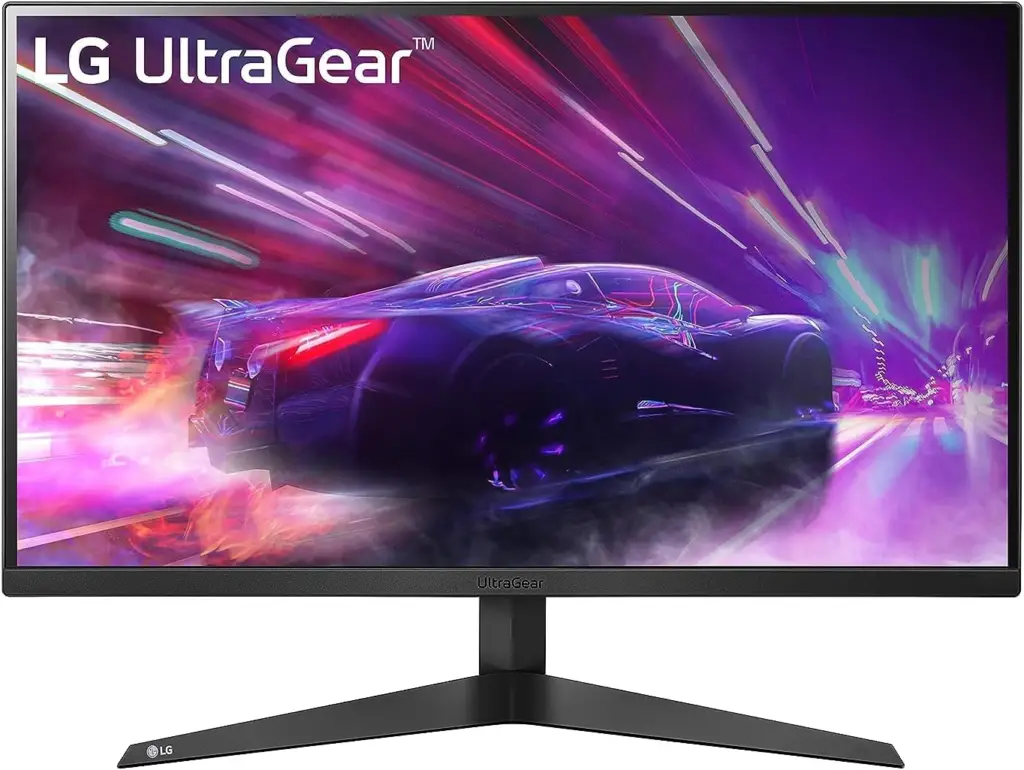 Design
When it comes to design, the Lg 27GQ50F-B hits a unique balance between sharp gaming aesthetics and cost-effective building.
The front panel immediately catches your attention with its sharp style. The 3-sided bezels are relatively slim, and while they aren't the slimmest ones out there, they are within the norm for this type of screen.
Besides those bezels, its sleek, minimalist look makes it a great fit for any modern gaming setup. Even so, it's easy to notice that some corners have been cut in the materials department. While the rear panel oozes a premium vibe, the choice of materials for the front panel and stand leans towards the budget side.
This compromise, while not impacting performance, might leave some users wishing for a little bit more sturdiness.
On the other hand, where the Lg 27GQ50F-B truly shines is in its rear design. It's one of the best-looking rear panels in its category. The combination of sharp angles, great connector placement, and a futuristic aesthetic gives it a unique and appealing flair.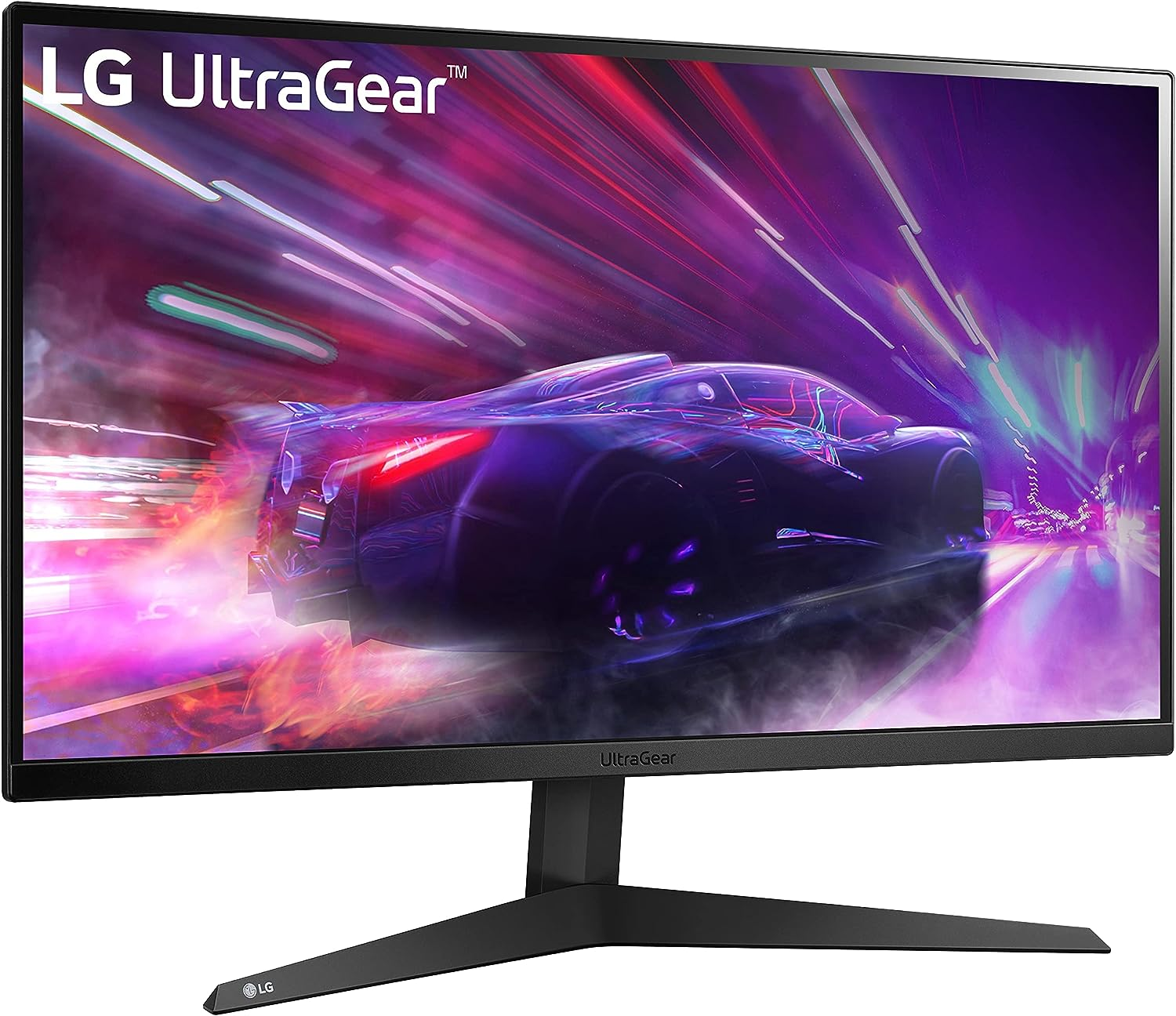 The monitor's V-shaped stand is a mixed bag. While it provides stability, its adjustability options are somewhat limited, offering only tilt adjustment. It also takes over a lot of your free desk space. This might be a drawback for users seeking more versatile positioning options.
On the bright side, it does support VESA mounting, giving you the flexibility to choose your preferred monitor arm or stand for a customized setup.
With all that, we can say that the Lg 27GQ50F-B boasts a design that balances sharp gaming aesthetics with some trade-offs in materials and adjustability.
It's a head-turner from the rear, and its slim bezels on the front enhance the gaming experience. However, if you prioritize build quality and extensive adjustability, you might want to explore other options in this category.
Connectors
As expected, this monitor doesn't have any USB ports, including only the usual: 2x HDMI, 1x Display port, and 1x headphone out.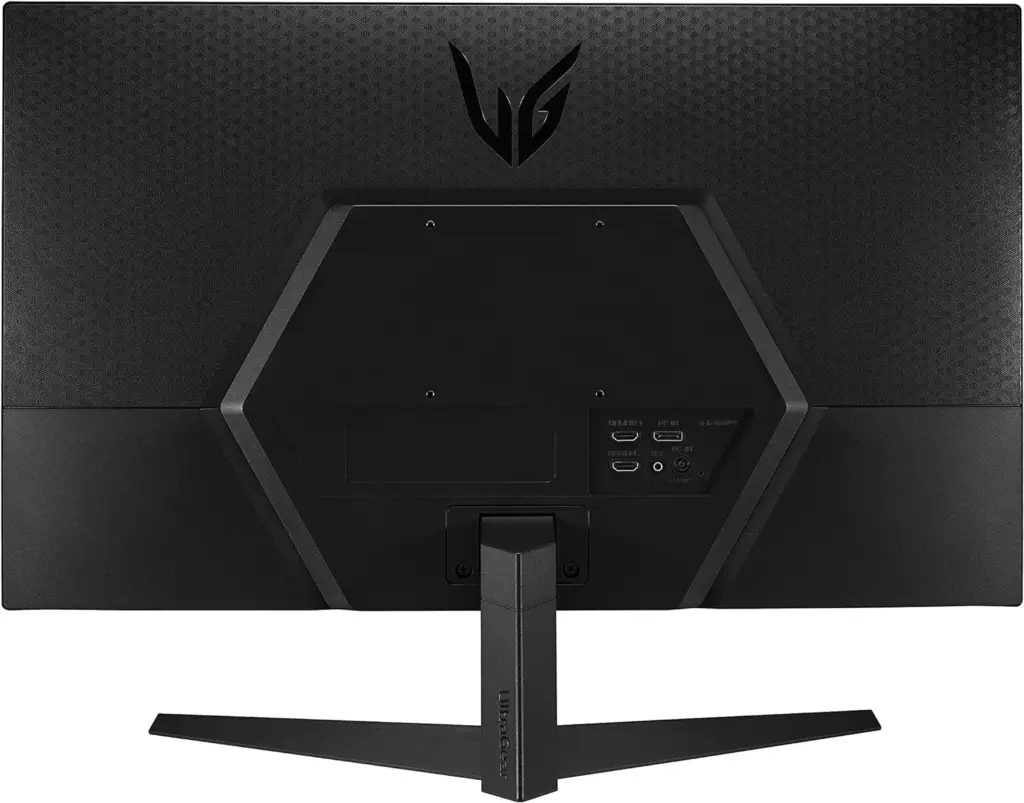 Features
Panel type
VA panels rarely disappoint. Sure, there are some instances when it is used for a very cheap monitor and ends up performing worse than average, but those are very rare examples. For the most part, this panel delivers good overall performance.
Some say this is your go-to choice if you value good black consistency and a high contrast ratio. Sometimes, it even surpasses some budget IPS panels in terms of color accuracy, which is one of the strongest pluses the IPS has going for it.
Look at the: for example, it's a VA panel, and its color precision is miles ahead of a bunch of low-end IPS panels, even though the VA is often considered inferior. Bear in mind though, regardless if it is a VA or and IPS panel, if it is in the budget category, it won't reach a professional level of color accuracy.
The Lg 27GQ50F-B has a decent amount of vibrancy in its red and green tones, just the right amount. It is perfect if you search for an averagely poping color presentation, but nothing over the top.
In case you prefer the colors to pop out more, you can always crank up the red and green tones settings, but we'll get further into the calibration realm in the image quality section.
Brightness
If you need your monitor to be glare-free and bright enough even in well-lit environments, this is definitely not the one you should go for.
Peaking at 250 nits, the brightness of this monitor is rather average, to say the least. This is currently the lowest ratio conventionally used for budget monitors. And as you can guess with that, it is far from outstanding.
The good thing is that not every 250-nit monitor will have the same brightness performance. Comparing this one to the: for example, we can see that the former is significantly brighter, even though we can't call it the best VA 250 nits one.
If you are willing to make some compromises in the responsiveness aspect, maybe the: will do a better job with brightness, and it is currently the most affordable monitor you can get that has a good brightness ratio for headache-free use in a bright room.
By the way, due to its VA panel, you can crank up the brightness setting in a dark room, and the IPS glow won't be there to take the wind out of your sails, while the blacks remain somewhat deep.
Refresh rate and Response time
So far, this monitor is still lacking a distinctive feature that will set it apart from the crowd. As it stands right now, you can find pretty much every feature it has in a bunch of budget monitors out there.
Here in the responsiveness section though, this tide is about to change, as there is one feature that is not that common to find: 1ms MBR.
If you are a casual gamer you may be disappointed with that, but this is great news if you need to perform your best in the FPS and fast-paced games.
Sure it would've been even better if it had a 1ms MPRT instead, but the 1 ms MBR is still up to the task.
During our FPS games test, this monitor performed admirably. It was hard to see a heightened amount of motion blur, and the slight motion blur the monitor had was only noticeable due to its 165hz refresh rate. If it were faster at 240hz, it would've been even harder.
Speaking of which, the 165hz it has can let professional gamers down, as 240hz is the preferred choice for the competitive scene right now. The bad news is that it is pretty hard to find such a budget monitor with 240hz. Still, be sure to check out the: Dell S2522HG – it is pretty close to $200 when it's on sale.
Back to this monitor, its 165hz will do wonders for your story-driven games and lower-paced titles, giving the coveted smoothness that lower ratios like 60hz and 75hz lack. This smoothness, paired with the 1ms MBR subsiding the motion blur, definitely won't leave anything to be desired for those titles.
Lastly, it also includes Freesync premium, reducing screen tearing and enhancing even more the fluidity.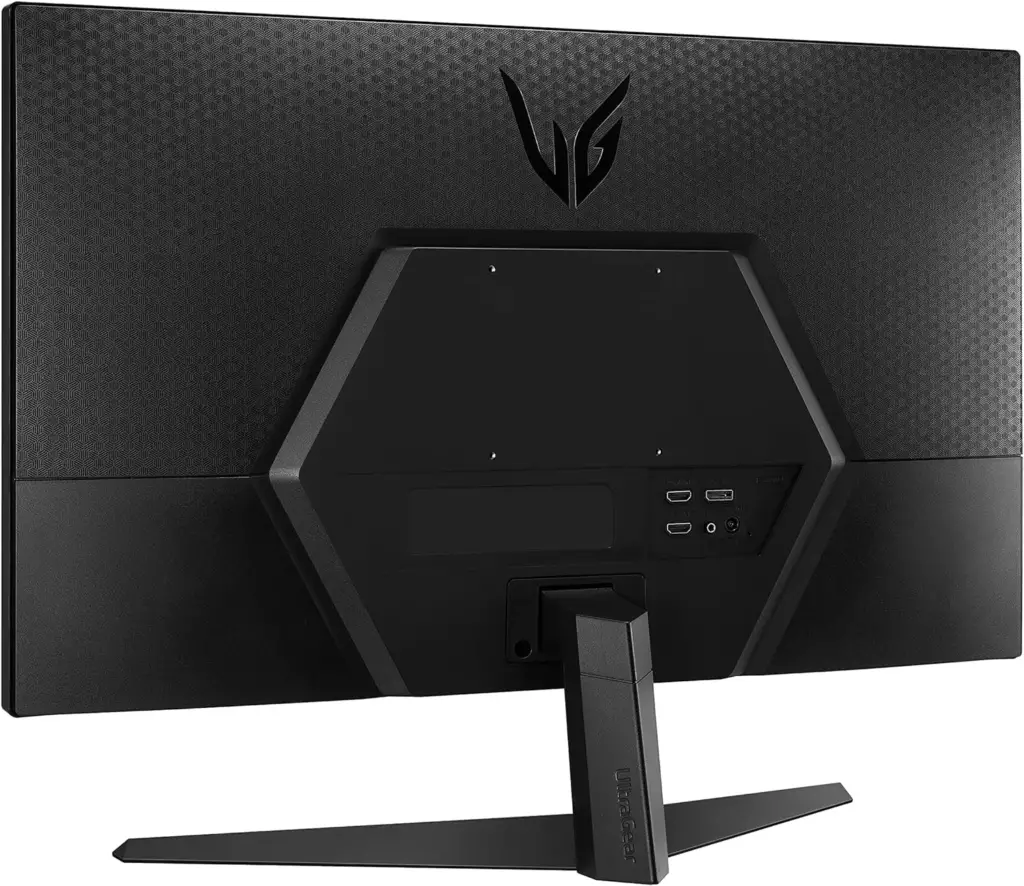 Image Overall Quality
Here is where everything falls apart. Why is that? you might be wondering, well, it is just one feature that made this, its resolution.
This is a 27-inch monitor with a 1080p resolution. As we all know, the higher the resolution goes the higher the PPI and the image sharpness will be, but that varies from screen size to size.
For example, a 1080p 24-inch monitor has around 92 PPI, while a 27 inch has around 81.
This may not look like a big difference on paper, but trust me, it is significantly worse to use a 27-inch 1080p monitor, especially after you were used to a 24-inch one.
Some say that, right now, the best resolution to pair the 27-inch size with is 1440p, as it will provide enough sharpness, without making everything small, as it would be for a 4k 27-inch.
The problem with 27-inch 1080p is that even from a normal distance, the pixels are easily noted, as they are enlarged, decreasing the overall gaming immersion.
Now, I know, you can't get a cheap monitor like this one with the 1440p resolution, but what I advise you to do instead, is to go for 24 inches, even if it is too small for you – it will save you money, and keep images sharp enough.
Moving on, the Lg 27GQ50F-B's colors are great for a budget VA panel. Due to the NTSC 72 ratio, they are even more poping than your usual budget VA colors. Sure, they aren't accurate enough for professionals, but that isn't the main focus of the Lg 27GQ50F-B at all.
Unluckily, the black smearing was a big problem here. It was indeed a shame that the MBR feature was helping with motion blur, but the black smearing was staining everything after that.
Black smearing stands for black or dark ghosting behind objects, especially if they are in darker tones and moving fast on the screen. It can happen with texts, and even YouTube scrolling, if you are using the dark mode.
It does vary in quantity based on the building quality and other aspects, but it is still an issue that will haunt every VA panel. And, as you can guess, for a budget VA panel this issue is even more exacerbated. Fortunately, you can train your eyes to overlook that, given the right amount of time.
Final thoughts
When to buy it
Unfortunately, apart from being a bit more expensive than its main competitors like the msi g2712 and the MSI G2412, the Lg 27GQ50F-B is still a 27-inch 1080p unit, and, as we all know, this isn't the best combination for a good/immersive gameplay.
Due to that, I recommend opting for a 27-inch 1440p screen. Even if it costs more, as it will be miles ahead of that one in terms of image sharpness.
Also, if you're budget-conscious, maybe 24 won't be a massive downgrade, and you can go for even more affordable options like the MSI G2412 or the Dell S2522HG with even better features.
You may like