Our Conclusion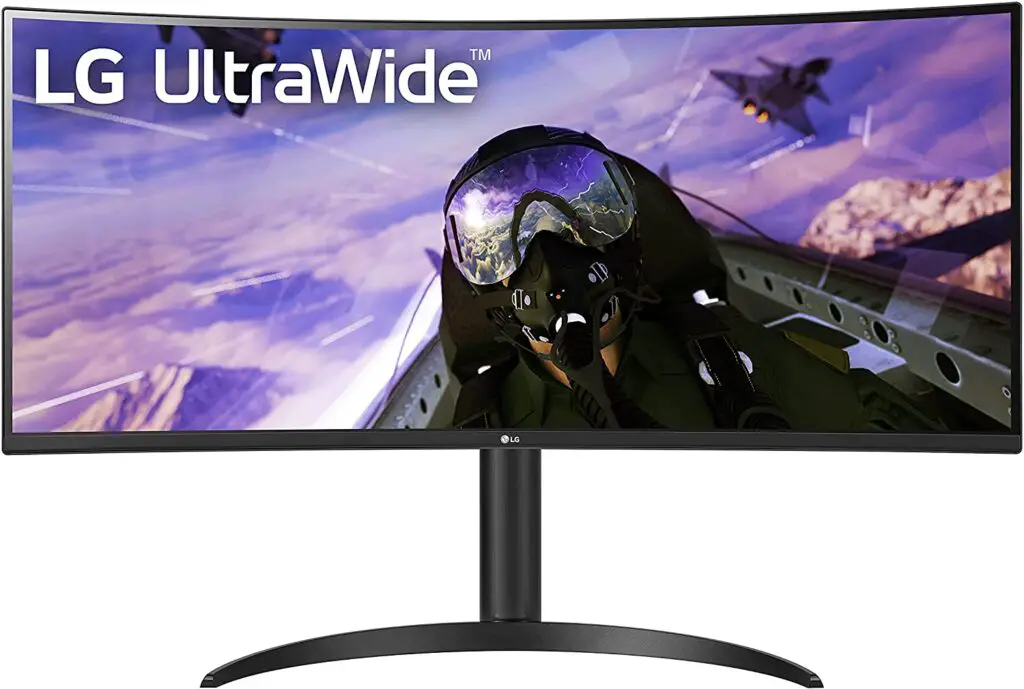 The LG 34WP65C-B is an excellent choice if you are looking for a budget ultrawide monitor with a reasonable refresh rate but don't need competitive-level responsiveness. It's one of the cheapest ultrawide monitors on the market right now, with excellent smoothness and average image quality. However, If the IPS panel lines up better with your preferences, be sure to check out the: HP X34 which is one of the best in its class just like the LG 34WP65C-B.
Pros
✓ Awesome Image Sharpness
✓ Good Brightness ratio
✓ 160hz
✓ Budget
✓ 2x 7W out speakers and VESA support
Cons
✘ Lacks USB ports
✘ Mediocre image quality
As we are all used to and aware of at this point, LG is one expert in building similar displays. Sometimes they change some things here and there, but for the most part, they just modify a single letter or number in the model name and call it a day. Fortunately, that wasn't the case with the: LG 34WP60C-B, which is basically a downgraded version of the one we have today. However, for some reason both are priced similarly, putting the LG 34WP60C-B in an awkward position as it is the most flawed one.
Anyway, today, we're looking into not only the best version of that unit but also one of the best VAs currently when it comes to price to performance. It still has a couple of downsides to take into account, but we'll cover all of that in today's LG 34WP65C-B Review.
Feb 23, 2023 Update: We added more information to all sections, and compared this monitor to its previous unit (LG 34WP60C-B). Besides, we mentioned some ultrawide screens in the same price range.
May 20, 2023 Update: More images and alt tags. Also, we added a table to improve usability. Corrected typos.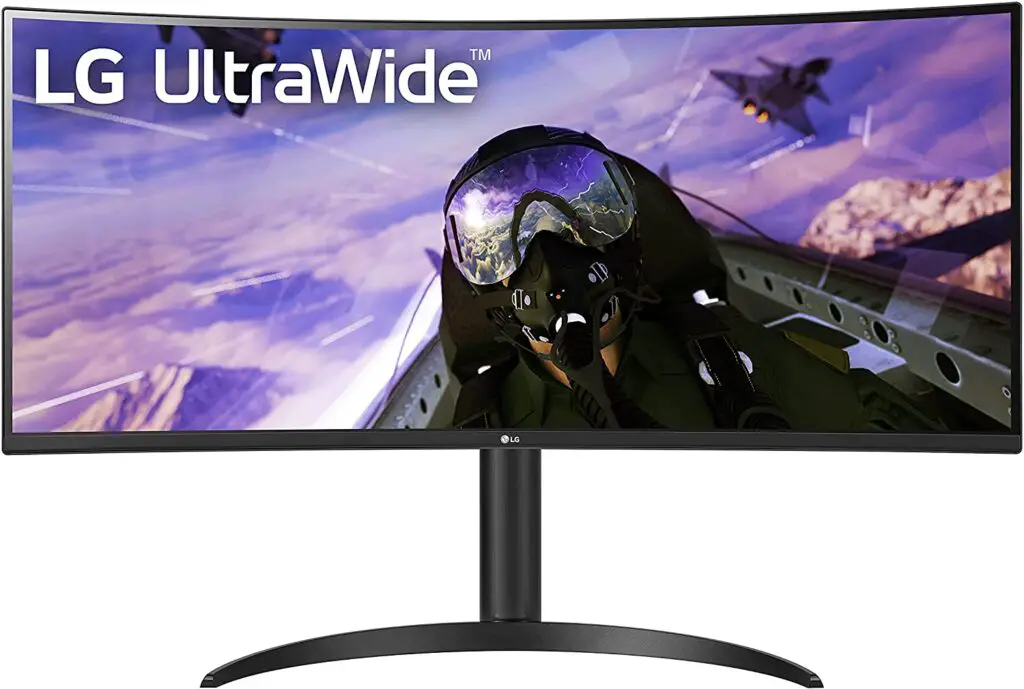 Design
Although LG was formerly known for its repeated screen designs, it's wonderful to know that they've moved on, expanding their innovations with each new release.
They were able to compensate for the bulkiness of a 34-inch screen by combining sleek and sturdy aesthetics into a really stunning display.
It boasts a borderless screen style with a rather small bottom bezel, giving it the necessary modern vibe to keep on track with recent releases.
This monitor has one of the smallest bottom bezels of any 34-inch monitor we've seen on this site. Of course, we're only speaking of LG here, since they had a reputation for using very thick bezels in their older releases. Aside from that, this monitor measures: 31.9 x 10.2 x 18 inches, so make sure you have enough room on your desk for it. If you choose to mount it on the wall, on the other hand, the VESA support will make installation much easier.
The connectors of this monitor are situated in a vertical rectangular recess on the right side of the VESA support, which differs from the usual horizontal and below the VESA pattern. Unluckily, the stand doesn't have any gaps to pass the cable through, so you will probably still face some issues with cable management. On the plus side of things, as it doesn't have a wide variety of ports, this will most likely not be a big hurdle for everyone.
That said, while this monitor's stand has tilt and height support, it is not necessarily ergonomic. On the bright side, its base isn't bulky enough to consume a huge portion of precious desk space. Still, the U-shaped style does have its downsides, such as taking up a huge degree of your desk length. Due to that, if you need more ergonomy, it may be a better option to go for an adjustable stand.
Finally, we must remark on its excellent 2x 7W out speakers, which perform admirably given the monitor's price range, lagging just one step behind the top-of-the-line tier.
In fact, those speakers are one of the best plus points this monitor has to offer. They have a surprisingly deep bass and good volume, but it still lacks in the treble response delivering grainy trebles, especially with high volume. Speaking of which, its volume is indeed better than the average, and it is leagues above what you can normally find in this price range.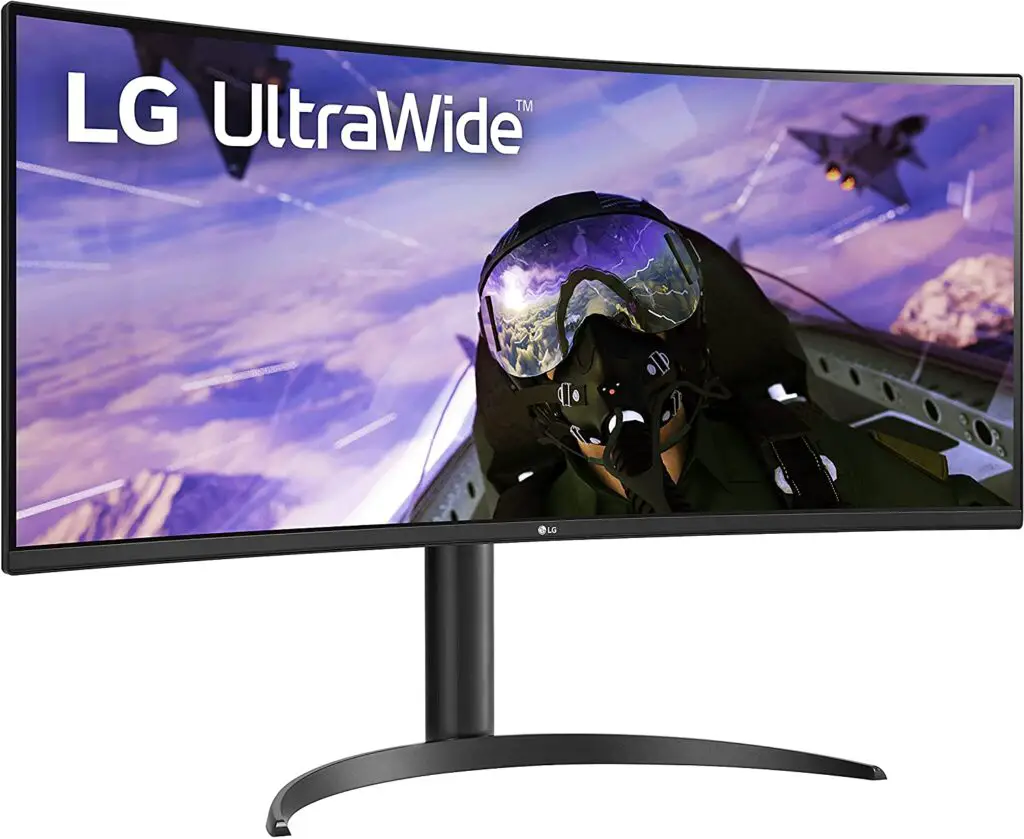 Connectors
Because this monitor is less expensive than typical, they had to compromise and not use certain features, as we can see here, with it featuring pretty much only the necessary for video input, including 2x HDMI ports, 1x Display port, and 1x Headphone-out. Bear in mind that the HP P34hc G4 is currently in the same price range, and it may be a better choice for you if you need some USB-C and USB connectors.
Features
Panel type
One of the most significant elements of a monitor is the panel, which is one of the main features that help to determine whether it belongs in the professional, casual, or gaming categories. 
A VA panel is used on this monitor. This is the panel with the better contrast of the three, as well as the one with one of the highest price-to-performance ratio.
On the other hand, we can't recommend it for media professionals because it has a large color accuracy difference from an IPS panel, which might be critical if you work with media editions or something similar. 
Some people prefer the VA for watching content since it has superior contrast and doesn't have IPS glowing, which is a well-known drawback of IPS displays. 
Still, the VA does have a couple of downsides that we should take into account before choosing it over the IPS too. The first is the viewing angles and colors. As we said, the colors of VA monitors aren't usually on par with what you have with an IPS. On top of that, such a panel isn't the best one in terms of viewing angles as well, leading to distorted colors depending on the point of view.
As for the second most prominent downside, we can't forget the black smearing. About this specific issue, we'll get further into it in the refresh rate section. But for now, you should know that it is really a rock in the shoe for fast-paced gameplay – sometimes even for casual use, and the LG 34WP65C-B, unfortunately, bears this burden.
Brightness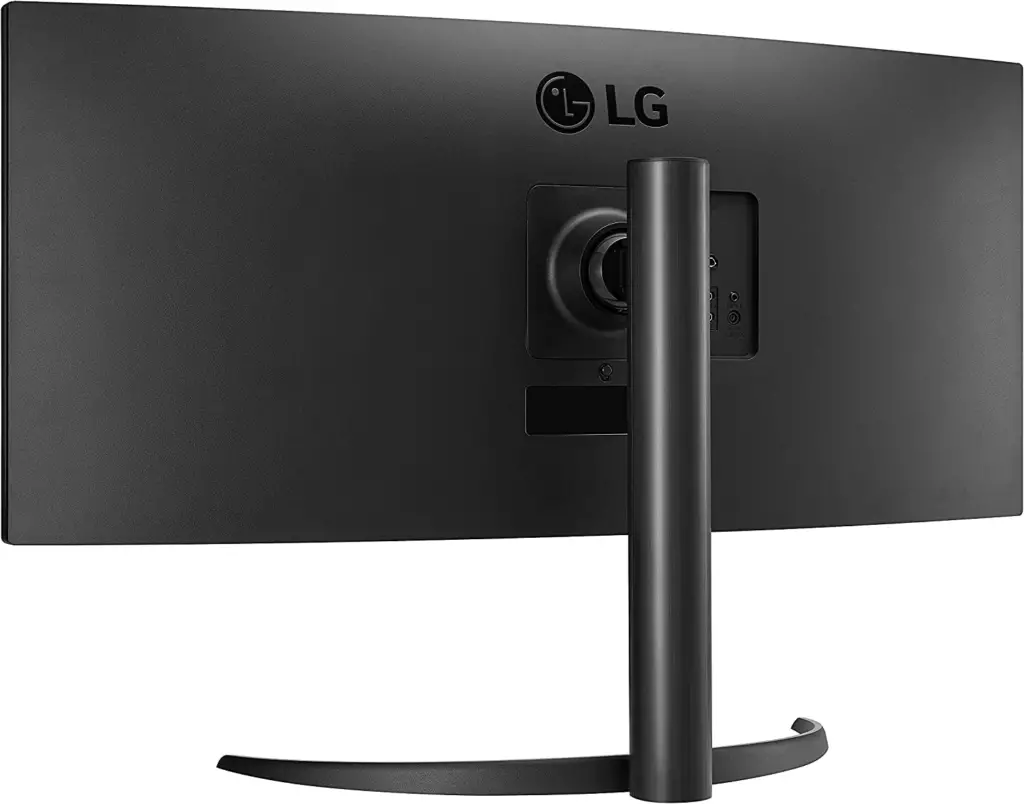 The LG 34WP65C-B has a peak brightness of 300 nits, which isn't the finest, but it's also not the worst for its cheap prices. This ratio is more than enough for daytime use. However, if the skylight hits the screen, you'll have trouble viewing the displayed graphics properly. 
So, if you feel you need a monitor with higher peak brightness, consider the LG 34WN650-W. Although, keep in mind that 400 nits ultrawide panels are notoriously expensive. 
We didn't even have to crank up the brightness to its maximum during our daily use, 80 percent was just about fine for our needs. 
However, as previously stated, even at maximum brightness, it was not enough to give clear images when placed in the direct skylight.
The main reason behind this is the glare caused by the lack of a good reflection handling. Combining that with the subpar viewing angles inherited from VAs, we have a very poor experience trying to actually see what's on the screen.
On the bright side, they managed to give a very solid black uniformity to this screen, reminding us once again that VA panels are the best if you need deep blacks to watch movies. Of course, it would've been better if we had a higher brightness to use during the day, but this is a small price to pay if you want to implement a lot of good features into a single mid-range ultrawide screen.
Refresh rate and Response time
Although VAs aren't that bad when it comes to response time and responsiveness features, the IPS still takes the lead nowadays.
The gap between the two panels in terms of this specific characteristic is widened even further by the recent use of Fast IPS displays for mid-range screens, which have an even faster average response time than VA panels, but they tend to be more expensive. 
In any case, the worst aspect of the VA panel isn't even the reduced response time ratio, which is so small that it makes no difference other than on paper. The black smearing, on the other hand, is a major problem.
Wanting or not, every VA panel has the black smearing, but higher-end screens tend to have a constricted amount, even though that is not a rule of thumb. The thing is, while this badly influences your competitive gameplay, it could also spoil casual use.
Unfortunately, this monitor has a lot of black smearing, which consists of artifacts that can occur when dark objects are displayed on a dark background. Due to that, during our tests with the navigator in the dark mode, black smearing was all over the place. Besides that, it was very present in the Escape From Tarkov game which has a very dark atmosphere and tends to be fast-paced.
On top of that, this monitor only has a response time of 1ms MBR/5ms GTG which is not ideal for competitive gaming but adequate for regular use. In fact, motion blur and ghosting weren't that big of a deal with this screen, so it shouldn't be a big problem for casual games.
160hz will give you a lot of smoothness, and it's also quite an uncommon figure for inexpensive ultrawide monitors, so it's a big bonus for this screen.
It also boasts AMD FreeSync Premium technology, which improves the fluidity of the pictures even more when you're playing, removing the majority of screen tearing. 
With that stated, my suggestion to you is that if you have a little extra money to spend and want a high-end gaming ultrawide screen, you should not consider this one and go for other options such as the MSI Optix MAG342CQR or the MSI Optix MAG301CR2 instead. 
On the other hand, if you simply want a monitor to play all types of games, not just competitive ones, this can still be an excellent option, depending on its overall image quality, which we'll check out right now.
Image Quality
The LG 34WP65C-B has a resolution of 3440 x 1440 and a screen size of 34 inches, boasting a high PPI, and excellent visual sharpness.
They also put a lot of effort into the pixel pitch, increasing it to 0.07725 x 0.23175 mm, so if you're looking for sharpness and clarity, this monitor will provide it. 
When it comes to color accuracy, the VA panel falls short of the IPS. The VA, on the other hand, offers the highest contrast of any of the other panels, so if contrast is more important to you, the VA may be the correct pick.
Also, depending on the quality of the VA panel, it can produce results that are comparable to those of an IPS panel, which is prevalent in high-end VA monitors like the ASUS VA32UQ, but it isn't the case with this one. 
Although, we can say indeed that the colors are better than your average mid-range ultrawide monitor with the VA panel, even though they aren't as vibrant and vivid as an IPS'. Surely, if you don't plan on using this monitor for professional media editions or something related, you shouldn't be concerned about the colors of this monitor at all.
It also includes simulated 10-bit colors to improve color coverage, which leverages the high refresh rate to try to recreate 1.06 B colors and make the gradients smoother. As a result, despite lacking professional color accuracy of genuine 10-bit colors, it performs better than average for VA panels. 
Lastly, this display includes HDR 10, which, as we all know, is of poor quality and is definitively not necessary for modern monitors, as the thing it does best is only increase the final prices. Since the brightness of this monitor is considered below the requirement for HDR, this feature becomes even more useless, so don't expect to have the best HDR experience with this screen.
Overall, this monitor really surprised us. From its good enough colors, solid black uniformity, and high refresh rate, it is no less than one of the best monitors you can get at this price range right now. Still, depending on personal tastes, a monitor with an IPS panel and better brightness such as the HP X34 may be the one to go for.
Final thoughts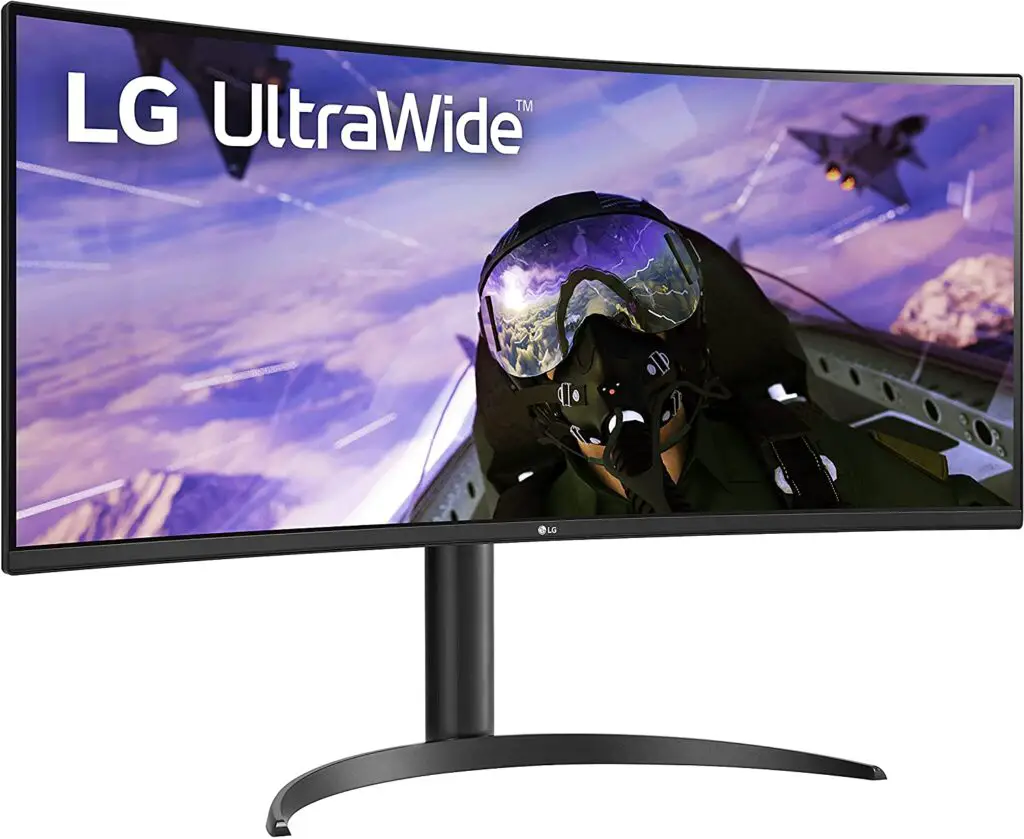 | | |
| --- | --- |
| Resolution | 1440p (3440 x 1440) |
| Size | 34″ |
| Panel | VA |
| Refresh rate | 160hz |
| Response time | 1ms MBR, 5ms GTG |
| Contrast ratio | 3000:1 |
| Color gamut | sRGB 99%, 16,7M |
| Brightness | 300cd/m² |
| Ports | 1x HDMI, 1x D-Sub |
When to buy it
Even today, it is quite rare to find an ultrawide monitor with such a high refresh rate and budget prices, especially when said monitor also comes with awesome speakers.
That said, If you want an ultrawide monitor for playing casual games or watching movies, and you don't think the black smearing of VA will be a hindrance, the LG 34WP65C-B is for sure one of your best choices. Besides that, this monitor is also great if you need a very large screen real state for professional tasks.
Still, if the VA panel is not for you, and if you need a bit higher brightness or better colors, maybe an IPS screen such as the HP X34 is your best deal.
You may like