Our Conclusion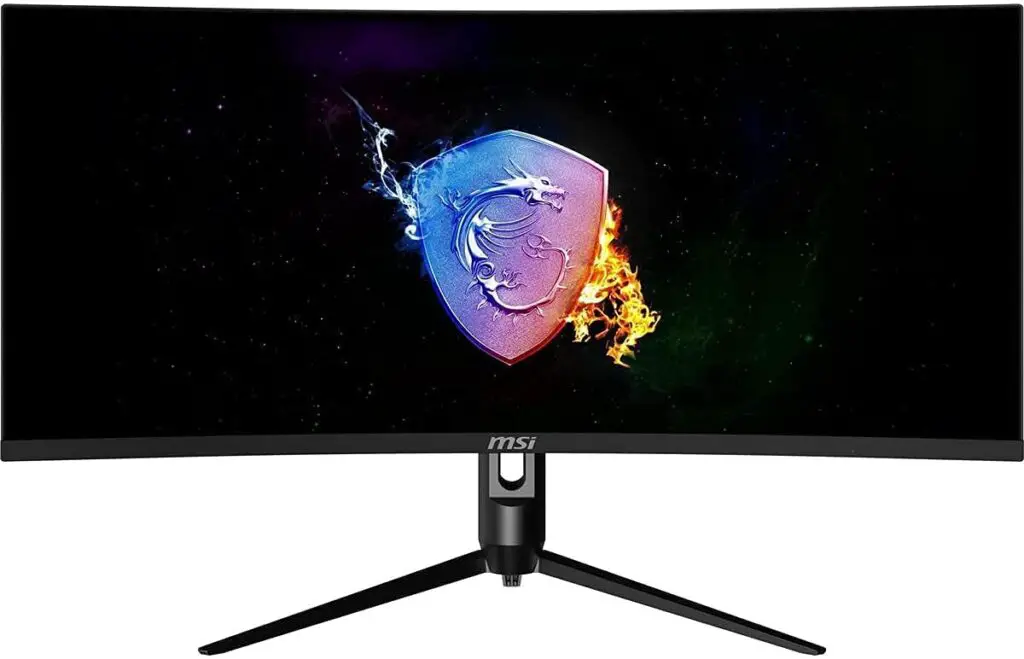 The MSI Optix MAG342CQR is currently one of the top MSI 2021 monitor releases, as well as one of the most worthwhile gaming curved ultrawide screens. If you can find it for around $400, which it is now selling for, I strongly advise you to buy it. However, if you need a little less expensive ultrawide monitor, you can look at the LG 29WP60G-B.
Pros
✓ Great Image quality
✓ 1440p, 144hz, 1ms
✓ RGB LEDs
✓ VESA support
✓ HDR
Cons
✘ No USB ports
✘ Lack of out speakers
Unfortunately, when it comes to ultrawide monitors, finding one at a reasonable price is currently challenging.
However, there are a few extremely rare instances where a manufacturer sacrifices some less critical characteristics in order to improve the price-performance ratio.
As a result, this type of monitor has been increasingly popular in recent years. But, unfortunately, still, not everyone can afford one of these. So far, the LG 29WP60G-B and the LG 34WN750-B are two of the most cost-effective ultrawide monitors reviewed on Reatbyte for 2021.
And for the display we're going to look at today, MSI managed to pack in a lot of great features while keeping the costs reasonable. So, without further ado, let's check out the MSI Optix MAG342CQR review and find out if MSI really did a good job with this monitor.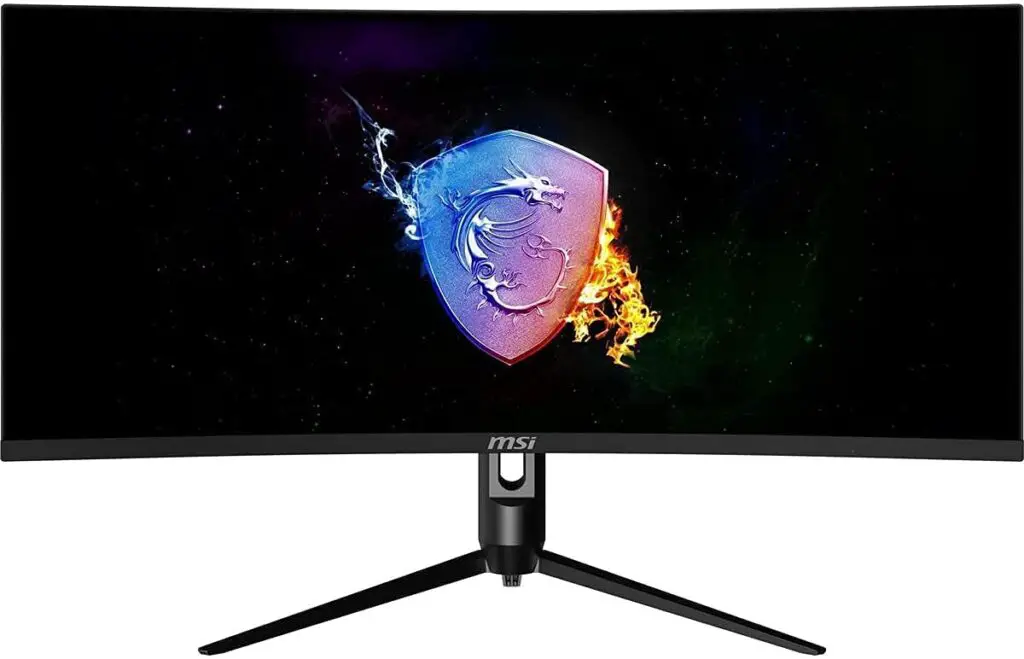 Design
Regardless of budget, MSI has a habit of launching nearly every monitor with gaming-like designs. And since they chose to add RGB LEDs to this one, it has reached new gaming heights.
Although RGB LEDs on monitors are a contentious feature, the one on this screen does not appear to be overly dazzling; rather, it is fairly subtle. It's on the back of the display, running within a circular pattern with the rainbow technology.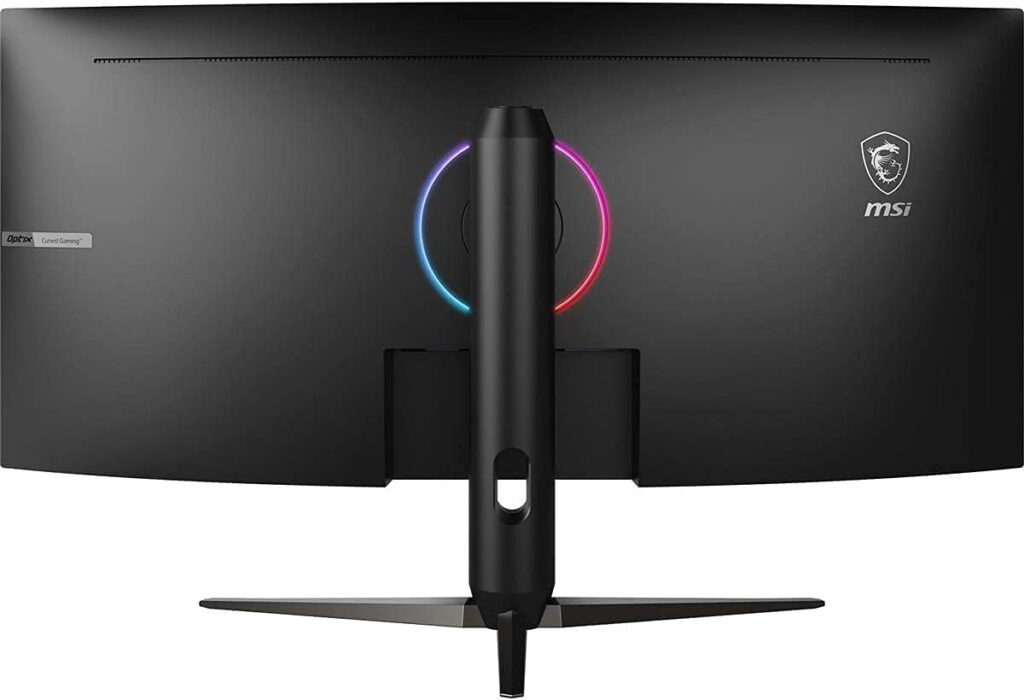 It's worth noting that this is a curved monitor with a 1500R curvature, which is a plus point to gamers because it creates a better gaming atmosphere.
The MSI Optix MAG342CQR has a very thin bottom bezel, with borderless style on the 3-sided ones, which follows the current monitor trend and gives it a modern look.
It also boasts an easy-to-install stand with a number of adjustments, including height, tilt, and swivel, being the swivel one really uncommon to see in ultrawide monitors at this price range.
Looking at the rear of the monitor, we can see that it supports VESA, making it easier to mount it on the wall. Also, keep in mind that it lacks external speakers, which can be a significant disadvantage depending on your use.
Connectors
Continuing on the rear, we may add that the monitor's connectors disappointed us a little. It includes only 1x DP (1.4), 1x Headphone-out, and 2x HDMI (2.0), and lacks some USB upstream ports or even a USB-C port. But, this replacement was probably necessary to reduce the prices.
Features
Panel type
Now it's time to look at one of the most important variables that influence a monitor's price as well as its target market: its features. When I saw the costs for this monitor, I had to admit that the VA panel was a feature that I had expected.
This panel is a popular choice among budget ultrawide monitors since it reduces a lot of money over an IPS panel, giving similar overall quality. On the other hand, you'll lose the color accuracy that an IPS panel gives.
The VA panel, on the other hand, has some advantages. This panel offers improved contrast ratios on projected images and is free of the IPS glowing seen on IPS panels, in addition to its balanced costs.
Even so, if you want an ultrawide monitor to work, and your work needs the most color accuracy possible, the IPS panel is an indispensable choice. You can find budget ultrawide displays with this panel, such as the LG 34WN750-B and the LG 34WN650-W.
Brightness
Furthermore, the brightness of VA panels is considerably more crucial than that of IPS screens. Again, they attempted to cut the brightness ratios as much as possible in order to minimize overall prices. 
Fortunately, it has no effect because they used 300 nits in total, which is standard for this price category and will not disappoint you. I'm using 75% of the display's brightness, and it's quite bright for gaming and browsing the web.
Refresh rate and Response time
Speaking of which, now is the time to look at the gaming capabilities of this display, which are the true masterpiece of this monitor that attracts its intended audience.
The MSI Optix MAG342CQR provides excellent gaming features, but nothing unusual for a gaming-focused monitor in this price range.
It boasts a refresh rate of 144hz, which gives you more smoothness throughout your gaming sessions and is the goal figure for competitive gamers.
And the 1ms of response time, which delivers a faster command-to-screen speed and so improves the average response time of the player.
Both features together led to this monitor being classified as a gaming one; nonetheless, this display offers a high-resolution screen that may be on the way to a decent gaming experience depending on your graphics card.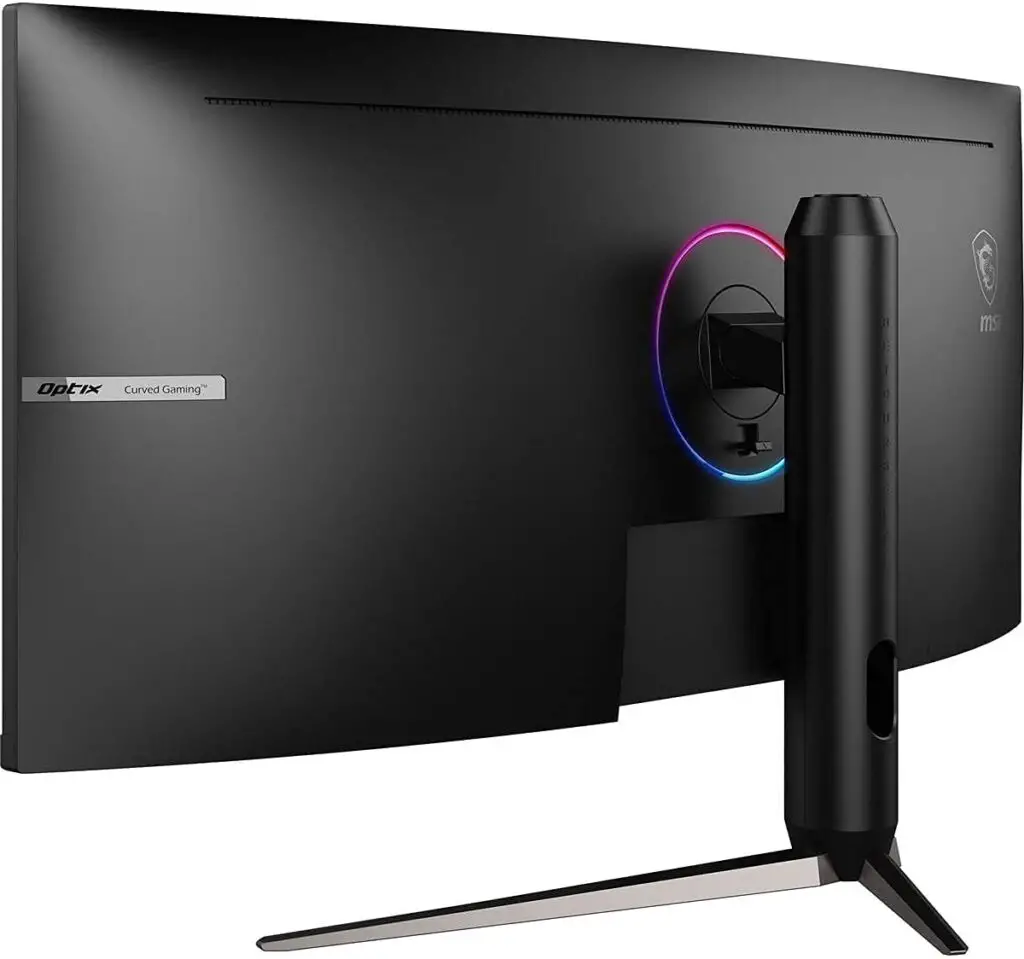 Image Overall Quality
Since the introduction of the new 3000 Nvidia graphics card series, the 1440p resolution has grown in popularity. Previously, even some high-end graphics cards struggled to achieve high FPS ratios at this resolution, depending on the game. 
As a result, if you can purchase a gaming 1440p monitor, you'll need to make sure your graphics card can reproduce the video at a high frame rate, depending on the game you'll play.
If you don't plan on purchasing a new graphics card due to recent price increases, you can save money by purchasing a gamer 1080p ultrawide monitor like the LG 34GL750-B.
Aside from that, although not having the best panel for image quality, this display's VA panel is one of the best among VA displays, beating out even some IPS from other screens. 
When comparing a mid-range IPS display to this one's VA panel, you'll find that this one has greater color reproduction. This is because it covers 92 % of the DCI-P3 color gamut and can reproduce 1.07B of supported colors.
It also has HDR support, which, when combined with the inherent 4000:1 contrast ratio, will push color reproduction and deep darks to new heights in the VA display category.
So, don't get me wrong: I don't recommend the VA panel for professionals because of the accuracy levels. However, I still prefer the colors of this VA to a large portion of the IPS displays I've seen, which are vibrant and crisp when watching movies or playing games.
Final thoughts
When to buy it
If you are searching for a budget curved ultrawide display with good gaming features as well as a great image quality, the MSI Optix MAG342CQR is currently one of the cheapest and most well-designed options you can afford. 
However, bear in mind that this monitor has a 1440p resolution, so, depending on your graphics card and the games you want to play, it may be a little difficult to reach the 144 FPS this monitor can provide. 
So, if you need a 1080p screen for your graphics card, I recommend you the LG 34GL750-B, which is another ultrawide choice, but this time it has even cheaper prices but the same gaming features.
You may like