Our Conclusion
The VIOTEK GFV24CB is absolutely a great choice if you need a gaming display, with affordable prices and minimalist/solid aesthetics. However, it has 8ms of Response time, which is a little too high for gaming-focused displays. So, I recommend you checking the prices of the Acer Nitro XV240Y and the Acer Nitro XZ270 before affording this one.
Pros
✓ 165hz
✓ VA panel
✓ Solid aesthetics
✓ Affordable
✓ VESA support
Cons
✘ 8ms of Response time
✘ No out speaker
We breathed new life into the website yesterday by publishing the first-ever Lenovo model review on Reatbyte. And, because this will be the first VIOTEK monitor on the site, we'll be doing another special review today. 
We chose a gaming model with some affordable prices because we've been reviewing a lot of professional and casual screens lately.
So, without further ado, let's take a look at the VIOTEK GFV24CB Review to see if it's a suitable gaming-focused purchase for 2021.
Design
The overall thin aesthetics adopted for VIOTEK monitors is something I really appreciate. And this monitor is no exception, measuring 21.3 x 8.1 x 16.4 inches and weighing only 5.70 lbs, far less than the industry standard of around 7.00 lbs.
It's also worth noting that the display's bottom bezel is quite small, perfectly accommodating the VIOTEK logo. It also has rather narrow 3-sided bezels, featuring the borderless bezels style that is popular this year on current displays.
Looking at the stand, we can see that it has a glossy black finish, but it has a rather standard look, with its round shape, and we can't forget the thinness, matching the rest of the display. On the other hand, it has limited adjustments, including tilt support only. 
When we look at the back, we see a pretty empty style with nothing special on it to increase the display's charm when they could possibly add some gaming visual aesthetics to it. 
Fortunately, it has VESA support for those who want to easily mount this monitor on the wall. However, keep in mind that it lacks an out speaker, so if you need those on your monitor, this may not be the one for you.
In general, it appears that VIOTEK tried to keep this display's design simple and solid in order to keep it thinner than the others, being a perfect choice for those who want a clean and minimalist setup.
Connectors
As for the connectors, they decided to keep in the standard, adding 2x HDMI, 1x Display Port, and audio out. Note that a display port cable is included in the package.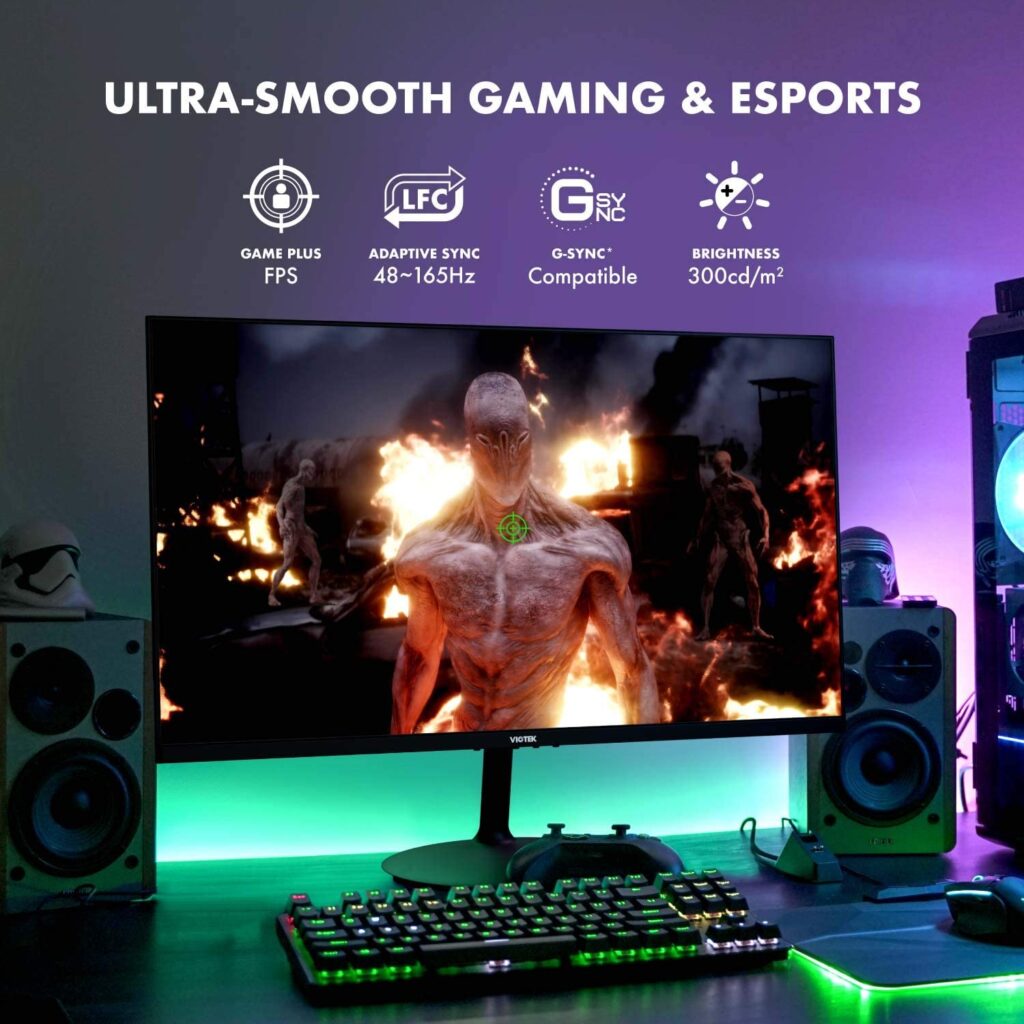 Features
Panel type
Let's take a look at the monitor's characteristics to see what it has going for it. This monitor reflects a common pattern of adding the VA panel to low-cost gaming monitors. 
This panel isn't the best if you're looking for professional-looking images with extreme accuracy, but it's also not the worst.
When compared to an IPS panel, the VA panel will offer a higher contrast ratio and lower pricing. Still, if you work with media, the IPS is the finest option, and at the pricing of this display, you can find options like the Acer K243Y, and the Dell S2421HS.
Aside from that, with the VA panel, you're not going to face IPS glowing issues, which is one of the main downsides of IPS screens. In general, we can say that this panel has balanced characteristics, with nice image quality and cheap prices.
Brightness
However, when implementing this panel, they have to compensate a little for the brightness, since the IPS works pretty well with low overall nits, but with the VA, things are different. 
But fortunately, they added 300cd/m2 of the total brightness, which stands in the average, providing a good rate, but again not one of the best. I'm currently using this monitor with 85% of the brightness, and, like that, it is quite sufficient for me. 
Refresh rate and Response time
Here we can see one of the best masterpieces and one of the biggest downsides of the VIOTEK GFV24CB: its gaming features. Well, as this is a gaming-focused display, we have come to see these features with high expectations. And fortunately, they didn't disappoint us, being awesome features for affordable prices.
The first differential is its 165Hz, which will only be possible to avail if you are using a DP cable. And as mentioned, this cable already arrives in the box, so there is nothing to be concerned about at this point. 
144hz from 165, on the other hand, does have some differences but nothing too great. 
Aside from that, here we can see the first downside of this monitor, which is its response time of 8ms. Although some say there are not many differences between 0.5 and 1ms, there is still a big gap between 8ms and 1ms. 
I have to be honest, during the gameplays test I noticed right away that something was different, but I guess this is something to get used to over time.
So, my advice for you check out some other gaming models like the Acer Nitro XV240Y and the Acer Nitro XZ270 and compare their prices to this one, and if they are costing less go with the one you liked the most.
But if they arent, this one is still a great option, and you probably won't be disappointed.   
Image Overall Quality
This monitor has a 1080p resolution, and a 24-inch screen, so you're going to have a good PPI average number, which gives clear images and sharp visuals.
However, the VA panel of this monitor only supports sRGB 98% of color gamut, which is a little bit worse than the 99% standard for this price range displays.
In contrast, it has a 4000:1 contrast ratio, which is a plus point for those who prefer higher contrast visuals.
So, In general, we can say that this display has an average image for the VA screen, but not the best for its price range.
Final thoughts
When to buy it
If you need a monitor with high refresh rate ratios and do not care too much about its VA panel and the 8ms Response time thing, the VIOTEK GFV24CB is an awesome choice for you. However, bear in mind that you can find a monitor with better features at the same price range currently, such as the Acer Nitro XV240Y and the Acer Nitro XZ270.
You may like