Our Conclusion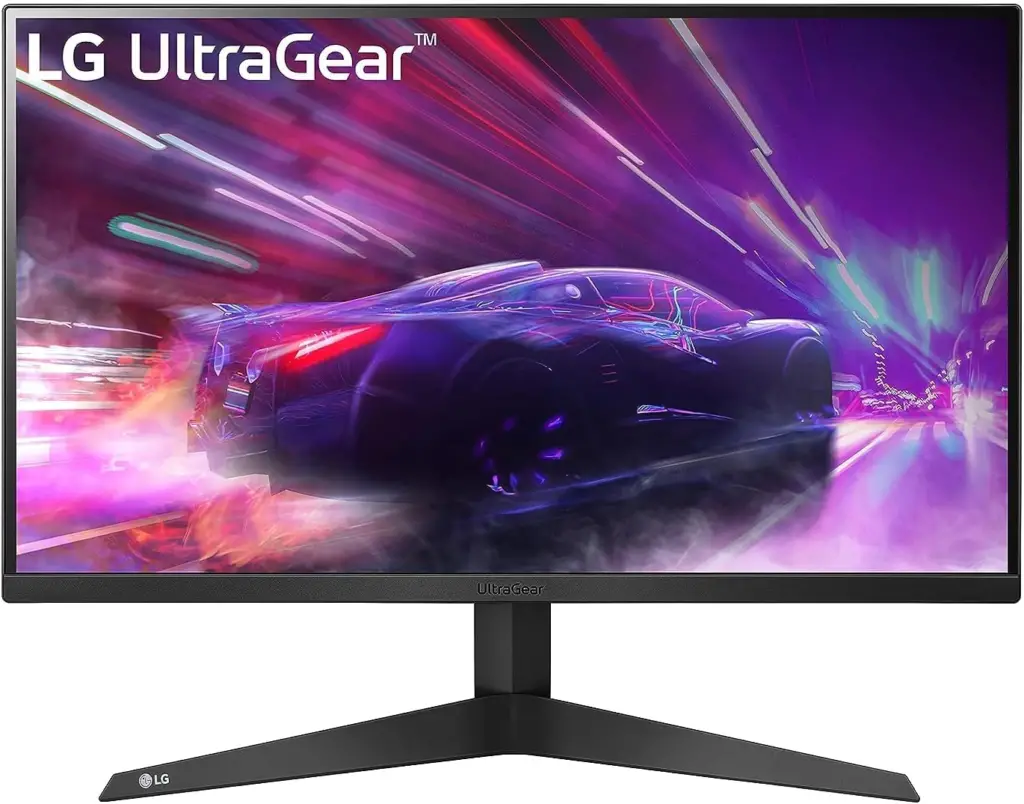 If you need a VA monitor that is both affordable and has nice colors, the LG 24GQ50F-B is now your best option owing to its shockingly low costs during this sale. Sure, it doesn't have higher-end features available, but it is unquestionably fantastic for the price. If you require a step up from this one, consider the Acer ED273UR, or the Dell G2422HS if you want an IPS panel.
Pros
✓ Vivid colors
✓ 165hz 1ms
✓ Great design for its price
✓ One of the most Affordable 24″
Cons
✘ Subpar brightness ratio
✘ Black smearing
Of all the budget monitors we reviewed currently, the MSI G2412 and the LG 24GN60R-B are most likely the least expensive. And despite having nearly identical qualities, the one we have today is somehow even more affordable than them. 
The 27-inch form of this model has already been evaluated by us, though it suffered from the well-known low ppi issue that plagues 27-inch 1080p displays. 
With its 24 inches, however, this will deftly sidestep that problem, allowing us to concentrate just on its many positive qualities in addition to its fantastic pricing. 
If you want to know if this is a decent monitor for you and what corners they had to cut in order to keep low prices, check out our lg 24gq50f b review, with the monitor's plus and con points.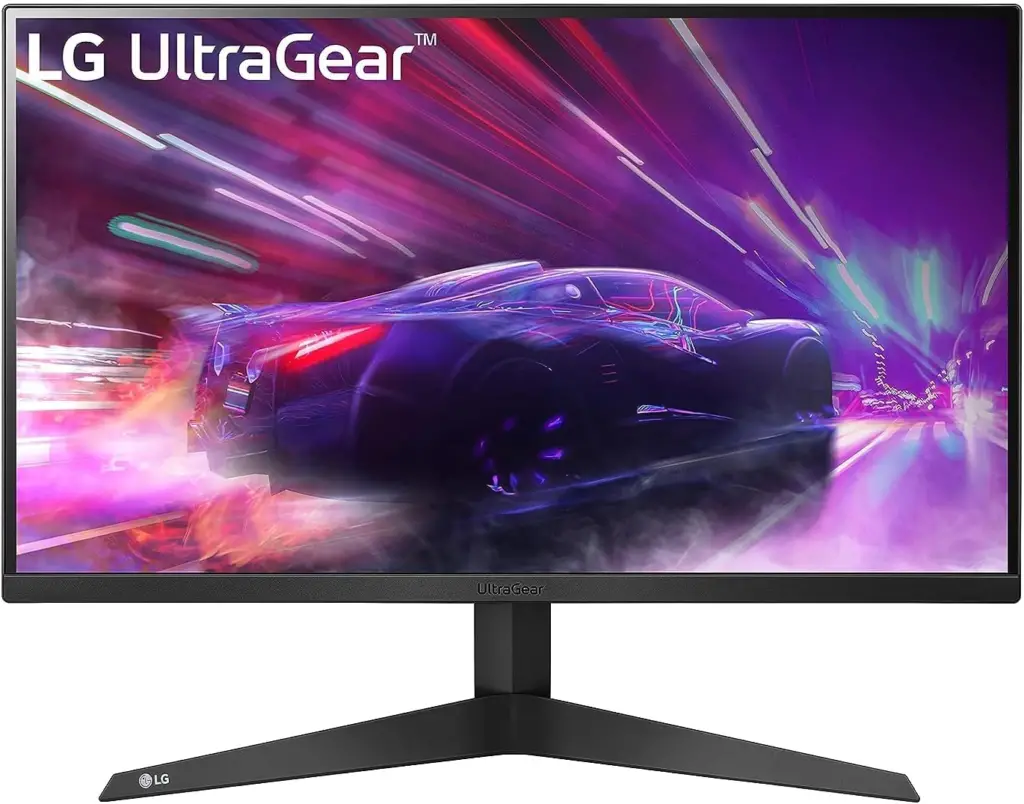 Design
As you could expect given the budget, it lacks higher-end materials. Nonetheless, its general design isn't bad. 
Even the most basic Ultragear monitors seldom disappoint in terms of looks. This and the Lg 27GQ50F-B have the same general style. Both sport the Ultragear logo on the bottom bezel, where the LG logo used to be. The LG logo appears on the stand's base outside edge. 
This stand has a V-shaped design and, as one might think, just tilt support. The good news is that, because the monitor is so inexpensive, adding a suitable stand to the cart will not significantly increase the final cost. So, if you need a little extra ergonomy, try going that route.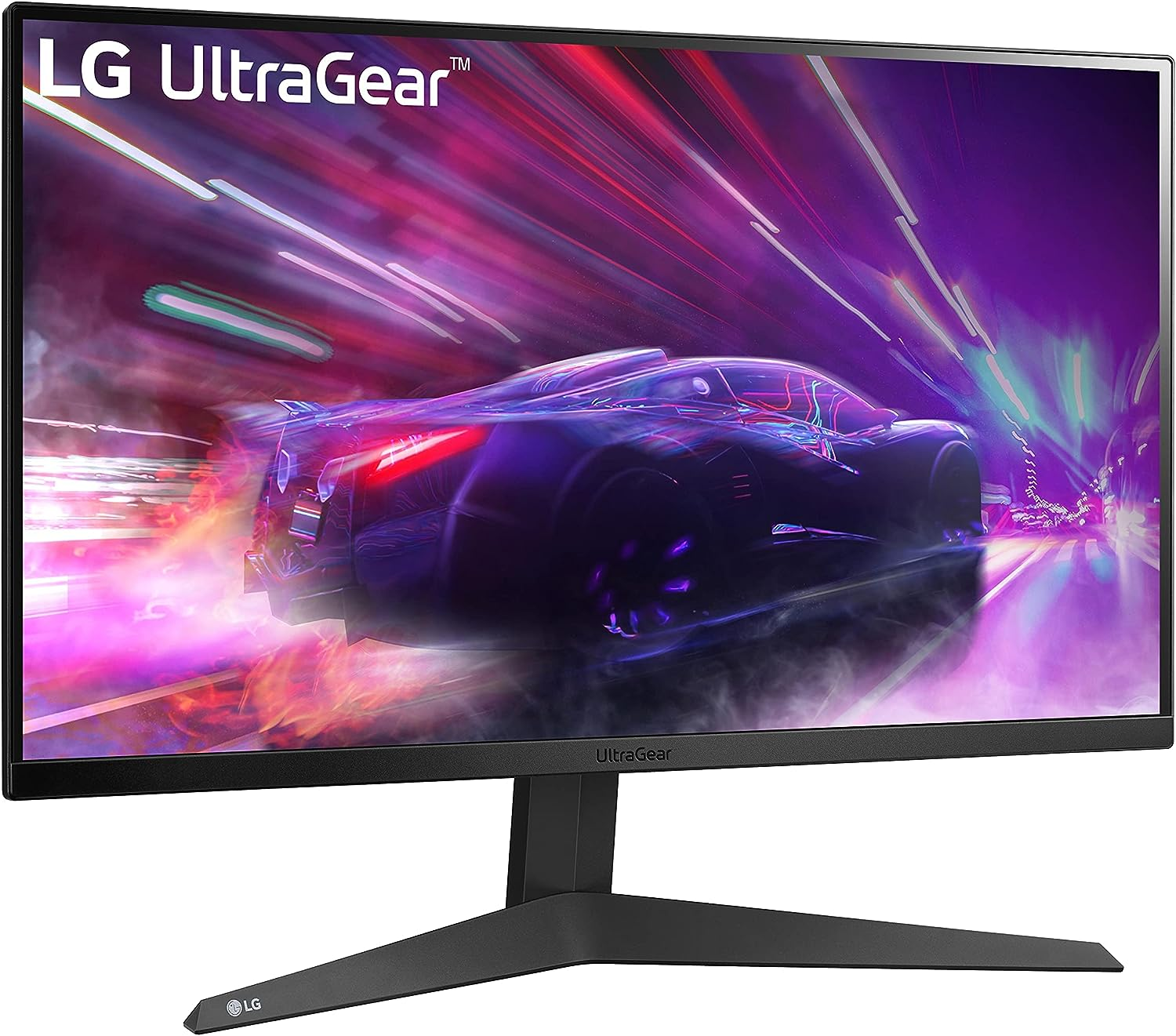 Moving over to the rear of the screen, it is the same as before. The upper portion of the back panel is texturized and has the Ultragear logo.
Instead of the large red circle seen on higher-end Ultragear models, they went with a hexagon-like form, with the VESA support in the center.
Some may argue that it is too simple to be part of the Ultragear class, but I believe it is nicer and less dazzling that way.
In general, the LG 24GQ50F-B leaves little to be desired and may pass for an up-to-date display despite its low-cost materials. It boasts small bezels, a slender body, and a well-finished back.
Connectors
Pretty much what we were expecting, this monitor has no USB ports at all and stands straight in line with the usual for its price tag, including 2x HDMI, 1x Display port, and 1x Headphone out.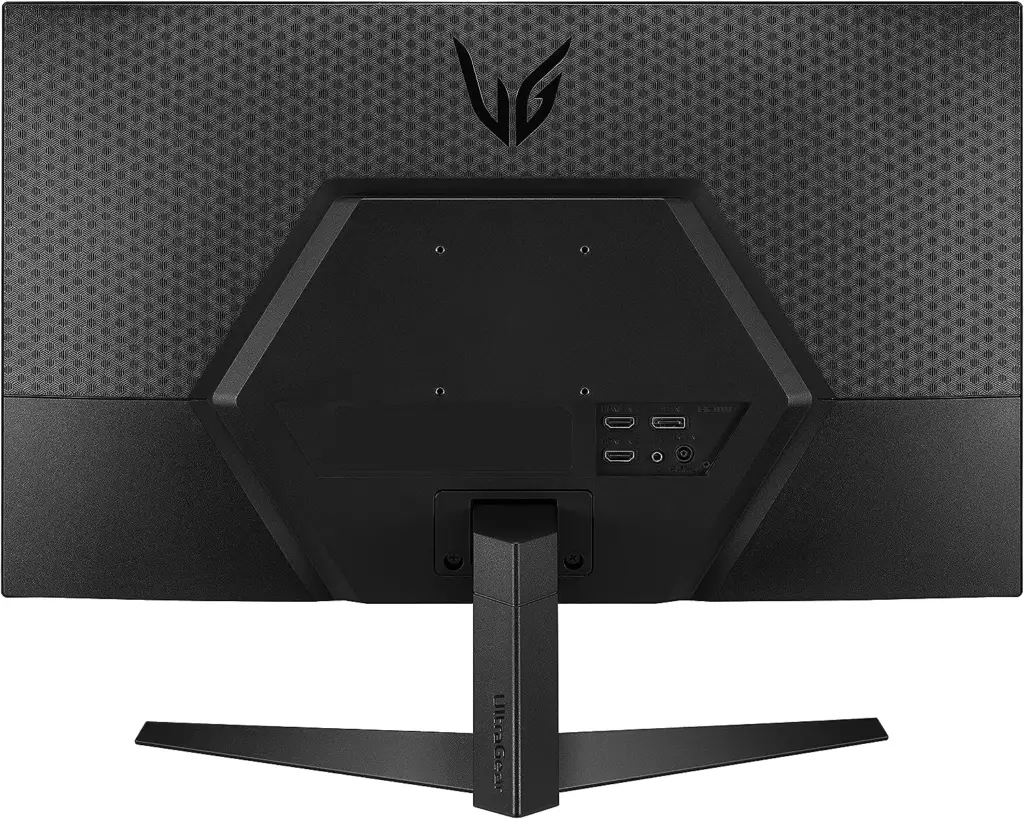 Features
Panel type
For this display, they chose the VA panel. Actually, this panel might be the reason why this monitor is so much less expensive than the norm. When it comes to affordability, the IPS is at the bottom of the list, the VA is in the center, and TN reigns first.
Believe me when I tell you that the price difference between a VA and an IPS panel may be outrageous at times. If this monitor had an IPS screen, the price would rise by more than 30-60 dollars.
The interesting part is that some people prefer VA panels over IPS panels – it all comes down to personal taste. If you want to use the monitor in a dark area, the VA is the best option because it offers higher black uniformity. The IPS is terrible in this sense, changing blacks to gray tones due to the IPS glow.
If accurate and brilliant colors, as well as wide viewing angles, are important to you, then the IPS is the correct pick.
Among decent IPS displays with a price tag comparable to this one, the Dell G2422HS is probably the closest one with superior features.
The black smearing is the Achilles' heel of VA panels, much as the IPS glow is for IPS panels. The main differential here is that the panel's building quality correlates directly to the amount of IPS glow in an IPS panel, but the same can't be said for VA's black smearing.
Black smearing stands for a dark trailing/ghosting effect that usually is easier to detect in dark scenes with fast movement. The problem is that it happens not only during gaming scenes but also with some day-to-day activities, such as scrolling through YouTube in dark mode.
In any case, the LG 24GQ50F-B does have a significant amount of black smearing, but we can assure you that it is far from the worst we've seen for monitors in its class. That said, you can get used to it over time, but the road ahead may be rocky, especially if you are used to an IPS panel.
Brightness
The most appealing aspect about VA panels, in my opinion, is that you can turn the brightness all the way up and it won't affect the black uniformity too much. 
Because of the slightly limited viewing angles of a VA panel, a good brightness ratio is even more important than for an IPS panel. That is, unfortunately, something we rarely get for affordable monitors like this one. 
Some notable examples are the LG 24GN60R-B and the Dell G2422HS although they are nowhere near as cheap as this one.
In any event, this display offers just 250 nits of peak brightness, which is the lowest ratio found in current monitors. If you're going to use this monitor in a bright room, make sure to turn up the brightness as much as possible because glare will significantly reduce the screen's visibility. 
Also, don't expect to have an advantage over your opponents in competitive games, as this is not the ideal monitor for that. Anyway, if you're prepared to pay a little extra for a monitor with a greater brightness ratio, take a look at the LG 24GN60R-B it could suit your demands.
Refresh rate and Response time
The LG 24GQ50F-B didn't show us anything out of the ordinary here, either. It has the most popular responsiveness attributes seen in budget gaming nowadays, 1ms gtg and 165hz.
The nicest thing about 165hz is that it is somewhat smoother than 144hz, albeit this upgrade is not even noticeable to most people. However, if you want to take full advantage of that capability, you must utilize a display port cable.
As we all know, 165hz is not as responsive and smooth as 240hz, but it is the least expensive of the two. It's now absurdly hard to find a 100-dollar screen with 240hz.
We won't see that sort of monitor for that low for a long time unless it's on a large sale. To be fair, we mentioned this about 144hz displays a couple of years ago, and now it's a reality, so give it another couple of years, and you could see some 240hz $100 screens on the market.
If you just enjoy playing some casual games, you don't need 240hz unless you want the smoothest possible image. For those sorts of games, I recommend going with a better resolution rather than a higher refresh rate, since it will make gaming more immersive.
On to the next feature, we have its 1ms MPR and 1ms GTG. During our tests, motion blur was difficult to discern because of the higher smoothness of the 165hz and the natural ghosting effect of the black smearing, but it was there – there is no doubting it.
The worst aspect is that, in dark game settings where you move your mouse swiftly, the motion blur combines with the black smearing, staining everything in its path. Again, that is not something you will come across if you simply play casual games.
Finally, it offers a Freesync option to deal with screen tearing.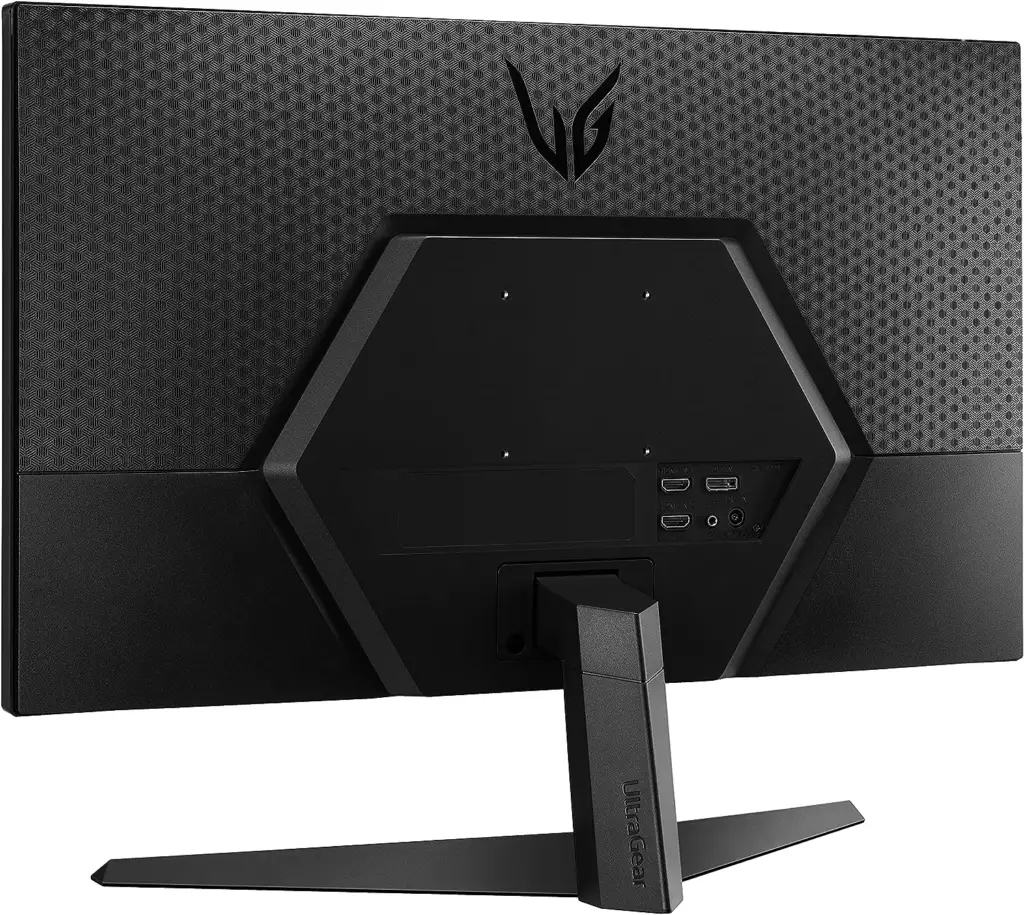 Image Quality
The color gamut of the LG 24GQ50F-B is 72% NTSC, which is marginally greater than the standard 99% sRGB. That will give you vivid, unconventional shades, which are also excellent for gaming.
However, other people want their colors more realistic and earthy, so if you fall into that category, be sure to tone down the red tones in this monitor as they are the most prominent.
Because of the VA panel's rich and contrasting colors, this monitor is really good for its price, which makes gaming a delightful experience. That adds to the immersiveness along with the deep blacks.
Yet, you can still see individual pixels from a regular distance because of the 1080p resolution's rather low quality, which negates the immersion that the other aspects provided.
Other than that, although its colors are vibrant, even with some colorimeter calibration, it falls short of being perfectly accurate for professional jobs; for that, the IPS panel is the best available. Not every IPS, mind you, but regrettably, the more expensive, higher-end models are your best bet.
Now, if you have a colorimeter available, you can still go for a monitor like the ASUS PA329CV and make use of its high color gamut and coverage and calibrate it afterward, but it is still miles above this one in terms of pricing.
So, considering everything this monitor showed us, we can't really say it is a bad screen. Quite the contrary – while it does have some average features, its prices are more than suitable, making it, in fact, one of the cheapest you can get in this price range.
Final thoughts
When to buy it
The LG 24GQ50F-B is currently one of the cheapest gaming monitors available, with a price tag of under $100. It is equipped with a VA panel, which is not everyone's favorite, but the colors on that panel are comparable even to other IPSs in the same price range. Its other qualities are equally average, but its costs more than make up for them.
Now, if you need an IPS monitor in this same price range that will give you better features, go for the MSI G2412. Also, if you need more features and are willing to spend a little bit more, the Dell S2522HG may be a better choice for you.
You may like