Our Conclusion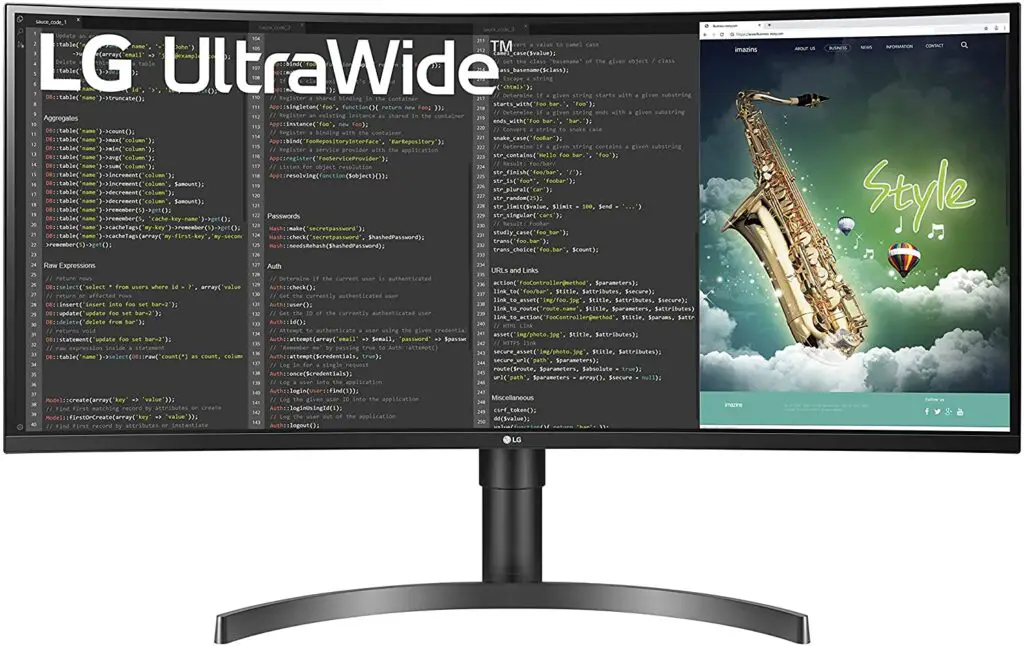 The LG 35WN75C-B falls far short of being a suitable choice for an ultrawide display in the current market. Its performance in gaming features and visual quality is abysmal, and it ranks among the poorest options in its price range when it comes to the price-performance ratio. While this monitor can serve as a gaming display, if you truly desire to make a wise investment in a top-notch gaming ultrawide monitor, I highly recommend considering the MSI Optix MAG342CQR or the ASUS XG349C.
Pros
✓ High-quality out speakers
✓ USB-C port
✓ HDR 10
Cons
✘ Salty prices
✘ Mediocre features
Unlike the low-end monitor category, the high-end class has more variations and distinctions in its models. Not just in terms of functionality, but also in terms of aesthetics. Ultrawide high-end screens also follow this pattern, with one being significantly different.
Among the best we reviewed on this website, the ASUS XG349C and the MSI Optix MAG342CQR are unquestionably one of the finest budget alternatives currently – with lower-than-average prices. Besides those ones, the HP X34 is also one of the best right now, being way more affordable than the norm.
And in today's post, we'll take a look at another high-end ultrawide display to see if it's worth it, or if you should avoid it. Its prices aren't really attractive but if the monitor's features are on par, it may end up being worth it in the end. Check out the LG 35WN75C-B Review to see whether this is the best option for you.
June 20, 2023 Update: We corrected typos, added more info, and better recommendations based on current prices. Besides, we compared it to some other cheaper and more expensive models.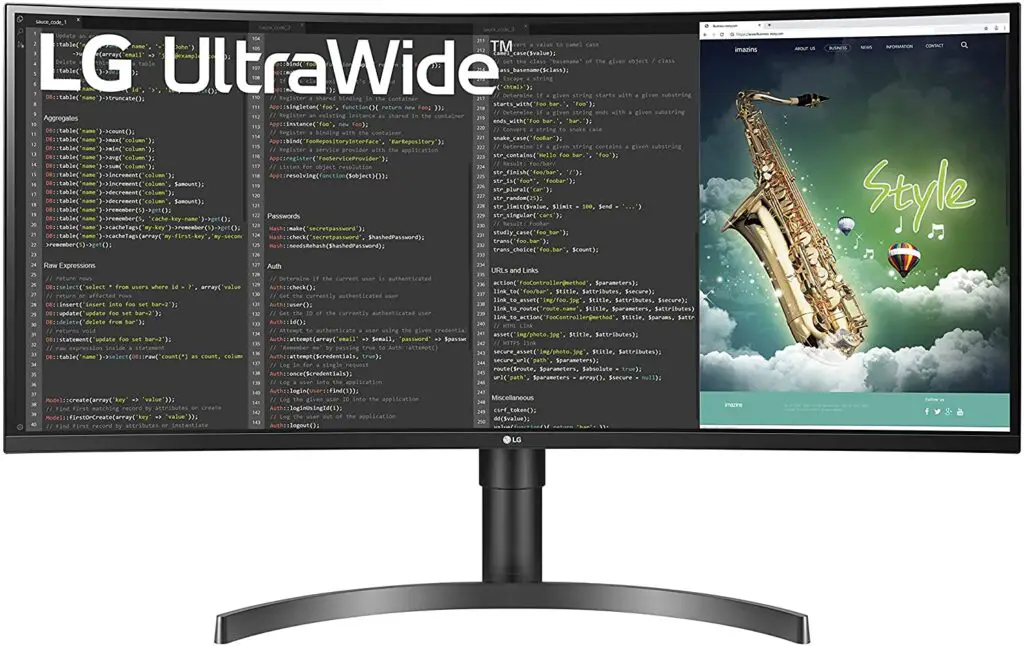 Design
Despite the fact that ultrawide displays from some manufacturers vary significantly, LG monitors in this category are often similar. This monitor lacks several genuinely unique features, and it is highly similar to some other LG models like the LG 34WN750-B.
It's also worth noting that LG monitors, (except for its Ultragear line) typically lack eye-catching accents and gaming patterns in their overall design, which might be a drawback for some.
This one features 3-sided borderless bezels as well as a very thin bottom bezel, firmly placing it in the contemporary category. This monitor isn't the thinnest in the company's lineup, but it is within the industry's standard. 
The LG 38WN75C-B is presently one of LG's thinnest ultrawide displays, however, it's 38″ instead of 34″.
Speaking of which, this monitor is very bulky, so make sure you have enough room on your desk to accommodate it. It has 32.7 x 9.9 x 18.2 inches. The good news is that you can easily mount it on the wall thanks to the VESA support it offers.
It's also worth noting that this monitor features a barely ergonomic stand that allows you to adjust it in two positions – tilt and height. Considering how budget ultrawide displays tend to have only tilt support for their stands, the height adjustment is already a major improvement. Of course, if you need even more ergonomy, you'll have to opt for an adjustable stand.
Another highlight of this display is the dual 7W out speakers, which provide excellent clarity but aren't quite up to par with the higher-end monitors. Still, you can rest assured that it will provide you with higher sound quality than low/mid-end displays.
Overall, this monitor has a robust construction and very simple and subtle features, but it lacks the "gaming" feel that some people want in this sort of screen. 
If you want a screen with such characteristics, I recommend the MSI gaming line, which includes the MSI Optix MAG301CR2, as one of their best options.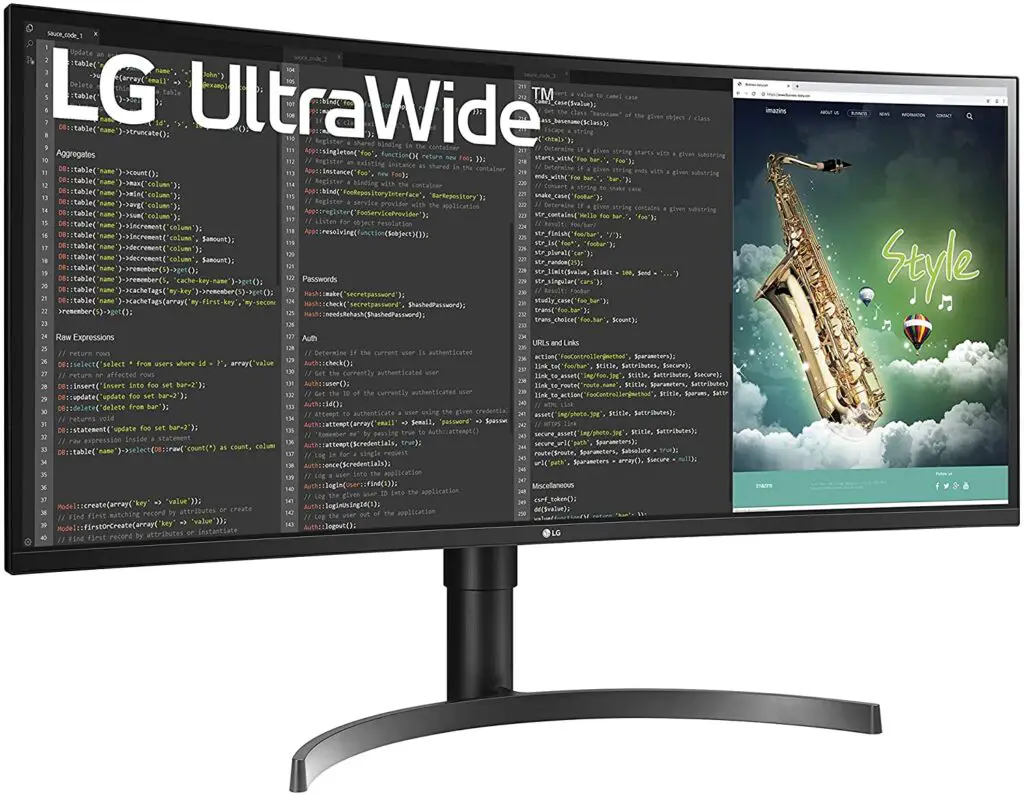 Connectors
Also, this monitor has a high range of connectors, but nothing out of the usual for its current price range. It includes 2x USB Downstream Port, 1x USB-C, 1x DP, 1x HDMI, and 1x Headphone-out.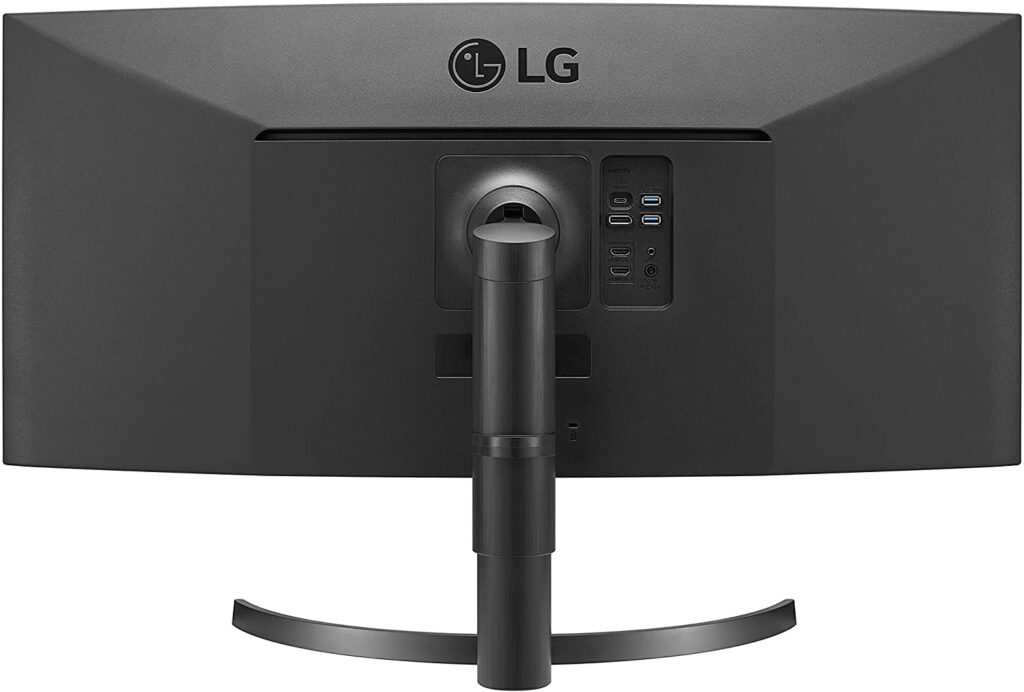 Features
Panel type
As previously stated, an ultrawide monitor with a cheap price tag is likely to have a VA panel. However, once the $700 margin is exceeded, IPS panels emerge as the preferred choice by manufacturers. 
Some argue that an IPS panel is required for a monitor to be considered professional-focused. Still, as we'll see in the image quality section, the color gamut and color coverage are also key aspects to look for in a professional monitor.
This panel not only has excellent image quality, but it also has excellent viewing angles, which, when paired with a decent brightness ratio, allows you to see the colors of every displayed image clearly. That's why professionals usually lean towards the IPS instead of the VA when they need the higher color accuracy possible.
However, now that you know all of the advantages of an IPS panel, you may understand our disappointment at learning that this monitor features a VA panel, which is much inferior to an IPS panel in terms of color fidelity. 
The VA panel itself isn't a problem, the huge issue lies with the price of this monitor right now. It is way more expensive than your mid-range ultrawide monitor, even though it has a considered inferior panel. The worst part of it all is that it has the well-known black smearing, which we'll get further into in the image quality section.
Surely, it has the advantage of having a greater response time ratio than an IPS panel, yet as this isn't a gaming monitor, I'm still not sure why they chose this panel over an IPS one.
Brightness
When it came to the brightness ratio, everything started to fall apart even further. Although 300 nits are more than plenty for 95% of users, I'm not going to lie: I was anticipating something in the 350 or 400 nits range at this price tag. 
This isn't a terrible thing for the screen's performance, but it is for its overall price-to-performance ratio, given how cheaper ultrawide monitors with 350 and 400 nits, such as the LG 34WN650-W, are easy to find. 
When we state that this will not affect the monitor's performance, we mean that a monitor with 300 nits will be able to do the job even when exposed to direct sunshine, but a monitor with 350 or 400 nits will perform better.
Surprisingly, this monitor can handle reflections pretty well, and with that, glare wasn't too much of a hindrance when using it in a bright room. The best part of the VA panel is that you can crank up the brightness to its max and the blacks will remain black rather than gray, as it usually is with IPS panels.
Refresh rate and Response time
Using Freesync technology, this display can produce smooth visuals by eliminating screen tearing during casual use and gaming. Besides that, this monitor features a VA panel, which usually has excellent response time ratios. However, with 5ms GTG of response time, it is still not fit for the competitive gaming scene.
During our tests with fast-paced games, this monitor showed a bit of motion blur, but that wasn't the worst part at all.
The major hurdle to overcome was the black smearing. Just like the motion blur, the VA's black smearing can be seen as some trailing behind objects, usually with darker tones. Now, due to the monitor's high refresh rate, it wasn't as bad as it could be, but it was still there nonetheless.
For someone used to the IPS panel, it may be a little bit weird and hard to get used to the black smearing at the beginning, but with time you'll warm up to it. Believe it or not, this monitor has one of the lowest levels of black smearing of all VA monitors we reviewed currently, and this is a good counterbalance to all its other mediocre features.
Aside from that, it offers a refresh rate of 100hz, which is lower than the 144hz or 240hz suggested for gaming screens. Of course, it is way better than 60hz and 75, but you can still tell the differences in favor of the 144hz if you compare them side by side.
As a result of all of this, this monitor falls short of giving a good and acceptable level of gaming features, delivering you essentially the same basic functions that you can find better even for $300 gaming displays.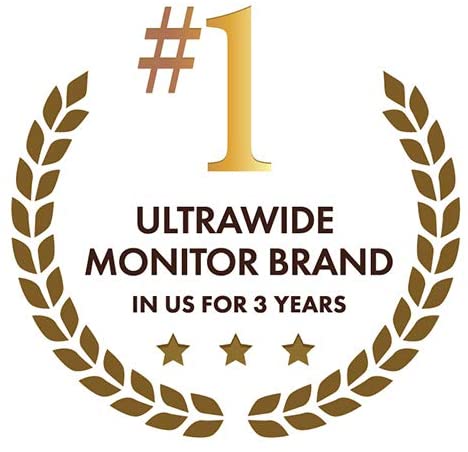 Image Overall Quality
Coming as no surprise to anyone, this monitor is still rather mediocre with its image quality features.
Firstly, as we are aware, one of the standout strengths of VA panels is their high contrast ratio. Surprisingly, this monitor falls short with a contrast ratio of only 2500:1, failing to meet the recommended 3000:1 expected in this price range.
While on paper the difference between 2500:1 and 3000:1 may not appear significant, the latter does offer a noticeable advantage in terms of deeper blacks and brighter whites.
If there's one positive aspect we can highlight, it's the monitor's resolution. With 3440×1440 pixels, it delivers an immersive and pixel-free image that enhances your viewing experience.
About its accuracy, It includes a basic 8-bit color pattern with 16 million supported colors, which gives you reasonable precision but isn't as professional-focused as a 10-bit pattern. Also, due to the sRGB 99% and the VA panel, the colors may appear slightly washed out.
Fortunately, you can get around that with some slight tweaking in the red and green tones. While it does have good out-of-the-box colors for the casual customer, it isn't recommended for media professionals. In that case, maybe the LG 34WP85C-B will suit you better.
At the very least, it supports HDR 10, though this is just another mediocre feature that can be found on far less expensive monitors. 
So, all in all, this monitor does have a decent image quality, but if we're based solely on that, it should cost $400 rather than $700.
Final thoughts
| | |
| --- | --- |
| Resolution | QHD (3440×1440) |
| Size | 34″ |
| Panel | VA |
| Refresh rate | 100hz |
| Response time | 5ms GTG |
| Contrast ratio | 2500:1 |
| Color gamut | sRGB 99% |
| Brightness | 300 cd/m² |
| Ports | 2x USB, 1x USB-C, 1x DP, 1x HDMI |
When to buy it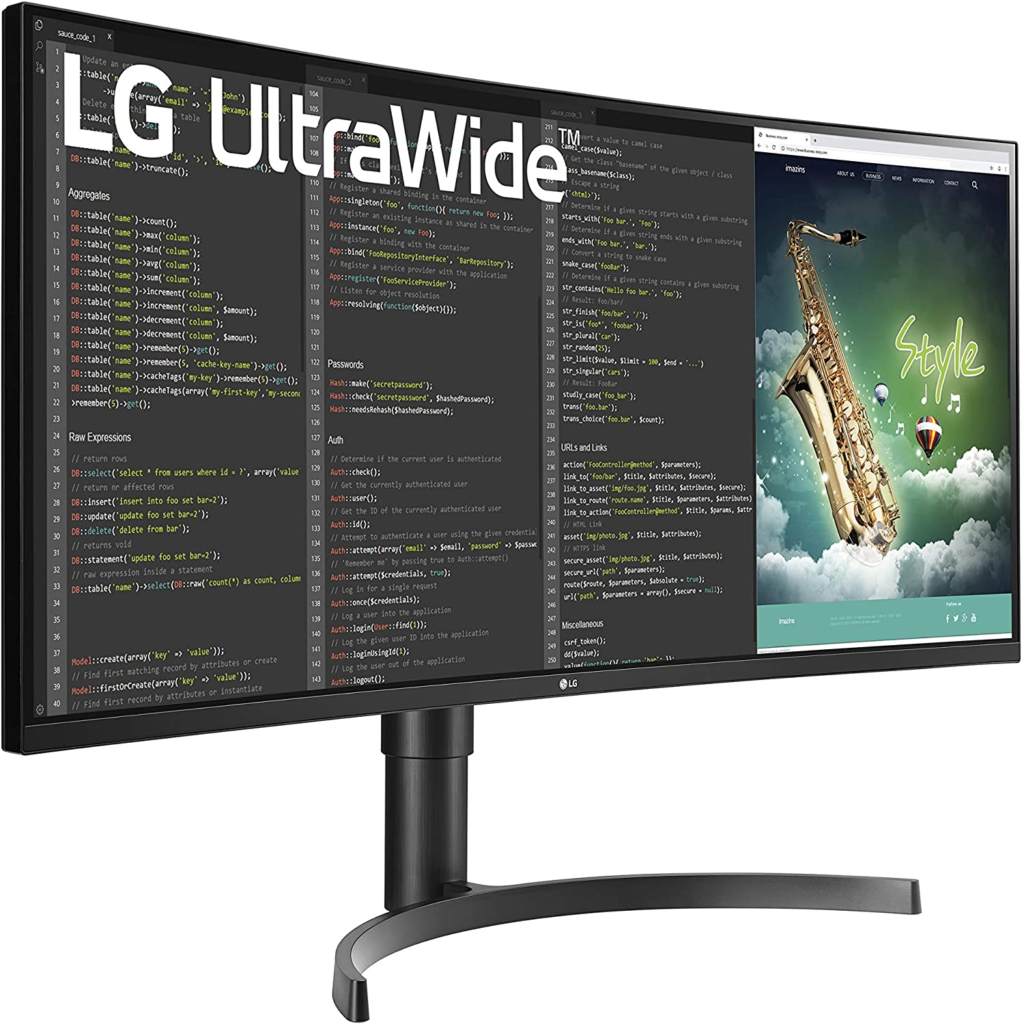 Currently priced at approximately $700, the LG 35WN75C-B fails to impress within its price range. Superior alternatives boasting better panels, colors, and overall performance, such as the LG 34WP85C-B and the ASUS XG349C, overshadow its offerings. Moreover, the LG 34WP65C-B, available at a $300 lower price, essentially mirrors its features.
With these factors considered, it becomes evident that the LG 35WN75C-B falls short as one of LG's least cost-effective monitor options.
You may like