Our Conclusion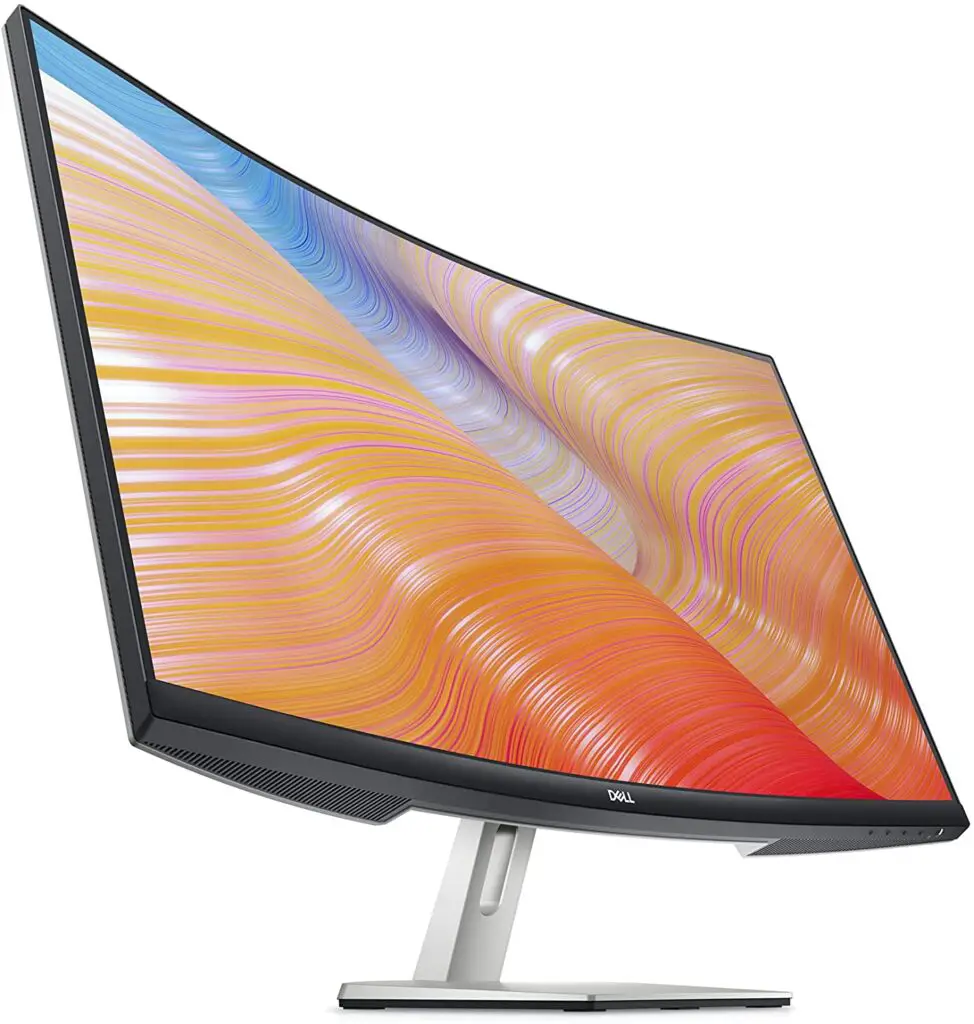 The Dell S3222HN boasts some nice contrasting colors as well as a good refresh rate, all for a low price. However, the fact that it is a 1080p/32-inch display has a significant disadvantage in that the graphics are much more blurry than they should be. As a result of this one-of-a-kind blunder, it is not a recommended option; instead, I recommend the LG 32UN550-W.
Pros
✓ Good brightness ratio
✓ Affordable
✓ 32-inch
✓ VESA mountable
Cons
✘ Low PPI ratio
✘ Limited stand adjustments
During last year's Black Friday event, we found that in certain rare cases, newly introduced monitors priced a little less, only to have their prices jacked up a few months later. With that in mind, we'll be testing new monitors this month to determine if they have a decent price-performance ratio.
To begin this series, we have this new 32-inch Dell monitor, which appears to have some fantastic features and is presently available at a reasonable price. So, without further ado, let's have a look at the Dell S3222HN Review and see whether it's the ideal fit for you.
Design
It's a little strange to see a curved style on a monitor from this line, given that all of the displays we evaluated so far of such have just conventional curvature. This one has 1800R.
Even though it's unusual, it's a positive sign they're attempting to innovate, and it's also a nice point for the user's overall experience. The one drawback is that it causes the monitor to be thicker than it would be if it didn't have this feature.
Also, because this is a somewhat large monitor, make sure you have adequate desk space to handle it. As previously stated, this monitor has a 32-inch pattern and measures roughly: 27.92 x 8.22 x 20.14 inches, making it one of Dell's thickest.
Aside from that, note how they tried to make it seem more modern by using 3-sided borderless bezels and a very thin bottom bezel. 
This monitor does not transmit a decent degree of sturdiness, but it is within the accepted level for its price range, so we shouldn't be too concerned about this. 
It bears some resemblances to the Dell S2421H and the Dell U2722D, with the first sharing the same stand and the latter matching the 3-colored aesthetic.
Unlike the majority of modern displays, this monitor does not have a single color; instead, it has black on the bezels, a metallic gray on the stand, and light gray on the back. 
Moving back to the rear, we can see that it has VESA compatibility, which is excellent, and even better for a huge display like this one. The VESA support allows you to mount the screen on the wall without the need for additional equipment. 
Finally, its stand is quite basic, with simply tilt as an adjustment, so it isn't particularly ergonomic, but it performs the job of securely holding the monitor.
Connectors
Its limited price range imposes various constraints on the manufacturer while constructing the screen, one of which may be found in the connections section. To compensate, they had to leave out a few USB ports, which are frequently a must for some, including only 2 x HDMI 1.4, 1 x Headphone-out as main ports.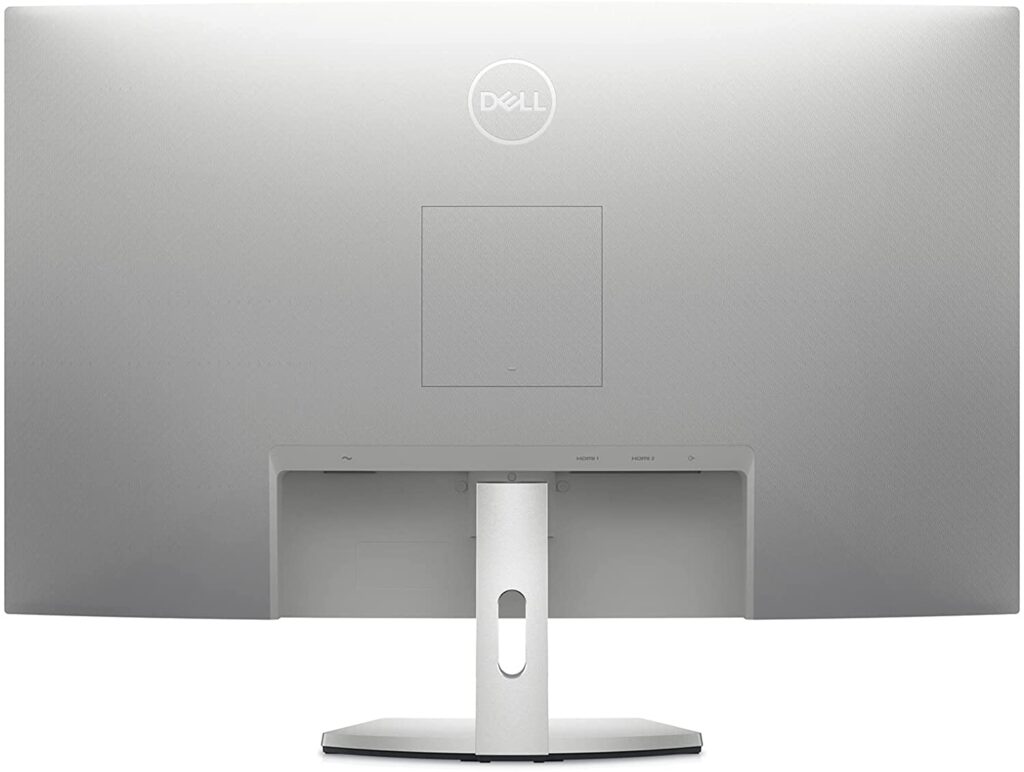 Features
Panel type
In my view, depending on the monitor's category, the panel type might be one of the most essential aspects of the display, deserving of the manufacturer's attention.
The panel can determine visual quality, response time, and motion blur, as well as whether it belongs in the gaming or casual/professional categories. 
The Dell S3222HN uses a VA panel, which, as you may know, has lower image quality than an IPS panel, but it does have certain advantages over an IPS panel, such as enhanced contrast and lower pricing. 
Also, depending on the VA panel's construction quality, some can still outperform a low-end IPS panel, depending on the color gamut and color coverage ratios, which we'll look at further in the picture quality section.
Brightness
When used in low-end displays, VA panels are also noted for being dim. The reason behind this is that, unlike an IPS display, the VA's limited viewing angles cannot compensate for a low brightness ratio. 
As a result, low-end displays with low brightness ratios and VA panels frequently suffer from poor brightness, easily noticeable during everyday usage. 
Knowing this, Dell chose a brightness ratio of 300 nits for this monitor instead of the normal 250 nits found in displays in this category. 
300 nits are more than plenty for any form of use, whether it's during the day with sunshine streaming into your room or at night. 
Of course, depending on your requirements, this may not be sufficient. In this case, you may go with 400, which is a popular ratio among gamers since it gives you the benefit of seeing players in low-light situations during gameplay.
Refresh rate and Response time
As previously said, the VA panel is a frequent panel to see in gaming displays due to its enhanced response time ratios, which reduce motion blur, making it one of the top options for gaming monitors even today. 
However, keep in mind that this is not a gaming monitor; instead, its response time and refresh rate are designed for leisure use. 
To begin, it has an 8ms response time, which may be reduced to 4ms by employing extreme gray-to-gray, which has a slight effect on image quality but significantly lowers ghosting and motion blur. 
Still, I wouldn't recommend using it with 4ms on a regular basis because the visual quality loss might be unpleasant when watching content. 
Aside from that, thankfully, this monitor offers 75hz hearts, which is plenty for casual use, which is the target audience for this screen. This ratio will give you a fair amount of fluidity, making scrolling and navigating the internet a delight.
In addition, this monitor features Freesync technology, which reduces screen tearing while you're using it. 
With all of this in mind, we can conclude that this monitor is not the best choice for gaming purposes; instead, the MSI Optix G273QPF is a superior option in this price range. 
Finally, we'll look at the image quality of this monitor to conclude if it's worth having as a casual screen.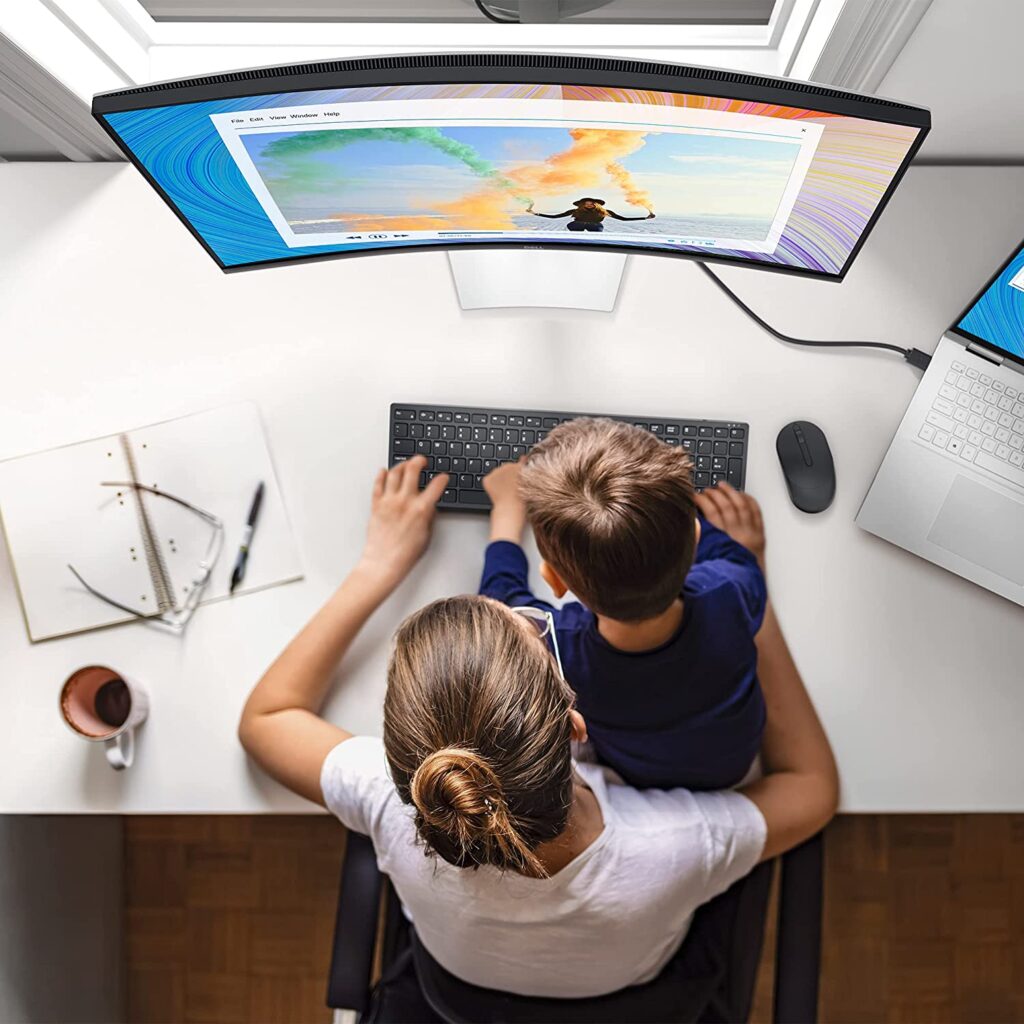 Image Overall Quality
The Dell S3222HN has a 3000:1 contrast ratio thanks to the VA panel, thus it performs admirably in this regard. When it comes to color fidelity, though, the VA displays its limits, falling well short of what an IPS panel would deliver.
It also has a typical sRGB 99 percent and 16M color ratio, resulting in an 8-bit color pattern that produces distant colors from what is anticipated of a professional monitor, but is more than enough for casual use. 
The truth is, because of its high contrast ratios, this monitor produces excellent images, but there are certain changes when compared to an IPS panel.
Of course, because this VA is implemented on a budget monitor, it isn't the best you can get, so if you want to see what a decent calibrated VA monitor can do, I recommend checking out the ASUS VA32UQ.
The resolution for its 32-inch screen is, in my view, the worst aspect of this monitor. When combined with a 32-inch screen, the 1080p resolution results in highly spaced pixels of 0.36375 mm and a PPI of just 70.
At this point, you can plainly see the monitor's lack of sharpness, since there are some visible pixels on the screen. 
So, even if it costs a bit more, if you require a 32-inch screen, my advice is to opt for the 1440p resolution at the very least, which will provide crisp visuals and ensure the screen's futureproofing.
Final thoughts
When to buy it
If, after knowing all of the downsides of this monitor, you still want to buy it due to its cheapness, I recommend you compare it to similar ones, such as the ASUS VA32UQ and the LG 32GN550-B, to know which one is the best for you, and spend your money wisely. 
You may like