Our Conclusion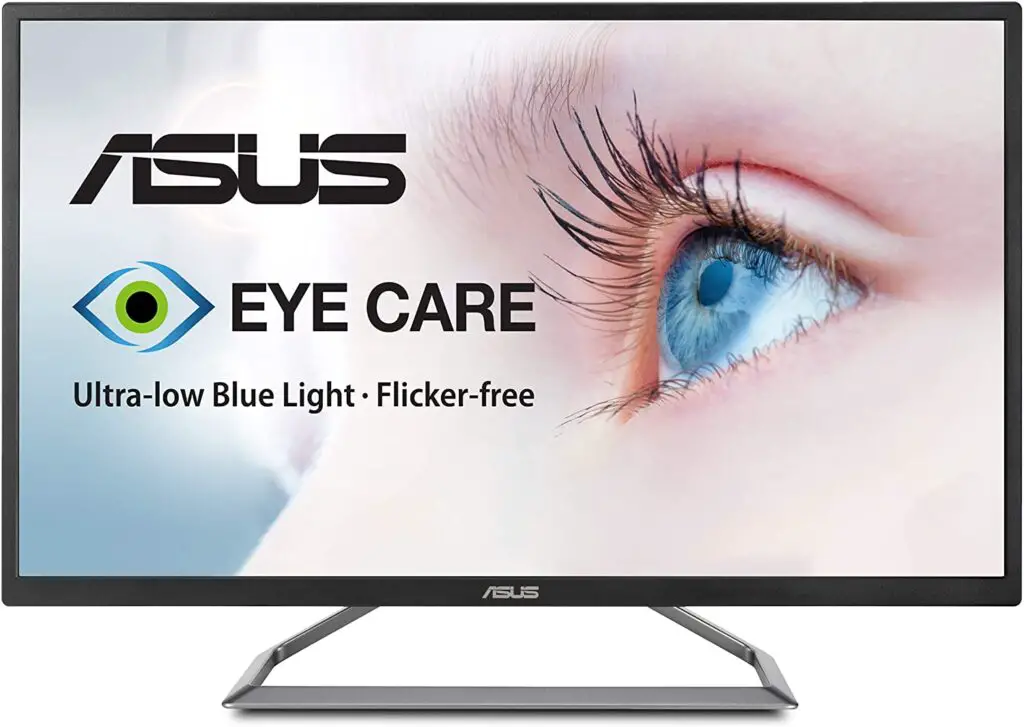 In terms of color accuracy, the ASUS VA32UQ is presently one of the best 32-inch monitors we've tested. Even though it has a VA panel, it can nevertheless provide you with a slew of high-end image quality features while staying within budget. It is presently the greatest 32-inch option available, in my opinion.
Pros
✓ Awesome color accuracy
✓ 32-inch
✓ High image sharpness
✓ Budget
In a previous review, we looked at a 32-inch gaming monitor with reasonable costs but minor image quality problems.
Even while 1080p is the ideal resolution for gaming displays, it is not the greatest for large-screen monitors since it decreases the overall PPI, resulting in washed and blurry pictures.
And for today's article, we've got another 32-inch monitor from Asus to check if it has the same problem as the last one.
So, enough with the talk; let's look at the ASUS VA32UQ Review and see if this monitor can live up to expectations.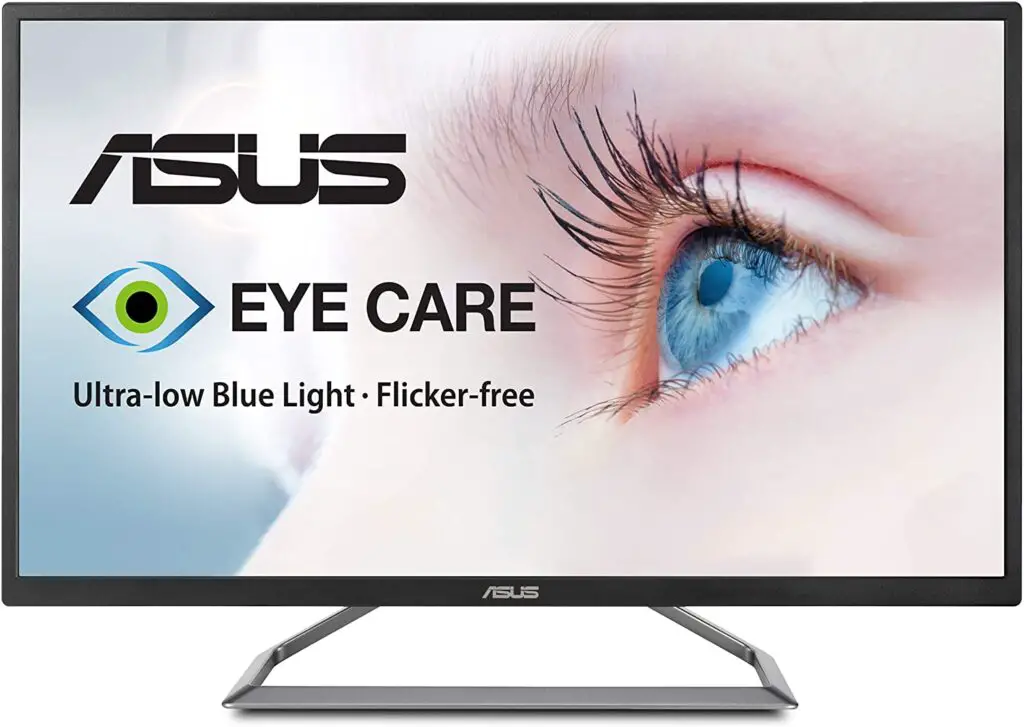 Design
This is a large monitor, measuring 28.73 x 19.49 x 6.91 inches, so be sure you have enough room on your desk to accommodate it. 
The good news is that it supports VESA, so mounting it on the wall won't be an issue, which is frequently suggested for a large-screen monitor like this one. 
For whatever reason, they chose not to use the borderless 3-sided bezels on this panel, which may be a disadvantage for some since it detracts from the monitor's overall modern feel. 
On the other hand, they managed to keep all the bezels, including the bottom one, at good levels of thinnest, which will make up for the lack of the borderless one, given the fact that there is already a huge part of the field of view on the display as it is a 32-inch one. 
The monitor's stand is, without a doubt, the most unique feature. It features an all-slim design with an empty center portion and is completed in a metallic gray pattern, giving it a distinct look that sets it apart from the crowd. 
However, this stand will not provide you with a large range of adjustments, including only tilt; hence, the attractive design comes with a disadvantage.
Looking at the rear of the display, we can see a very clear design, which is most likely an Asus brand mark. This display has two 2W out speakers, which aren't of the highest quality but can still provide what they're supposed to.
For similar monitors, such as the LG 32UN550-W, you may certainly get higher speaker quality than this one. But considering its current prices, I'd still go with the ASUS VA32UQ. 
Overall, this monitor's design includes some extremely out-of-the-ordinary features that may appeal to some but may appear dated to others – featuring indeed highly divisive characteristics.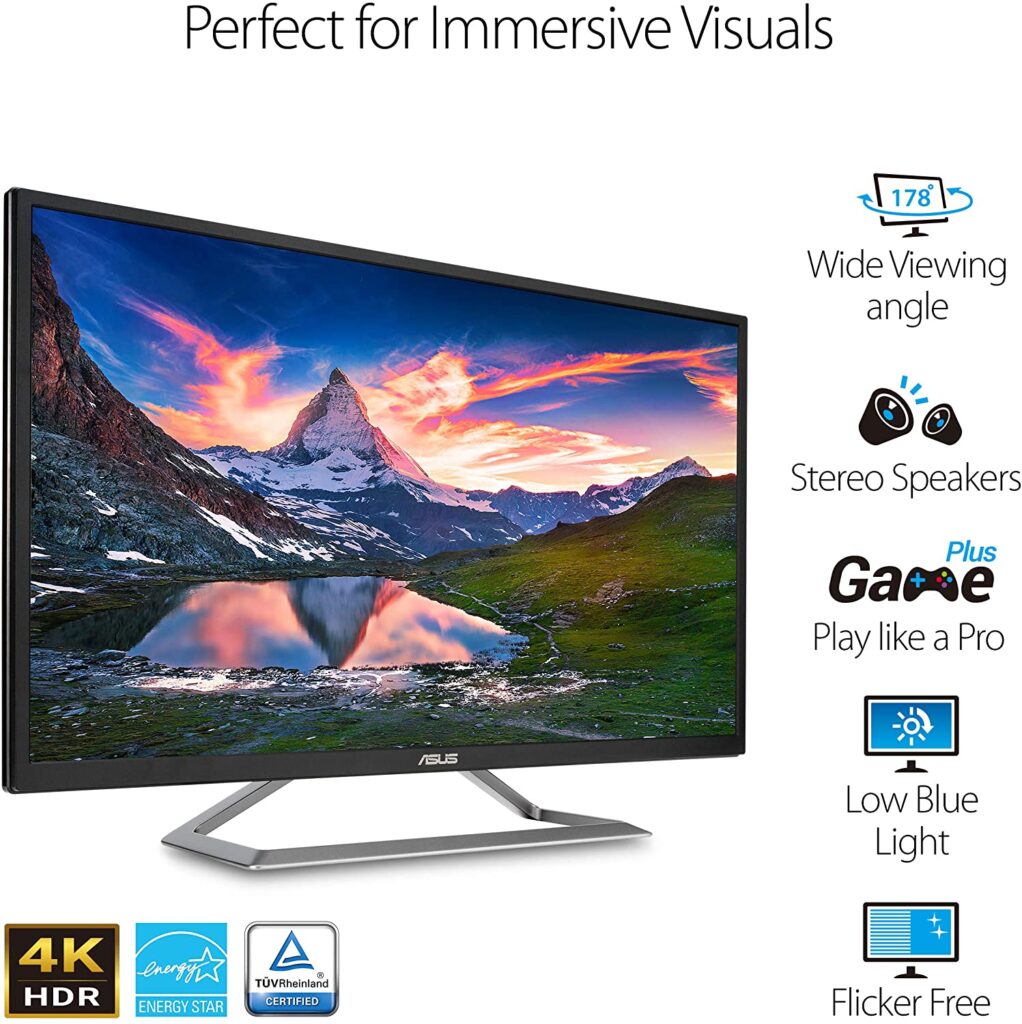 Connectors
As for connectors, as expected for a monitor at this price range, they managed to implement some good inputs, but nothing odd, including 1x Display port, 2x HDMI, 1x Headphone-out.
Features
Panel type
Despite having a VA panel, this monitor nevertheless has one of the greatest image quality for this price range. This will be discussed more in the image quality section. 
Although the VA panel has worse color accuracy than an IPS panel, it still has the potential to produce rich and colorful visuals. In addition, it boasts a greater contrast ratio than other IPS screens. 
This one boasts a contrast ratio of 3000:1, which is fantastic for contrast enthusiasts. Still, if you need a professional high-resolution display for media editing, the IPS panel is practically a must-have option.
In this case, you can surely find good professional 32-inch displays, but they will cost more than this one due to the IPS panel. So, we can say the VA panel is a well-balanced panel between prices and performance.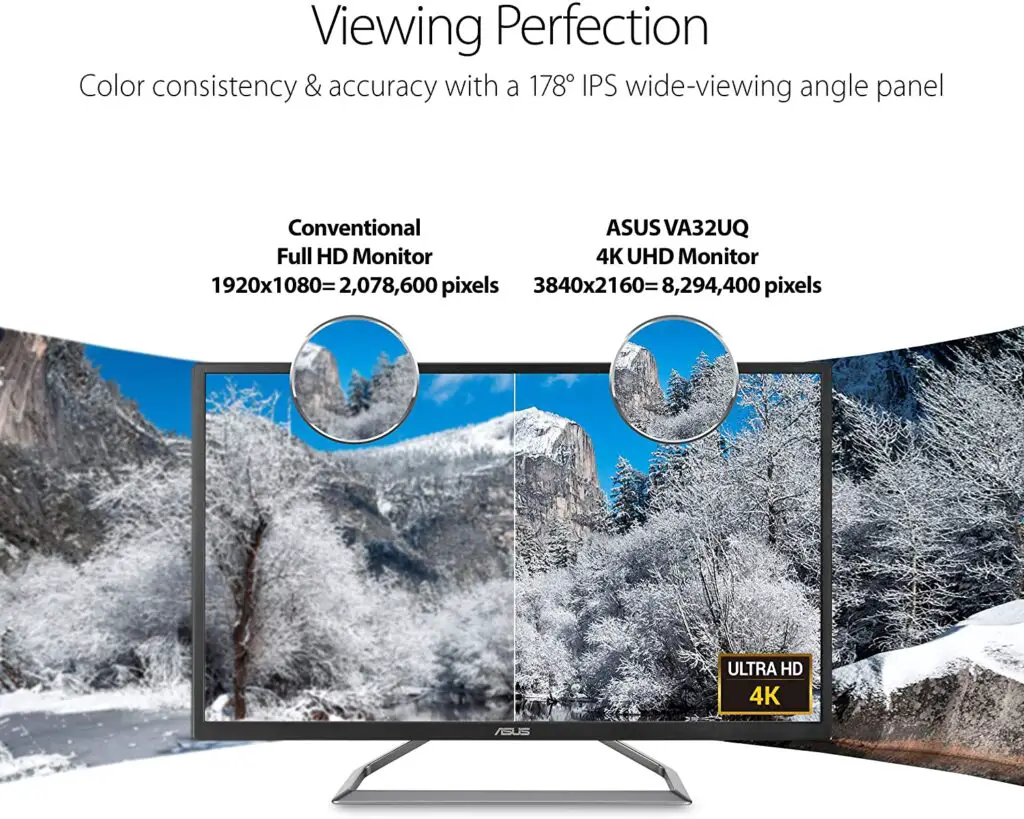 Brightness
Knowing that a low brightness ratio for a large display with a VA panel would be a terrible idea, they chose to retain the strong balance with 300 nits of total brightness. 
This ratio is sufficient for daytime use; even if sunlight strikes the screen, it will be able to display exact pictures. Still, if you think you'll need greater brightness, you'll have to spend a bit more money, but you can get monitors with 350 or 400 nits. 
On the other hand, I recommend sticking with the one that isn't too expensive, since anything beyond 300 nits will be able to meet the demands of 99 percent of consumers.
Refresh rate and Response time
It'd be great if a monitor like this one could break free from the pack and have a nice refresh rate and response time, and by nice, I mean something like 75hz or so, which is typical for casual screens. However, such is not the case with this display.
They chose 60hz, which may or may not be related to the display's resolution, but we'll look at that in the next section. The 60hz isn't awful in and of itself, but it falls short of what the 75hz can offer. 
Still, having a high refresh rate for a budget high-sized panel like this one is uncommon, therefore we should let it be like that. 
You can also count on rather smooth gaming sections due to the AMD FreeSync technology they included for the display, used to remove screen tearing. 
Furthermore, it has a 4ms response time, which does not make a significant impact in regular use, so it is more of a gaming aspect. Finally, let's look at the display's image quality features.
Image Overall Quality
The ASUS VA32UQ is a 32-inch monitor with a 4K resolution (3840 x 2160), which is why it doesn't have a higher refresh rate since this resolution already boosts the monitor's final pricing significantly. 
This resolution is exactly right for this screen size, giving you enough sharpness that the pixels on the screen are hardly visible. Aside from that, it greatly decreases the pixel pitch number, which improves the final image sharpness even more. 
That said, we can confidently state that this display will not disappoint you in terms of visual clarity. 
Things start to become a little bit better when it comes to color accuracy.
Despite having a VA panel, this monitor still boasts an amazing color gamut of sRGB 100 percent, which is the greatest color accuracy ratio available right now. 
Aside from that, it has a 10-bit color pattern with 1.06 B supported colors, which is, again, one of the most advanced image quality features available today. 
To top it off, they chose to include HDR10 support for this display, which isn't the greatest HDR pattern available, but it's enough for the price range. 
The HDR will combine with the contrasting colors of the VA to increase the deepness of the darks and color contrast even further.
Due to all that, we can say that surely, this is the best VA monitor we reviewed on the website in terms of color accuracy.
Final thoughts
When to buy it
The ASUS VA32UQ is currently the monitor I would go for if I need a 32-inch display seen its current features and prices. It has awesome image quality features, such as the 10-bit pattern and the HDR support. 
Still, if you need a professional high-sized display, this one isn't the right choice due to its VA panel. In that case, I recommend you the: Dell U2722D, which has currently the best image quality you can have for monitors.
You may like