Our Conclusion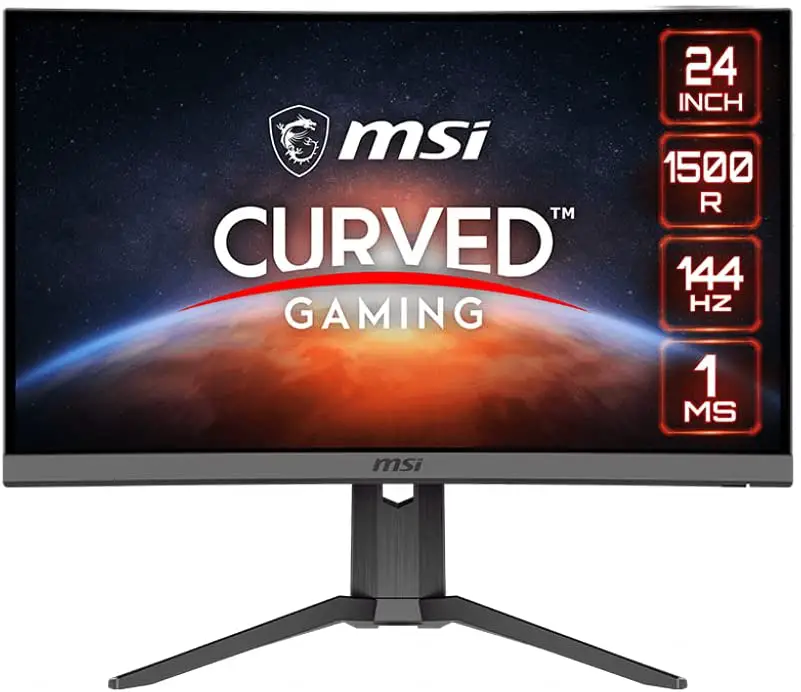 The MSI Optix G24C6P has all the ingredients to be one of the year's greatest MSI launches. It boasts lower-than-average pricing, gaming capabilities, and good image quality, all wrapped up in a sleek design. So, if you're looking for a low-cost gaming monitor with decent image quality, the MSI Optix G24C6P is presently one of your best and cheapest options.
Pros
✓ 144hz, 1ms
✓ Vivid colors
✓ 1500R Curved
✓ Affordable
✓ AMD FreeSync
Cons
✘ Lacks out speakers
✘ No USB ports
Because the last MSI monitor we tested with gaming features was a 27-inch model, we chose to test one this time with a 24-inch model, which is the most popular size for competitive gaming displays these days.
The reason for this is that a 24-inch screen with a 1080p resolution, which is the most recommended for gaming displays, produces an average PPI, which keeps the visual sharpness at a good level.
That being said, let's take a look at MSI's new 24-inch gaming monitor to see if its features match its pricing. Check out the MSI Optix G24C6P Review with all of its pros and cons.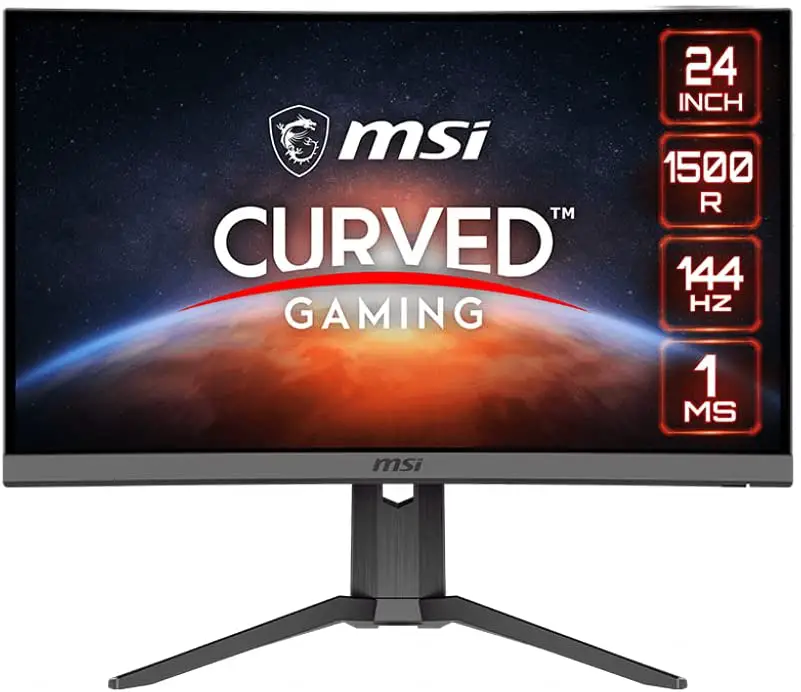 Design
This display, in and of itself, follows the same 3-sided borderless bezels design as MSI monitors and almost all recently available displays.
They also kept the bottom bezel at a reasonable degree of thinness to match those, albeit it isn't quite as thin as it could be, which appears to be an MSI thing. 
Furthermore, the stand distinguishes this monitor from other MSI displays. This stand's overall looks are highly controversial owing to its sturdy form, which features a broad style with a V-shaped base. 
Aside from that, it offers a wide range of adjustments, including the capability to tilt and alter the height, which is essential for gamers.
Looking at the rear of the display, we can see that it has the same brushed design as some other MSI screens, such as the MSI OPTIX G241V, but it spans the whole top portion of the monitor, creating an interesting detail. 
We can also see that it has VESA support, which is a major benefit for the monitor if you wish to mount it on the wall. 
Unfortunately, it lacks speakers, which is understandable considering the display's current cheap price. 
In general, this display, like all other MSI displays, has a very nice overall aesthetic, but owing to its stand, it is one of the most divisive.
Connectors
As for connectors, do not expect anything unusual, but still, it gives you the necessary, including 1x Display Port (1.2), 2x HDMI (1.4), 1x Earphone out.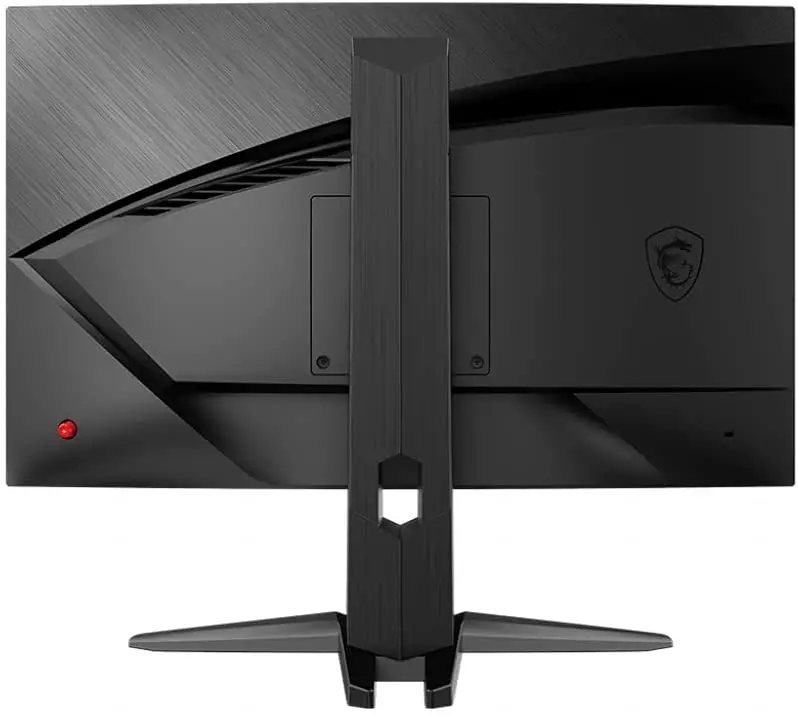 Features
Panel type
When it comes to gaming displays, the VA and TN panel types are usually the most popular. This is owing to the rapid response time offered by them. 
The TN offers faster response times and lower costs, while the VA has greater color accuracy and viewing angles. Because of the poor response time, the regular IPS panel isn't very popular, and it's not a good choice for competitive gaming.
So, keeping good viewing angles and image quality in mind, they opted to utilize the VA panel for the MSI Optix G24C6P. 
The VA panel is a type of balanced choice between accuracy, speed, and costs, offering high image quality but falling short of the IPS' color accuracy. 
In a word, the VA panel is an excellent choice if you require quick response times for competitive gaming but don't want to sacrifice visual quality in the process.
Brightness
Using a low brightness for a VA monitor like this one, on the other hand, is typically not a smart idea because the variations are more noticeable. 
Despite this, they chose to add 250 nits of full brightness to the panel, one of the lowest ratios among monitors released this year. 
Even so, in this situation, this figure is fairly reasonable, given that this display is presently priced at the same level as casual monitors while having excellent gaming characteristics. 
Even if you play throughout the day, this monitor will offer you adequate brightness to see the pictures properly. When sunlight strikes the screen, though, the weight of a low brightness ratio is amplified. 
That's when I propose investing in a display with a brightness of 300 or 350 nits, such as the Dell S2522HG or the VIOTEK GFV24CB. Keep in mind, however, that increased brightness frequently equates to higher pricing. 
With that in mind, let's have a look at the display's gaming capabilities, with high expectations that, at these rates, this monitor will be one of the finest value-for-money gaming displays of the year.
Refresh rate and Response time
So far, we've seen that they've managed to keep this display's costs cheap while incorporating great features that don't quite match the pricing it's offered for. 
In terms of gaming features, we can claim that it has the bare minimum to be termed a gaming display, namely 144hz and 1ms response time. 
If you need to enter the competitive scene and can afford a monitor to guide you through it, both of these figures are the bare minimum. 
The 144hz will greatly increase the fluidity of the graphics, which will be beneficial during games and also pleasing to the eyes if you're just using the display to surf the web.
In terms of response time, it is a feature that will mostly benefit gamers, while it is less relevant for casual-focused displays. 
A 1ms response time will increase command to screen speed, allowing you to get a step ahead of your competitors. 
To top it off, this monitor features AMD FreeSync premium technology (48 144Hz) to decrease tearing during games, which is critical for maintaining the environment. 
Finally, let's take a brief look at the display's picture quality characteristics, however, don't anticipate much considering the display's present costs.

Image Overall Quality
The MSI Optix G24C6P is a 24-inch monitor with a 1080p resolution, which is ideal for gaming displays. Another advantage is that it keeps the PPI ratio at respectable levels, ensuring that visuals are sharp.
Aside from that, thanks to the VA panel's high contrast ratio of 3000:1, you can expect contrasting colors.
To complement that feature, they chose a DCI-P3 92 percent color gamut for the display, which increased the contrast between colors even further, resulting in bright and vibrant images. 
Nonetheless, they opted to go with the standard 8-bit color scheme with 16M supported colors, which gave a good range but nothing to write home about. 
So, overall, this monitor continues to wow everyone by combining excellent image quality with a reasonable refresh ratio and response time, all at a price that is cheaper than the norm.
Final thoughts
When to buy it
The MSI Optix G24C6P is almost a monitor devoted to you if you need to enter the competitive scene and need to invest in a budget display since it gives you cheapness, gaming features, and outstanding image quality at VA panel levels.
So, at the present rates, it is one of the cheapest gaming monitors of the year, if not the one.
You may like