Our Conclusion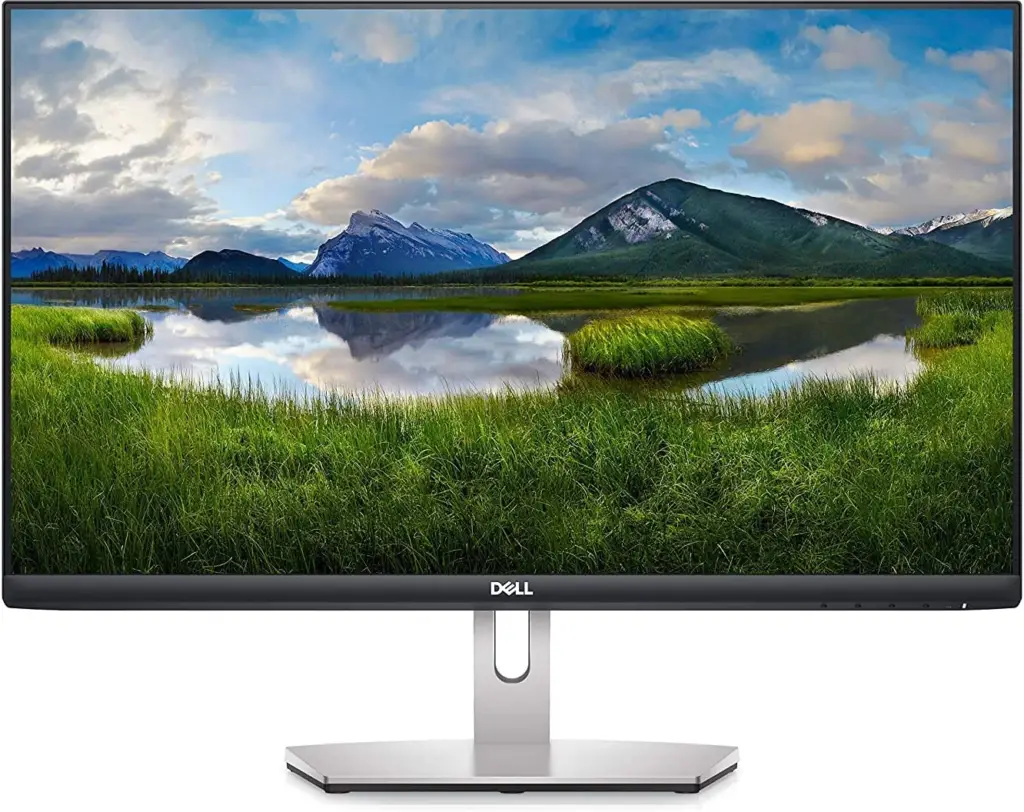 The Dell S2421HN is very affordable, but with the low price comes a significant number of downsides. It is constructed with poor materials, lacks a display port, and its colors appear washed out. Due to these limitations, I recommend considering slightly more expensive options, such as the Dell S2522HG or LG 24MP400-B monitors, as they offer a better bang for your buck.
Pros
✓ IPS panel
✓ Affordable
Cons
✘ Lifeless colors out of the box
✘ Lack of Display port
Nowadays, the number of budget monitors at around $150 turns out to be so overwhelming that it takes twice the effort to find a hidden gem among them. The problem emerges when you reach the so-called perfect monitor only to know afterward there is a cheaper one with the same features on the market.
In this category, the well-known "there is always something better" rule is absolute.
Knowing this, today we'll review one of the cheapest Dell monitors to date and compare it to some of the others in this class. It is not the most recent model they've released, but due to the same, its prices are very appealing today. Check out our Dell s2421hn review to know if this is really your right choice.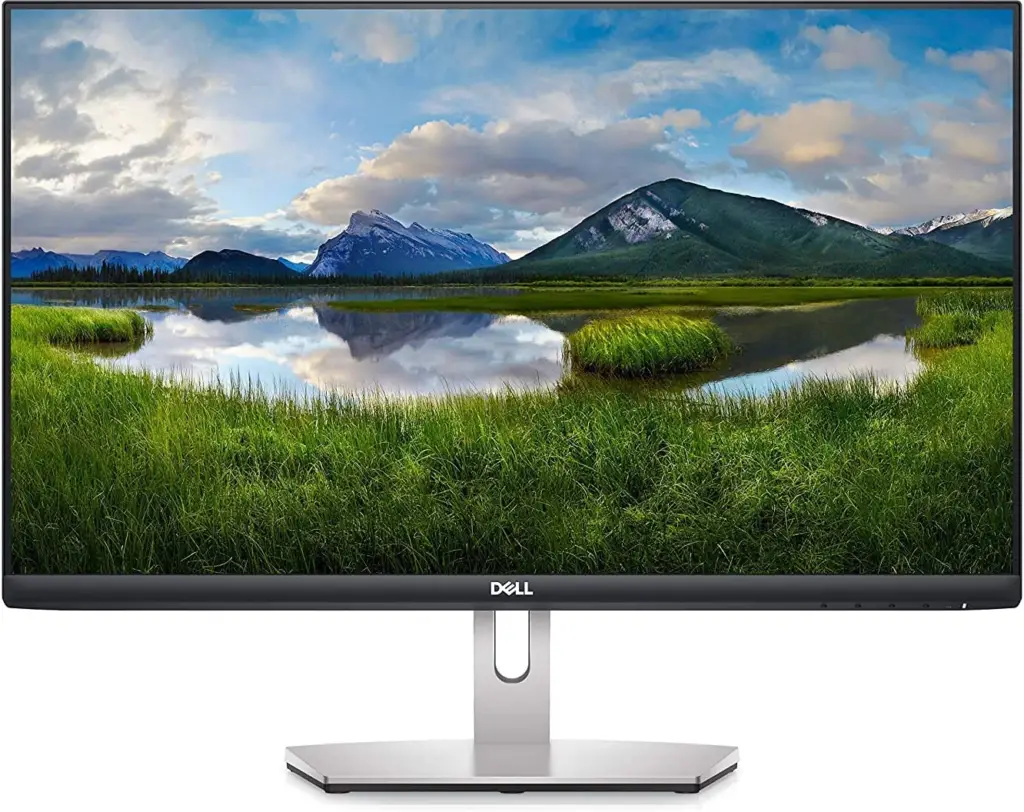 Design
If you look at all of the Dell budget monitors that came after 2021, you'll see that almost half of them are similar to this one. 
As this was one of the first with this typical design, they probably have been using it as a base since then. In any case, this monitor definitely doesn't have anything to call its own right now. 
Off the top of my head, I can mention the Dell S2421HS and the Dell S2721HN, with the former looking exactly like this one, even in the dimensions part. The latter does have a similar stand, but its back panel has a different material and it's 27″.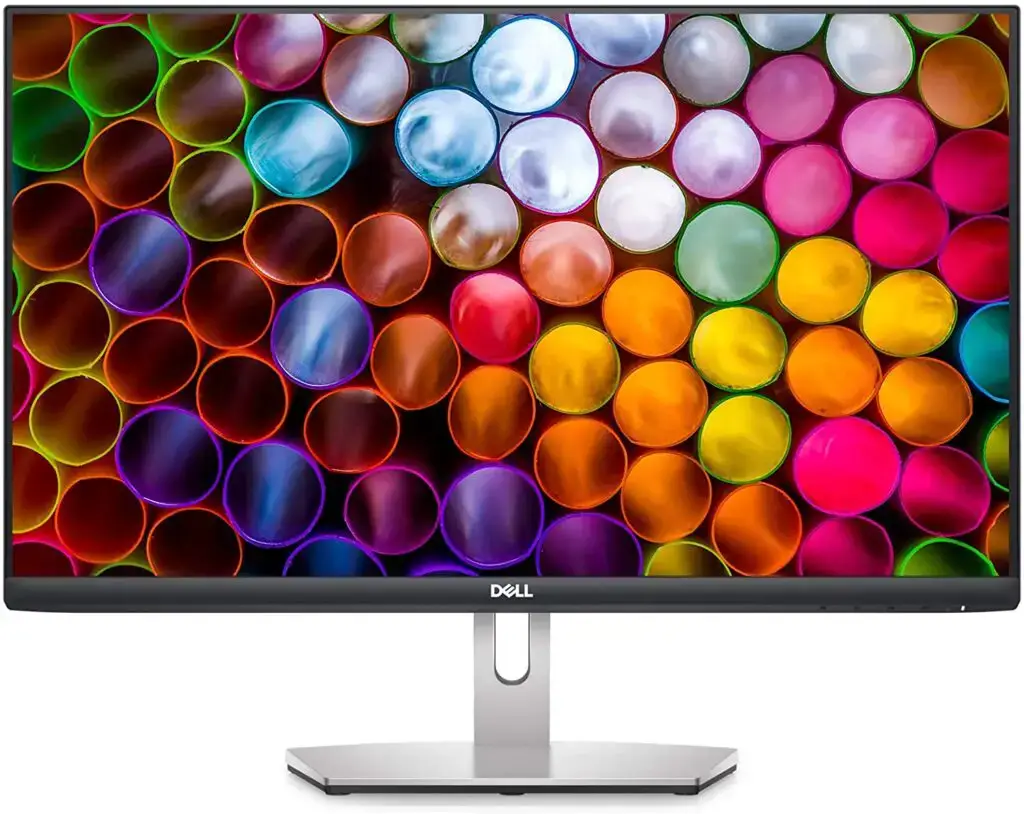 Speaking of which, this monitor was built with very cheap materials, but that was obviously a means of reducing the final price. It has a texturized back with an off-white color scheme and a limited quantity of connectors, but we'll put that aside for now. 
Its bezels are borderless, and the bottom one has a black color. That bezel is definitely not the slimmest one you can find, but it isn't too offensive in size. 
Because of its slim bezels and flat design, adding a second monitor won't compromise the aesthetics of the setup.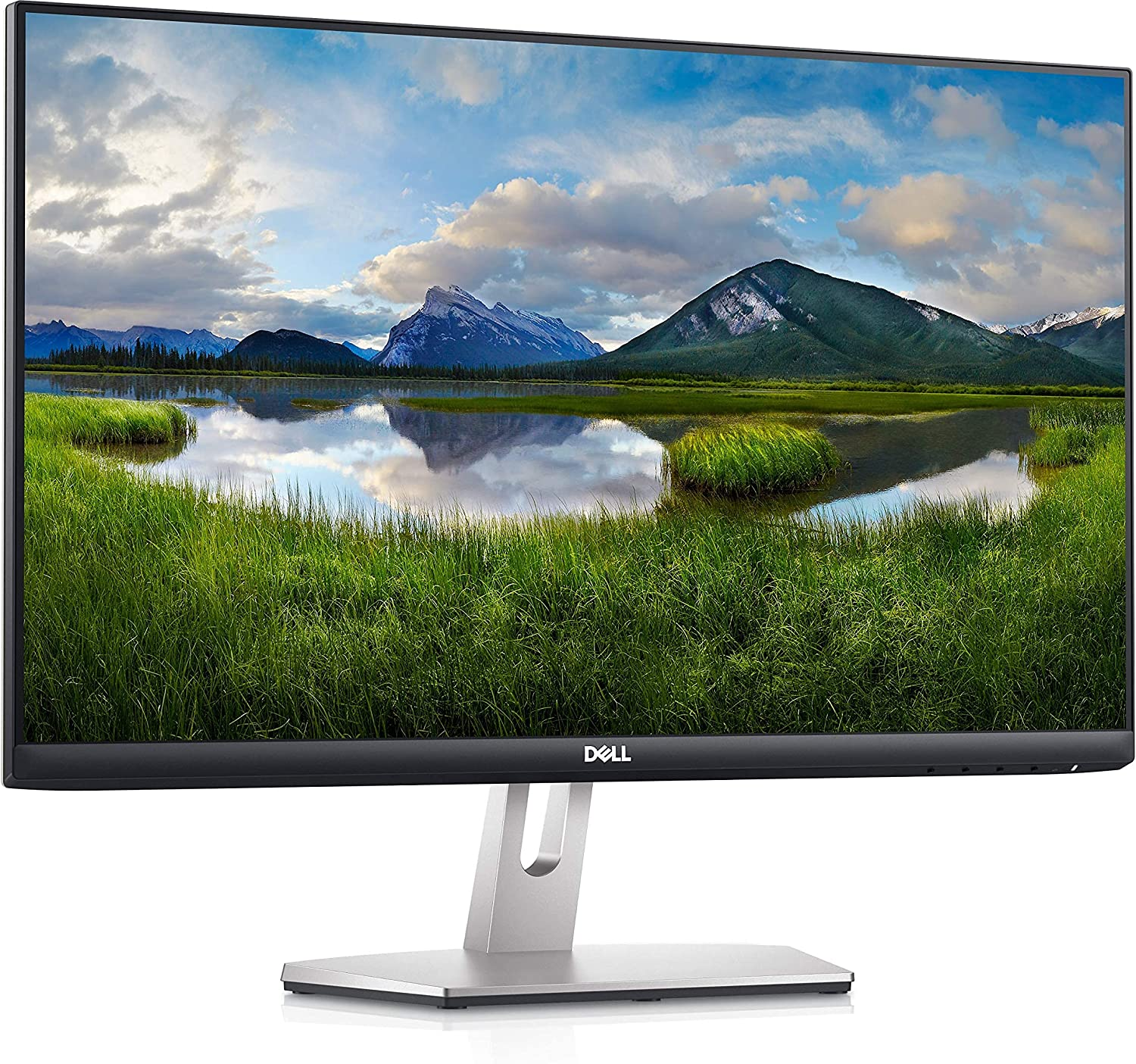 We can't forget to mention its limited stand in terms of adjustments. It only supports tilt, running far away from what we can call ergonomic. 
Aside from that, it has a metallic gray color, simulating true metal, but it is naturally a plastic stand. As its base is flat, you can put things on top of it, which alleviates a little the lack of room it leaves on the desk due to its enlarged size.
In any case, if you need something more subtle and ergonomic, be sure to buy a proper adjustable stand separately.
In conclusion, this is a run-of-the-mill budget monitor by Dell in terms of aesthetics. It has literally zero details that make it stand out, but fortunately, it has a modern and simple overall aesthetic. 
Connectors
Back to the connectors topic, missing a single port is enough for this monitor to fail our expectations. It only has 2x HDMI, lacking the Display Port.
It is not the case right now, but in the future, the main GPU manufacturers will forsake completely the HDMI port and use DP instead, making a monitor like this one just a bunch of useless plastic and glass.
Fortunately, it does have a Headphone out port, but don't expect it to have a high audio quality.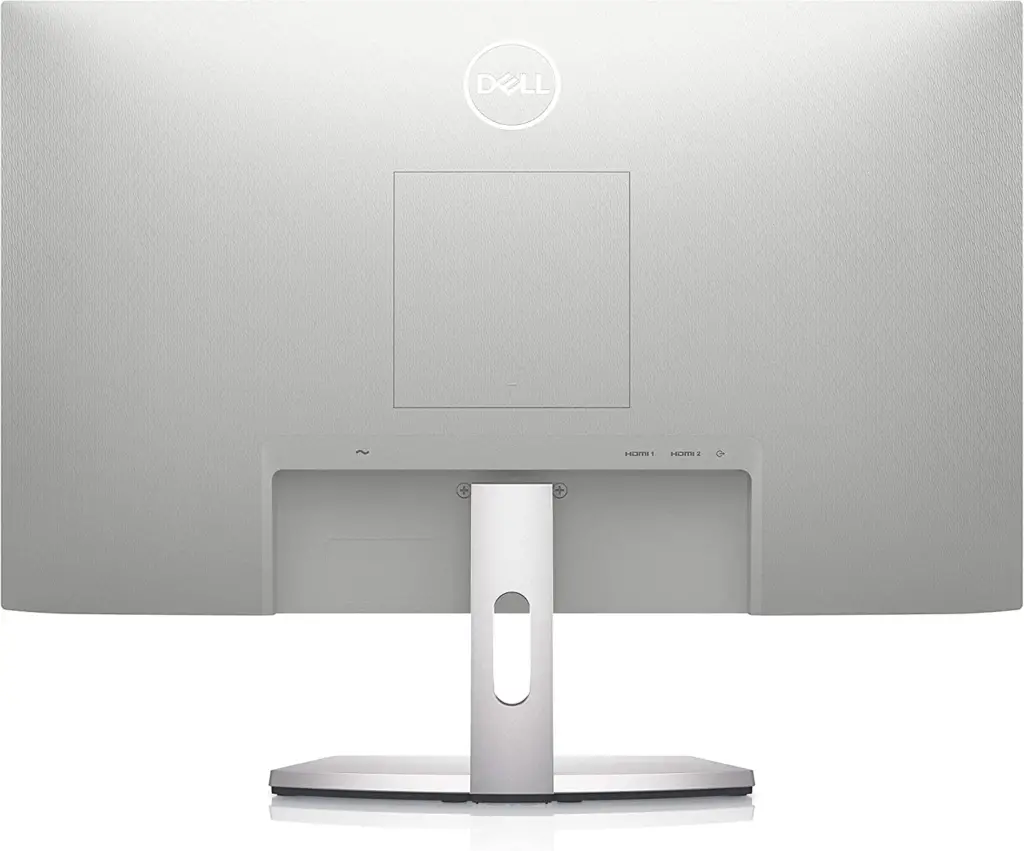 Features
Panel type
The Dell S2421HN has an IPS panel. The same is well known for its vivid colors and great viewing angles. However, things aren't that simple when dealing with the low-end IPS category.
Honestly, I've seen a bunch of VA panels with better color accuracy out of the box. While some tweaking can improve the overall color performance, it still falls short of achieving a similar quality level to a true IPS panel.
The main issue with this monitor's colors is their washed-out appearance, looking very similar to those of a low-end VA panel, except it doesn't have those deep/contrasting blacks to compensate. We'll get further into that in the image quality section.
In the end, having an IPS panel is already a heavy determiner of the monitor's final price, as it is the most expensive to implement out of the main ones.
And when you see a cheap monitor like this one sporting an IPS, you can be sure there's a huge caveat there.
In any case, aside from its good colors, the IPS also usually has great viewing angles, and this one is no exception to that. Its limited stand becomes less useless here as you can see accurate images from various different angles.
It helps even more when the monitor has a good brightness ratio, as it usually maintains the colors consistently accurate when you crank up the brightness setting.
Brightness
Now, if this monitor had a VA panel instead, the limited maximum brightness ratio it has would've been an even bigger hindrance. 
VA panels tend to have deeper blacks and higher black consistency than IPS. The IPS panel suffers from the IPS glow, which causes black images to appear grayish, especially if you're using the screen in a dark room. 
Due to that, the higher you push the brightness setting, the higher the level of IPS glowing and the poorer the blacks will become. However, with the VA panels, you usually can crank up the brightness to its max, and you won't find any gray blacks. 
That's why 250 nits tend to pair up well with IPS panels, though being a major setback for VA monitors. 
Back to the main topic, this monitor has only 250 nits. This brightness level is currently the lowest one you can find on cheap monitors. While it is true that 250 nits on paper aren't a very appealing ratio, if you compare some 250 nits monitor you'll see that there is a huge difference in the max level of brightness, even though they should be the "same".
Knowing that, we compared this monitor to some of the best 250 nits screens we have here, and it surprisingly wasn't the worst, even though it falls far short of the best.
What we have here is a true 250 nits monitor: you won't be able to see the images in a bright room, but you'll have enough for use during the night. Of course, it also won't give you any advantages in gaming. 
To counterbalance the low brightness, this monitor has decent reflection handling. The glare was still there during our use, but it wasn't as bad as some other models like the Dell S2721HS.
Refresh rate and Response time
Here we have one of the most polarizing features of the Dell S2421HN: its 75hz refresh rate. 
If you put a 75 hz and a 60hz monitor side by side, it isn't very hard to spot the differences and improvement of 75 over 60. 
Even so, is the difference big enough to make the manufacturer spare a display port, better colors, materials, and features just to implement this? Probably not, but that is a question for the customer to ask themself. 
One thing is true, you can find a significantly better 75hz monitor if you invest 30 dollars more, and this is probably the wiser decision. 
Fortunately, it does have AMD FreeSync, which enhances gameplay smoothness and eliminates screen tearing. It may seem like every monitor has at least a single tear-free feature nowadays, but for a cheap one like this, it is an even bigger plus point. 
In fact, gaming with this monitor wasn't that bad, thanks to its 75 hz and decent colors after calibration. Of course, competitive gaming is out of the league for this one, but that is expected. 
If you need a proper screen for the competitive scene, you may invest in a 240hz/1ms one instead of a 75/5ms like this one. By the way, this monitor has 5ms GTG of response time. 
Motion blur wasn't high enough to spoil a casual history-focused game, but fast-paced ones were still a mess.
With all that, to sum up, this monitor just delivers what it is expected to. 
It doesn't have great features for competitive, but it is enough for casual games. Of course, some may not like the resolution it has anymore, but that is a matter of personal tastes. 

Image Overall Quality
With its 24-inch size, this monitor has the so-called perfect size for 1080p. 
With a 24″ 1080p screen, you have around 92 PPI, which is enough to make the pixels slightly hard to spot, depending on your distance from the screen. You can check out more about PPIs here. 
Although it provides satisfactory performance, it is surely not the best resolution for immersive gameplay. If you need an upgrade, maybe the 1440p will better suit your needs. 
Bear in mind though, it is very hard to find a good 24-inch 1440p screen, so you'll probably have to consider a 27-inch one. 
The good point of the 1080p resolution is that it's not too expensive, meaning you'll often find it in the low-end screen category. 
Sometimes the difference between a 1080p screen and a 1440p is as big as around 100 dollars, which is definitely not a small price to pay. And that is why 1080p is still widely used worldwide.
Now that we know that the resolution is not the main issue of the Dell S2421HN's image quality, let's talk about its colors.
As we mentioned before, this monitor performs straight up poorly with its color accuracy. Mainly the red and blue tones are out of place, giving the screen this faint and dull hue. The greens are averagely acceptable enough, but even so, they are still far from the recommended for media edition. 
After calibration, things turn slightly to the better side, though it is still not the most suitable one out there. The LG 24MP400-B, for instance, has a very similar price and way better colors out of the box, and it becomes even better after calibration. 
The point is, even though this monitor is one of the cheapest ones on the market right now, the compromises the manufacturer had to make in order to keep prices like this are so impactful that it ends up being not worth it at all. 
Final thoughts
When to buy it
Even though the Dell S2421HN offers an IPS panel at an affordable price tag, I cannot recommend it due to its numerous shortcomings. One of the main strengths of an IPS panel, accurate colors, is poorly represented on this screen. Out of the box, the colors appear lifeless and lacking vibrancy, making it a subpar choice compared to a quality VA screen such as the Acer ED273UR model.
If I were seeking a budget-friendly IPS monitor, this particular option would not make my list. Instead, I would opt for the LG 24MP400-B model, which provides one of the best price-performance ratios in the market today.
You may like