Our Conclusion
For being a 27-inch display with a low PPI number and a high Pixel pitch ratio, the Dell S2721HN has blurred images when comparing it to a 24-inch screen. Due to that, I recommend you check out a monitor with better PPI and Pixel pitch ratios, such as the LG 27UP850-W and the LG 27ML600M-B. 
Pros
✓ 27-inch
✓ IPS
✓ 75hz, 4ms
✓ Affordable
Cons
✘ Low PPI
✘ Limited stand adjustments
Since we recently reviewed a gaming Dell monitor, today it is time to bring casualty to the game and review more affordable displays. For 2021 releases, among Dell's best monitors of the year, there are the Dell S2421HS and the Dell P3221D, both featuring one of the best price-performance for casual displays currently. 
And today, we're going to be reviewing another 2021 monitor release with cheap prices and casual features. So, without further ado, let's get into the Dell S2721HN Review and find out if this is a reasonable display and if it is suitable to enter the "best casual monitors of the year" list.
Design
At first look, we can right away compare it to the Dell S2421HS which is basically a sibling to this one in terms of aesthetics. Both have the same color pattern of matte black on the bezels, white on the back, and gray on the stand.
It follows the current trend of utilizing the 3-sided bezels with the borderless style. The bottom bezel is not as thin as it could be, but it is totally in average size for this type of monitor. 
On the other hand, this display has its differences from the Dell S2421HS, which is the fixed stand, allowing you only to tilt, and the screen size, with this one featuring the 27-inch pattern. 
This monitor has 6.06 x 24.02 x 14.33 inches. Looking at the back of this display, we notice right away that it features the VESA support, so you can place it on the walls with ease. 
Note also that it does not feature out speakers, so if you need those, consider checking the Dell S2421HS out.
In general, this is another one of those monitors with a simple and solid style for those who don't want a flashy setup.
Connectors
As for connectors, this monitor disappointed a little, featuring only 2x HDMI ports and an Audio line-out port, lacking DP connectors which would be plausible for this price range.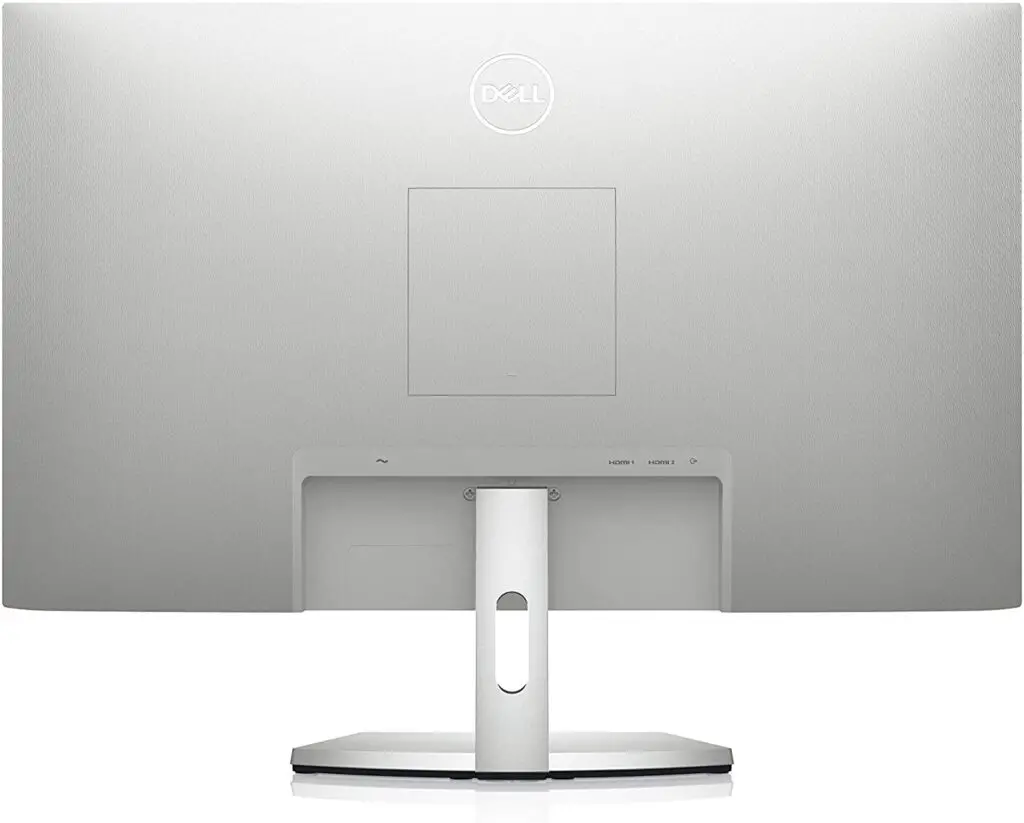 Features
Panel type
For a $200 budget casual monitor like this one, an IPS panel is really expected and common to see. This panel is well known and the must-have choice for the media professionals that need good image quality.
It provides a wide color gamut, thus, increasing the overall color accuracy of the display. It also increases the viewing angles so that, regardless of your point of view, the colors won't be distorted with this type of panel. 
On the other hand, this panel is known for the IPS glowing, which basically stands for some glowing lights on the display's corner, usually seen when displaying a black image. 
However, the level of IPS glowing will majority depend on the building quality of the panel, which is why cheap IPS displays usually have this issue.
As a Dell pattern, you're hardly going to find IPS glowing on their IPS displays, so you can rest assured that the Dell S2721HN has low levels of IPS glowing.
Brightness
As another benefit of IPS screens, the brightness won't have such a noticeable difference when it comes to low levels of nits with this panel. Due to that, you're usually going to find IPS panels with 250 nits of overall brightness for monitors at this price range.
However, to make this display stand out a little Dell decided to implement 300 cd/m2 without raising the prices. As a result, this is one of the first plus points of this display since it increases the target buyers a lot. 
300 nits are, for me, more than enough for daily use. Even if the sunlight will hit the screen, the images won't be distorted. Finishing on the important features for a casual display, now it is time to check its "gaming" features and find out if there is anything out of the usual.
Refresh rate and Response time
For me, the best number for casual monitors would be the 75hz of Refresh Rate and 5 or 4ms of Response time. 
And, fortunately, they did not disappoint us here on the gaming features. Starting with the Refresh rate, they decided to use 75hz, which has noticeable smoothness differences from 60hz but does not increase exponentially the prices. 
Due to that, it is more and more implemented in current casual monitors releases. Aside from that, this monitor also includes 4ms of Response time, which is not a feature you should concern a lot if you do not have plans to play competitive games. 
Lastly, notice that the Dell S2721HN has AMD FreeSync technology, which will reduce screen tearing during your gameplay sessions.

Image Overall Quality
The Dell S2721HN is a 27-inch display featuring a 1080p resolution, thus, you can expect a little below average PPI (81.59), resulting in blurred images when compared to a 24-inch Full HD display.
As a result, if you need the crispier possible images, I recommend you a 24-inch display such as the Acer Nitro QG241Y. 
On the other hand, the IPS comes to kick the doors and provide a nice color reproduction, with vivid colors, even featuring 16.7 million supported colors, which is the average for monitors at this price range. 
It also features a 72% NTSC (CIE 1931) color gamut, which has a little wider gamut than the sRGB 99%, typically implemented in casual displays.
Unfortunately, the pixel pitch of this monitor helps a little on the perception of little blurred images, and it seems that Dell didn't concerned enough about this feature. 
It has a high number for pixel pitch when it comes to low PPI displays, featuring 0.3114 mm. Lastly, like every other IPS panel for casual display, you're going to have only a 1000:1 contrast ratio. 
That said, if you want more contrasting colors, I recommend you checking a VA panel display, such as the. 
In general, the Dell S2721HN will have a good color reproduction due to the IPS panel with the 72% NTSC feature, but a little washed images due to the high Pixel pitch combined with the low PPI.
Final thoughts
When to buy it
The Dell S2721HN is indeed a good monitor by Dell that will provide you a good color reproduction accuracy. However, it seems like Dell didn't care enough about the resolution features of this display, which ended up in little blurred images. 
That said, before affording this one, I recommend you check out the LG 27UP850-W and the LG 27ML600M-B, which have better PPI and Pixel pitch numbers even for a Full HD 27-inch display.
You may like