Our Conclusion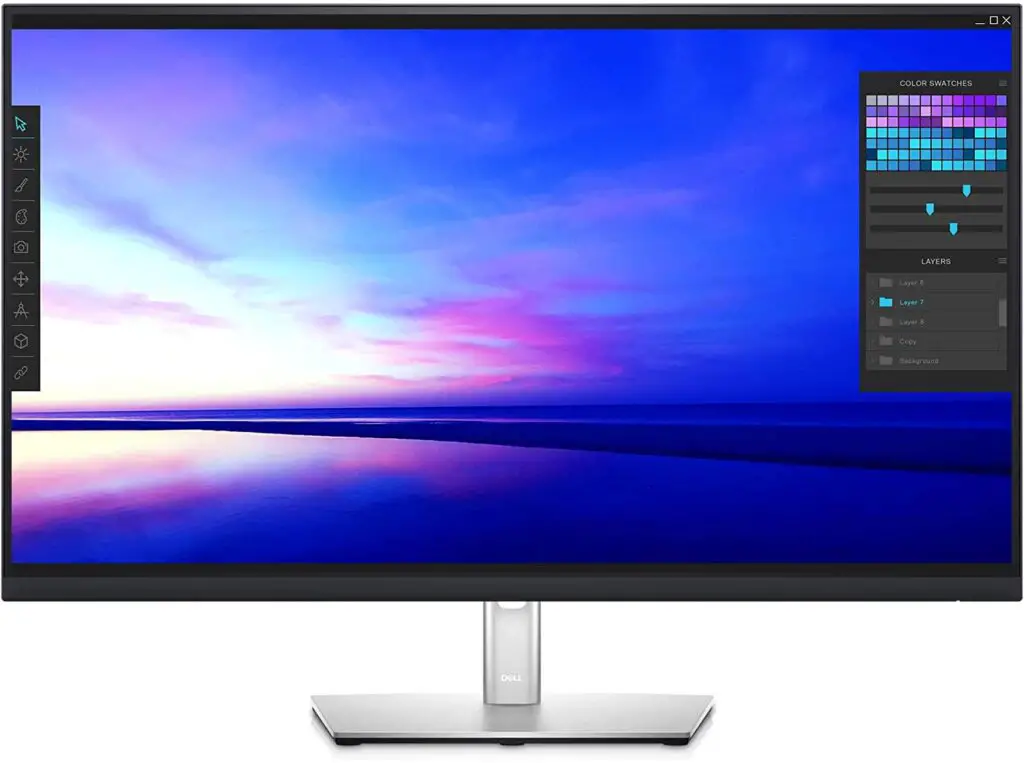 To summarize, the Dell P3221D is an excellent option for those that want a large screen size, decent image quality, and a wide number of ports in addition to a USB-C connector. However, if you simply need picture quality and don't need all of the ports that this monitor offers, this is not the best option for you, as, due to these ports, the prices are significantly higher than usual. In this case, you can check out the Dell P2421D, which has an even higher PPI.
Pros
✓ Wide variety of ports
✓ 32″ 1440p
✓ USB-C port
✓ Thin overall aesthetics
✓ IPS panel
Cons
✘ Lack of out speakers
✘ 60hz of refresh rate
With these latest 2021 monitor launches, Dell is really knocking it out of the park. Models like the Dell P2421D and Dell S2421HS are currently among the best 2021 display options. 
However, for today's post, we chose this display, published in late 2020, appearing to be of comparable quality to those released this year. So, without further ado, let's take a look at the Dell P3221D Review to see if this is a reasonable option.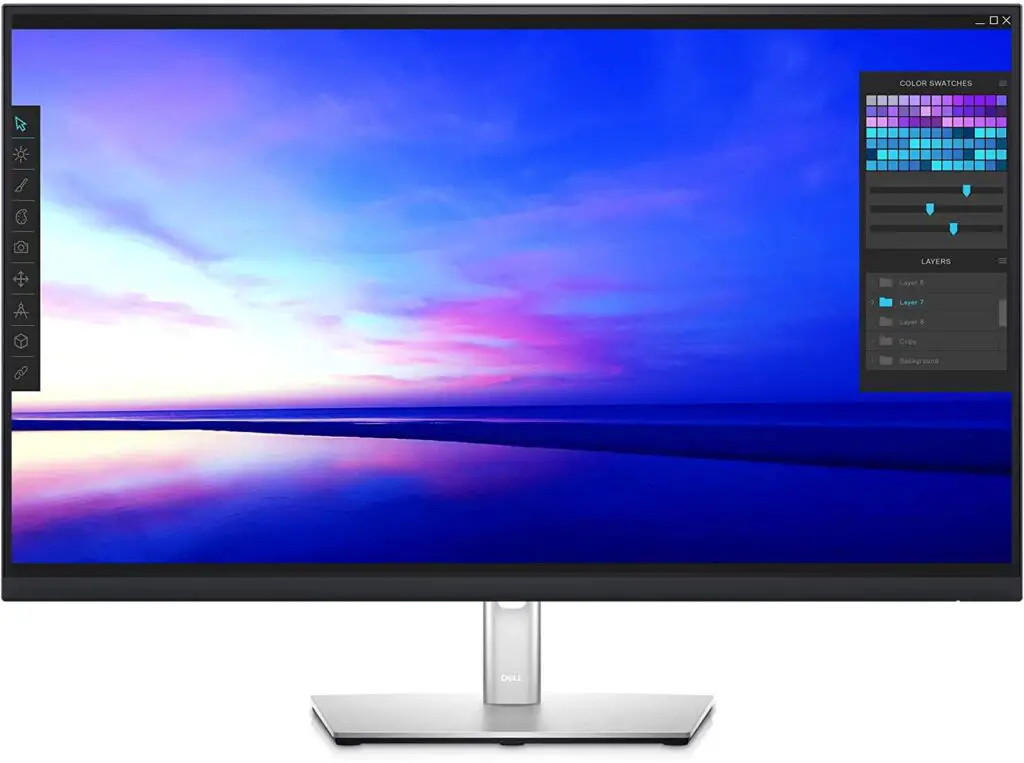 Design
One of the real highlights of this monitor is its design; Dell, in my opinion, did an excellent job on this point. They wanted to get rid of the trend that almost every brand follows, which is to put their logo on the bottom bezel of nearly every model.
Instead, they boldly applied the Dell logo to the stand support, which I think looks awesome simply because it deviates from the standard pattern. As a consequence, this minor detail, in my opinion, makes this monitor one of the best-designed displays released last year.
Besides that, this monitor also has overall thin aesthetics all over its entire design, measuring 28.09 inches x 9.06 inches x 18.46 inches and 14.11 lb. 
The entire display was built in black, with the stand in a light gray metalized finish. By the way, the monitor's stand offers a wide variety of adjustment options, including tilt, swivel, pivot, and height adjustment.
Connectors
Also, looking at the back, we can see this VESA support providing you facility to place this monitor on the walls. As for connectors, we have a 1x HDMI port, 1x DP port, USB Type-C port, 2x USB 2.0 ports, 2x USB 3.2 Gen1 ports. This monitor package includes 1x DP Cable, 1x USB Type-C cable (C to C), 1x USB Type-C cable (C to A), 1x Power Cable.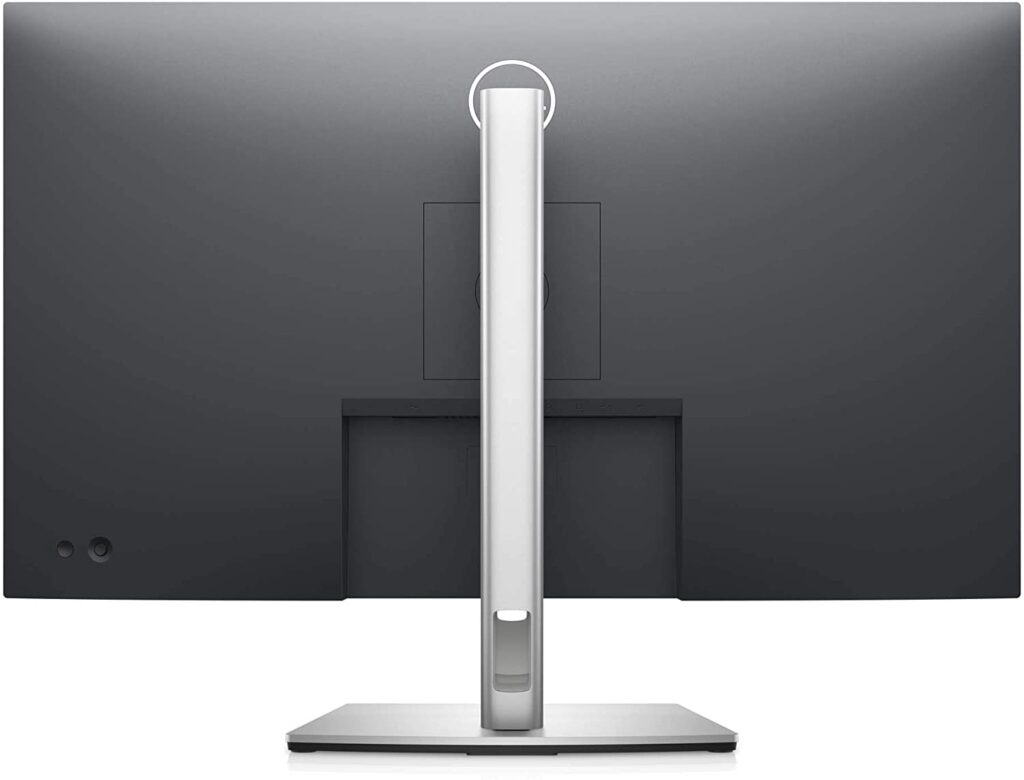 Design downsides
Unfortunately, this display lacks speakers, which could be a minor disadvantage for certain users depending on their requirements.
Features
Panel type
Dell is known for not disappointing its customers when it comes to building one of the monitor's key features. Fortunately, they did not do as well on this one. 
The IPS panel, which is the best panel type in terms of image accuracy and quality, is featured on this monitor. 
However, since IPS monitors typically have high Response time rates, this is a point that highlights the likelihood that this display may not be suitable for competitive gaming. In any case, we'll move this below.
Fortunately, the IPS panel on this monitor does not have a high amount of IPS glowing, indicating that DELL did a decent job with this display, which is to be expected at this price point, though.
Furthermore, the IPS panel offers 1.07 billion color support to the Dell P3221D, unfolding a high-built-quality IPS. Also, you'll have 1000: 1 (typical) Contrast Ratio, which is a usual number among IPS panels, while VA panels usually have higher contrast ratios.
That said, if you want to avail of high Contrast ratios on a monitor, you should check out the AOC Q32V3.
Brightness
This monitor also has a fantastic total brightness of 350 cd/m 2, which fits into the high-end monitor category.
However, unless your desktop was built in front of a window with direct sunlight shining on your screen, you're unlikely to use it at full brightness.
Refresh rate and Response time
Now let's talk about the Dell P3221D's "gaming" features. To begin with, we were a little disappointed when we saw that this display only has a 60hz refresh rate. 
Even though this is obviously not intended to be a competitive gaming display, at this price range, they could have probably fitted it with at least a 75hz, giving it a little more smoothness in everyday use.
Aside from that, the response time is 8 ms (normal) and 5 ms (Fast) – (gray to gray), which is a typical number for an IPS non-gaming monitor. 
Meaning that if you need a gaming-focused option, this is clearly not your right choice; in this case, you may want to check out the HP X27I, which is one of the best and cheap 1440p gaming monitors.
Image Overall Quality
When all of the features of this monitor are considered, the Dell P3221D is a 32-inch 1440p IPS monitor with poor gaming features like refresh rate and response time but excellent overall image quality.
Since you're using a 32″ display with a 1440p resolution, you'll have a balanced pixel pitch of 0.2727 mm x 0.2727 mm, improving picture sharpness. 
Even so, you can find cheaper monitors with the same image quality, such as the Dell P2421D, implying that the Dell P3221D's significantly higher price is due to its large number of ports.
Final thoughts
When to buy it
If you need a huge monitor display with a lot of ports and incredible image quality, you won't go wrong with the  Dell P3221D.
When not to
However, this monitor can be a little out of budget for some. In this case, I recommend you check out the LG 32QN600-B, which is probably the cheapest 32-inch monitor on the market.
The other possible situation is the one that you need a mix between gaming features and image quality; if this is your case, you can check out the HP X27I, which is one of the best HP options.
You may like