Conclusion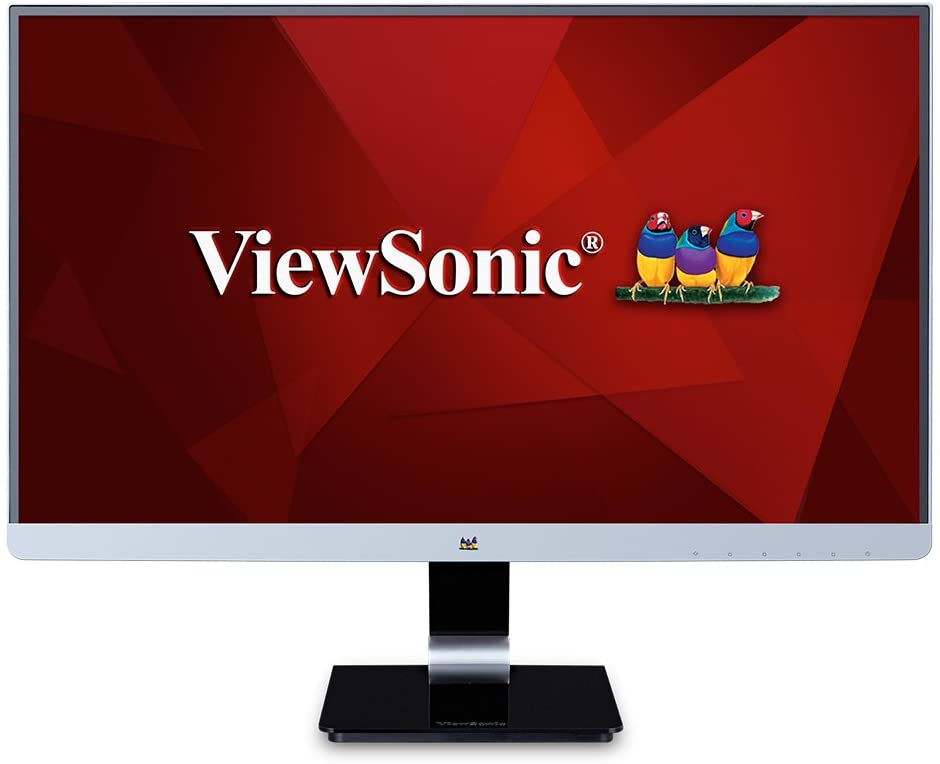 Summing things up, we can conclude that the ViewSonic VX2478-SMHD is one of your best 1440p options in this price range. Its high pixel density makes it ideal for a programmer or/and an image editor or video editor. However, this display tends to be a great choice for casual players as well, due to its overclocking potential and 4ms of response time.
Pros
✓ 1440p
✓ 24″
✓ High pixel density
✓ IPS panel
Cons
✘ Not competitive gaming advisible
✘ 60hz
With the introduction of the latest Geforce release, the RTX 3000 line, 1440p monitors have become a more favored choice than before. One of the reasons for this is that, previously, there was little to no graphics card with enough power to handle a 1440p resolution of max graphics settings while maintaining high frame rates at the same time.
As can be seen in some benchmarks over the internet, RTX 3080 can also run games at solid frame rates in 4k resolution at ultra graphic settings, something that was difficult to achieve until last year. With all these previous events, you should expect the 1440P and the 4K resolution to be trending this year.
However, this is a nice resolution, but not just for gamers. People working on programming, as well as on video or/and image editing, will make much more use of this resolution. And for today's review, we decided to focus on those folks who need a good inexpensive UHD option, which can be used for casual gaming as well. Then we selected the ViewSonic VX2478-SMHD that we're going to see today if it is good or not. Follow below.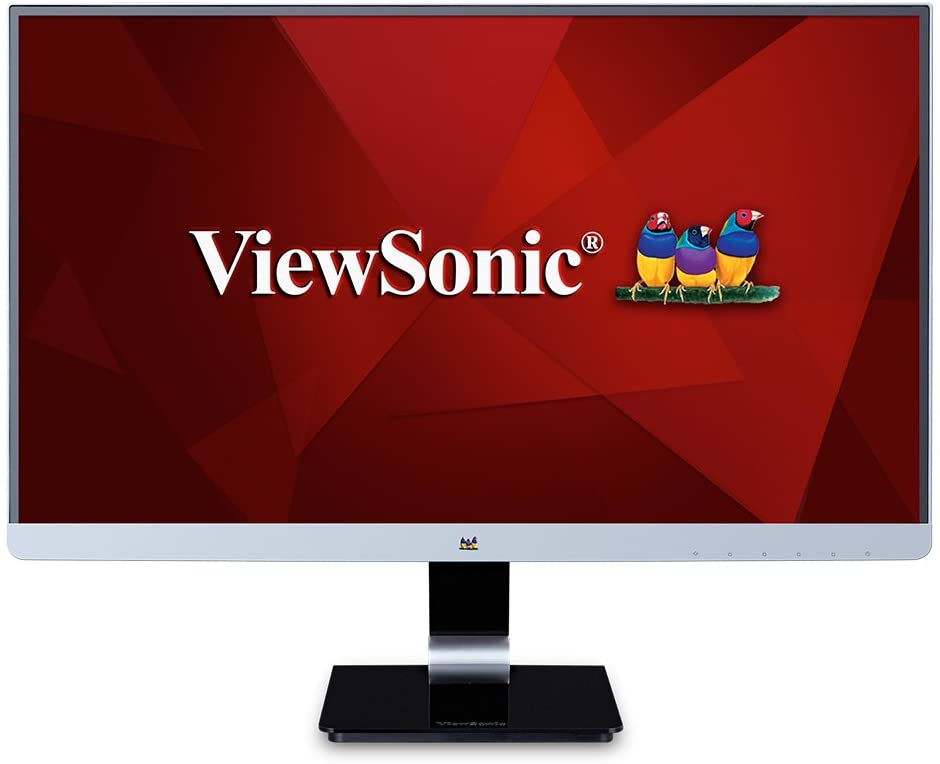 Design
The ViewSonic VX2478–SMHD was launched by ViewSonic in 2016. Its style is mostly made of white bezels with black stand and back. Its stand features some innovative design that might not look firm enough to hold the display at first glance, but you can get used to it in due time.
Also, looking sideways, you can notice that it is pretty thin, precisely measuring 7.48 x 21.31 x 16.57 inches and weighing 7.70 lbs. Besides, looking at the back, you can also notice that it is wall-mountable, featuring the VESA support, and it has built-in speakers, which offer an ok sound to listen to in closed rooms.
Note also that it won't have height adjustment, with you being only able to tilt it forward and backward.
Connectors
Finally, this monitor features a wide variety of connectors, including HDMI, DisplayPort, and Mini DisplayPort inputs.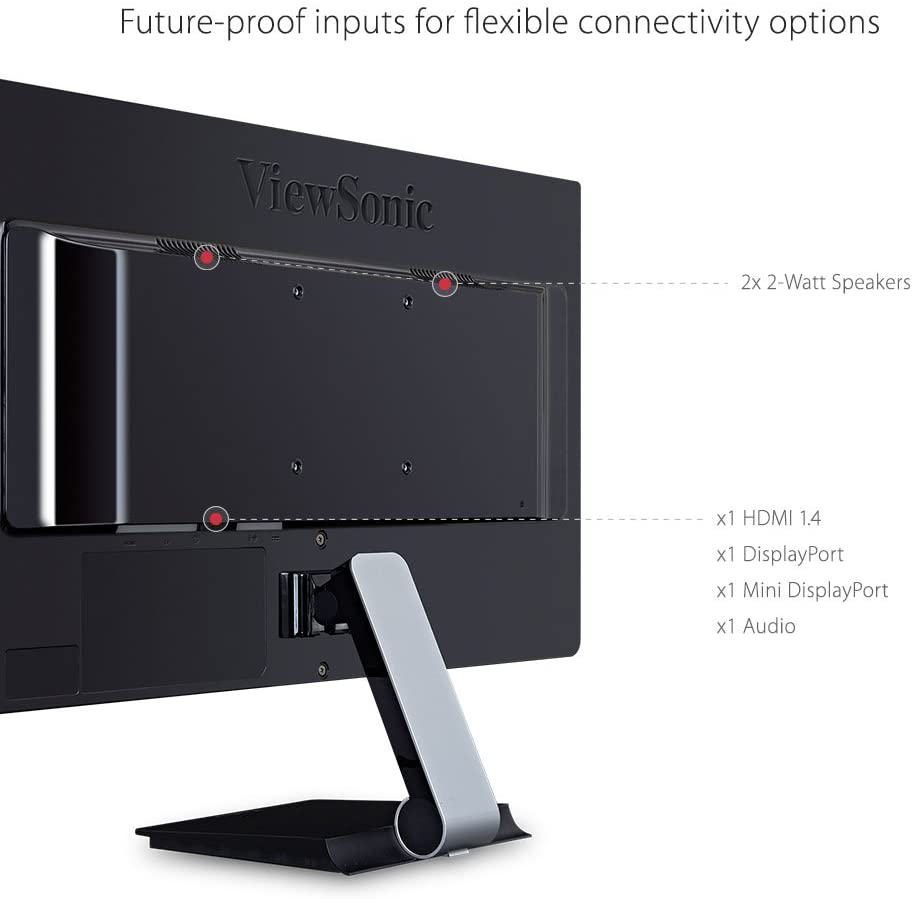 Features
Panel type
Featuring the panel type claimed to be the one that displays the best color accuracy and viewing angle (IPS panel), the ViewSonic VX2478-SMHD left nothing to be desired concerning image quality.
Fortunately, this monitor doesn't show high levels of IPS glowing, but you can notice just a little when you're in a dark room and the display on a black screen.
Color gamut and color accuracy
The ViewSonic VX2478-SMHD has the AVG color depth of IPS panels, being 16.7M supported colors, which is pretty nice for this price range monitor. As for the color gamut, this monitor features the classic sRGB 99%.
Brightness
This monitor has 300 cd/m2 of brightness that comparing it with a recent similar monitor review: the LG 27QN600-B, the LG one comes up ahead with its 350 cd/m2. However, it is much expensive, and that's not a huge difference as well.
Testing both, side by side at maximum brightness, you can't notice the difference at all. Overall this is a good brightness that surely won't disappoint you.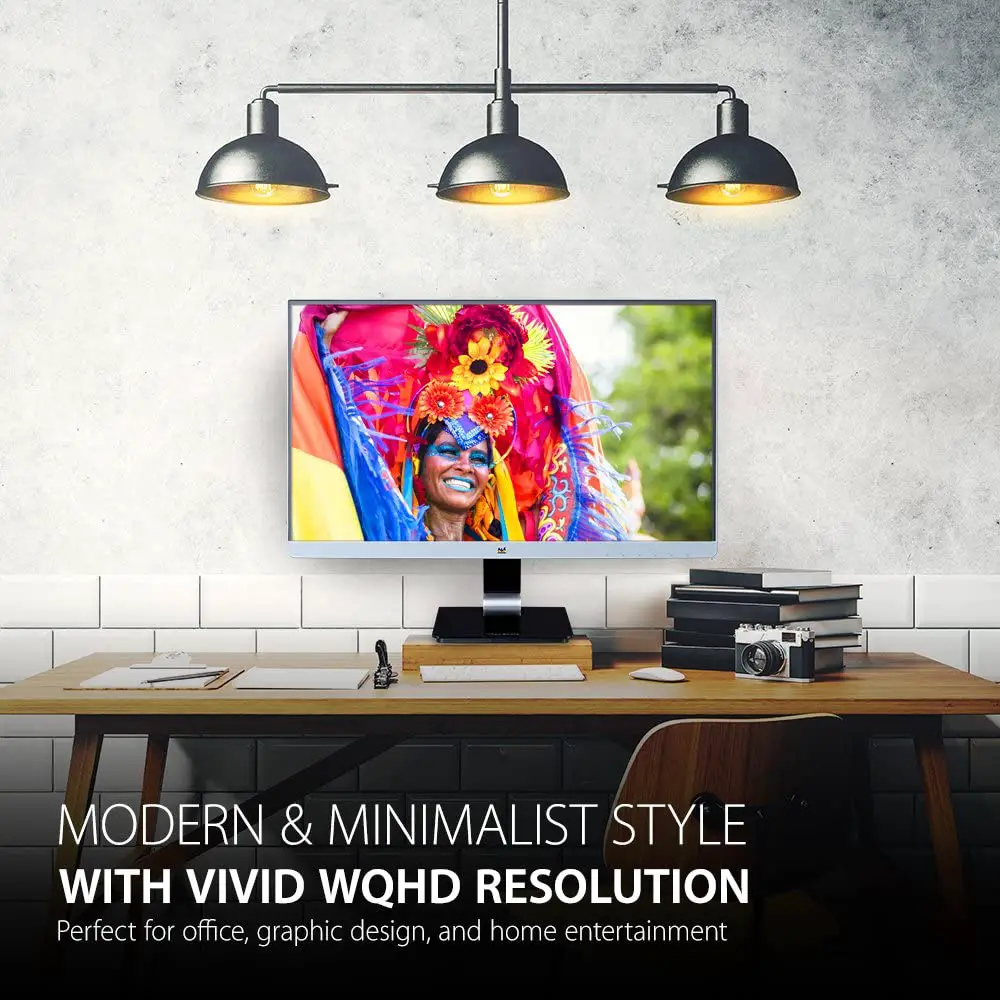 Refresh rate
Getting now into the non-gaming features of this monitor, unluckily, you won't get high refresh rates from this monitor with its only 60 Hz. However, you can still overclock it. During our tests, this monitor managed to reach 80 Hz without blurring the image.
Indeed this is only recommended if you want to play, and you also need to have a graphics card with enough power to reach out to these frame rates on the 1440p resolution.
Response time
You'll get with this monitor 4ms(GTG) which is better than the LG 27QN600-B 5ms. It looks like this can be an even better gaming option than the LG one due to the ViewSonic VX2478-SMHD overclocking potential and its lesser response time as also its cheapness.
Image quality
Being a 1440p resolution in a 24 inches display, you'll be able to avail high pixel density from this monitor, thus, improving drastically the image sharpness meaning that you won't face blurring issues during reading.
This, combined with the IPS panel, significantly improves the overall image quality. All in all, this is one of the best choices if you want one of the best picture quality you can find in a display around this price range.
Final thoughts
When to buy it
If you want a good and cheap 1440p option, this is surely your best choice. Just be aware when choosing it for casual gameplays, because depending on your graphics card, you won't even be able to reach its 60hz.
When not to
If you need more frame rates for a competitive gaming scenario, this is not a good choice. If that's the case, you can take a look at this one: LG 27GL83A-B monitor with the same resolution, but this time with a 1440p resolution.
You may like