Conclusion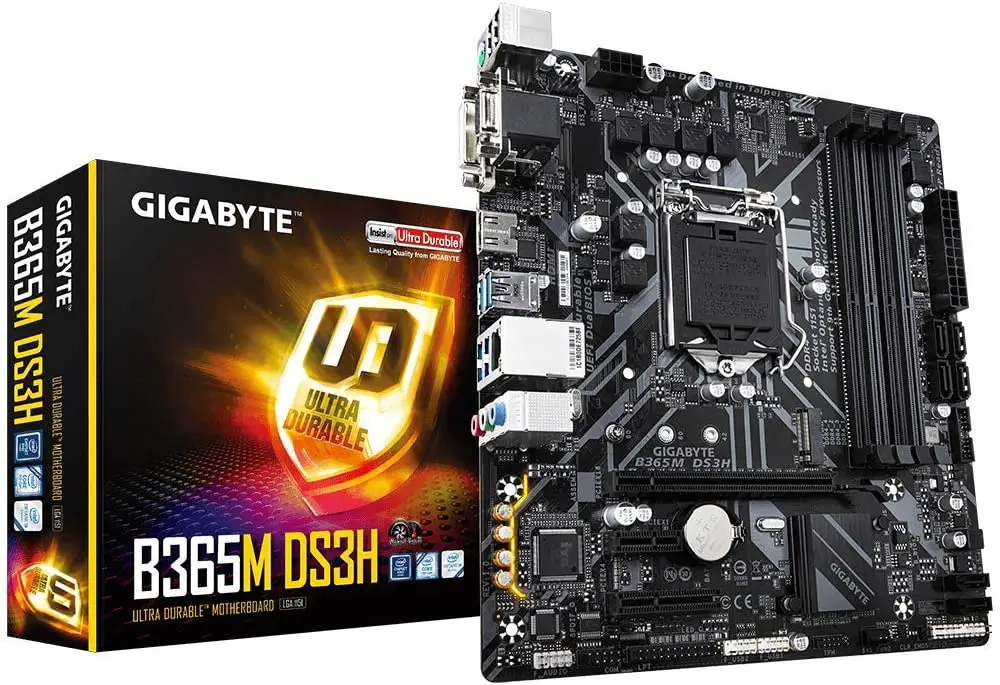 All in all, we can conclude that this motherboard is a good one if you need properly to use a 9th or 8th gen processor. Also, with its nowadays price, this is one of your best low-end affordable options for intel processors. However, this board is not advisable if you need a high TDP CPU or if you want to overclock since this board does not feature a heatsink fairing to keep the VRM circuit cool. Besides, if you need a cheap LGA 1200 with 10th gen intel support, you can check out this one: Gigabyte B460M DS3H.
Pros
✓ Affordable
✓ LGA 1151
✓ 4x Ram slots
✓ M.2 slot
Cons
✘ No heatsink fairing
✘ Few VRM phases
One of the biggest mistakes people have made when choosing the first motherboard is to assume that, independent of your usage, you will need a tough board with a high-end chipset and an advanced cooling system with the latest features on the market.
This usually ends up making you spend a lot on a motherboard that you're not even going to use half the potential at all. So when you pick your new board, you will usually have to remember two things: Its purpose and whether you resale it later.
Thinking in that, we decided to review a motherboard that, regardless of your purposes with it, if you want a spare choice to resale and save money in order to upgrade it, or even a low-end choice for a casual user, this has all to be one of your best low-end options. Follow below the GIGABYTE B365M DS3H Review.
Design
Concerning design, we can say that this board has nothing innovative at all. There is nothing that really draws your attention. As a usual pattern of the Gigabyte boards, this one also features the gray strips drawn across it and on the chipset as well.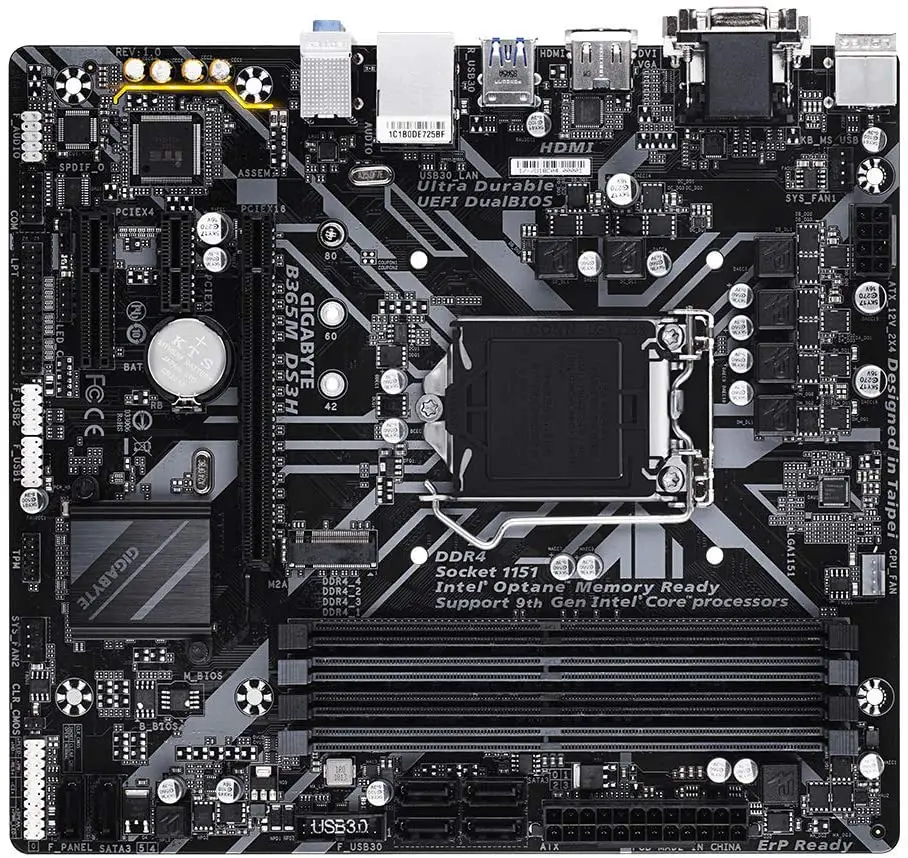 Overall this is a pretty simple design in order to save the final costs. Indeed we cant expect much of the RGB stuff and stunning design coming from a low-end motherboard.
Lastly, about dimensions, this is a Micro ATX form motherboard measuring 10.43 x 10.43 x 2.12 inches and weighing 1.50 lbs.
Design Downsides
Luckily, there is nothing that can directly interfere with the performance of this board. Just be aware that this board doesn't present any RGB light source.
Socket and Chipset
With this board, you'll be able to use Intel processors from the 8th to the 9th generation due to the LGA 1151 socket. This socket is surely a good one being one model below the LGA 1200 socket, which features support to the 10th gen intel CPUs.
Note that if you'll buy a 10th gen processor I recommend you to check this board out: Gigabyte B460M DS3H, which features the LGA 1200 and it is about $5 more expensive than the B365M DS3H.
We'll see further about recommended processors for this board in the Recommended CPUs section. Also, with the B365M chipset, you'll have a low-end one dedicated mostly to basic daily tasks and casual gaming.
Memory
Further, fortunately, this board has 4 DDR4 RAM slots with support to dual-channel. All four slots support up to 64 GB in total. You can also manage to hit 2666 MHz of memory speed via XMP.
However, note that you may use the 8th or the 9th intel gen to use the XMP feature as also to reach 2666MHz. Besides, you can also check out the Gigabyte website for further information about supported memories.
Overclock and Recommended Processors
Recommended CPUs
As mentioned, the socket presented in the Gigabyte B365m Ds3h board has support to the intel 8th and 9th gen processors, meaning that you shouldn't use any other CPU unless if you want to break your socket. Knowing that we have our base to start choosing the best CPUs options for this board.
Knowing all that, we have our base to start choosing the best CPUs options for this board. Well, if you're buying a low-end motherboard, you should also go with low/mid-end processors.
Well, if you're buying a low-end motherboard, you should also go with low/mid-end processors. You probably won't want to overclock it since this board doesn't have a good heatsink fairing on the VRMs.
Besides, we may select one with low TDP since, again, due to the limited cooling system, it can be faced overheating if the TDP exceeds the recommended for this board.
With all that, one of your best gaming options to combine with this board would be the intel core i5 9400F, with its high gaming potential and less cost. However, this processor does not has integrated graphics, meaning that you'll have to spend on a GPU in order to display video.
So, if you want an integrated graphics option, you may consider affording the Intel Core i3-9100.
Overclock
Unfortunately, this board isn't advisable for overclocking at all since it does not has any cooling system on the VRM circuit, and with the overheating caused by this, you'll certainly face throttling.
So, if you are the enthusiast kind, you can check another cheap motherboard option like the: which you can overclock your processors without any fear.
VRM and Connectors
This board features 4*+2 Phases on the VRM circuit that unfortunately does not have a heatsink fairing to maintain it in cooler temperatures.
Connectors
Power connectors and SSD
To give sufficient power to this motherboard, you're going to need a 1 x 24-pin ATX main power connector and a 1 x 8-pin ATX 12V power connector.
Last, about SSD connectors, this board has a 1x M.2 slot, left side your graphics card, which can end up overheating the SSD since its slot does not has any protection.
Fan, RGB, SATA
In addition, we have 1 x CPU fan header, 2 x system fan headers, 6 x SATA 6Gb/s connectors, 1 x RGB LED strip header, 1 x USB 3.1 Gen 1 header, 2 x USB 2.0/1.1 headers.
PCI connectors
Last, this board features, 1 x PCI Express x16 slot, running at x16, 1 x PCI Express x4 slot, 1 x PCI Express x1 slot.
Back panel

This board has not the Pre-installed IO shield to make easier your pc building. However, this is usual in low-end motherboards.
4 x USB 3.1 Gen 1 ports
2 x USB 2.0/1.1 ports
1 x HDMI port
1 x DVI-D port
1 x D-Sub port
1 x PS/2 keyboard/mouse port
1 x RJ-45 port
3 x audio jacks
Final thoughts
When to buy it
If you need a low-end motherboard with one of the most price-performance around the market, the Gigabyte B365M DS3H is surely one of your best choices. Also, if you want to start low and save money to upgrade your pc later, you won't go wrong with this one.
When not to
However, if you need a board with the new 10th gen intel processors, you can check out this one: Gigabyte B460M DS3H
Besides, you'll be limited when choosing your CPU for the B365M DS3H since it does not feature any cooling system on the VRM circuit. Meaning also, that you do not want to overclock your CPU with this board.
You may like