Gigabyte B450m DS3H Review | $70 budget B450 motherboard
When choosing a motherboard, it is relevant to consider that, depending on your choice, you may or may not have to swap it again. Sooner or later, you will have to swap out the processor to a new one, and your motherboard won't have the necessary support; thus, you will have to choose another motherboard again, and so it goes on.
However, if you get one that already has the chipset to support the new-gen of processors, then you are on the right way to save money. With this in mind, today, we are going to review one of the best budgets motherboards with the B450 chipset currently that was recently announced supporting the 4th gen of Ryzen processors, the Gigabyte B450M DS3H, costing up to $75. Let's check out if it's worth it nowadays in this review.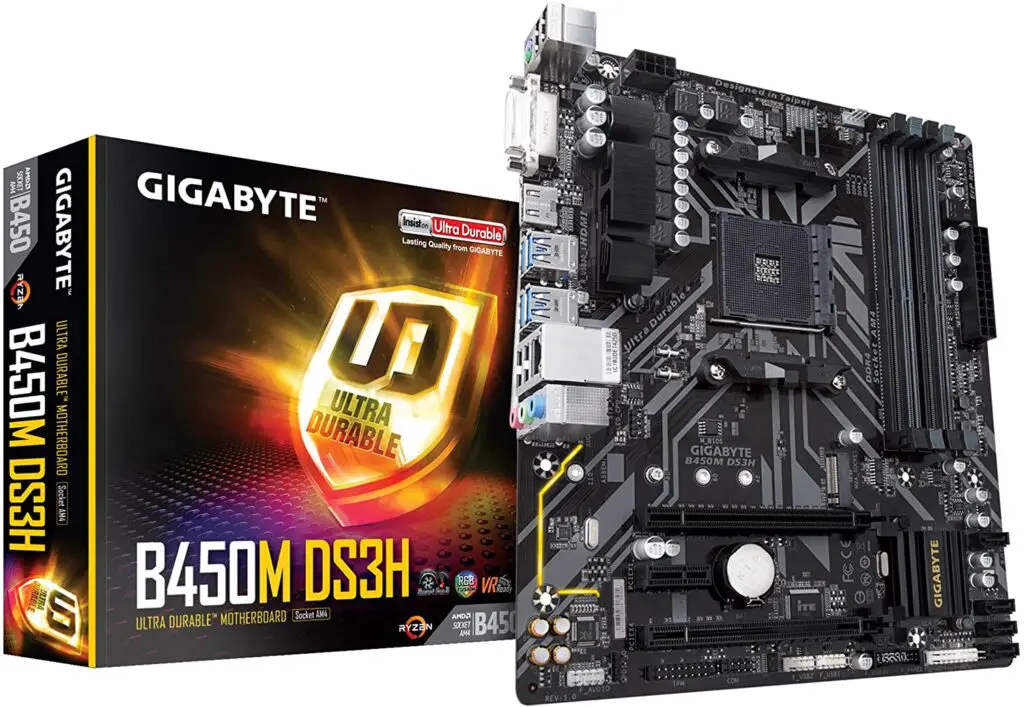 Design
About design, this card presents a simplistic design befitting its price with some gray and black tones all over the board. Concerning dimensions, it features the Atx form with 15.00 x 12.25 x 4.22 inches. Overall it has a pretty simple design, but it suits well for its price range.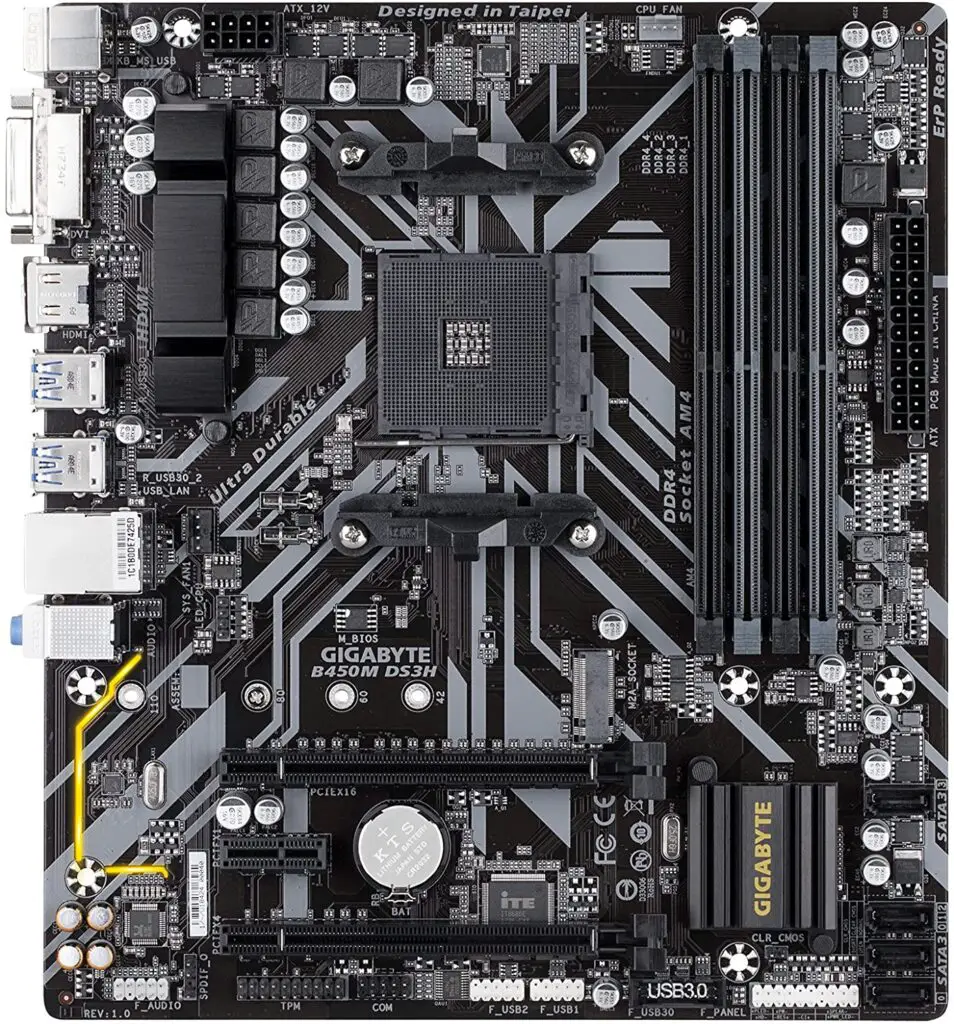 If you like RGB stickers on the board and a more detailed finish, this is not the board for you. Now, before we proceed with the review, take a look at the technical specifications of this board.
Technical specifications
| | |
| --- | --- |
| Socket | Am4 |
| Chipset | B450 |
| Memory | 4 x DDR4  |
| Onboard Graphics | 1 x DVI-D port, 1 x HDMI port |
| Audio | Realtek® ALC887 codec |
| LAN | Realtek® GbE LAN chip |
| USB | 2 x USB 3.1, 8 x USB 2.0 |
Features
As said before, the Gigabyte B450M DS3H has the B450 Chipset with AM4 socket; that is, it will have the support for the 4th ryzen generation; so you can buy it safely. It also has 4x DDR4 ram slots supporting up to 3600Mhz(OC), which can be placed up to 64Gb ram modules, which is more than enough for today's use. You can use the XMP profile to swap between memory clock frequencies.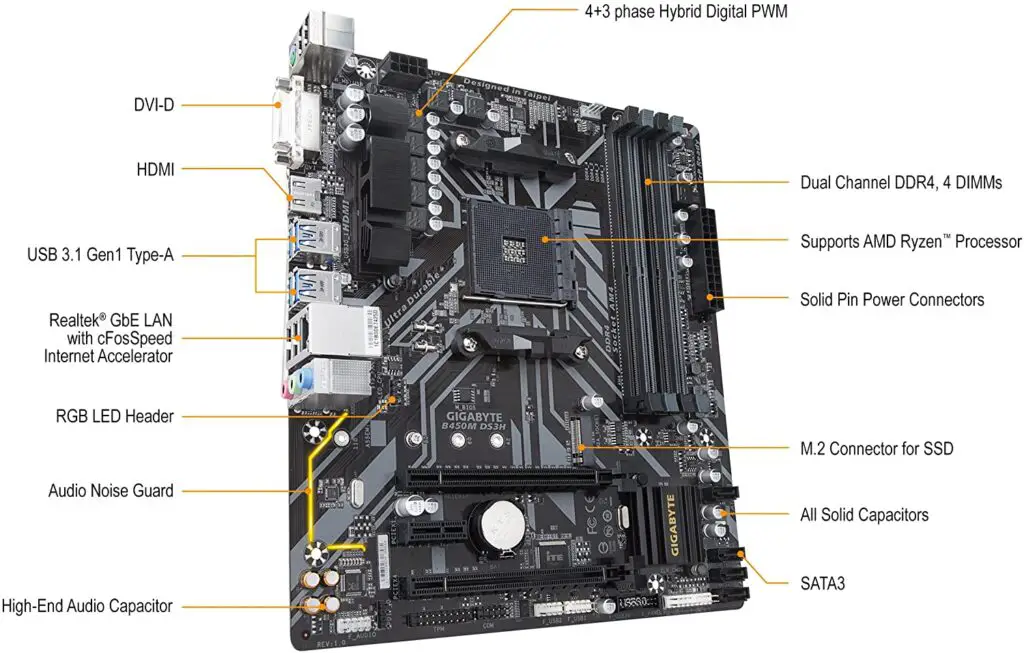 Audio
Besides, it features the Realtek ALC887 audio codec, 7.1-channel that can be used with a headset that provides the 7.1 as well, for a more immersive audio experience during gameplays or songs.
Slots
Further, it has two graphics card slots, the first one PCI express running at x16 and the last one running at x4. Keep in mind that it is always advisable to use your graphics card in the first slot (x16) for better performance. The Gigabyte B450M DS3H provides only one SSD M.2 slot and 4 x SATA with support for RAID 0, RAID 1, and RAID 10.
VRM
Last, About the VRM circuit, this board has 4 phases of hybrid digital PWM with heatsink fairing to increase your options when choosing a processor with high TDP. By the way, forward, we will check out which processor would be recommended to combine with this board.
Back panel

Looking at the back panel, we see 4x 2.0 USB Ports, 4x 3.1 USB ports, 1x HDMI Port, 1x DVI Port, basic audio panel, Realtek® GbE LAN, and PS2 port for old mice. It is a pretty simple panel with limited features. However, it has the necessary connectors of a low-end board. Also, it does not have a fixed backplate like the Aorus pattern.
Recommended CPUs
Generally speaking, the Gigabyte B450M DS3H is a low-end motherboard, costing up to $80, so it is not advisable to use a $300+ CPU on it. With that said, let's go straight to the point.
Without overclocking, you can risk even up to a 105 TDP CPU as the 3800x; above it, you should have to use a wind flow straight to the VRM circuit in order to reduce overheating. But, if you like overclocking, then the recommended would be up to a 3600x.
Conclusion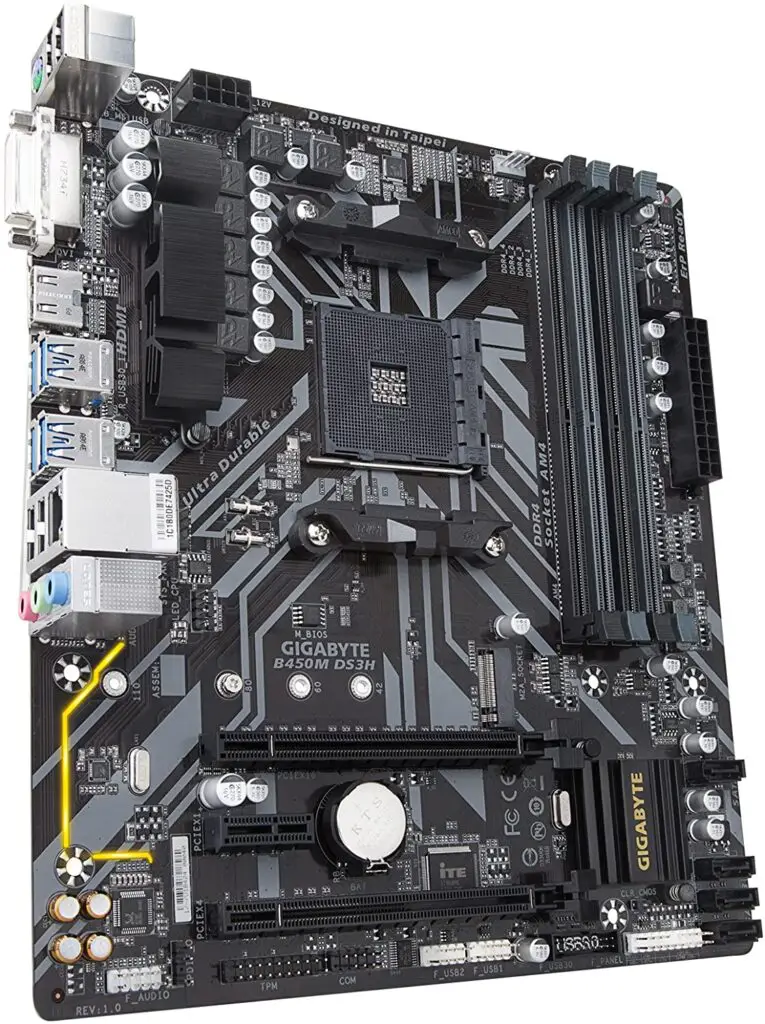 In conclusion, the Gigabyte B450M DS3H is one of the cheapest motherboards that have a heatsink on top of the VRM circuit. So you may not face overheating issues with it, depending on which processor you will use.

As well as the B450 chipset combined with 4 x ram slots, two graphics card slots bring for this board the best price-performance B450 title. But if you want to use a power demanding processor, I would recommend you to check out tougher motherboards: Aorus B460 pro, Asus Rog strix B450-f .
You may like