Is Ryzen 7 3700X worth it? | Ryzen 7 3700X Review with tests.
AMD is usually known for its high-speed processing of CPUs. However, in the processor we're going to review today, AMD tried to combine gaming performance with speed processing, and we'll see if it worked. Check out the review of the Ryzen 7 3700X with benchmark tests in some latest 2020 games, comparing it with a similar price range processor from intel, in the final analysis, we'll see if it is still worth it.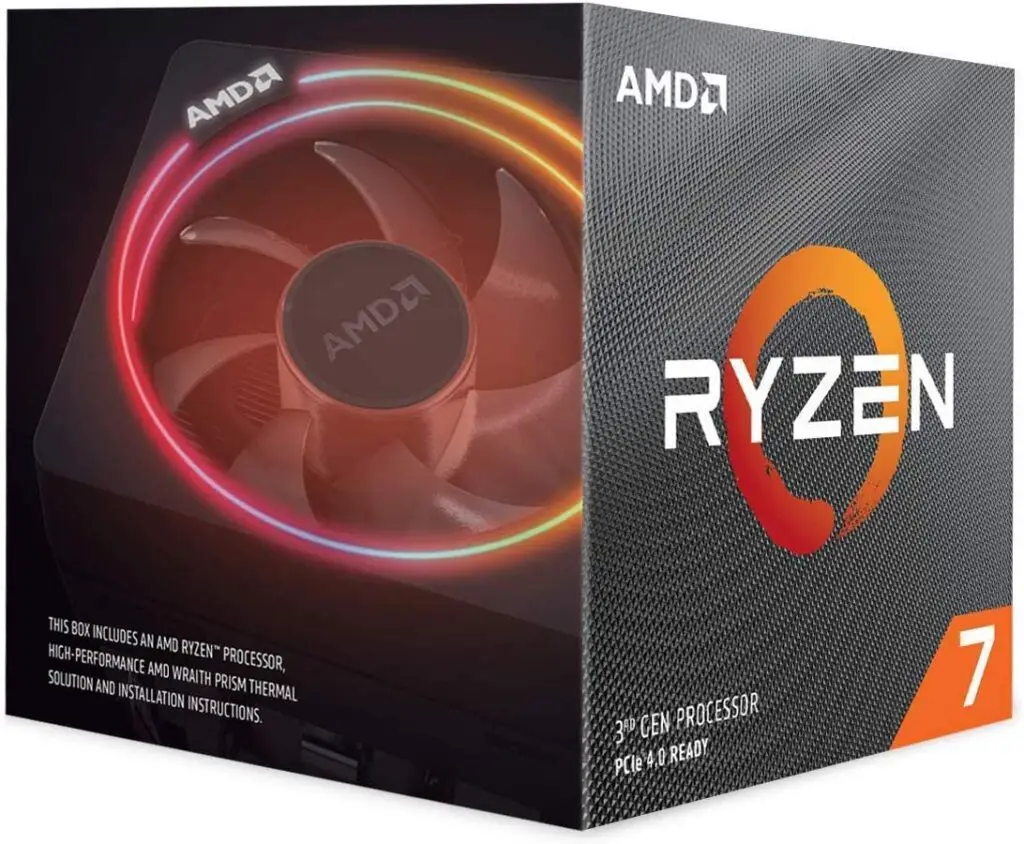 First, let's present the processor we're going to compare with it: the Intel i7 9700k. The reason we choose it is that it is made for the gaming category of CPUs, as we can see from the number of threads and cores, and its IPC. Also, it has almost the same price range as Ryzen 7 3700X, a little bit cheaper, though.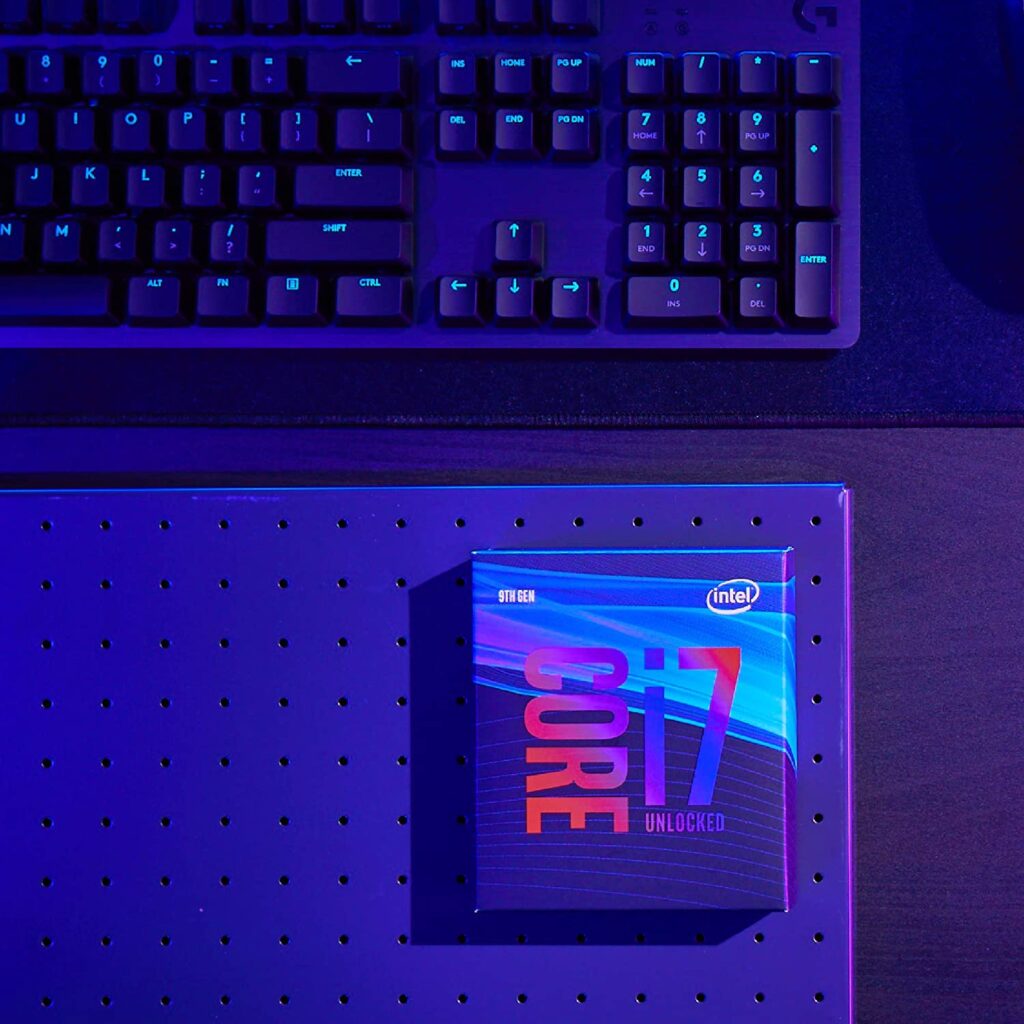 Ryzen 7 3700X vs Intel i7 9700k
Cores and threads
As said above, the Intel i7 9700k is a gaming-focused processor. One of the reasons for this is due to its amount of cores and threads. As the Ryzen 7 3700x features 8 cores and 16 threads, the i7 9700k features 8 cores and 8 threads.
However, in most current games, the cores and threads number doesn't matter that much; but, when concerning processing or rendering, it does. We'll check it out in the benchmarks.
Power consumption
About power consumption, the Ryzen 7 3700x comes a bit ahead with its 65W requirement and 95W of intel i7 9700k, this we should consider when choosing a motherboard to use with it. With 65W of TDP, you have a wide range of possibilities of recommended motherboards, as you don't have to care much about if the VRM circuit has a proper heatsink on it.
It does also matter when overclocking; if you want to overclock the i7 9700k, you should have a proper motherboard in order to avoid facing overheating issues. On the other hand, the intel i7 9700k has incredible up to 4.90Ghz and the Ryzen 7 3700x can go up to 4.40Ghz. That usually improves gaming performance.
The Ryzen 7 3700x comes with a wraith prism LED cooler.
Lithography
Here we can see the reason for the lower power consumption of the Ryzen 7 3700x. Overall the Intel processors line is a bit late about lithography. While Ryzen has been already using 7nm in its current processors, the intel processors are still behind with 14nm of lithography yet. In a nutshell, with a lower nanometer, there is more room for performance and power consumption.
Technical specifications
Take a look at the technical specifications of both:
| | | |
| --- | --- | --- |
| | Ryzen 7 3700x | Intel i7 9700k |
| Cores | 8 | 8 |
| Threads | 16 | 8 |
| Base Clock | 3.6GHz | 3.6GHz |
| Max Boost Clock | Up to 4.4GHz | Up to 4.9GHz |
| TDP | 65W | 95W |
| Lithography | 7nm | 14nm |
| Thermal Solution | Wraith Prism with RGB LED | Cooling device not included  |
Benchmark tests
Going straight to the point, let's see how these processors will do in benchmarks tests with a Rtx 2080ti, 16gb ram.
Render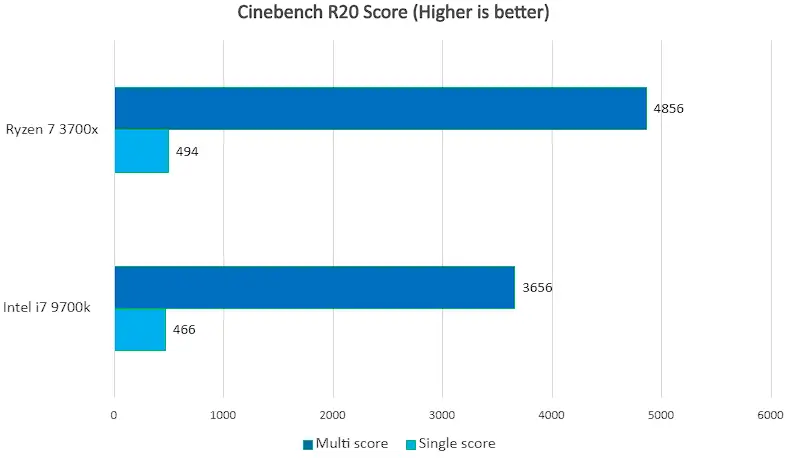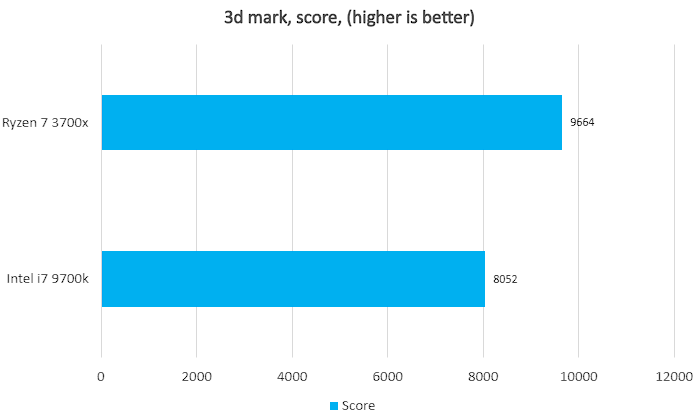 Games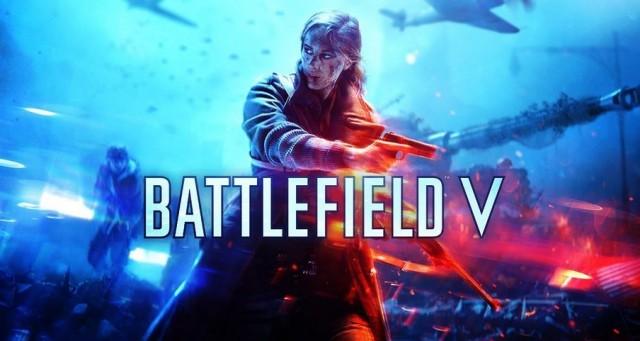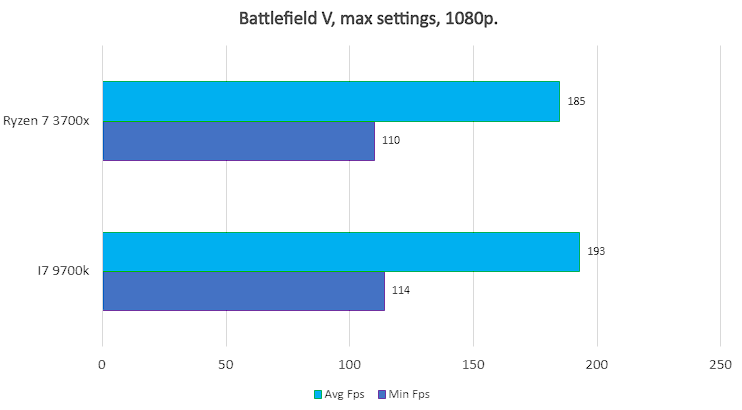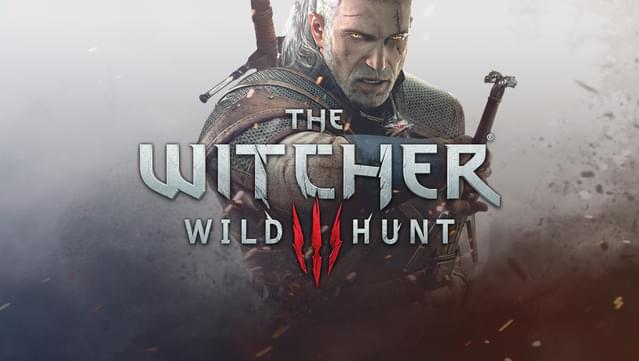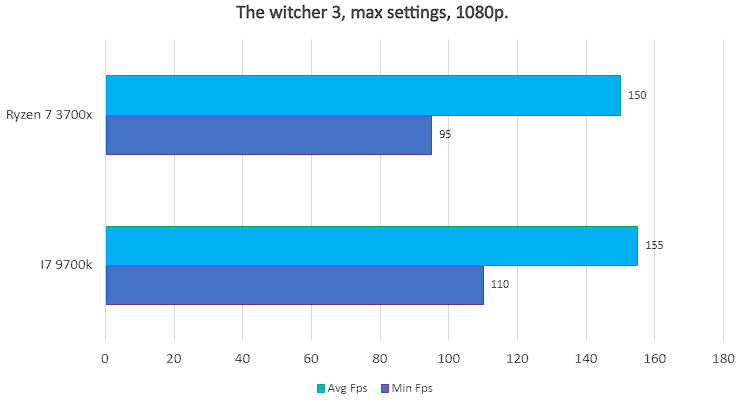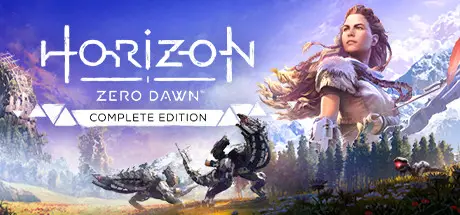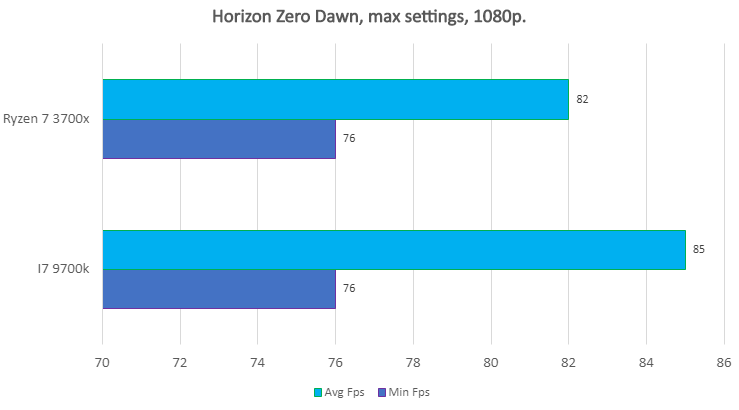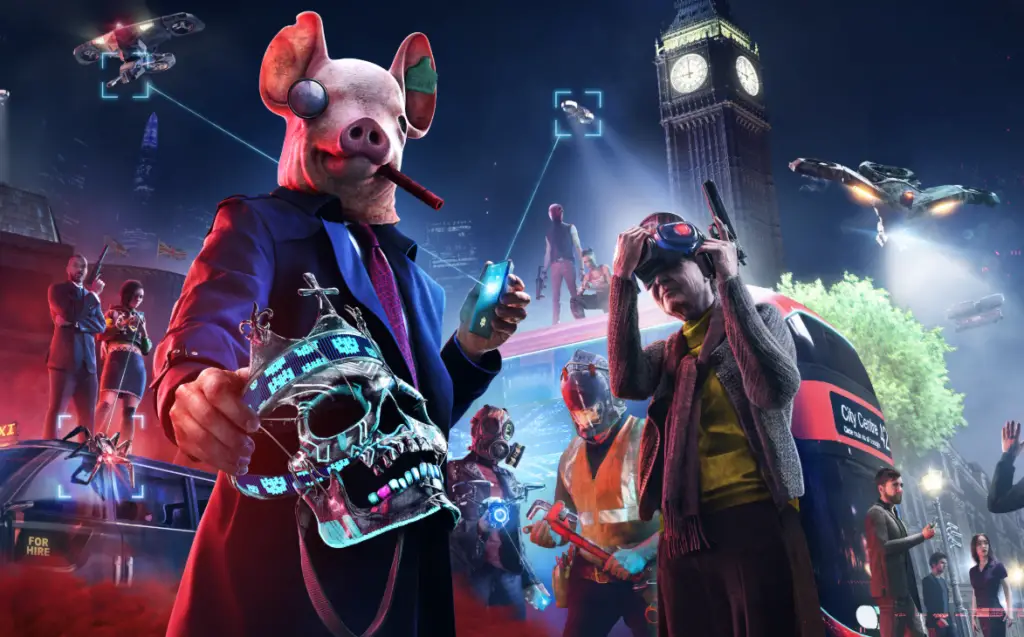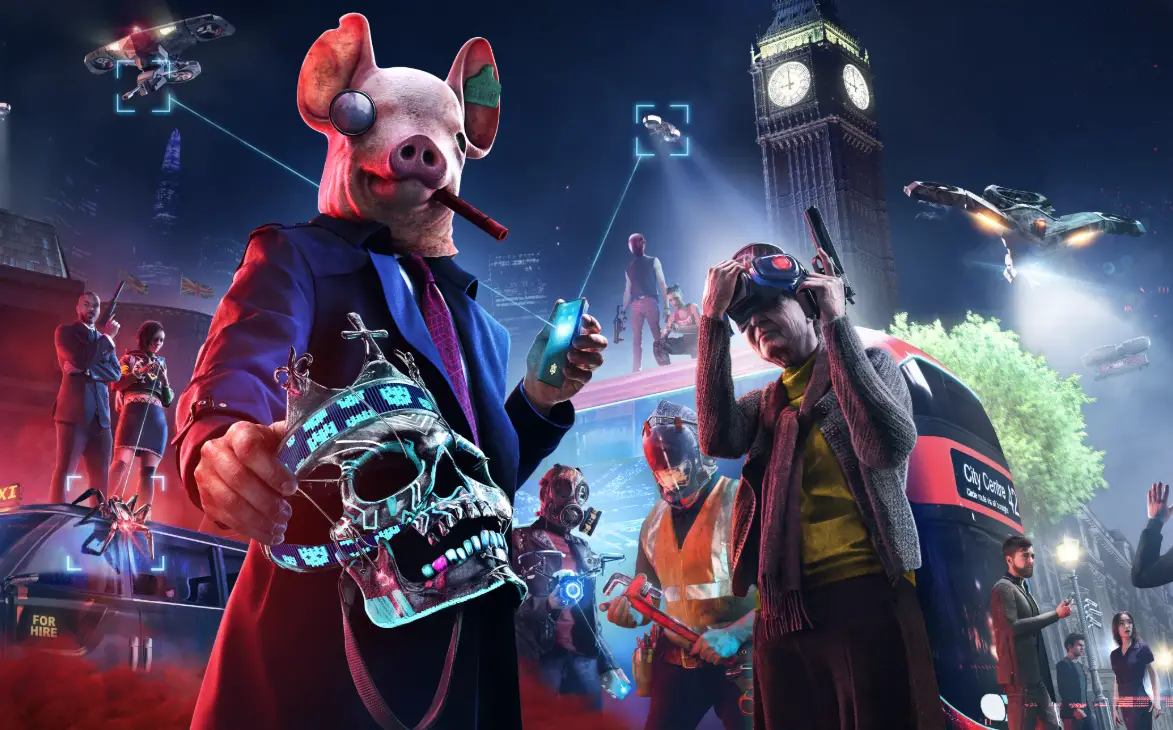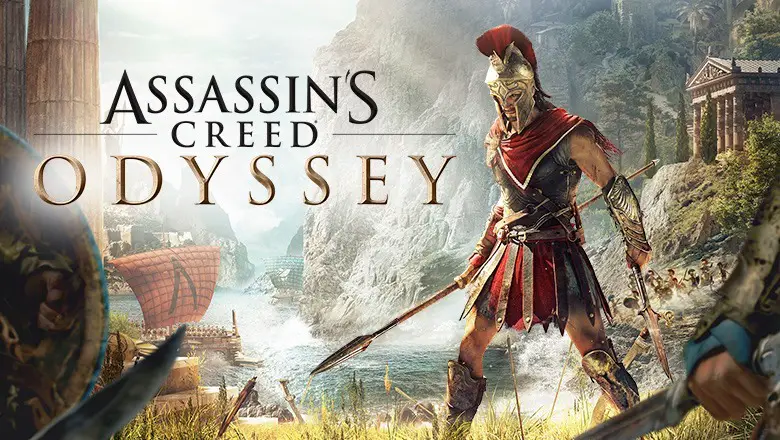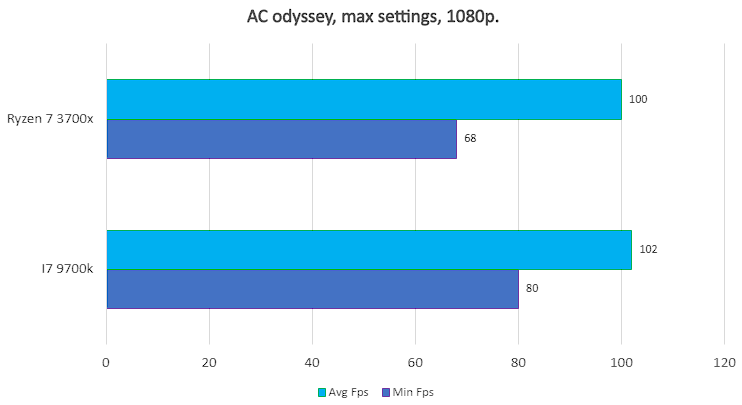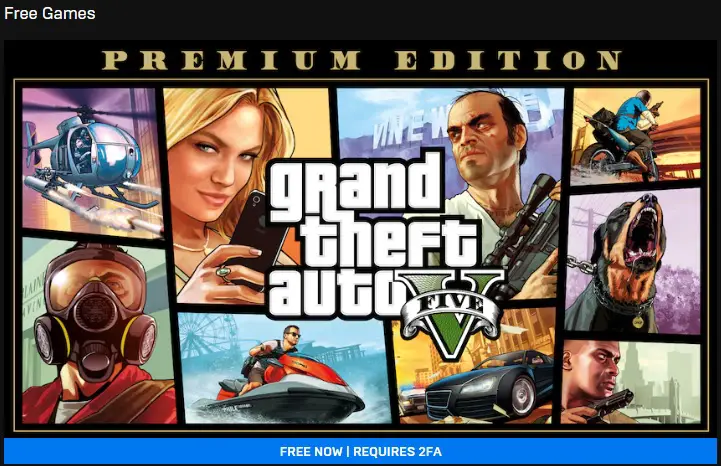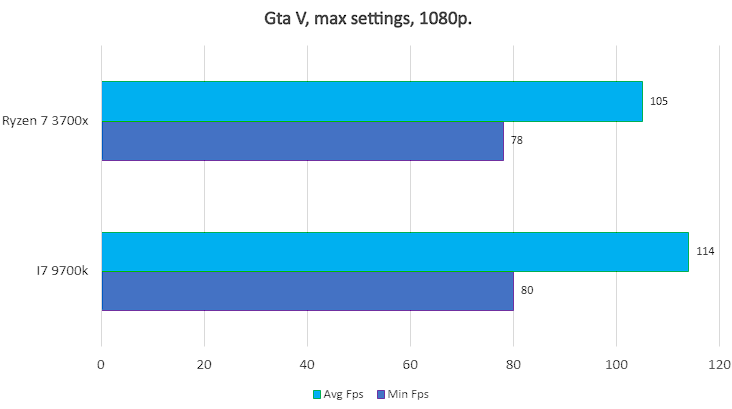 Conclusion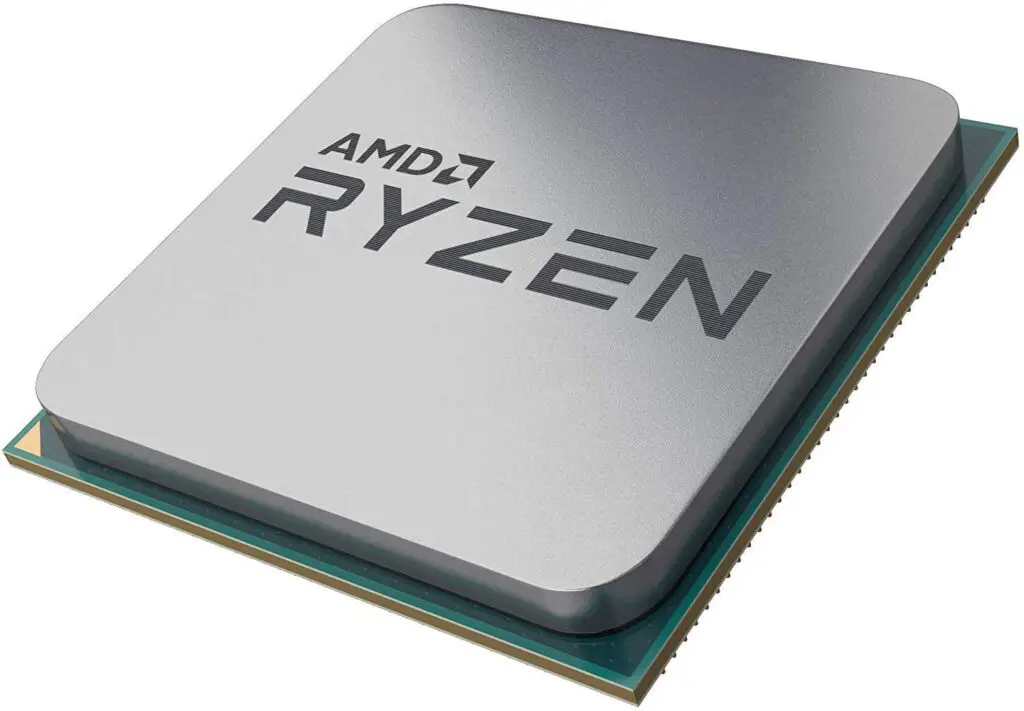 The Ryzen 7 3700x is properly indicated for users that want to appreciate gaming performance as well as processing speed. Therefore, it is not advisable to afford it if you only need gaming performance because there are so many options cheaper than that, like even the intel i7 9700k.
However, if you already have an AM4 motherboard in hand, you'll probably don't want to swap it out. Even so, surprisingly, this processor manages to provide even more Avg FPS than the Ryzen 9 3900x. Despite losing in fps to some Intel processors, it is probably one of the best for gaming in the Ryzen line.
Besides, if you only need processing speed, this processor still meets your needs, as we saw in benchmarks tests above.
You may like
https://reatbyte.com/best-cpu-under-200-i5-9400f-review/
https://reatbyte.com/ryzen-5-1600-af-best-price-performance-in-2020/
https://reatbyte.com/ryzen-7-1700-review-does-it-still-worth-buying-in-2020/
https://reatbyte.com/worlds-fastest-cpu-i9-10980xe-review/
https://reatbyte.com/ryzen-5-3600-review/