Conclusion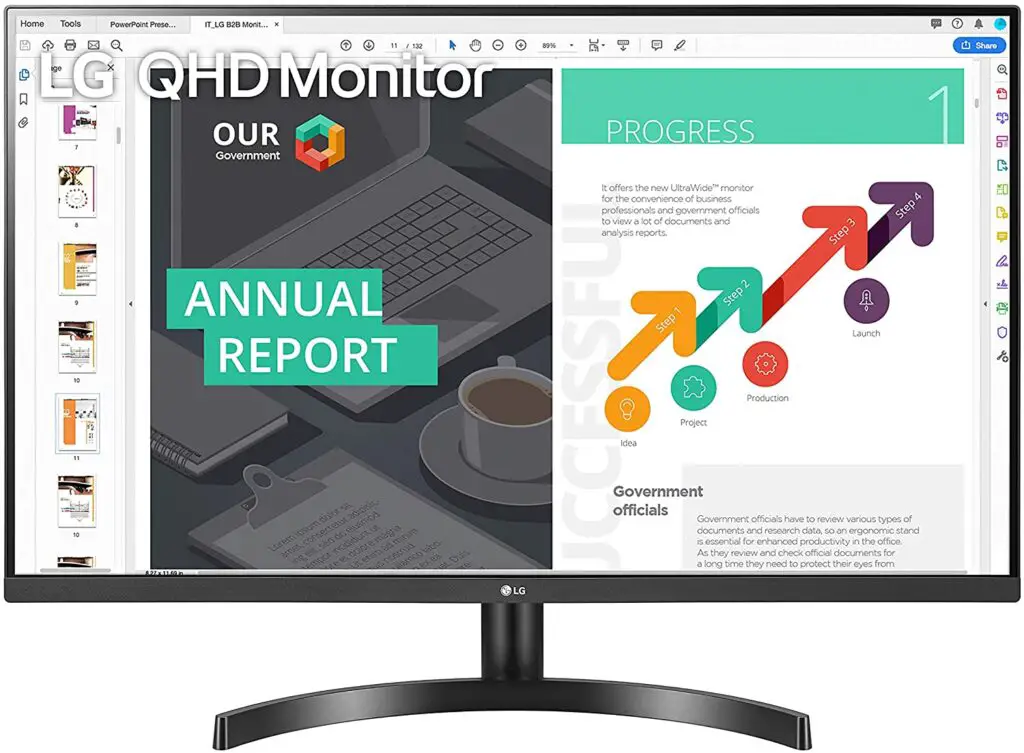 With the features presented in this monitor, we can conclude that this is a great option for those of you who need a big monitor on the budget with good image quality and VESA support. However, bear in mind that 32 inches might be too high for some, so consider checking the 27 inches version of this monitor: LG 27QN600-B.
Pros
✓ IPS panel
✓ Affordable 32″
✓ 75hz
✓ 1440p resolution
Cons
✘ 5 ms
✘ No built-in speaker
Recently, we reviewed the LG 27QN600-B, a monitor that features 27″ with an IPS panel and high color accuracy. This monitor was rated to be one of the cheapest options with a 1440p screen and IPS panel by LG.
However, when it comes to the best option to work with or to watch movies, the higher the screen size, the better will be your experience. Thinking in that, LG decided to provide an "improved" version of the previous LG 27QN600-B, named this time LG 32QN600-B.
And so, we decided to review this one as well, in order to see which one is the best option for those of you who need a casual gaming monitor or a dedicated to the image or video editors or even programmers. Follow below.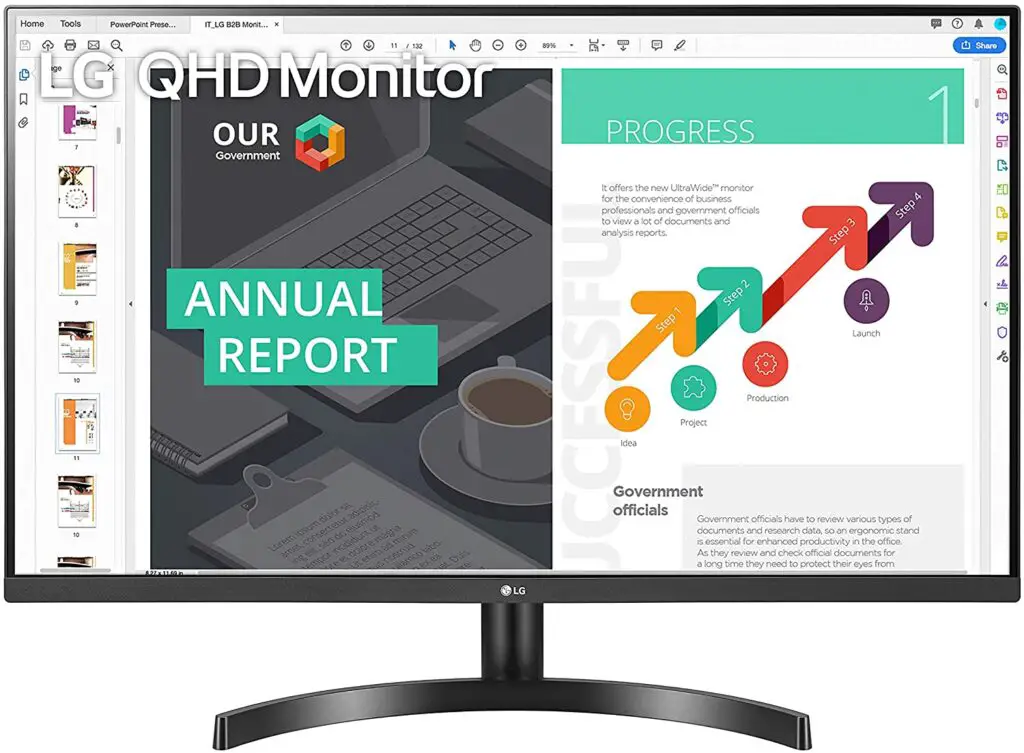 Design
As even the names are almost equal, it doesn't change much concerning design as well. This one presents a similar design to the LG 27QN600-B, but this time you're going to need more space to fit this into your setup due to the 32 inches feature.
It has the common around current monitors borderless bezels design, with a half-circle stand, and it is entirely in matte black. On the back, we have the LG logo and the VESA support for those who need to place it on the walls.
Connectors
Continuing on the back, we also have 2x HDMI ports, 1x Headphone-out, 1x DisplayPort.
Dimensions
Last, concerning dimensions, we have 28.1 x 8.2 x 20.2 inches, weighing 13.9 lbs without stand and 15.9 lbs with it.
Design downsides
Unfortunately, this monitor has no built-in speakers, which is a huge thing to consider since a huge part of people that consider affording this monitor is often due to the VESA support.
However, with the lack of a built-in speaker, you'll need to be closer enough to your monitor, determined by your headphone wire size.
Features
Panel type
The LG 32QN600-B was build to feature the best panel type on a monitor by far concerning color accuracy and viewing angle. The IPS panel is indeed your best option if you want good color precision, and it is also good for monitors with VESA support since, even if your monitor be placed too high on your point of view, you won't see any color distortion coming from this display.
As you can figure, this is the best option for image or/and video edition folks due to the color accuracy.
However, the unique downside of this panel is the IPS glowing, which stands for some white light on the corners of the display which can be seen on a dark displayed image or in a completely dark room. But, fortunately, this one, like its predecessor, does not present a high level of it.
Color gamut and Color accuracy
According to LG's official website, this monitor color gamut was kept the same as its predecessor sRGB 99%, but this time with the CIE1931 color space "The CIE 1931 color spaces were the first defined quantitative links between distributions of wavelengths in the electromagnetic visible spectrum, and physiological perceived colors in human color vision."
As for the Color Depth, the LG 32QN600-B features 1.07B, which is a huge improvement from the previous 16.7M presented in the LG 27QN600-B.
Brightness
Here, things remained fairly the same, with 350cd/m2 of the total brightness, you'll certainly not need to select precisely where to build this monitor, whether being behind a window or any source of sunlight, you'll surely not face difficulties to see the displayed image.
Also, it is not even recommended to use this monitor at maximum brightness since 350cd can surely be prejudicial to your vision in extended usage.
Refresh rate
One of the reasons why this monitor isn't competitive gaming recommended is due to its refresh rate. Although 75hz is still a good refresh rate for casual gameplays, it is not the best to have for competitive gaming.
Even so, this ends up turning this monitor out to be an excellent option for those who want a versatile monitor, either for work as also for casual gameplays. That said, if you want a dedicated to competitive gaming display, you can check out these options:
Response time
Also, unfortunately, this monitor features the same as its predecessor 5 ms of response time, which again is a good number for casual gaming but not less enough for competitive FPS games.
Image overall quality
Featuring 32 inches and the 1440p resolution, the LG 32QN600-B delivers a median pixel density.
Already in this screen size, if the resolution of this monitor was 1080p instead of 1440p, the pixels would be visible, thus leading to the blurry images issue due to the not enough pixel density for the following screen size.
But with 1440p, you won't get this problem, however, note that it is almost the limit. If you plan to get a monitor with a higher screen size than 32″ you'll certainly have to consider getting one with 4k res.
About color precision, this one features one of the best you can find in this price range.
Final thoughts
When to buy it
If you need an affordable 32 inches monitor, you certainly won't go wrong with this one. Also, if you need a big versatile monitor dedicated to casual gameplays and working, the LG 32QN600-B won't disappoint you.
When not to
If you don't have enough room on your setup to allocate this monitor, you should check out its 27″ version. Also, if you need built-in speakers, this one isn't the one for you. Note that this also does not feature any USB-C port, which can be a downside depending on your needs.
You may like