Today we're going to see a monitor for you who plan to invest in a powerful video card and spend a little less on the monitor, but still want to enjoy good image quality. Or for you, that search a monitor for work, with good color fidelity, without going out of the budget. Check out the review of the Philips 276E8VJSB, a monitor said by many to be the best 4k monitor under $250, but is it true? Take a look.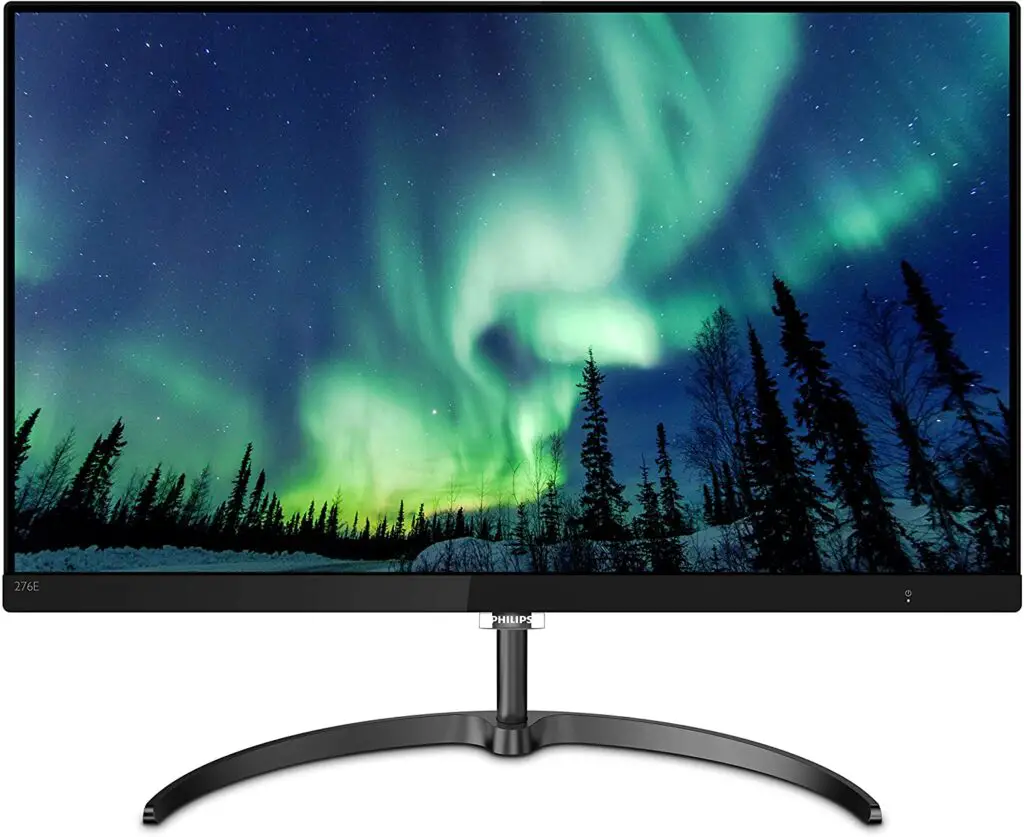 4K
The 4k resolution is becoming more and more the reality for games today. The high sharpness and beauty of the 4k screens always impress those who test it for the first time. But it is not that simple to play in 4k with good fluidity, several hardware limitations influence in not fluid gameplay at 30 Fps, besides that monitors in this resolution tend to be more expensive, not to mention the investment that you would have to make on the graphics card. But, with the arrival of new Nvidia 3000 line cards, the 4k 60 Fps with graphics on ultra has become a reality. Check here the review of the RTX 3080: Rtx 3080 Review
Design
This monitor has a very modern design, with ultra-thin edges. It also has a metal base, due to that, the monitor is very stable on the table. It is important to remember that it does not have VESA support. In case you intend to buy one to place on the wall, I would recommend this one: Asus VP249QGR, it is very similar both in price as in specifications.
Equally important, it also has no height support, making it impossible for the buyer to adjust to the best height; it is only able to tilt forward and backward.
Features
Color and contrast
Regarding color and contrast, the Philips 276E8VJSB has an IPS panel, that is, it notably presents excellent color fidelity, it just sings a little in the black tones, it is not so black at all. Last, about the quality of the panel, is a reasonable panel, but a good size for this price range.
Resolution
With a 4k resolution (3840 x 2160), 27 inches, this monitor has an immense working area, making it excellent for you who need to use several applications at the same time. Besides that, combined with the IPS panel, it presents an excellent image quality. But if you want to use it at 60 fps, you will have to use an HDMI 2.0 cable or Display port, since HDMI 1.4 cable will reproduce only 4k 30 Fps.
Brightness
It has high brightness compared to other monitors. Certainly, If you like a monitor with a lot of luminosity, you will definitely like this one.
Ports
The Philips 276E8VJSB has 2x HDMI, 1x Display Port, and audio output. This monitor does not have built-in audio.
Response time
5ms response time can be a lot depending on your need; if you are looking for a monitor to play in the competitive scenario, I would recommend a monitor below 4k, at least 144hz, and 1ms response time. Check this out: Asus VP249QGR.
Technical specifications

:
| | |
| --- | --- |
| Panel type | Ips |
| Resolution | 3840 x 2160 |
| Frequency | 60hz |
| Brightness | 350  cd/m² |
| Response time | 5 ms (Gray to Gray) |
| Panel Size | 27 inch / 68.6 cm |
| Pixel Density | 163 PPI |
| Color gamut (typical) | NTSC 91%, sRGB 109% |
| Weight | 4.84 kg |
| Display colors | Color support 1.07 billion colors |
Overview
Pros
Cons
Having seen all the pros and cons of this monitor, now you decide whether or not it's worth it, according to your needs. In my opinion, I would choose this monitor, since 60Hz is not necessarily a problem on 4k monitors under $250. Current video cards will not deliver much beyond that; in addition to 5ms response time, it would also not be a problem once 4k monitors are not recommended for the competitive scenario. Not to mention that the price of this monitor is affordable for 4k monitors. Be sure to check out the prices through the affiliates links below. It would be of great help.
---
You may like