The monitor chosen today to review was the Asus VP249QGR, a monitor that seems to be of excellent quality; it is surprisingly a 144Hz under budget monitor around $200. Next, tests will be carried out with all the image options of this monitor, then I'll list all technical specifications, and its respective pros and cons. Let's go then.
First of all, we'll begin with the technical specifications, and then I will list detailly all features with the pros and cons of this budget monitor, follow below.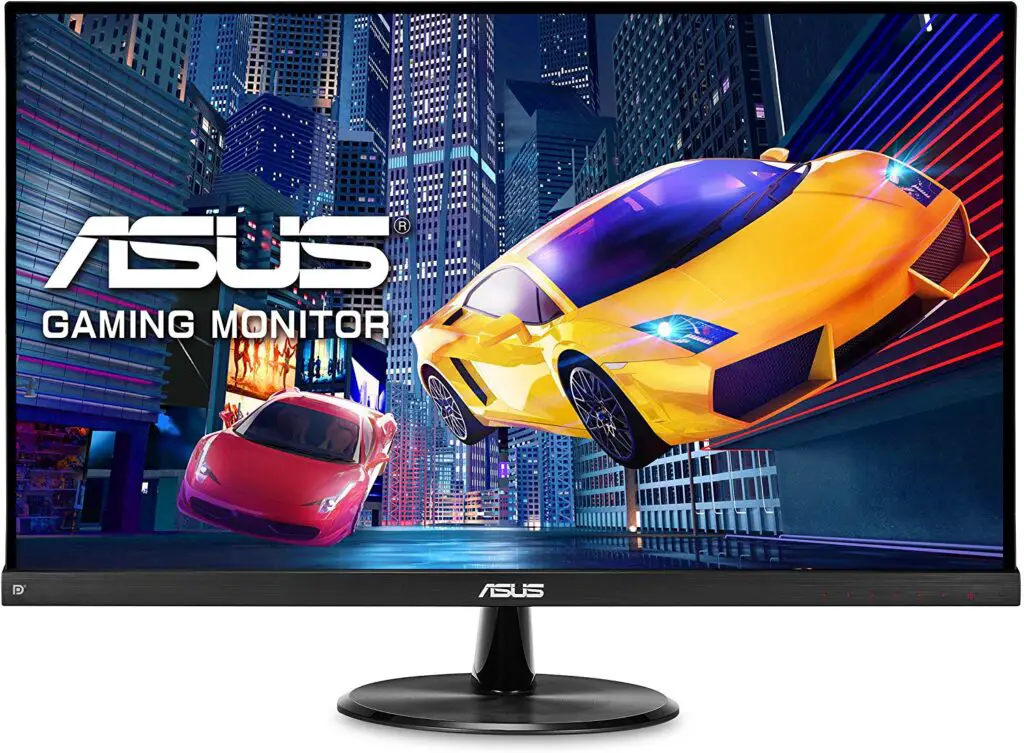 Display
| | |
| --- | --- |
| Panel Type | IPS |
| Panel Size | Wide Screen 23.8″(60.5cm) 16:9 |
| Color Saturation  | 72% NTSC |
| True Resolution  | 1920×1080 |
| Display Viewing Area(HxV) | 527.04 x 296.46 mm |
| Brightness  | 250 cd/㎡ (Typical) |
| Response Time  | 1ms MPRT, 4ms (Gray to Gray) |
| Flicker-free  | Yes |
Video Feature
| | |
| --- | --- |
| Trace Free Technology  | Yes |
| Video Preset Modes  | 8 Modes  |
| Skin-Tone Selection | 3 Modes |
| Color Temperature Selection | 4 Modes |
| QuickFit (modes)  | Yes (Alignment Grid/Paper/Photo Modes) |
| GamePlus(modes) | Yes (Crosshair/Timer/FPS Counter/Display Alignment) |
| Low Blue Light | Yes |
| HDCP support | Yes |
| FreeSync™ technology | Yes |
| Adaptive-Sync supported  | Yes |
| Extreme Low Motion Blur | Yes |
| Shadow Boost | Yes |
Audio features
| | |
| --- | --- |
| Stereo Speakers  | 2W x 2 Stereo RMS |
I/O Ports
| | |
| --- | --- |
| Signal Input  | HDMI, D-Sub, DisplayPort |
| PC Audio Input | 3.5mm Mini-Jack |
Signal Frequency
| | |
| --- | --- |
| Analog Signal Frequency  | 30 ~84 KHz (H) /48 ~75 Hz(V) |
| Digital Signal Frequency  | 30 ~180 KHz (H) /48 ~144 Hz(V) |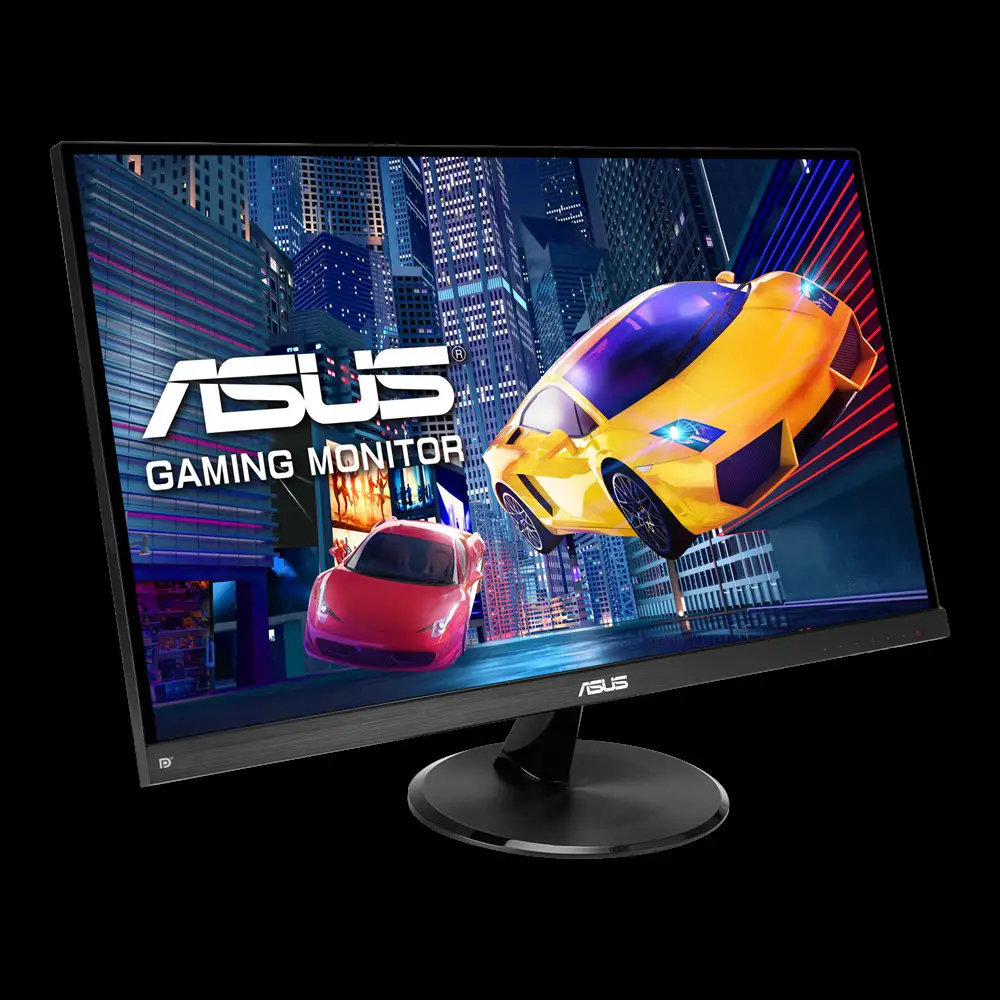 Design
The Asus VP249QGR has a design very consistent with the time, so it has nothing innovative in itself. Speaking of dimensions now, the Asus VP249QGR has a 23.8 "(60.5cm) 54cm x 32.4cm x 4.4cm 16: 9 Wide-Screen panel, it has quite thin bezels, also has seven buttons on the bottom right. In fact, the tilt options for monitors in this price range are usually quite limited; this one can be just tilted forward and backward.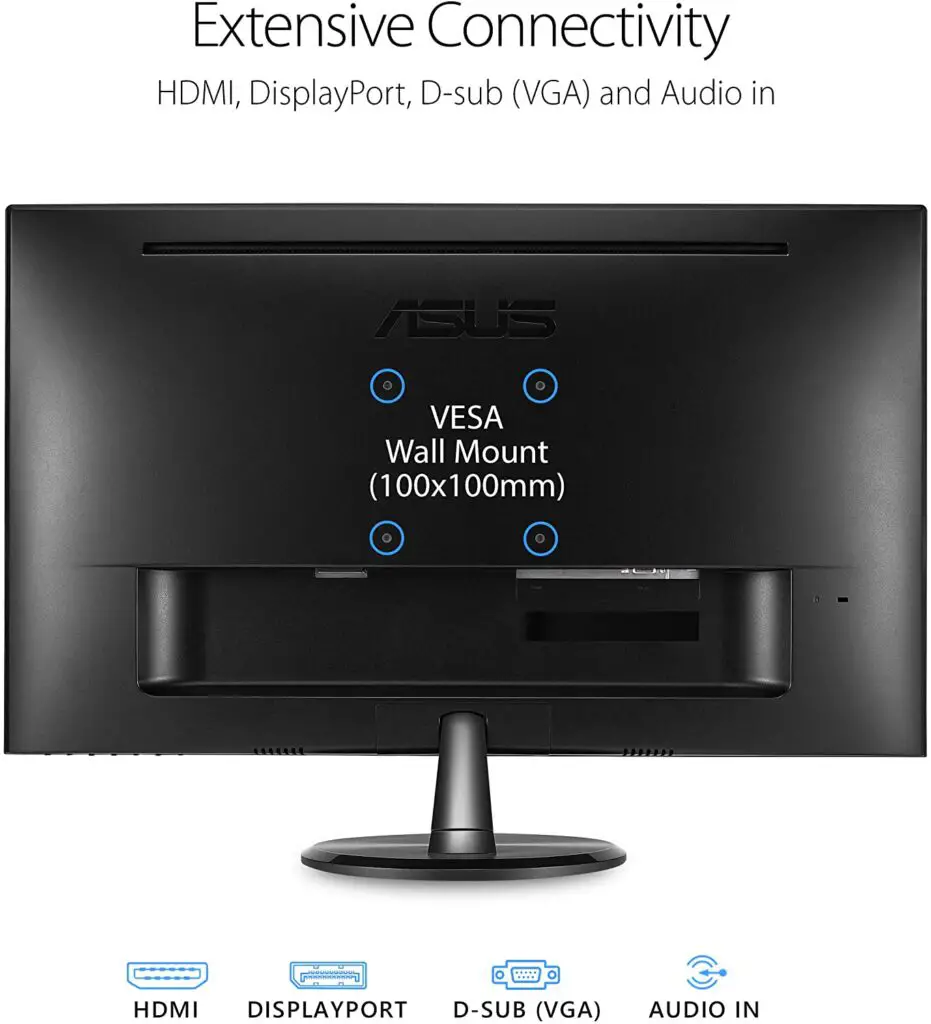 As for the ports, we have a 3.5 millimeter port for your headphones, D-sub, Display Port, and HDMI.
Display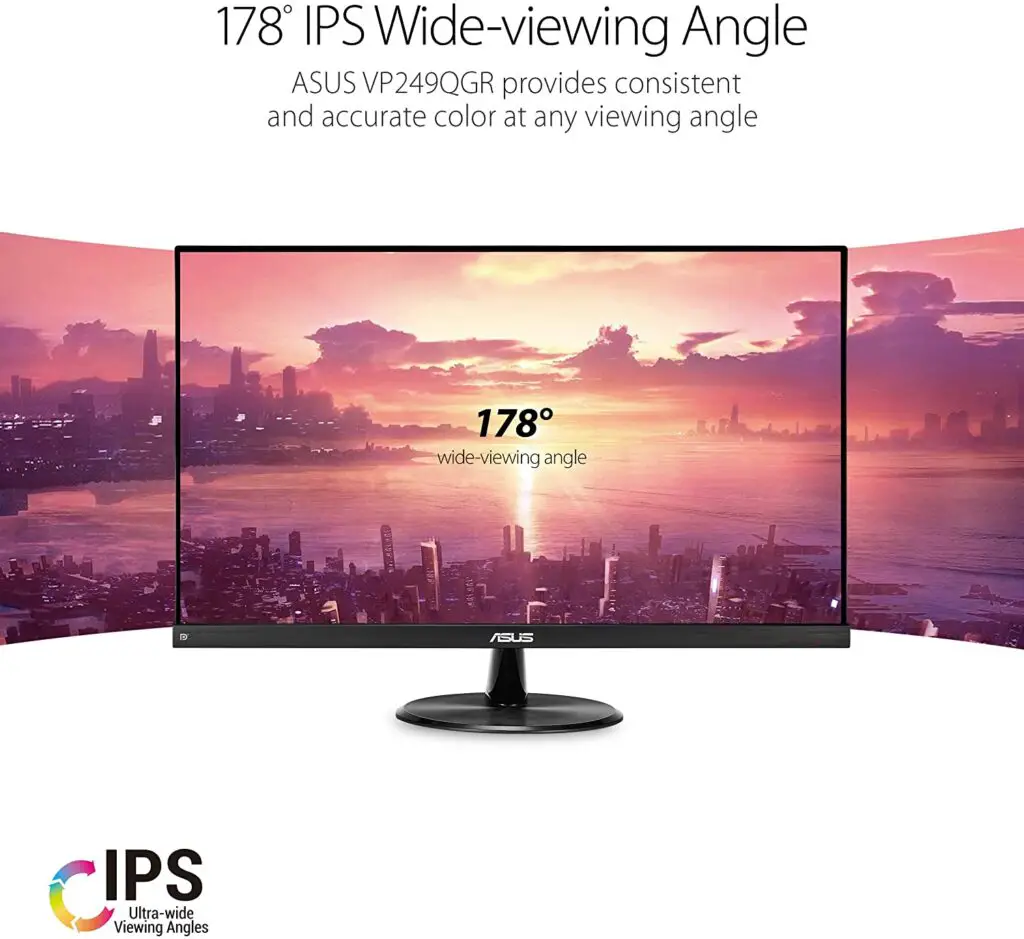 As seen in the image above, this monitor has an IPS screen, thus resulting in a 179 ° viewing angle and excellent color fidelity. Also, Its display has a resolution of 1920×1080; it also has 1ms response time (MPRT) using ELMB and 4ms using Gtg (Gray to gray). With all these features, the Asus VP249QGR fits perfectly in an under budget monitor around $200.

Of course it is important to note that for a monitor to reach MPRT, it needs some kind of blur reduction feature, and in this case, Asus has ELMB (Extreme low motion blur). But, with ELMB on, you cannot activate the adaptative sync, though. In the end, you will have to choose between no screen tearing with the adaptative sync or lesser ghosting with the ELMB. With that being said, next I'll do a little nutshell of all features on this monitor, check it out.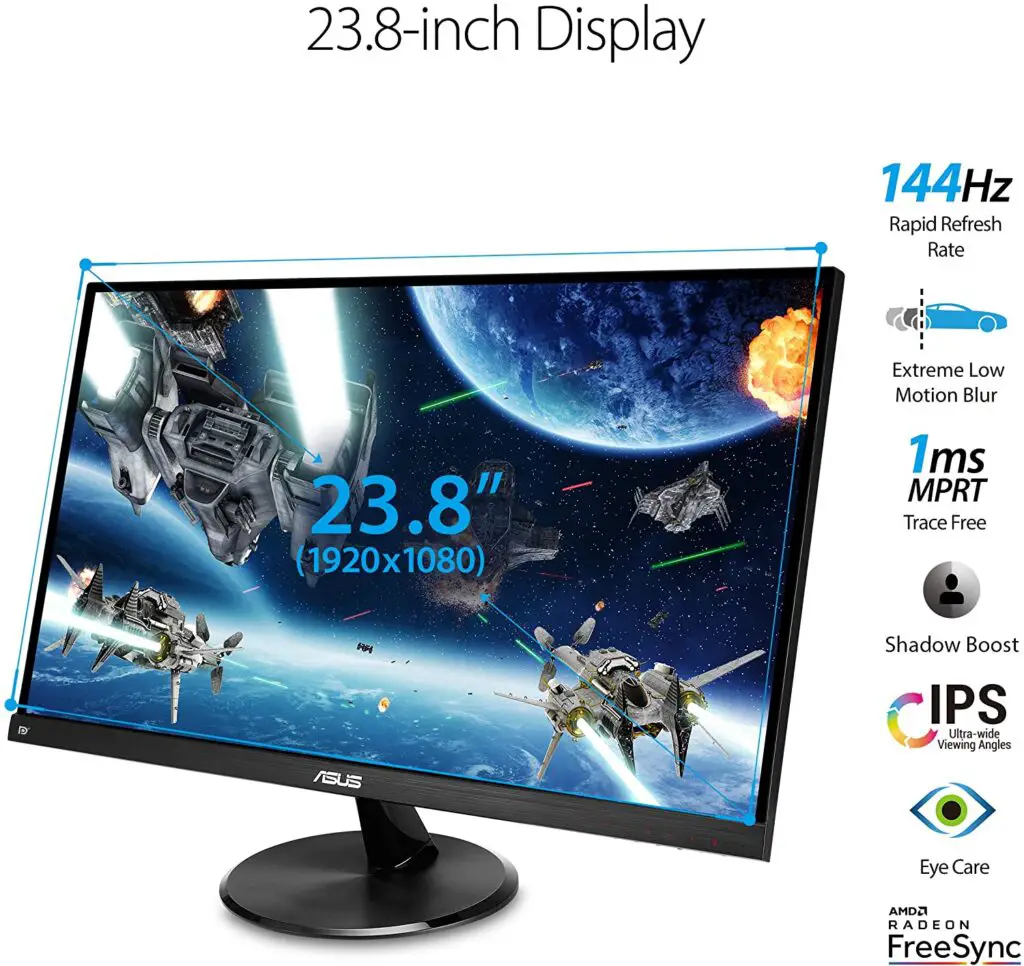 Flicker free: Reduces the screen flicker, thus providing comfort for your vision.
Trace free: Prevents some ghosting.
Video Preset Modes: A bunch of presets that changes the color intensity (sRGB Mode/Scenery Mode/Theater Mode/Standard Mode/Night View Mode/Game Mode/Reading Mode/Darkroom Mode)
Quick fit: Provides onscreen real-size photo and grid formats as a guide to accurately view and edit artwork and photos in real size.
GamePlus: is a tool co-developed with input from pro-gamers that allows you to practice and improve your gaming skills (Crosshair/Timer/FPS Counter/Display Alignment).
Low Blue Light: gradually removes the blue light to reduce damage to the eye. But the image will be a little more yellow.
HDCP support: Support to High-bandwidth Digital Content Protection, to prevent copying of digital audio & video content as it travels across connections.
FreeSync™ technology: Can be used with an HDMI cable and AMD video cards to reduce tearing without delay of the actions.
Adaptive-Sync supported: The dynamic adjusting of a monitor's vertical refresh rate to the frame rate of the graphics card (GPU). It can be used with both AMD Freesync and Nvidia G-sync if you're using a display port cable.
Extreme Low Motion Blur: As the name says, it reduces motion blur, and the 1ms is only possible if this is turned on.
Shadow boost: A boost on shadows. I do recommend for you to test and see if you'll turn it on or turn it off.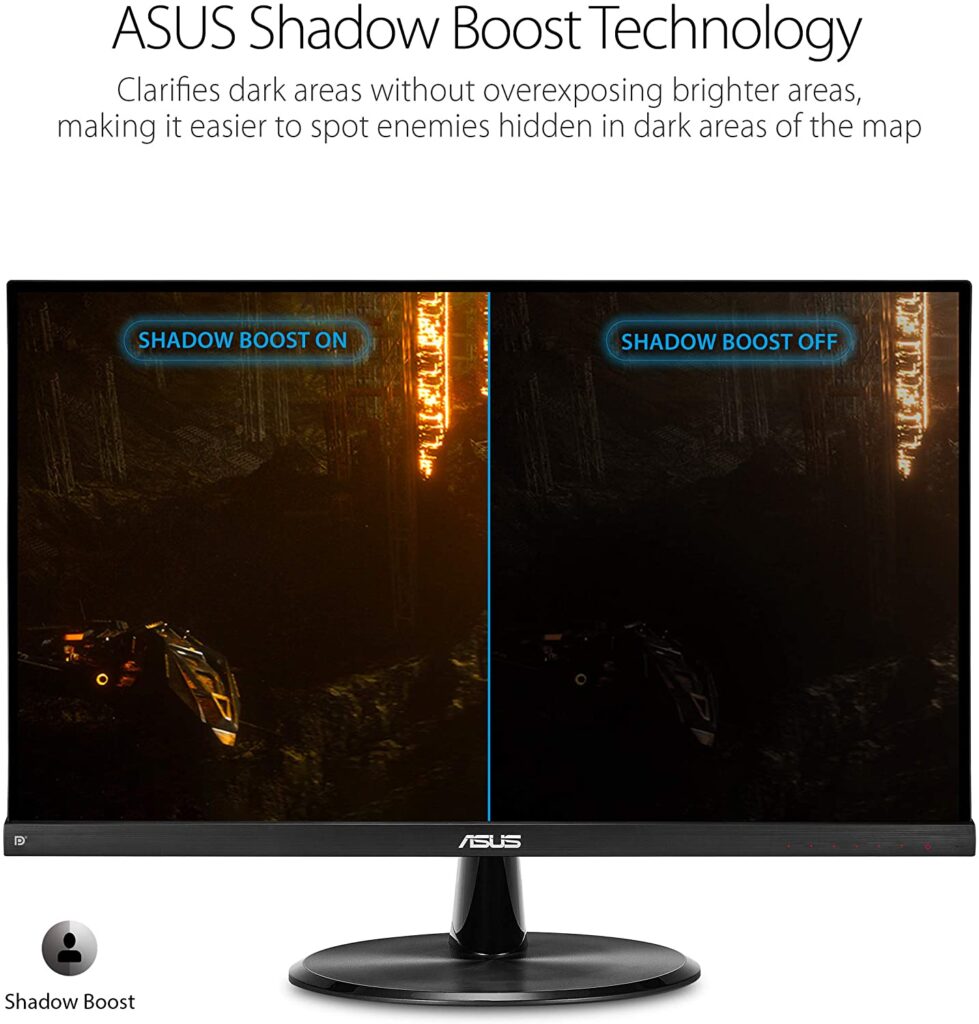 Overview
Pros
Cons
In my opinion, the Asus VP249QGR is for some that want to upgrade the monitor, maybe if you have a 75hz, or a 60hz, Tn, and want more color fidelity and smoothness, this is a great choice, but if you don't have enough money, I'll recommend you to see the Lg 24mk430h.
You may like