Either you, a movie lover, like you, a video or image editor, do prefer a good color accuracy and picture quality monitor-wise. However, a quality 4k IPS monitor always turns out to be pretty expensive, making it unavailable for some to afford it. Thinking in that, AOC tried to combine a more affordable monitor with excellent color and quality, designing next the AOC U2790VQ that we're going to review today and check out if it is a desirable low-budget 4k monitor. Follow below.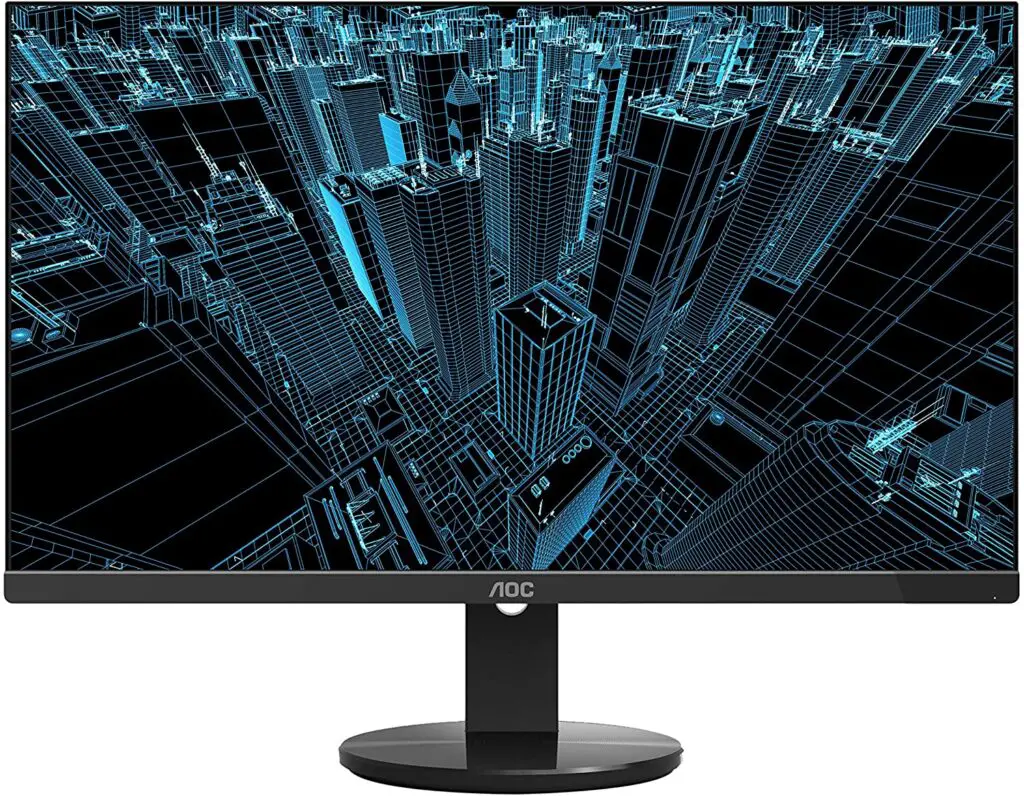 This monitor sometimes was costing 225$ in promotions, which is pretty uncommon to see on 4k screens, so stay tuned on the deals of this.
Design
About design, there is a certain point here to highlight. The bezels of this monitor are actually pretty thin. However, they are not like the sales pictures of this screen.
Definitely, they reduced the physical bezel, but the screen does not display all the way out of the edge. So like you can see in the image below, they photoshopped the illustrative image; it is not like that in real life.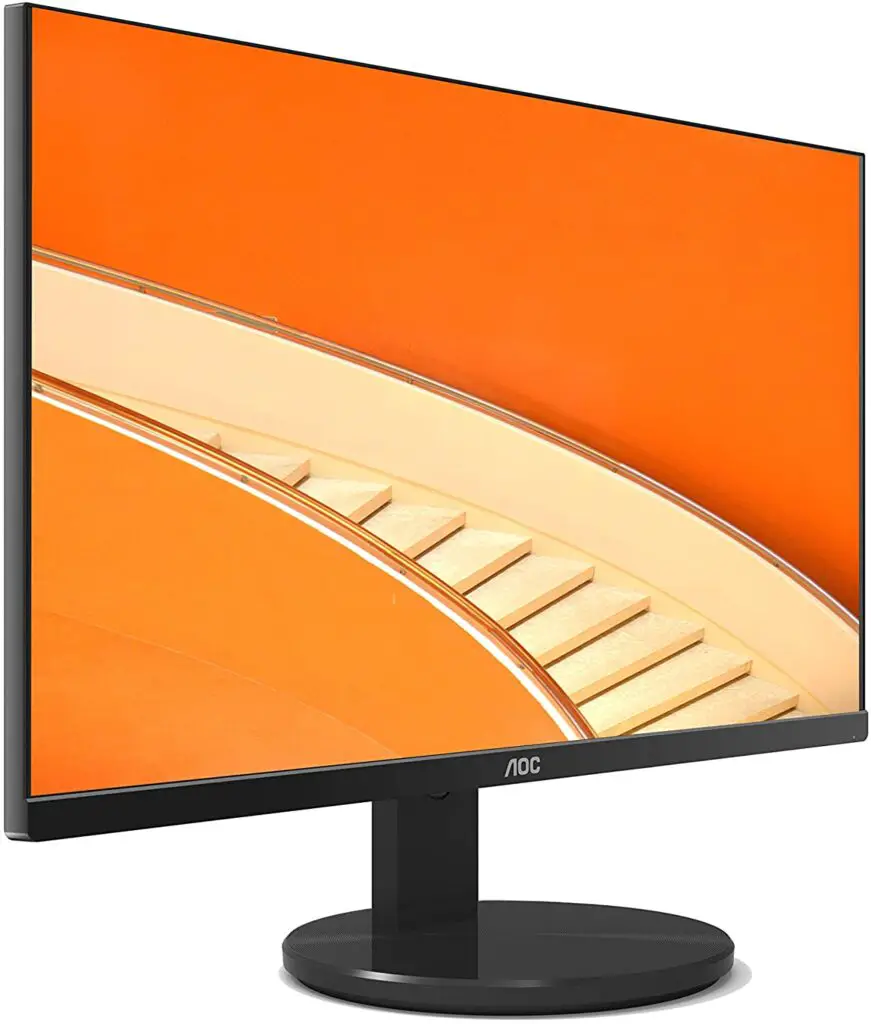 Overall, this is pretty light and thin monitor, actually, lighter than expected for a 4k monitor weighing 3kg without the stand. Also, the AOC U2790VQ has VESA support so, you can place it on the walls.
Ports
This monitor has out speakers, which quality is ok for a monitor, which means you can use it to watch your movies on your bed. Also, it features 1x HDMI 2.0, 1x HDMI 1. 4, 1x DisplayPort 1.2. Besides, the HDMI and DP cables come in the box.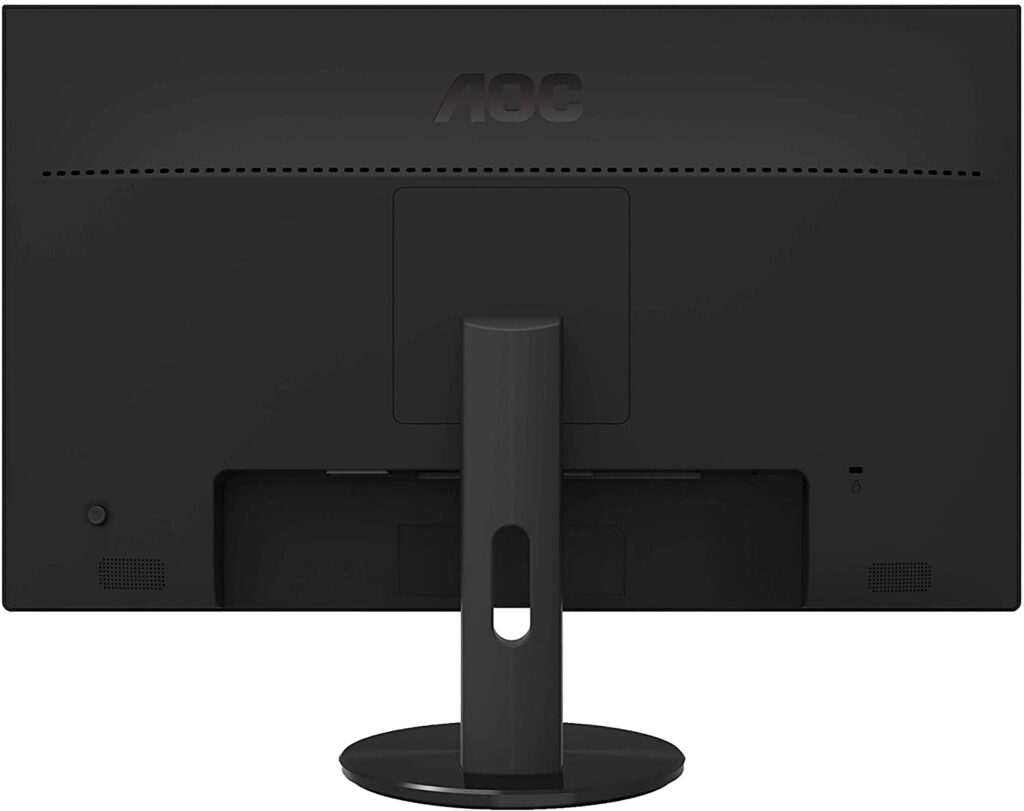 Features
Panel type
The AOC U2790VQ features the best panel type presented in monitors in color accuracy terms. The IPS panel (in-plane switching) provides stunning and vivid colors, as well as an excellent viewing angle.
However, the IPS panel downside is the IPS glowing that can be found less or high light bleed on the screen edges, which is more visible during a black image and with the lights out. Fortunately, in this monitor, we have a minimum IPS glowing usual on IPS panels.
Image quality
Here we can see the real masterpiece of this monitor. This monitor features 4k and 27″ of resolution. Even though being a cheap monitor, the AOC U2790VQ has one of the most exceptional image quality I've ever seen. The 99% sRGB, combined with 90% NTSC color gamut coverage, makes the precision of the colors surprisingly great.
You can easily read on this monitor since the letters displayed are not pretty little, unusual in 4k screens. About the bright, this monitor has not the highest brightness ever, but at least if you do not use it in front of a window, you probably won't face problems with it.
Refresh rate and Response time
It is important to note that this is not a gaming recommended monitor due to its refresh rate and response time. Unfortunately, it does not feature G-sync or Freesync as also 60hz and 5ms of response time (GTG).
Therefore, it is recommended for those of you who work with image or video edition and for those who like to watch a good movie or series on a quality screen.
Conclusion
The AOC U2790VQ, as said, has one of the best picture quality presented on 4k screens. However, it does sins in the gaming features, like response time and refresh rate. So, if you want a good and cheap 4k monitor, this is the one for you. However, if you want a gaming monitor, you should check this one out: LG 27GL83A-B Review. With 27 inches as well but this time in 2k and 144hz and also IPS.
AOC U2790VQ Deals
You may like
January 1, 2019
Timeline Heading 1
This is Timeline description, you can change me anytime click here
January 1, 2019
January 1, 2019
Timeline Heading 2
This is Timeline description, you can change me anytime click here
January 1, 2019
January 1, 2019
Timeline Heading 3
This is Timeline description, you can change me anytime click here
January 1, 2019
January 1, 2019
Timeline Heading 4
This is Timeline description, you can change me anytime click here
January 1, 2019
January 1, 2019
Timeline Heading 5
This is Timeline description, you can change me anytime click here
January 1, 2019