Our Conclusion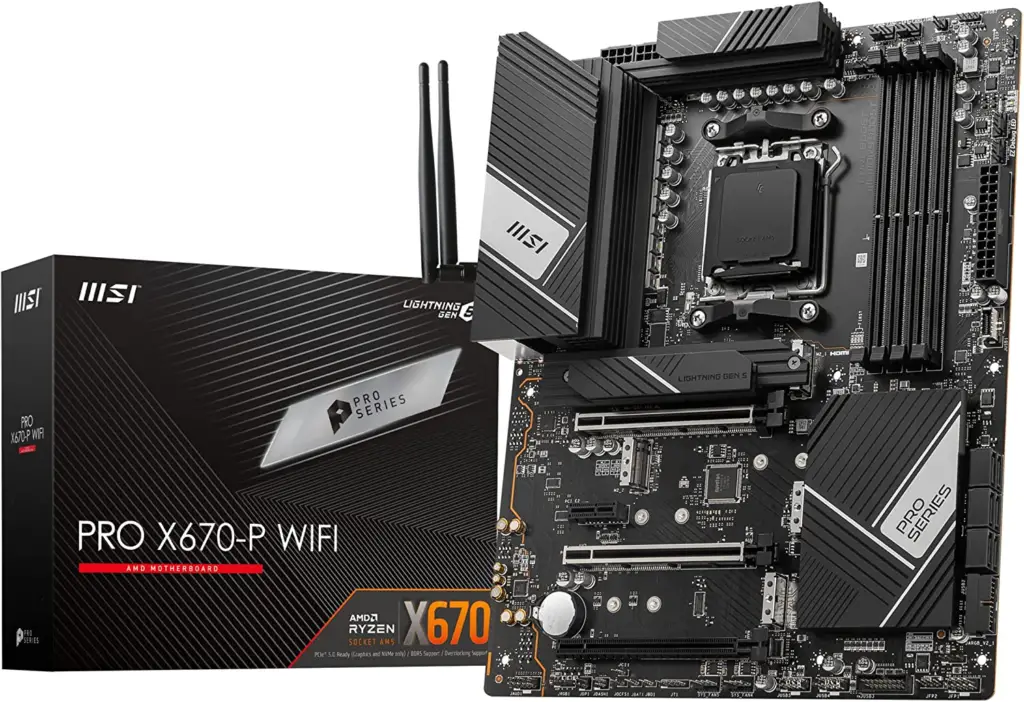 Being one of the best value-for-money motherboards with this chipset at the moment, the Msi Pro X670-P Wifi is a board I would put at the top of my list. Since it is a very recent model with a new chipset and socket, it had a couple of problems, but those didn't play a major role in our final decision as they're easily solvable.
Pros
✓ Great VRM cooling
✓ Affordable
✓ X670 chipset
✓ PCIe 5.0 M.2 support
✓ High amount of M.2 slots
Cons
✘ Issues with BIOS
✘ Could have more RGB headers.
Previously, MSI released a highly acclaimed monitor for their mid-range category (MSI G321CU), which turned out to be nothing less than one of the best new monitors of 2023. 
One or two months before that, they made the MSI Pro X670-P Wifi available, featuring the new chipset line for 7000 Ryzen CPUs. Shortly after its launch, this board was bombarded with 1-star and low-rated reviews, ranging from issues with crashes to boot loading problems and so on. 
It is a new motherboard, but there've been a couple of months since its release, so most likely, all those issues can be fixed with a BIOS update. In any case, we'll check out if this motherboard is still flawed right now. 
As it is one of the cheapest in this price range, I can see it being the best choice for this category. If you want to know if this is the best board for you right now, follow the MSI Pro X670-P Wifi review with the motherboard's plus and con points.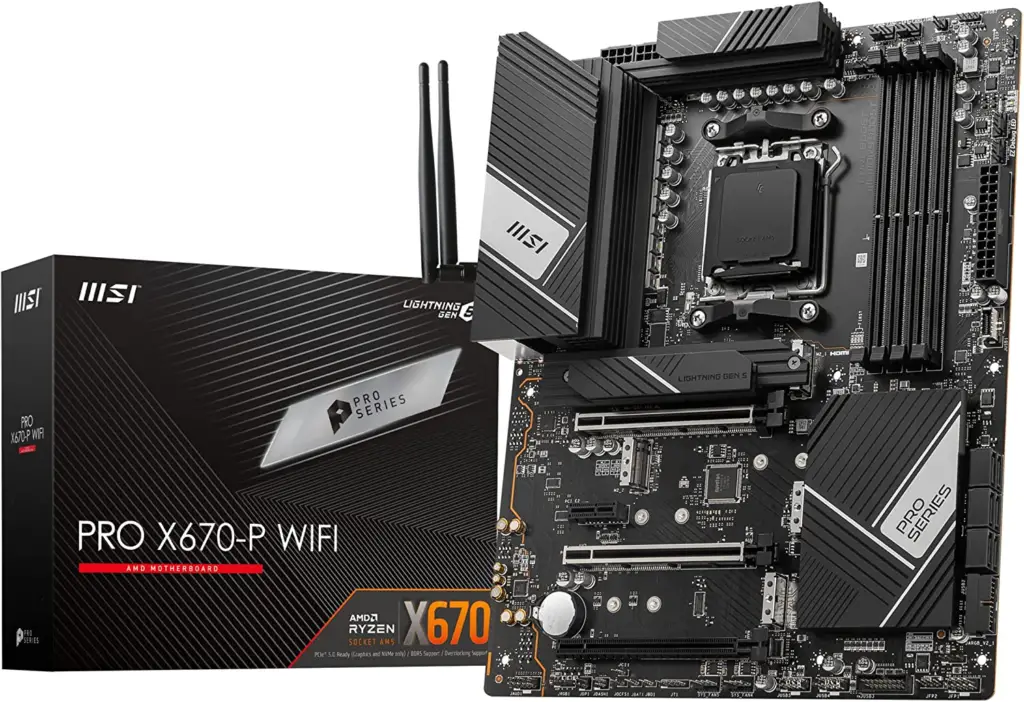 Design
I have to be honest with you, this is one of my least favorite MSI boards out of all the others we checked out. 
It's quite surprising in a bad way to see how MSI, who had some great-looking motherboards with my favorite design patterns, such as the MSI MAG Z590 Tomahawk WiFi, released this one. I'm not a fan of it, to say the least. 
You're right, I might be exaggerating a little bit, but I had higher expectations from MSI. Anyway, the colors used aren't the worst, so at least it won't stick out inside your case. It has a matte black color covering a major part of the board, some gray-lined patterns, as well as the MSI logo on top of the main heatsink. 
The chipset has a very wide heatsink, which is something you do not often see for motherboards in this price range.
Fortunately, It has a tall heatsink for the VRM phases, with the top phases also having this heat-dissipating component. This means it should have adequate cooling for even the most enthusiastic use.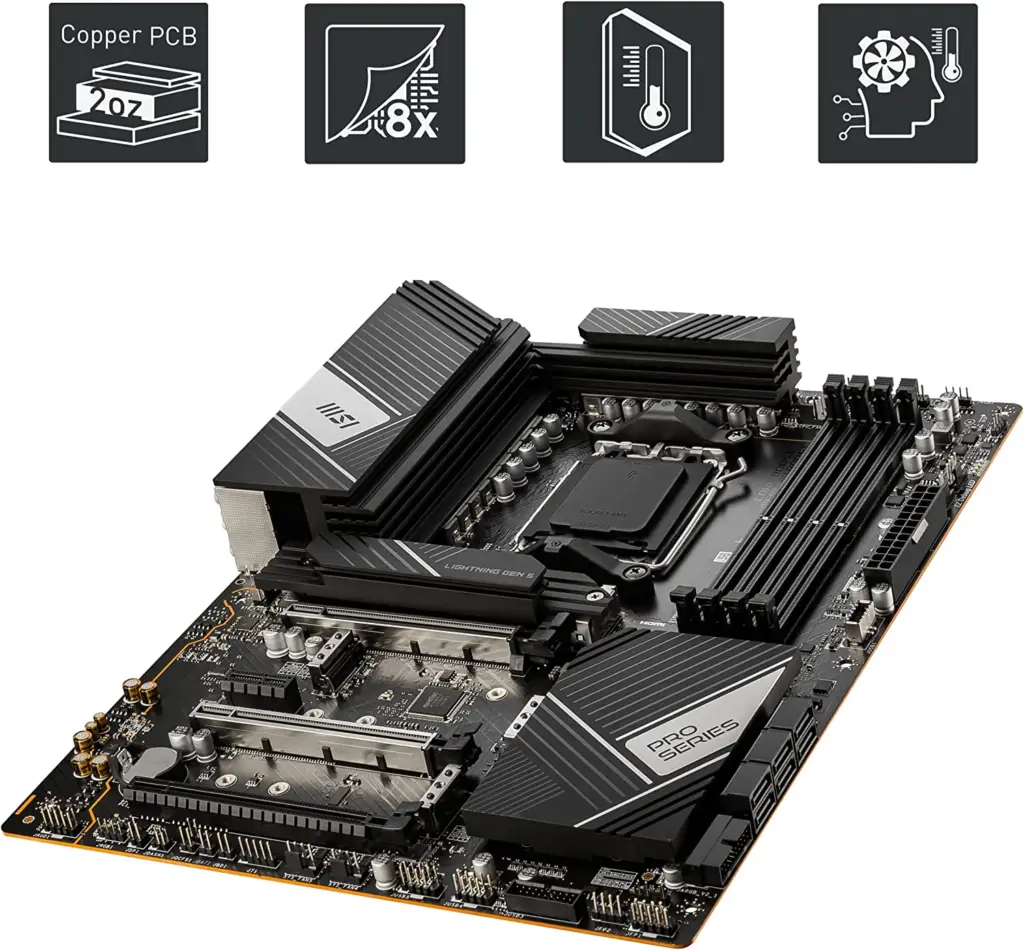 As an ITX motherboard, you should be mindful of the case sizes you could use with it. It has dimensions of approximately 243.84mm x 304.8mm. In case you will build a mid- or mini-tower setup, it is a better choice to go with micro Atx motherboards.
Regardless of personal preferences, this design pattern has been widely adopted across all of MSI's 600 motherboard lines. Fortunately, it doesn't have a very flashy aesthetic, so it won't be vexing and take the light from other components in the case.
In any case, personal preferences aside, the Msi Pro X670-P Wifi is a solid looking one, and ticks (almost) all the boxes it needs for this price range.
Socket and Chipset
The main attractive point of this motherboard is its price. It has a very decent price for the chipset and cooling performance it offers.
Featuring the X670 chipset, a representative of the "high-end" class, this motherboard could very well be one of the cheapest with this chipset. Take the ASUS Prime X670-P, for example. Although it has nearly all the same features as this one, it is slightly more expensive.
I've noticed a trend with MSI's new 4K monitor and this motherboard, both of which have affordable prices. It seems like MSI is trying to break into the low-budget market and expand beyond their usual high-priced products. Given how the X670-P Wifi was bombarded right after its release I don't see this one as a success per se, but I am getting off-topic a bit.
The thing is, this chipset is one step below the top-of-the-line one we have right now. Unfortunately, unlike the x670E, this chipset doesn't support PCIe 5.0 for the motherboard. But that's about it for its "downsides".
As a newborn socket, AM5 supports only 7000 CPUs. And, this chipset has out-of-the-box compatibility with 7000 CPUs. While some buyers had problems with compatibility before the BIOS update, our unit worked fine with an R7 7700x. But that doesn't mean we didn't have any headaches with this BIOS, but we'll save that for later sections.
Memory
Apart from the hassle of having to buy new DDR5 Ram modules, we haven't faced any issues at all here.
It has 4 slots with up to 128GB, and of course, you can't use DDR4 memory. If you have recently purchased new RAM for your PC and are planning to upgrade your build to the "next-gen", be prepared to spend more than $200 for a new DDR5 RAM set.
By the way, these slots have dual channel and support up to 6600MHz with overclocking.
Aside from the 6666MHz you can find in most high-end boards, 6600MHz is one of the highest ratios right now. So if you are an enthusiast in that section, the Msi Pro X670-P Wifi will leave nothing to be desired.
As a cheap board, it doesn't have steel protection for its slots, so it is easier to break. But I can't see a possible scenario where this happens during normal use anyway.
Performance
From the moment we built the setup (Ryzen 7 7700X paired with a 6900XT and 4 x 16GB 5600MHz RAM modules) and booted the PC, everything went well.
The real problems started after that, during gaming tests.
We tested it with a bunch of games, and everything looked fine, but after about an hour of testing, we had some random crashes. Luckily, it is very easy to update the BIOS of this board, and after we did so, everything went off without a hitch.
Surprisingly, we haven't found any reviews mentioning this issue, so it could be a stroke of bad luck on our part. But I still suggest updating the BIOS as soon as you get the motherboard to avoid this type of hassle.
In any event, after that, the motherboard didn't present anything unusual at all, even after overclocking the RAM to the maximum supported speed.
Overclock and Recommended Processors
As mentioned, the Msi Pro X670-P Wifi has support for all of the 7000 series of Ryzen CPUs. While it is possible to pair it with a high-end model of that line, I wouldn't go as far as saying it is recommended.
Of course, for gaming and everyday use, this motherboard can easily handle the 7950x or the 7900x. However, if you are an enthusiast and want to overclock those 200W CPUs, a motherboard with better VRM cooling is necessary.
While overclocking the Ryzen 9 7950x, the VRM phases were running much hotter than the maximum threshold to avoid damaging the motherboard. All this with only gaming.
Out of fear of damaging the board and setting a fire inside our case, we didn't even put the CPU to full load, but we can have a clear guess that things wouldn't look pretty good if we did so.
In any way, our choice as the best gaming processor to use with this motherboard has got to be the Ryzen 7 7700x. It is a great CPU with enough power and cores to multitask while gaming at very high framerates.
If you have more demanding multitasking needs and can afford to stretch your budget, you can go with the Ryzen 9 7900x, but avoid overclocking it. Besides that, we can't forget to mention the Ryzen 5 7600x, which is one of the best values for the money of this line.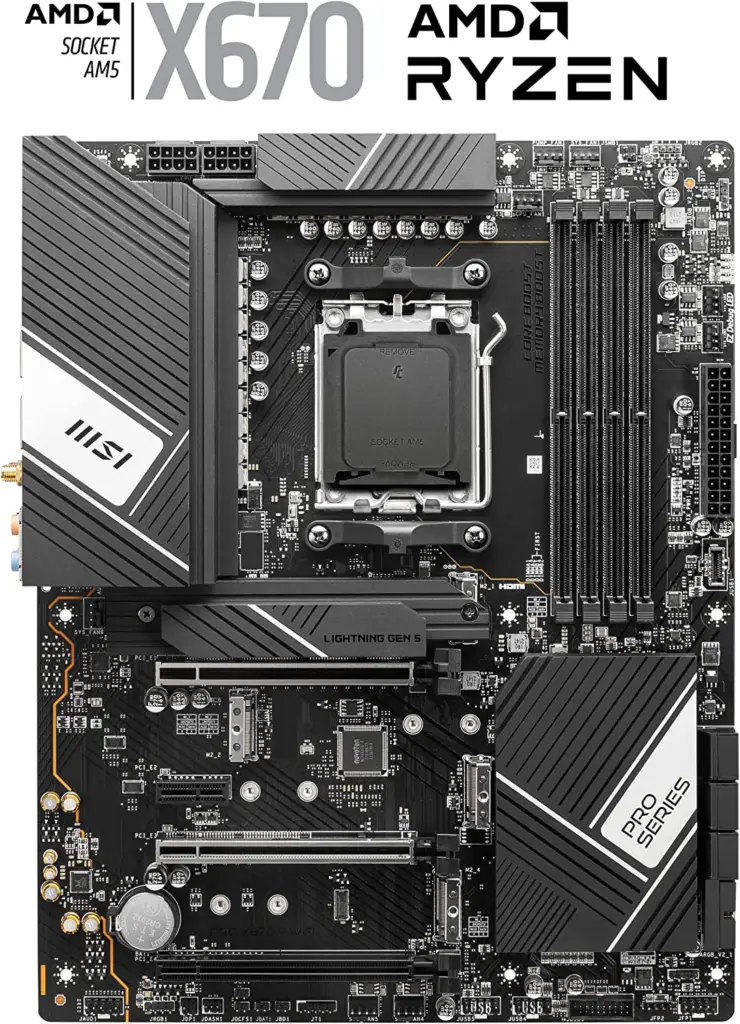 VRM and Connectors
This motherboard features 14+2+1 power phases, including 14 VCORE SPS / 80A, 2 SOC power, and 1 MISC power. Its cooling performance is one of the best in its price range, although it may struggle to keep up with overclocked high-end CPUs. Keep in mind that the VRM temperature may vary depending on the airflow in your case.
Power connectors and SSD
The high-speed support for SSDs is one of the major benefits of this chipset. It supports natively the PCIe 5.0 SSDs, which will have an even greater reading and writing speed than the already good PCIe 4.0 ones.
Still, be sure to use this 5.0 SSD on the first slot, the one with the shield protection, since the other 3 only have 4.0 support. 
Yeah, you've read it right, this motherboard has 4 M.2 slots, 1x PCIe 5.0, and 3x PCIe 4.0. In my opinion, this is really awesome and one of the features that make this motherboard stand out from the crowd.
Lastly, It has 2x 8-pin power connectors for the CPU, so you have a spare one in case the other stops working. 
Fan, RGB, SATA
In terms of connectors to your FANs and RGB LEDs, the Msi Pro X670-P Wifi doesn't have anything special. It has all the necessary, but some even may argue that it could have more RGB ports. 
We can't forget that this is still a budget-oriented motherboard, so it will lack a little bit in some sections. 
It has a 2x Addressable V2 RGB LED connector (JARGB_V2) and a 2x RGB LED connector(JRGB). As for the FANs it has plenty enough for most users, with 1x CPU Fan, 1x Pump Fan and 6x System Fan.
As if 4x M.2 slots weren't enough, the manufacturer decided to add 6x Slots for SATA 6G, granting even more ports for SSDs. Given how this chipset allows up to 8 SATA ports, and they used 6, we can say they definitely didn't skimp here.
PCI connectors, WIfi, and Audio
As mentioned, this chipset is one step below the x670E, which is the only one in the lineup that supports PCIe 5.0 for the graphics card slot. The problem is that those boards are way more expensive than they should be. 
But if you want the headroom for future upgrades, those are the only choice. At the moment, there aren't any PCIe 5.0 cards on the market, so it's not a pressing issue. 
Anyway, this board has 3 slots for a graphics card, with the first two protected by a steel shield to prevent bending and sagging. The third one lacks protection but still has PCIe 4.0 support. Besides that, it has the usual PCIe x1 (PCIe 3.0).
Although it has a very cheap-looking antenna for the WiFi port, they work as intended, with support for 6E 6GHz WiFi. 
Those antennae have very cheap materials, even compared to those of the ASUS TUF Gaming B550-PLUS WiFi, which is priced at almost half the cost of the Msi Pro X670-P Wifi. Besides that, the wireless module is pre-installed in the M.2 slot, so that's one less port for your SSDs if you need WIFI. It also has Bluetooth 5.3.
The front panel audio is still as low-end sounding as you would expect. On the other hand, the back panel has the Realtek® ALC4080 Codec, which is no slouch at all. Of course, it still doesn't replace a proper DAC, but it is still better than most low-end motherboards. 
Back panel
As expected, the Msi Pro X670-P Wifi doesn't have a pre-installed I/O shield, which can make the setup process a bit more difficult. Still, due to the shield's black tint, it at least won't look bad.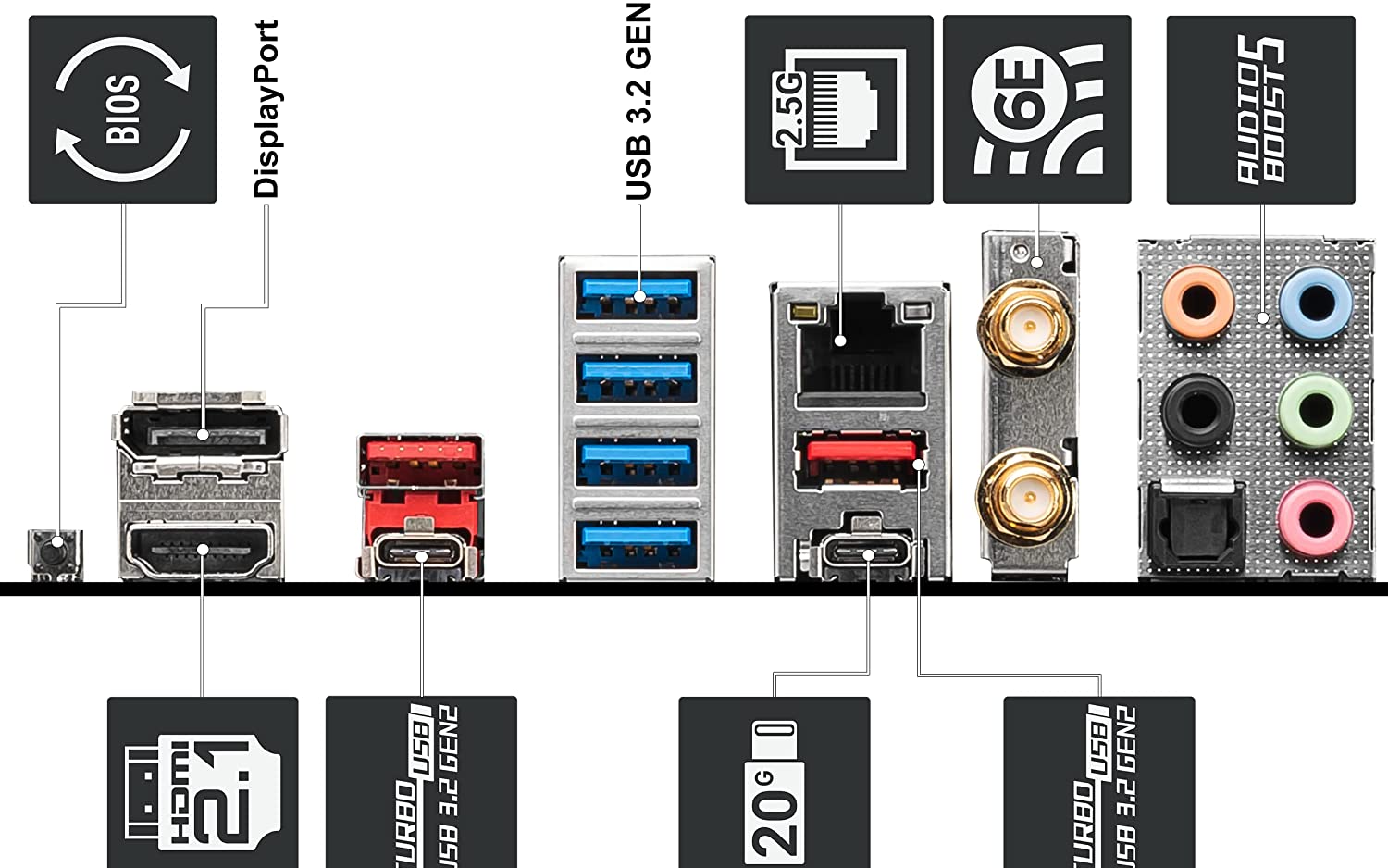 1x DisplayPort
2x USB 3.2 Gen 2 10Gbps (Type-A)
4x USB 3.2 Gen 1 5Gbps (Type-A)
2.5G LAN
Wi-Fi / Bluetooth
Audio connectors
1 x Flash BIOS Button
1x HDMI™
1 x USB 3.2 Gen 2 10Gbps (Type-C Display port)
1x USB 3.2 Gen 2×2 20Gbps (Type-C)
1x S/PDIF-OUT
Adding the flash BIOS button is an excellent feature that simplifies the BIOS update process significantly. By simply pressing this button and using a flash drive, you can update the BIOS quickly and easily.
Final thoughts
The Msi Pro X670-P Wifi is right now one of the most affordable motherboards with this chipset. The problem is, it still has a couple of problems with the BIOS and loading issues stated by other users. Yet, for all the good features it has, such as a great number of M.2 ports, I still recommend you give it a try and return it in case you find any problems.
If it weren't for all of these issues, this board would be one of the best choices right now, that is a fact. Again, be sure to update the BIOS in case you plan on affording it.
You may like