Our Conclusion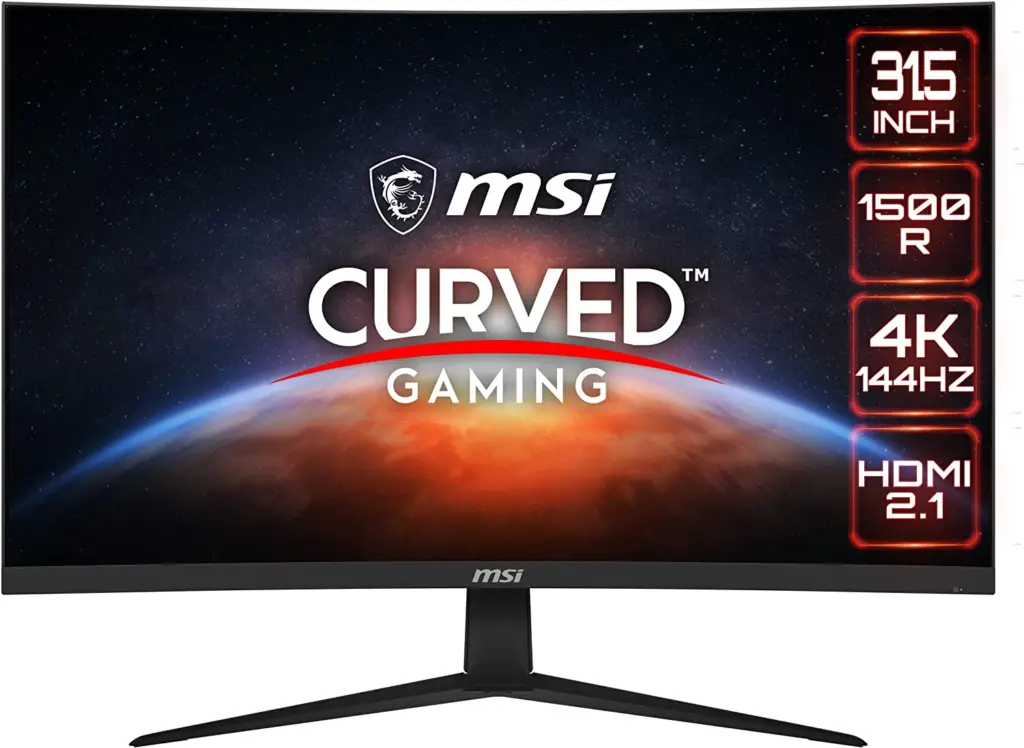 Right now, the MSI G321CU is the cheapest 4K screen with 144hz and other good features. Of course, it does have some downsides, but the benefits are more than enough to make up for them. The fact that there is no competition now in this price range places this monitor up there among the best new 4k monitors. If you need an IPS panel instead, check out the: MSI MAG281URF, which is also at the top of the heap.
Pros
✓ 4K
✓ 144hz
✓ Vibrant colors
✓ Great prices
Cons
✘ Poor reflection handling
✘ Poor viewing angles
Over the last year, we've tested out some of the best high-end MSI 4K monitors on the market, and we were blown away by their quality and features. But let's face it, these types of monitors don't come cheap, even today. 
For instance, take the ASUS XG27UQR. It's a premium model with a premium price tag, but its features aren't exactly cutting-edge, save for the resolution. 
So, when we stumbled upon the MSI G321CU – a more affordable option that seems to have emerged out of nowhere – we couldn't resist taking it for a spin. We're eager to uncover the truth behind its lower price point. Did they skimp on features or use cheaper materials? We're about to find out in our MSI G321CU review.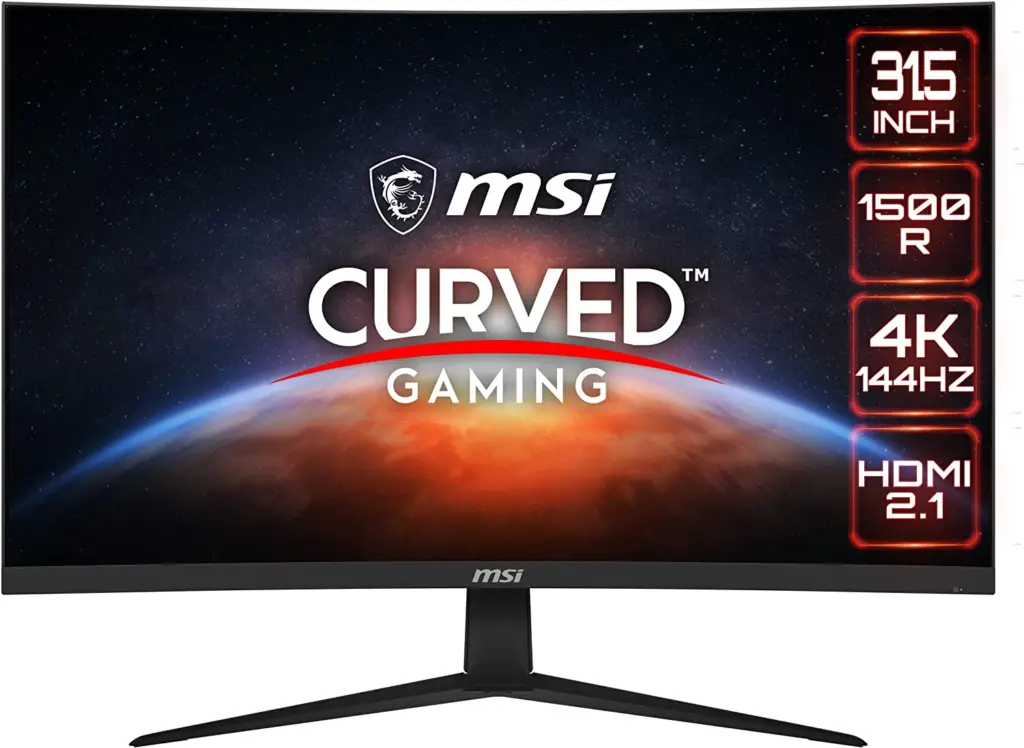 Design
By far, the most notable feature of this monitor is its thinness. It is among the thinnest monitors we've reviewed on this site, and quite possibly the slimmest 32-inch model. 
While it's true that some Lenovo monitors like the HP M27FQ may give it a run for its money, it's not a fair comparison when you're pitting a 27-inch display against a 32-inch one. 
Anyway, aside from its sleek, minimalist design, the G321CU is refreshingly simple in its features. It has no stand frills or RGB LEDs, which are often associated with the so-called "gaming" category. Its bezels are also among the thinnest for 32-inch screens. 
With its narrow 3-sided bezels and slim bottom bezel, this monitor is one of the few that is actually worthy of being called a borderless screen. And fortunately, as one of MSI's latest releases, it's likely that they will continue to use this design pattern for their upcoming models, which would be awesome.
However, it's possible that this design will be exclusive to their mid or high-end screens.
It's important to mention that the monitor has a 1500R curvature, which may be appealing or unappealing depending on personal preference.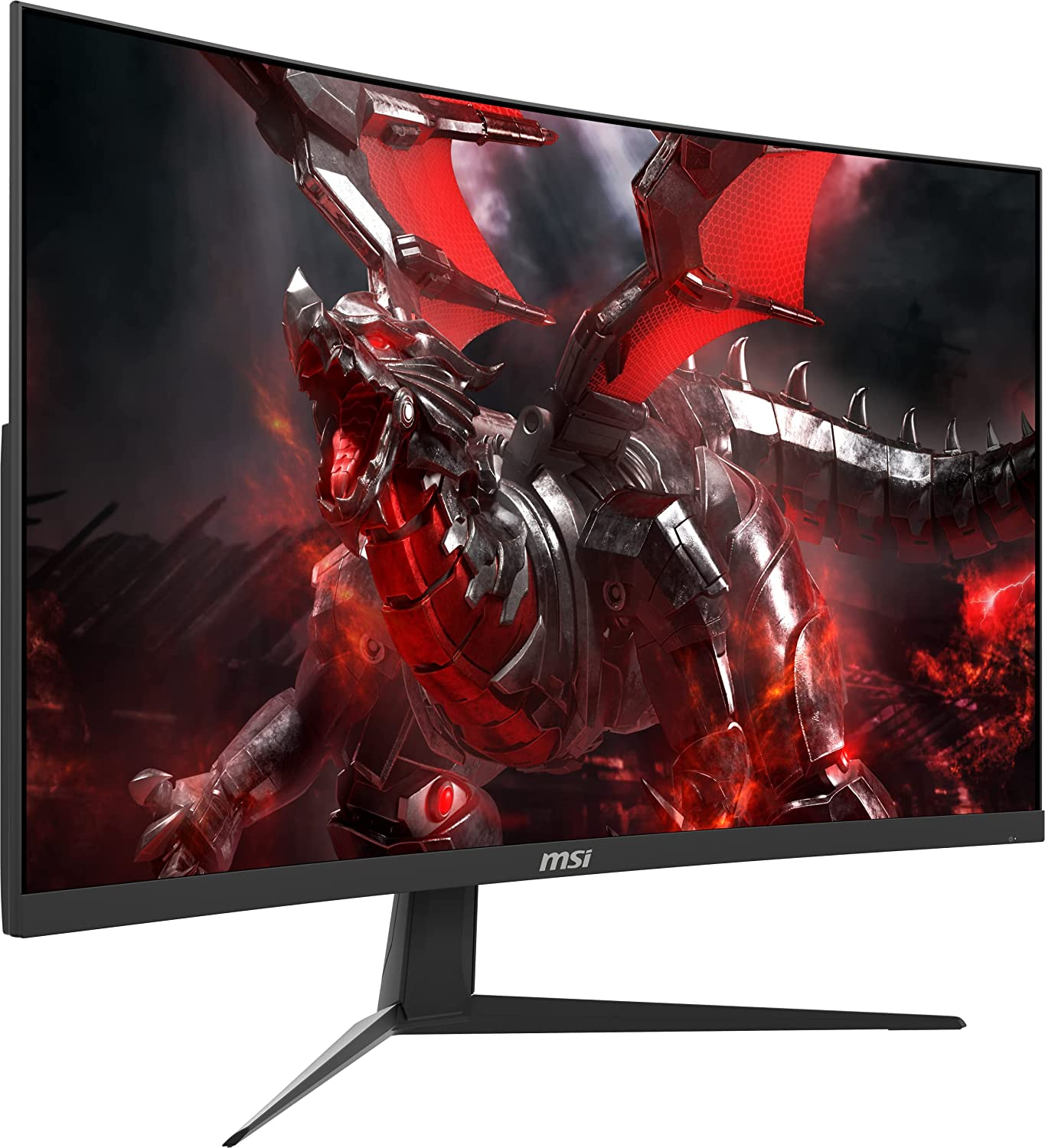 Moving to the back of the monitor, we can see, once again, how MSI loves to change styles and explore various design patterns in this area. While they may tweak certain details, they often incorporate a variety of textures across different sections of the monitor's rear.
The different textures used in this display remind me of those found in the MSI Optix MAG274R2, including a brushed section, a textured section, and a glossy/piano black section.
Even so, if you asked me to pick my favorite, I would have to go with the MSI Optix MAG274R2. In fact, of all the displays we've reviewed, the MSI G321CU has one of my least favorite styles. Of course, it is on the rear of the display, so it won't matter that much when it comes down to it. 
That said, the one thing that really matters and is also one of the parts that really stand out on a monitor is the stand. 
Following the usual trend of the entire display, this stand is quite slim as well. Although it features a V-shaped design, it does take up a significant amount of desk space. In fact, it doesn't have a great ergonomy as well, so looking good is probably its major strength. 
That said, if you need more adjustments, consider adding a better stand to the cart or buying a monitor such as the LG 32UN880-B, which has an ergonomic one included. Lastly, we should mention that the materials are basically the same as those of the MSI Optix G273QPF, not the cheapest but also not the top of the line.
Connectors
As weird as it sounds, this display has a USB-C port but lacks the conventional ones. Probably another necessity to decrease pricing, but it is still something unusual to see. In any case, if I had to choose between having no USB ports or only a single USB-C port, I would obviously choose the latter. This monitor includes 1x DisplayPort (1.4a), 2x HDMI™ (2.1), and 1x Type-C (DP alt.) w/ PD 15W charging.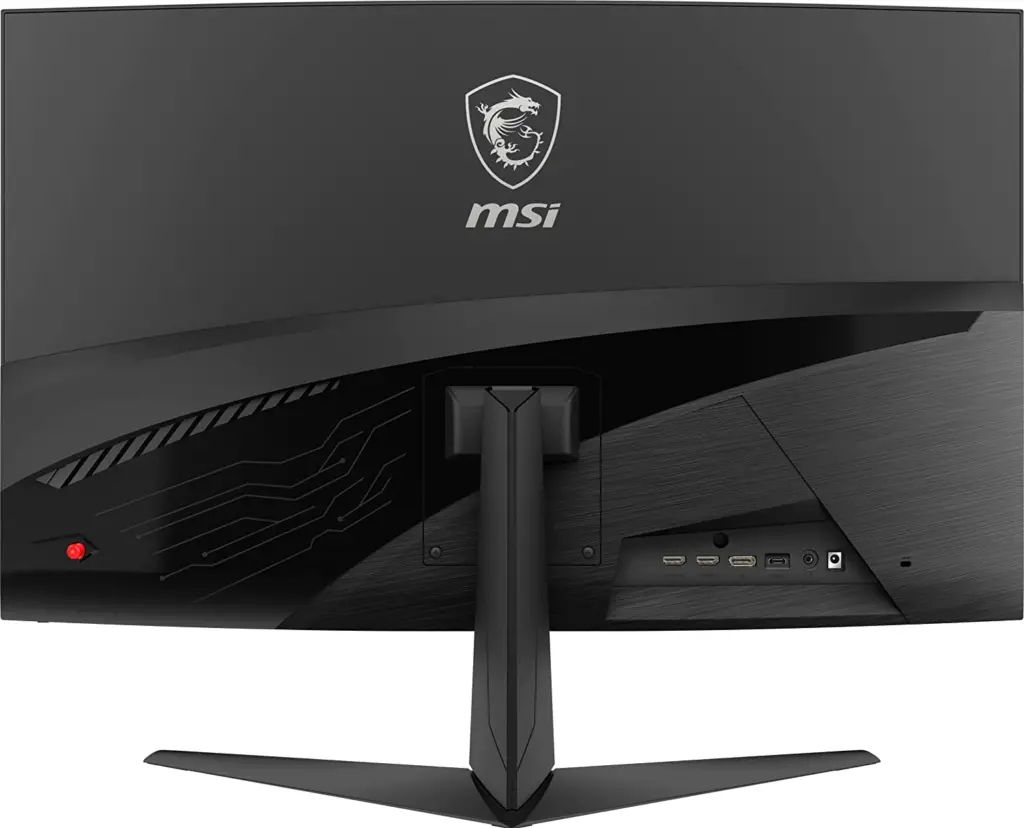 Features
Panel type
Although the MSI G321CU has somewhat basic materials and lacks some more ports, the question of why it was cheaper than average remained unanswered.
And here we have the reason why: it's a VA panel. Naturally, IPS and VA panels both have their own set of strengths, but the latter is the cheapest one by default.
While it is indeed cheaper, it doesn't mean that it is worse than the IPS. In fact, some people even consider VA panels superior. The point is, which one is best for you depends entirely on your needs.
Do you prefer deeper blacks and contrasting colors but lower viewing angles and worse color accuracy over higher color accuracy and viewing angles but lower contrast and grayish blacks? If you lean towards the first choice, the VA panel is perfect for you.
On the other hand, if you need accurate colors to work with media, the IPS is your only choice. Anyway, this monitor has a very decent black uniformity, with only a single gray spot situated bottom left, nothing major.
Its colors are surprisingly vivid out of the box, and with some tweaking, they may even be close to those of an IPS panel. Still, we observed some black smearing while playing games, but we'll get further into that in the refresh rate section. For now, we can say that this is one of the best VA panels in this price range we've seen, that's for sure.
Brightness
Unfortunately, the same cannot be said for its brightness. Yes, it is good for normal use during the night, but when the skylight hit the screen, the display's quality deteriorated significantly. 
In fact, the issue was mostly due to the screen's poor reflection handling rather than its brightness, but since the brightness can't reach a higher peak, it does play a major role in this. 
It has 300 nits on paper, and it was even slightly better than the Dell SE3223Q which also has 300 nits. But that didn't make a difference at all during the tests, making it very hard to discern details on the screen. 
Of course, that was the worst possible scenario. When not exposed to direct sunlight, it was good enough to use, even though we had to crank the brightness up to 100%.
Obviously, during the night, 100 was too much and 70 percent was our preferred setting. Believe it or not, this brightness is enough to highlight the VA panel's greatest advantage, which is the absence of IPS glow. 
While on IPS panels the further you increase the brightness, the grayest the blacks get, when it comes to VA panels, you can actually crank the brightness up to its maximum and still benefit from deep blacks. 
Naturally, the max brightness we have here isn't enough to give you a real advantage in competitive games, so keep this in mind as well.
Refresh rate and Response time
Here we have the worst and the best aspects of the MSI G321CU. 
Starting with the good ones, we can't forget to mention its 144hz masterpiece. Finding a monitor with both 4k and 144hz features in this price range is not an easy task, believe me.
Of course, if you search well enough you can find hidden gems like this one. The best thing is that it can get even cheaper with time, as it was just recently released. 
Anyway, the 144hz feature combined with 4k resolution will deliver an awesome gaming experience. You have the fluidity of the 144hz as well as the crispness of the 4k resolution.
Still, while the combination above is good and all for casual gaming, we can't say the same for the competitive scene. In fact, 32 inches and a high resolution like this one are already something you should avoid if you need that type of screen. 
In that case, a 24-inch 240hz like the: Dell S2522HG is your go-to.
All in all, the MSI G321CU is a great monitor for casual gaming, but there is a little catch: the black smearing. 
Every VA has a varying level of black smearing. Yet, It turns out that even some random high-end monitors tend to have this issue, but low-end ones are still the worst in terms of quantity. 
This one falls right in the middle, being a very mid ranged screen, with some good features here and there, but nothing that would make its prices skyrocket. 
The point is, this monitor does have some black smearing. Now, it was released in 2023, and it has way more features to help prevent the smearing or at least make it fainter in this case. 
Surprisingly, it is on par with one of the best VA monitors we checked on this website when we compare the level of black smearing of both. 
Don't get me wrong though; it does still have the downside, and it is perceptible enough during daily use that if you are used to an IPS screen it can get quite jarring. 
The best thing is that you actually get used to it when you force yourself to use it like that. In any case, if you don't want to deal with it, maybe an IPS panel is your best choice. Lastly, this monitor has around 4ms of response time, and motion blur was within acceptable limits for casual use.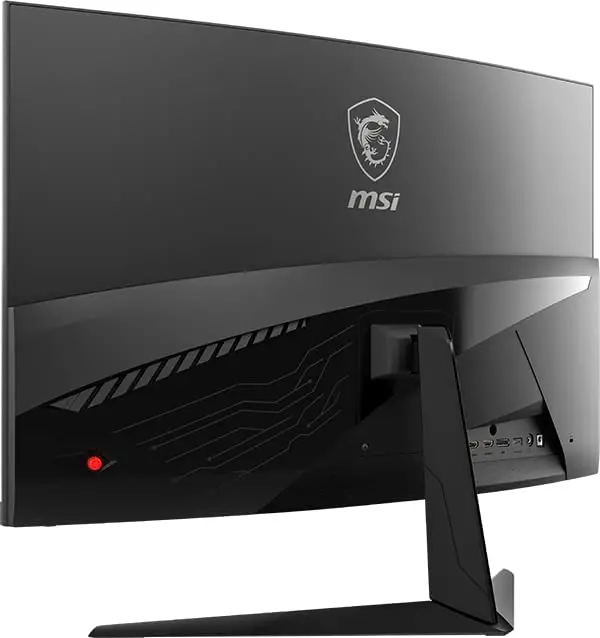 Image Quality
Given that VA monitors often have less vibrant colors than IPS, the manufacturer decided to extend the sRGB color range slightly to 114%, bringing it in line with low-end or mid-end IPS displays. 
With that, the colors are way more vibrant than usual for mid-ranged VA panels. If I had to choose, I would go all day with vibrant colors for gaming rather than accurate ones.
Other than that, the simulated 10 bits feature (8 bits + FRC) will make gradients smoother, while increasing the number of available colors to 1.06B. 
So when it comes to colors, the MSI G321CU delivers everything one would expect. 
As said, although the colors are vivid, they are not as precise as those produced by professional IPS screens. If you require greater color accuracy, it's recommended that you opt for an IPS display. 
Additionally, it may be necessary to adjust the blue tones slightly higher, as they tended to be cooler than the other colors, creating a contrasting effect. 
Now turning to other features, let's discuss the resolution. 
We all know that 4k is still the king for monitors even though it is still quite expensive right now. The best thing about this resolution is that it gives you a very sharp image quality, with no visible pixels from a reasonable distance. 
Of course, that depends on the monitor's size and PPI, but for a 32-inch like this one and around 138 PPI, it is still great. 
If you are coming from a lower resolution, initially, images may appear smaller than usual, but you can change that with the windows scaling. Around 130% was the best for us, but be sure to find the best setting for you. 
In any case, 4k gaming is awesome and immersive, and when you combine that with the deep blacks this monitor has as well as its smooth refresh rate, it is safe to say that this is one of the best new monitors in the market right now.
Yes, it does have some downsides to take into account, such as black smearing and poor reflection handling, but for the prices it has, and the possible sale prices it will have, it is already a steal.
Final thoughts
When to buy it
Due to its VA panel, the MSI G321CU is, right now, one of the cheapest 4K screens. And the fact that its VA panel itself is no slouch at all already puts it as one of the best choices MSI has to offer.
If you want an IPS panel instead with the same other features, you'd have to spend almost $200 more on something like the: MSI MAG281URF. Having said that, we can confidently say that this is, right now, the best VA 4k screen in the $500 price range.
You may like