Our Conclusion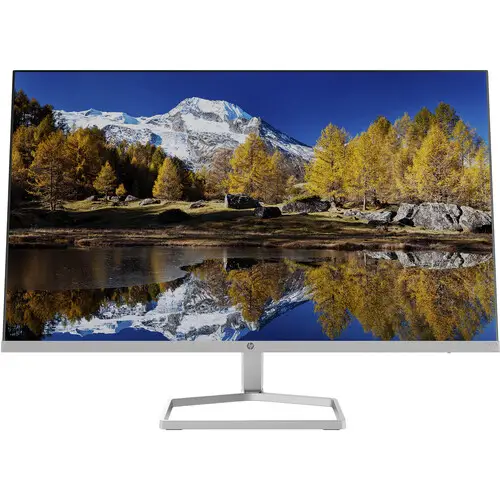 Aside from being one of the most affordable 1440p monitors, the HP M27FQ also has great aesthetics for office setup, which is a very unusual combo these days. All of this while maintaining a high level of peak brightness. If you're looking for a 27-inch 1440p display on a budget, this is THE monitor to purchase currently.
Pros
✓ High resolution
✓ Budget prices
✓ Higher than average peak brightness
✓ Slim aesthetics
Cons
✘ Lacks VESA support
✘ Lacks USB and USB-C ports
After finishing the M series of HP monitors' casual-focused area, it's time to step things up a notch and look at the brand's most premium monitors.
If the one we're reviewing today does not fit your demands, be sure to check out the and the, which are the most high-end HP screens we examined on our website and have the best price-performance ratio.
So, without further ado, let's have a look at the HP M27fq Review to see whether it's the ideal fit for you or if there are better choices available.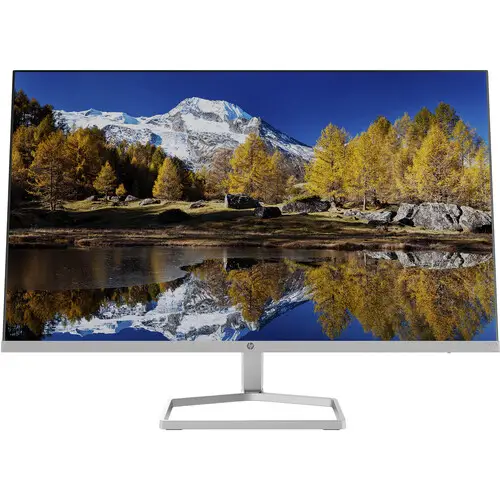 Design
Fortunately for some, but regrettably for others, this monitor has the same design as its younger siblings, with the exception of material quality.
This one, although being extremely thin (measuring only 27.17 x 16.93 x 4.96 inches), is made of extremely durable materials which is what set it apart from its siblings. However, because the distinctions won't create a significant difference on paper, this isn't a significant factor to consider. 
This one has the same stand, the same slimmest, and even the same three-color scheme (white on the front bezels, black on the back, and metallic gray on the stand) as the: HP M24F. 
Speaking of which, they chose to maintain this stand with the same drawback as the others in the series, namely, the absence of ergonomic settings, enabling you to merely tilt it forward and backward. 
Unfortunately, this monitor lacks a joystick for menu navigation, relying on the monitor's buttons on the bottom right, compromising overall user-friendliness as well as the screen's overall aesthetic. 
Another common concern is the absence of VESA support, thus if you need to mount your monitor on the wall, I can't suggest this one. 
As previously stated in earlier posts, this HP series is ideal for people looking for an office screen. It lacks bulky aesthetics and eye-catching gaming features, but it is very light and solid in appearance, making it one of the finest choices for this type of environment.
So, other than the aforementioned shortcomings, there is nothing more to criticize about this screen. This line has one of our favorite monitor designs, as well as one of the slimmest displays ever.
Connectors
Still, while trying to keep prices not too high, they decided to go for the safe, and removed some connectors, leaving only: 1x Display port, 2x HDMI 1.4 ports.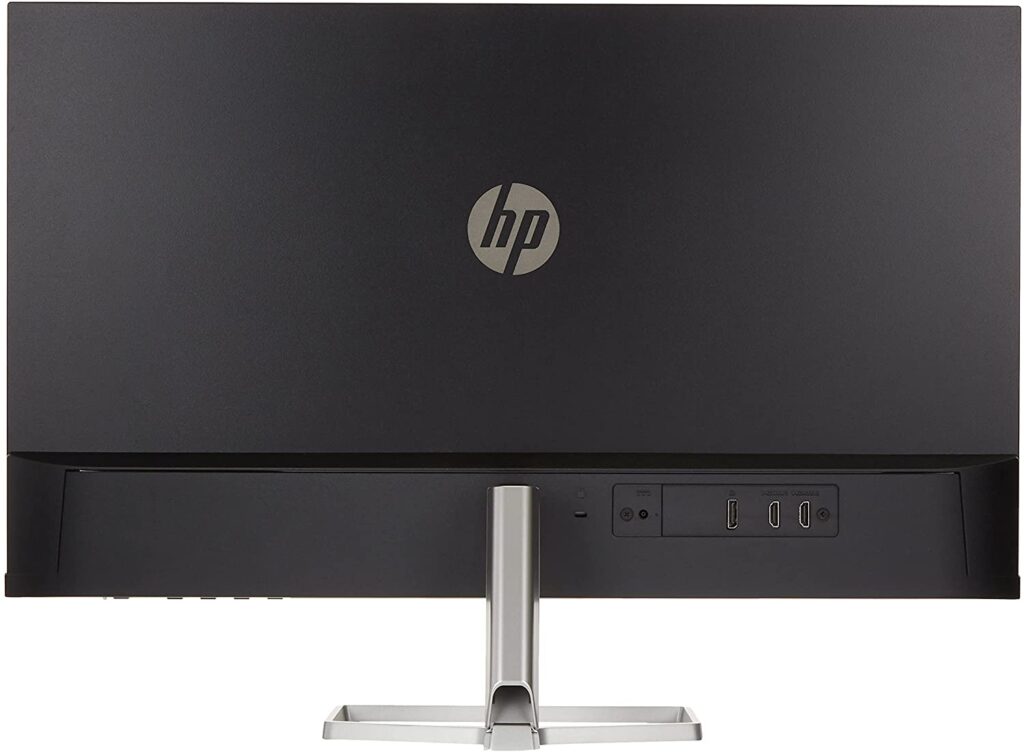 Features
Panel type
The IPS panel serves as one of the foundations for the fact that these "M" HP monitors are ideal for the workplace.
This panel compensates for the monitor's lack of stand adjustments by providing excellent viewing angles, allowing you to watch extremely exact visuals regardless of your point of view.
Another advantage of the IPS panel is its color accuracy, which is among the greatest of the three standard panels: VA, TN, and IPS. You can still get better image quality than IPS with a top-of-the-line VA panel, but it'll set you back for over $500, as seen in the LG 32UN550-W.
So, in the end, for those looking for image quality, the IPS remains the king of price-performance. In truth, this panel, whether high or low-end, tends to cost a little more than the other two, but it is still the best option for anyone looking for a higher image quality possible without spending a lot of money.
We noted that this display performed quite similarly to its siblings in the same line throughout our tests, therefore they most likely used exactly the same building quality for all.
Brightness
Aside from the panel, HP tends to put a lot of emphasis on the maximum brightness of the monitors in this series. 
The HP M27FQ offers 300 nits of total brightness, which is greater than the usual for this price range (250), and when paired with the IPS panel's wide viewing angles, it produces solid images even if you're watching the screen in a bright room.
Even so, keep in mind that if sunlight shines directly on your screen while you're using it, this ratio won't perform that great. Aside from during this one-time event, this brightness will be enough for 99 percent of users.
Still, if you think you'll need more and have some extra cash, a 400 nits screen might be your best choice.
Refresh rate and Response time
Unlike our prior casual/professional reviewed monitor, this one impresses with its "gaming" capabilities. In fact, it provides almost everything required for this sort of screen. 
To begin, it boasts a 75hz of refresh rate, which lacks the smoothness of a 144hz ratio but is still superior to the common 60hz. When comparing the 60hz with the 75hz, the 75hz is clearly the one with more fluidity and is the clear winner. 
One of the nicest aspects of this ratio is that it has no big influence on pricing, which is why manufacturers and buyers prefer it over the 60hz at the moment. That's why, in today's world, I can't suggest 60hz to anyone.
Aside from that, this monitor's overdrive may exceed 5ms, which isn't ideal for motion blur, but because "gaming" isn't the focus of this screen, they opted to keep it that way. 
Again, unlike our previous monitor, this one includes AMD FreeSync, which reduces screen tearing during gaming sessions. So, whereas the last reviewed screen was probably not the best pick for casual gamers, this one is ideal for them.
Still, if you want to compete in FPS games, I recommend aiming for at least 144hz. With the ASUS VG27AQ1A being one of the better bets this year.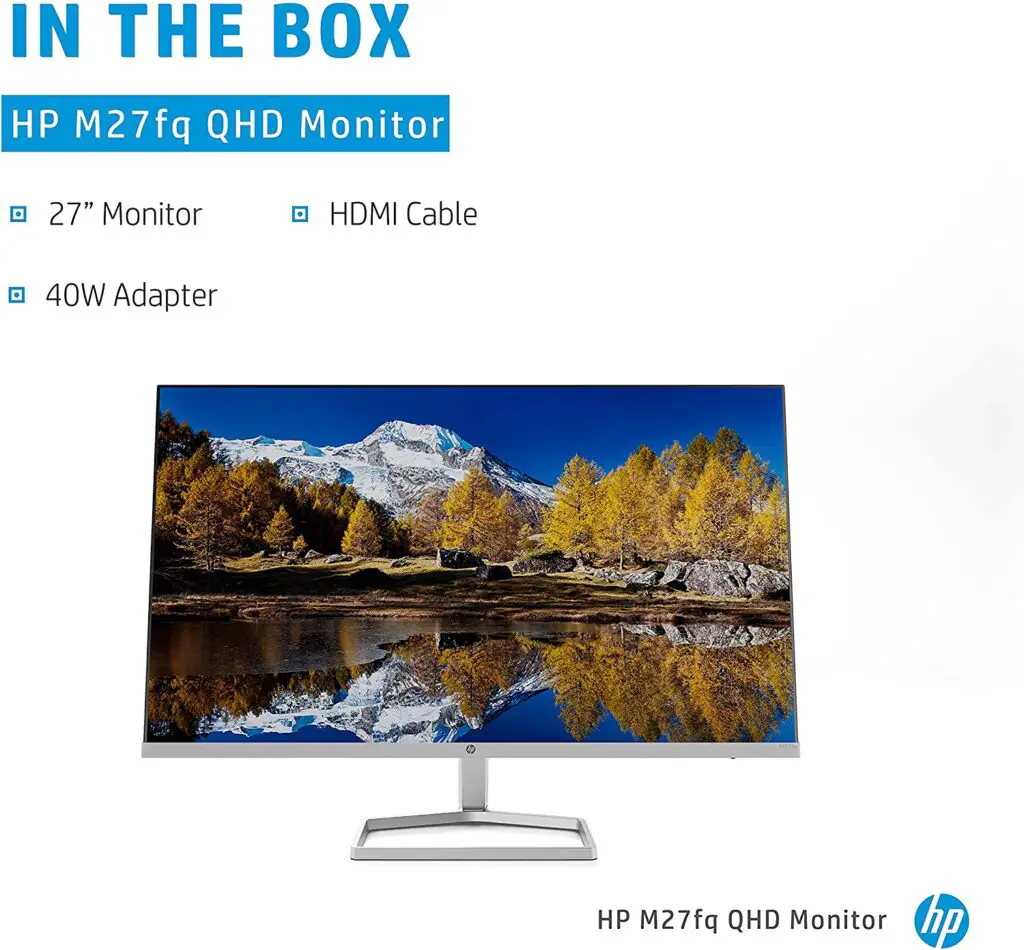 Image Overall Quality
Typically, manufacturers forego some gaming capabilities for this sort of panel in order to place a greater focus on image quality while keeping pricing stable. And now, let's see if it is like that for this monitor.  
Unfortunately for some, the HP M27FQ was not designed for professionals, since it delivers mediocre colors with a mediocre delta number right out of the box. 
So, if you're looking for a professional level of color, you'll be disappointed with this screen. And I suggest that you spend a little more money and stretch your budget to include at least the: Dell U2722D, which is one of the cheapest monitors with good image quality. 
Aside from that, this monitor has an average color gamut of 99% sRGB with 8-bit colors, delivering pretty solid colors for its price range.
When comparing this monitor to the HP M27F, we discovered that they are nearly identical in terms of color accuracy. However, due to its 1440p resolution, this one had a little better clarity in its visuals. 
Some claim this is the ideal resolution for 27-inch panels because it provides the proper amount of pixels for this screen size while boosting image sharpness at the same time. 
So, while the colors are the same, the image quality of this monitor is greater than the HP M27F's owing to the difference in the number of pixels. 
At the time of writing, this is one of the cheapest monitors with a 300 nits 27-inch screen and 1440p resolution. So, it is only fair that it's a contender in the area of best monitors of the year.
Final thoughts
When to buy it
If you're looking for a gaming monitor to play competitively or a professional display to use for the media edition, the HP M27FQ isn't the one for you.
However, for those looking for a more casual 27-inch 1440p option, this is now one of the finest. It offers an excellent pre-adjusted brightness ratio, as well as excellent visual clarity thanks to the high resolution, making it an excellent pick for the best monitors of the year list. 
On the same budget, the Acer Nitro VG270 as a gaming option, and the Dell U2722D as a professional choice are available ( the latter costs a little more due to its high-end features ).
You may like