Our Conclusion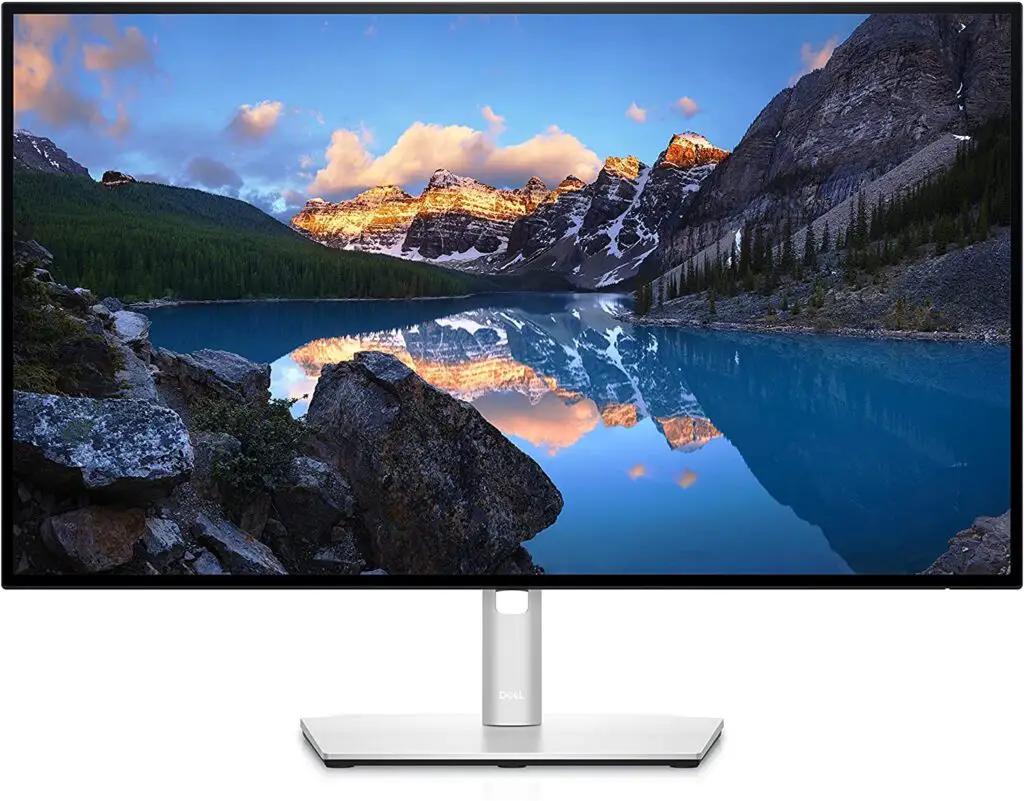 The Dell U2722D is one of the top budget choices of a professional monitor, with great color accuracy and image quality, making it a wonderful choice if you need the highest image quality possible at the costs it is being marketed at now. It's pretty difficult to find a cheaper monitor with the same functions and professional, sharp aesthetics as this one.
Pros
✓ 10-bit colors
✓ IPS panel
✓ Professional color accuracy level
✓ USB-C port
✓ Wide range of connectors
Cons
✘ 60 Hz
✘ Lacks out speakers
We recently realized that there was a serious dearth of true professional monitors with excellent color accuracy for the website's reviews. There are still a few, such as the LG 32QK500-C and the Acer Nitro VG280K, that are among the best for their price range.
However, we now have a better option for individuals who are serious about investing in and getting a good monitor for working with media editions in general.
So, without further ado, let's take a look at the Dell 2021 professional monitor to see if it's worth the money. Continue reading the Dell U2722D Review below.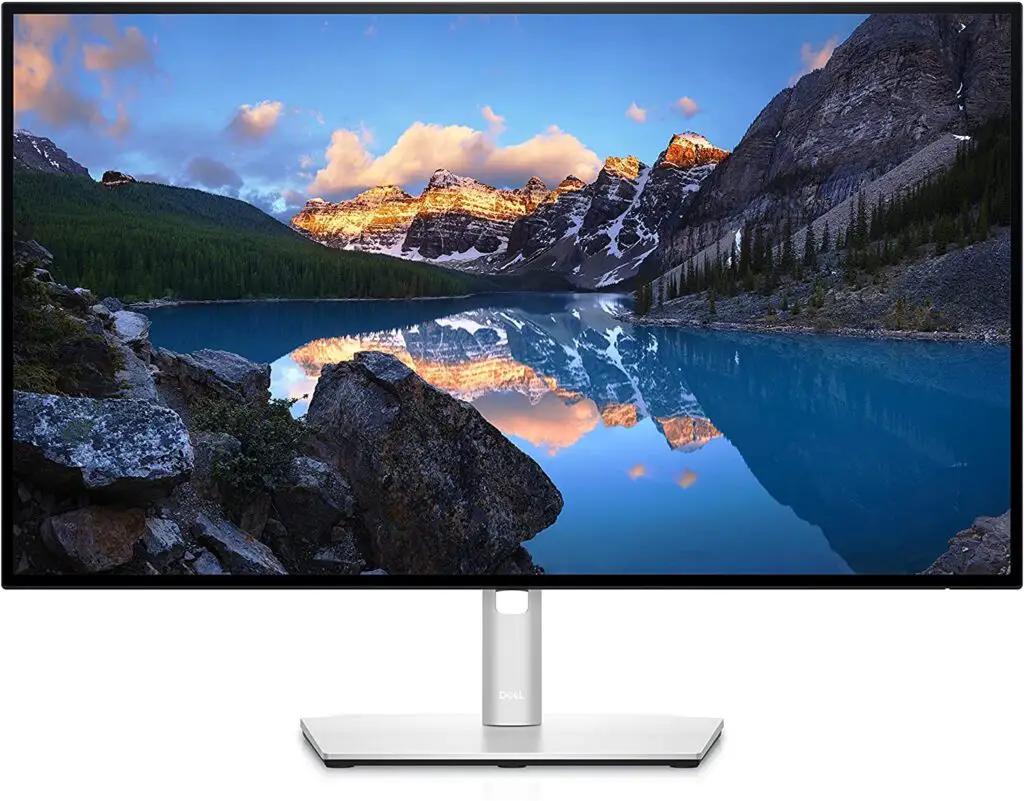 Design
Although not identical, this monitor reminded me of another Dell ultrasharp panel, the Dell P3221D, which I believe is due to the fact that both have extremely tiny bezels. 
They are very similar, but the Dell U2722D one is a smaller version of the Dell P3221D because it is just 27 inches long, but the Dell P3221D is 32 inches long. 
The ultrasharp line is ideal for individuals who desire a minimalistic layout, as it features ultra-thin bezels that give off a modern vibe, with the bottom one being nearly the same size as the 3-sided ones. 
Because the logo wouldn't fit on the bottom bezel, they had to put it on the stand, which isn't too bad and adds to the display's appeal by being a little different.
In that vein, the Dell U2722D's stand offers a wide range of adjustments, as one would expect from a professional monitor in this price range. Height adjustable (150 mm), tilt (-5° to 21°), swivel (-45° to 45°), and pivot are all included. 
Looking at the rear of the monitor, we can see that it has VESA support, which is a huge bonus for those who need to mount it on the wall. Note, however, that this monitor does not include speakers, so if you require them, you should look into other options, such as the Acer Nitro VG280K. 
So, in general, as I mentioned in the Dell P3221D Review, the ultrasharp line is one of my best monitors design of the Dell manufacturer due to its overall slimmest aesthetics and the narrowed bezels transmitting a modern feel.
Connectors
Also, they didn't skimp for the connectors of the display, adding a bunch of those:
1 x DP 1.4 (HDCP 1.4)
1 x HDMI1.4
1 x USB-C (USB 3.2 Gen2,10Gbps) Upstream port, Data Only
1 x DP (Out)
2 x USB-A ( USB 3.2 Gen 2 10Gbps) downstream ports
1 X USB A (USB3.2 Gen 2 10Gbps) with B.C 1.2
1 X USB C (USB3.2 Gen 2,10 Gbps, Up to 15W charging) downstream port
1 x Analog 2.0 audio line out (3.5mm jack)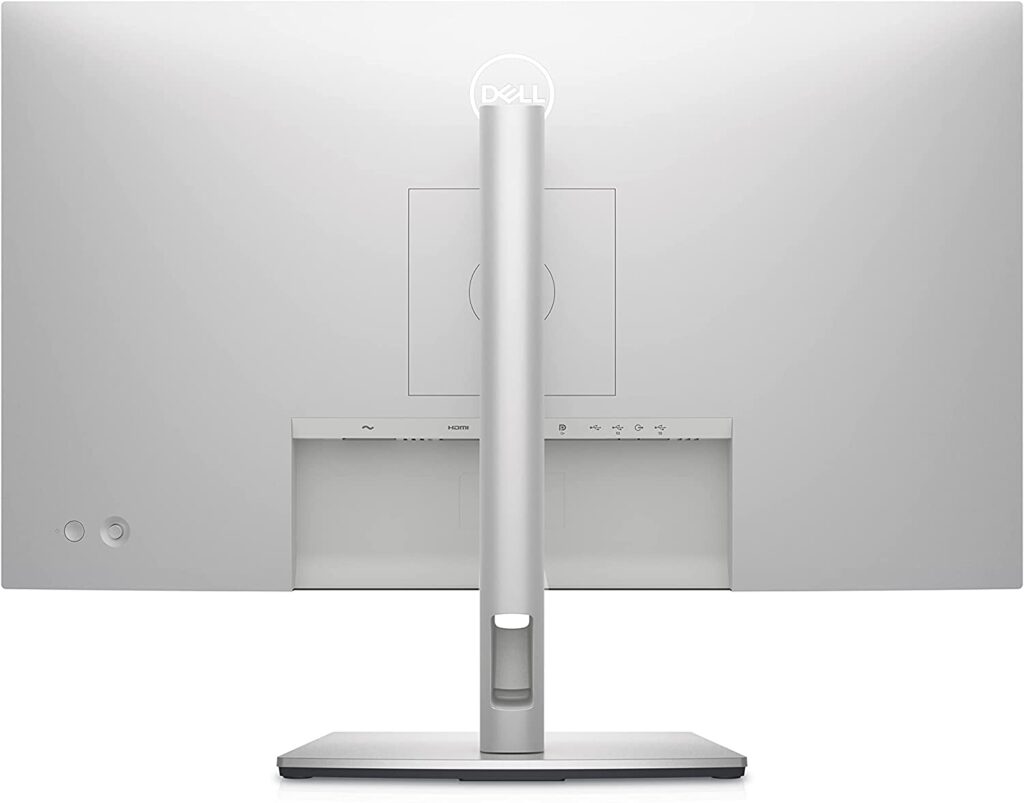 Features
Panel type
When we talk about a professional monitor, one of the primary characteristics that distinguishes it is the IPS panel, which is commonly used for these.
As they are shifted horizontally, the IPS (In-plane switching) panels align the liquid crystal in parallel, considerably boosting color accuracy and viewing angles.
As a result, this panel is a must-have for everyone who works with any type of media edition and requires the most accurate colors available.
This panel, on the other hand, has some drawbacks, such as IPS glowing and a slower response time, making it a poor choice for gaming displays.
Still, you can rest assured about the IPS glowing thing that the Dell is always keeping the premium building in their monitors, reducing the IPS glowing to barely noticeable levels.
Brightness
A strong brightness ratio is particularly vital for media professionals because many of them work during the day, with possible sunlight hitting the screen at times, which is when a decent brightness ratio comes into play.
Fortunately, in this price range, you can expect at least a good brightness ratio from Dell monitors. Fortunately, they stuck to tradition and gave this display 350 nits of native overall brightness.
This is a fantastic ratio, as it is a well-balanced choice that keeps prices stable while improving the color discrepancies visible. With this amount of brightness, you'll be able to use the monitor during the day easily noting properly all the displayed colors.
So, here is another plus point for the Dell U2722D, and now it is time to move on to the gaming features section and see what they decided to build for a professional monitor like this one.
Refresh rate and Response time
Gaming features aren't as vital for a professional display, as manufacturers must concentrate on image quality to keep pricing consistent.
So, to make place for the color accuracy and image quality characteristics, they decided to use the most basic and common gaming elements now available.
As a result, this monitor only features a 60hz refresh rate and a 5ms response time, which is usual for a monitor in this price category.
Aside from that, there is no screen tearing elimination technology on this display, such as Free sync or G-sync. So, in general, they chose to keep the gaming features very ordinary, making this monitor unsuitable for competitive gamers. 
And now, let's see what I was expecting the most for this article, the image quality features. 
Image Overall Quality
The Dell U2722D is a 27-inch monitor with a 1440p resolution and a high PPI (pixel per inch) of 108.78, resulting in amazing sharp visuals. 
They also used a fantastic pixel pitch of 0.2331 mm x 0.2331 mm for this display, which helps to improve the image's sharpness even further. 
Things start to get a little professional when it comes to color accuracy. Advancing already that this monitor has one of the best color accuracies of all the displays we've evaluated. 
To begin with its masterpieces, it has a 10-bit color pattern that can display up to 1.07 billion colors, which is an awesome feature for media work and the best number you can have for monitors right now. 
It will also provide you with a 100% sRGB color gamut, which is, again, the best you can get for a monitor right now in terms of color accuracy. 
So, while we knew this display had good image quality, it surprised us by being the best monitor we reviewed in terms of overall color accuracy. 
As a result, you can be confident that if you require a monitor for working with media editing, it will provide you with one of the best results available at this price range.
Final thoughts
When to buy it
The Dell U2722D is one of your best options right now if you're looking for a professional monitor with the highest color accuracy possible.
It boasts excellent sharp images that, when combined with god-level color accuracy, provide the most accurate images available at this price point.
Still, it lacks a strong refresh rate and response time, and if you want a hybrid monitor with good image quality and gaming functions at the same time, the LG 32GP850-B is a nice option, but keep in mind that it falls short of the color accuracy of the Dell U2722D.
You may like