Our Conclusion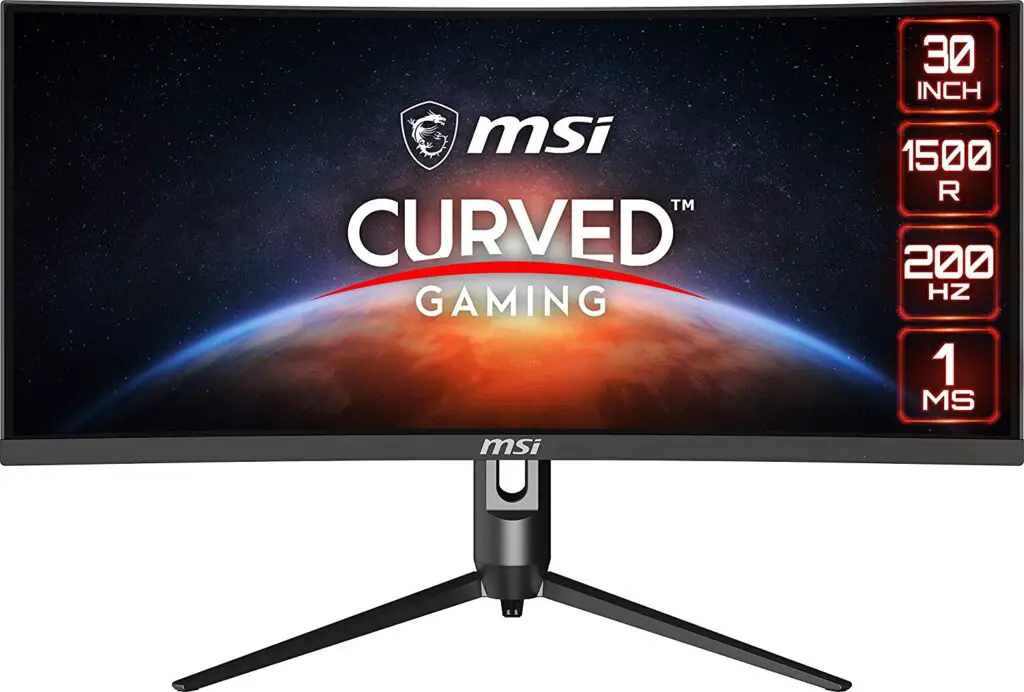 The MSI Optix MAG301CR2 is an MSI ultrawide display that combines amazing gaming features with affordable costs, as well as vibrant colors. As a result, it is currently one of the most popular choices for a gaming ultrawide display. Keep in mind, however, that due to the VA panel, it does not have professional color accuracy. So, if you prefer a professional display over a gaming one, you should check the LG 38WN75C-B.
Pros
✓ 200hz 1ms
✓ USB Type-C port
✓ Affordable
✓ Wide stand adjustments
✓ Vibrant colors
Finding a nice gaming ultrawide display with average features at an affordable price is becoming increasingly challenging. 
Although the last gaming ultrawide monitor we tested had fantastic features and a great price-to-performance ratio, it was still a little out of reach for some. 
And, in consideration of those in need of a solid, affordable ultrawide gaming monitor, we found this new MSI offering, which is presently on sale at ridiculously low pricing.
So, without further ado, let's have a look at the MSI Optix MAG301CR2 Review and see what features the manufacturer had to sacrifice in order to achieve such low costs.
Design
This monitor is essentially the younger brother of the MSI Optix MAG342CQR, both with very identical aesthetics and only minor variations. 
The MSI Optix MAG342CQR features a 34-inch size, whereas this one has a 30-inch overall size and is slightly lighter, measuring 27.7 x 11.3 x 20 inches and weighing 18.55 pounds. 
This display was finished in a matte black pattern, like was practically every other MSI release this year. It also has 3-sided bezels with borderless characteristics, which fits nicely with current monitor trends.
It also boasts a 1500R curvature, which is found in practically every MSI monitor this year.
This monitor's stand is V-shaped and features a variety of adjustments, including tilt, pivot, height, and swivel, so you can rest easy if you need an ergonomic monitor. 
We can see why some people call this monitor line the most gaming-looking of all MSI monitor series by looking at the back of the screen. This RGB LED is one of the most significant characteristics that give this display a gaming vibe.
However, they had to drop the VESA support size to 75 x 75 mm in order to incorporate this feature.
Furthermore, this monitor lacks an out speaker, which is understandable given its present price range. So, overall, this monitor isn't particularly novel, and, as previously stated, it's more of a sibling to the MSI Optix MAG342CQR one.
But the one thing I can't deny is that this is my favorite MSI ultrawide line when it comes to overall aesthetics.
Connectors
Also, surprisingly, they managed to find room to implement some awesome ports for this display, so I hope they didn't cut important features in order to do that. This monitor features:
1x Display Port (1.2)
2x HDMI (2.0)
1x Type C (DP alt.)
2x USB 3.2 Gen1 Type A
1x USB 3.2 Gen1 Type B
1 x Earphone out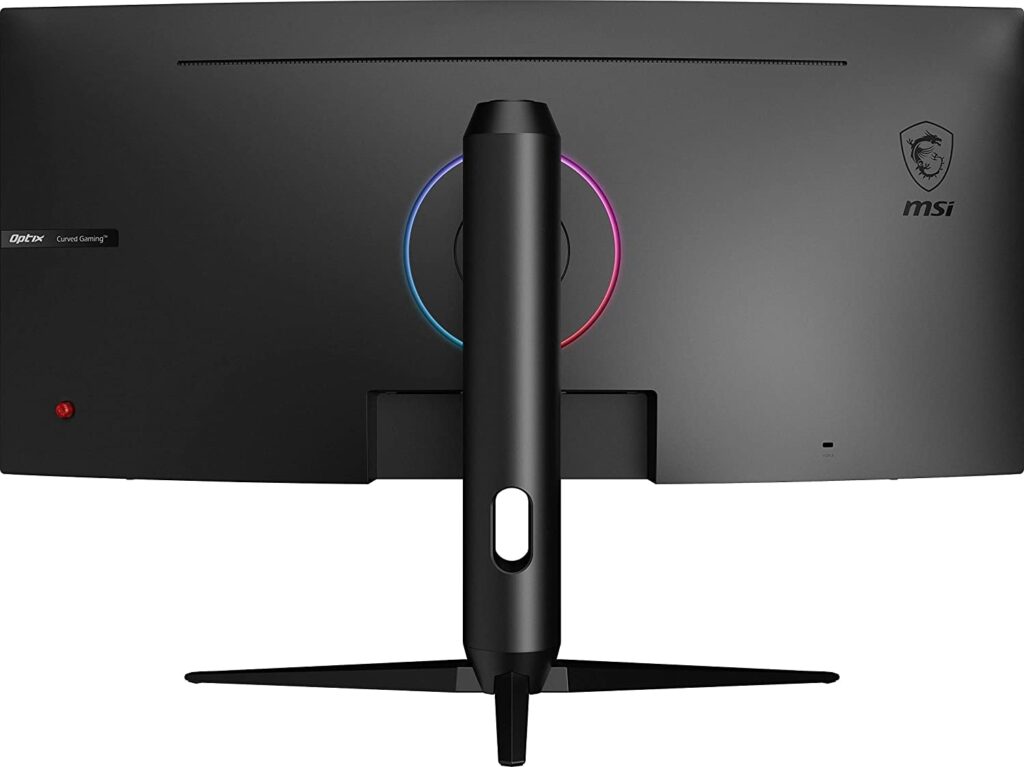 Features
Panel type
Aesthetically, this monitor delivered excellent results, but now it's time to look at the features to see if they match the costs. 
For a cheap gaming monitor like this one, we expected them to save money on the panel in order to increase the gaming capabilities without raising the price significantly. 
They had to choose between the TN and the VA, and fortunately, they made the right decision by choosing the VA. 
Because this panel does not have the same color accuracy as an IPS panel, it is not a good choice for professionals. This panel, on the other hand, has a higher average contrast ratio than the others, making it an excellent choice for folks who enjoy highly contrasting colors. 
Furthermore, depending on the color gamut and supported colors used by MSI, this panel may have more vivid and vibrant colors than certain low or mid-end IPS displays. In the image quality section, we'll dig deeper into the color accuracy elements.
Brightness
Unfortunately, as I often mention in my reviews, this panel isn't the best option if you need the maximum possible brightness ratio.
The reason for this is that the brightness differences between an IPS panel and a VA panel with the same ratio are really noticeable, with the VA panel being somewhat poorer.
And, thankfully, they didn't go with a 250 nits ratio for the MSI Optix MAG301CR2, which would have been a major drawback. Instead, they went for 300 nits for this display, which is a good compromise between price and performance and is one of the most popular options for budget monitors.
With this ratio, regardless if you're using this monitor during the day or during the night, you'll be able to see perfectly the displayed images. Still, if you need further bright, you also can find good ultrawide monitors at good prices such as the LG 34WN650-W.
Refresh rate and Response time
Now it's time to look at the features I was most interested in, the gaming capabilities, as this display is marketed as a gaming monitor. 
They tried something new here, giving this monitor a feature number that has never been seen before on any of the gaming ultrawide screens we've reviewed on reatbyte. 
Instead of choosing the standard 144hz or even 165hz, they went above and beyond for a cheap monitor like this one, opting for a 200hz refresh rate figure. 
Although some argue that differences above 144hz aren't visible with the human eye, if you're a competitive player, the higher the refresh rate, the more ahead of your opponent you'll be.
Given the present costs for this monitor, I would even recommend it to casual customers looking for more smoothness. When it comes to response time, things revert to the norm for gaming monitors. 
It boasts a 1ms response time, which is a must-have for competitive gaming displays because it ensures a fast command-to-screen time. Now let's take a look at the display's overall image quality and see if any of those features had to be sacrificed in order to keep pricing low.
Image Overall Quality
The MSI Optix MAG301CR2 is a Full HD resolution 29.5-inch ultrawide monitor. 
For gaming displays, the 1080p resolution has advantages because you won't need a strong graphics card to achieve the high framerates the monitor offers.
However, it is negative for overall image clarity because it has a low PPI, resulting in blurry images when compared to 24-inch monitors with the same resolution. 
Even so, it's not as horrible as it would be on a 34-inch display, so it's still acceptable. They did make an effort to improve color accuracy, so this monitor isn't just a gaming display with average visual quality. 
For this display, they elected to add 1.07 billion supported colors, however, keep in mind that they are not real 10-bit colors because they were used with the FRC pattern, resulting in 8-bit + FRC colors. 
This is most likely why the display has a high refresh rate of 200hz, allowing them to employ the Frame rate control to display 1.07 B colors. 
They also selected to add DCI-P3 83 percent or sRGB 102 percent to offer the display more vibrant colors, which is not advised for professionals because it raises color vibrancy to non-accurate levels. 
Finally, as previously stated, the VA panel has a good contrast ratio for the display, with a ratio of 3000:1, which, when combined with the previously mentioned features, will provide you with vibrant and contrasting colors. 
In general, the image quality on this monitor is excellent for a VA panel, but it is still not at professional levels.
Final thoughts
When to buy it
The MSI Optix MAG301CR2 does have a good image color reproduction even though it has a VA panel due to the improved color gamut and supported colors. 
Still, these colors are not completely accurate, so if you need the most accurate as possible, I recommend you going for a professional ultrawide display such as the LG 38WN75C-B. 
In contrast, I would say the recommended target of this display are those who need a gaming-focused ultrawide curved display, with great Refresh rate and Response time numbers, but at the same time want to have vivid and vibrant colors, all with no pain for the wallet.  
You may like