Our Conclusion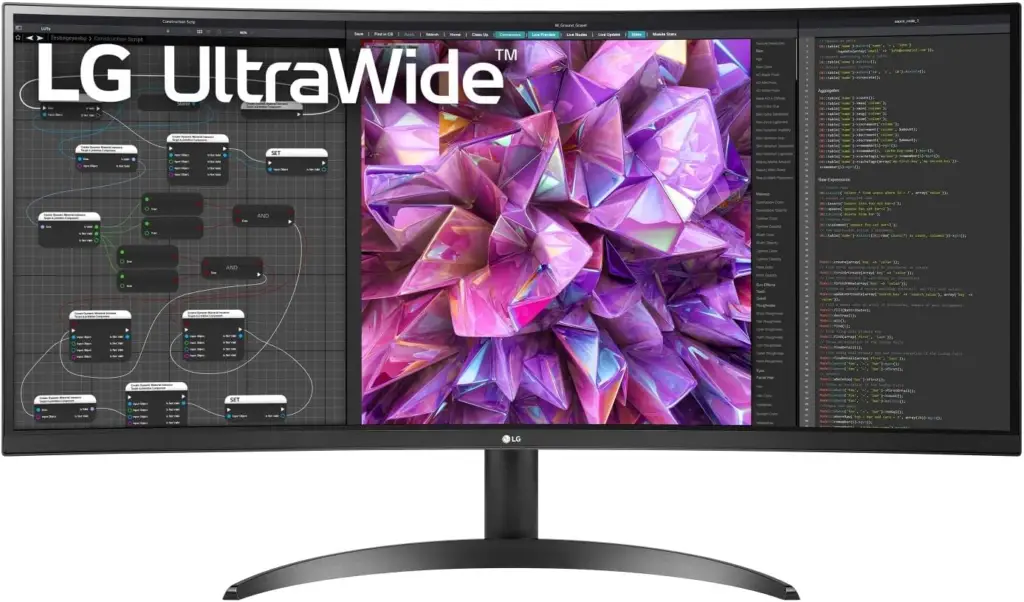 At this price range, the LG 34WQ60C-B monitor lacks much more than it should. It doesn't have speakers and a USB-C port, which are must-have features for some. Besides that, its 60hz falls short of nowadays 144hz+ for mid-range monitors. If you want to spend your money wisely, go with the HP X34 or the LG 34WP65C-B, wait for this one to be on sale, or buy it used. Just be sure not to spend $500 on it.
Pros
✓ Decent out-of-the-box colors
✓ Good max brightness
Cons
✘ Lacks speakers and USB-C ports
✘ 60hz
Holding its own among the top monitor manufacturers, LG made waves in the market last year with one of the best ultrawide monitors: the LG 34WP65C-B.
That monitor is both high-quality and affordable, offering a strong price-to-performance ratio. Whether intended or not, they've set high expectations for their future releases with that one.
Unfortunately, after that, we got the LG 34WP60C-B and the LG 35WN75C-B which definitely paled in comparison to the LG 34WP65C-B. Those monitors had a very high price tag, especially considering what they offered in exchange.
In 2022 LG released the LG 34WQ60C-B. Back then, this monitor didn't quite earn rave reviews, but currently, its prices have dropped slighly, making it more cost-effective.
And today we're going to look into it and all of what it has in store for us and tell you if you should invest in it. Find out if it's worth your investment in our Lg 34WQ60C-B Review.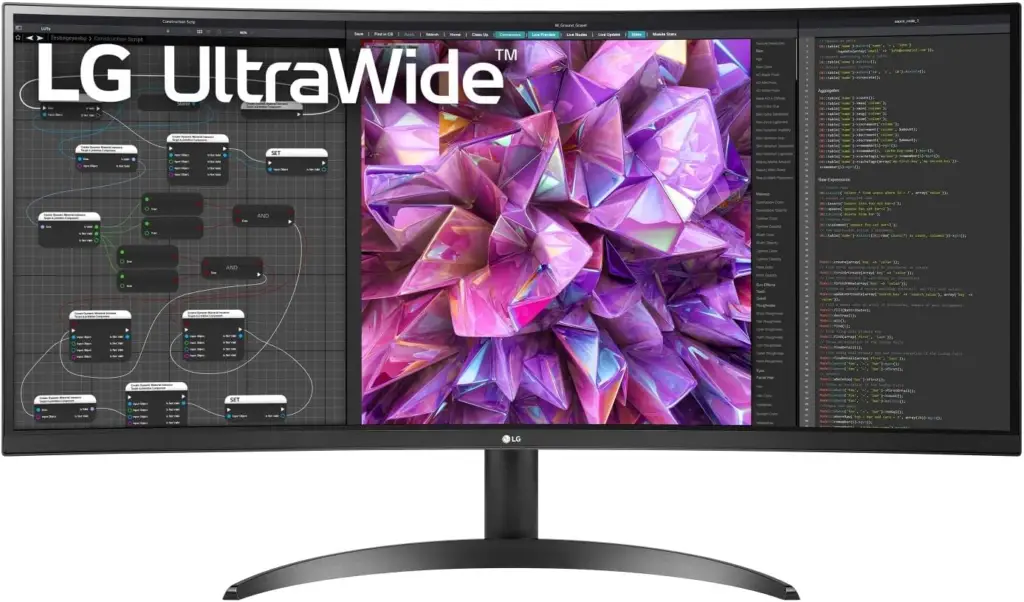 Design
The first thing that caught our attention in the design of this monitor is the average quality materials it has. If I didn't know, I would most likely say these are materials from a $200 monitor.
Surely, the poor-quality materials won't do much harm to the overall design of the screen, but it's still interesting to see they were trying to reduce costs.
In any case, this is a curved monitor. It has only a slight curvature, so even those who aren't fond of this feature may find it tolerable to some degree.
Continuing with mainstream trends, LG made this monitor entirely matte black. Sure, it is a very overused color, but we can't deny it works. It is easy to match with every setup's different color and isn't too flashy. Not that a bulky monitor like this one cannot stand out, but the understated black color still helps.
In any case, If there's one thing we can say about this monitor's overall design, it is subtle.
It doesn't have anything that makes it stand out such as LED strips and RGB LEDs. Besides, It has very narrow 3-sided bezels and a thin bottom bezel, keeping in line with the current trend.
One thing we can't deny though, is that this stand could have some more adjustments. It is a good-looking stand, it doesn't encroach on the desk space while sharing the same dull matte black color, however, it only offers tilt support.
The point is, as this is clearly not the most affordable monitor out there, opting for an adjustable stand will be much more harmful to the customer's wallet.
Besides that, it could also have built-in speakers, especially when ultrawide monitors priced $200 lower than this model like the LG 34WP65C-B boast some top-tier speakers.
Lastly, this monitor is actually one of the thickest ones we reviewed, which is something natural for a curved ultrawide screen.
In the end, the LG 34WQ60C-B doesn't have any red flags in its design, looking rather solid and modern. Even so, we cannot overlook the fact that they could have potentially used better materials and made other improvements.
Connectors
The list of downsides, unfortunately, didn't end with the lack of speakers and a better stand. The trend continued with the lack of USB-C ports.
It only has 2x HDMI and 1x Display port, as well as a headphone out port.
Once again, we can find several cheaper monitors available with this port. That's why we can mark the lack of USB-C as one of the biggest setbacks of this monitor.

Features
Panel type
Being one of the first contenders to counterbalance those mediocre features we just mentioned, the LG 34WQ60C-B's IPS panel has a big burden on its back.
Previously we reviewed a monitor with a low-end IPS panel, and the discrepancy in quality between that one and this is simply huge. The most awesome thing is that this one isn't even part of the high-end class, performing only slightly better than average at best.
Its colors are not very vibrant due to the limited color gamut range, which restricts the color spectrum. Of course, most customers will find the colors satisfactory without additional tweaking or calibration, although further adjustments can enhance accuracy.
The good viewing angles, which is another notable characteristic of IPS panels were also greatly represented here. It surely helps to compensate for the lack of more stand adjustments, even though ultrawide monitors don't tend to suffer from that a lot.
On the other hand, the IPS glow was slightly a hindrance when playing games in a dark room. While it's true that every IPS panel experiences this downside, it may not be the most desirable feature considering the monitor's price tag.
In any case, if you want to have deep blacks and contrasting colors, the VA panel is the one to aim for. As for our recommendations, the LG 34WP65C-B is right now the best in its price range, with good features overall.
Brightness
Now, due to the presence of IPS glow, the LG 34WQ60C-B doesn't have one of the best black management you can find. It does have a good brightness ratio, but if you crank up the brightness in a dark room, the blacks will become gray and you'll not have a great experience with the screen.
As we just said, you won't have this issue with VA monitors, but the VA panel itself has its own set of downsides.
On the other hand, the IPS of this monitor isn't as bad in a bright room, so during the day you can max out the brightness with no fears.
During our tests, this monitor fared even better than some 350 nits monitors. The LG 32GN63T-B and the LG 27UN850-W – often more expensive screens, didn't quite match up to this one, which is something we surely weren't expecting. With that, even though it only has 300 nits on paper, it is slightly better in reality.
Surprisingly, it provided a slight advantage in competitive games, although it still falls short of top-tier performance.
With all that, we can confidently say that this monitor has an exceptional maximum brightness level, outperforming many other models we have reviewed. Still, there are better options for those who want or need the best of the best like the LG 34WK95U-W, but be ready to spend a huge sum.
Refresh rate and Response time
Even though we used competitive games to test this screen, this gaming category is definitely not the one you should play with this monitor.
To begin with, it has a 34-inch size, which, coming as no surprise to anyone, isn't a recommended size for gaming monitors.
Besides that, it falls short of delivering a fluid experience with only 60hz of refresh rate.
In some cases, the high resolution and size of ultrawide monitors make up for the lack of smoothness. However, if we talk about gaming only, you surely won't have the best and smoothest experience.
Fortunately, you currently don't need to go bankrupt in order to afford a good 144hz ultrawide screen like the LG 34WP65C-B. That monitor has a VA panel, and, unfortunately, a good IPS 144hz one like the ASUS XG349C is still quite expensive.
In any case, with 5ms of response time, the lg 34wq60c-b falls short in terms of motion blur. During our tests with valorant, motion blur was all over the place, which significantly impacted the player's performance.
Obviously, it was manageable during casual and story-focused games like God Of War, but you can still see it there if you pay close attention.
One undeniable advantage, however, is the immersive experience of playing casual games on ultrawide screens, particularly those with accurate colors like this one. Even if I personally don't like the lack of fluidity, I can see some people putting it aside completely and enjoying using this monitor for gaming.
Now, if I had a choice of either a 144hz VA screen or a 60hz IPS I wouldn't think twice and go with the former.
In any case, the LG 34WQ60C-B also has the Freesync premium feature, which will help with screen tearing during your gameplay.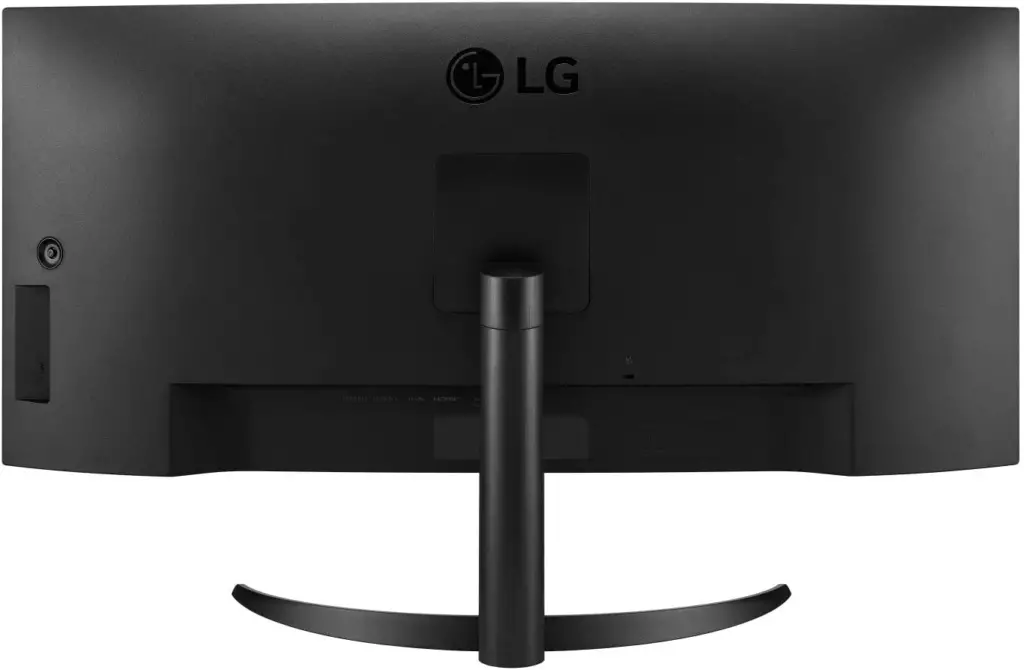 Image Overall Quality
If there is one thing LG didn't skimp on this monitor, it's the image quality. Of course, it is still a mid-end monitor so you can't expect the best of the best, but it is above average for that matter.
Starting with one of the best features, we have its colors.
Now, if you were expecting vibrant and vivid colors, then you may be disappointed, as this monitor has a considered low color gamut of sRGB 99%.
Compared to DCI-P3, the sRGB 99% will sometimes even be called washed out. On the other hand, If color accuracy is a priority, then both can have almost the same precision, even though one supports fewer colors than the other.
This monitor has great color accuracy out of the box, which makes it stand out in its class. It comes pre-calibrated, therefore, you may not necessarily need to adjust it yourself, but it is still recommended to do so if you work with media edition.
Besides the great accuracy, the LG 34WQ60C-B also supports 1.06B colors, providing a 10-bit color depth, and enhancing the gradient's smoothness, which is another useful feature for media professionals.
Bear in mind, this is a mid-range monitor and it does have great colors, but if you're going to work with this, it may be better to invest more and get a high-end model like the ASUS XG349C.
Moving on to the other features, we have its high resolution. Its 3440 x 1440 resolution is enough to fill its 34-inch screen and maintain a solid PPI of 110.
If you squint you can manage to spot some pixels sprawled around, depending on your distance from the screen, but it is enough for immersive gameplays.
The fact is, it would've been way worse if this was 1080p instead, which believe it or not, some manufacturers implement for this type of screen – take the LG 34WP65G-B for instance.
Note, this monitor supports HDR 10, but it isn't bright enough to give you a true HDR experience, therefore, make sure you don't count this as a decisive feature for your purchase.
Final thoughts
When to buy it
While it has some mediocre features like HDR 10 and 60hz, a much more important factor to consider before the purchase is the monitor's price. The LG 34WQ60C-B is currently at around 500 dollars.
At that price range, you can be sure it isn't hard to find something better, like the LG 34WP85C-B and the HP X34. In either case, if you can get it at a good discount or a used unit, you'll most likely not regret the purchase, as it is undeniably a solid monitor.
You may like