Our Conclusion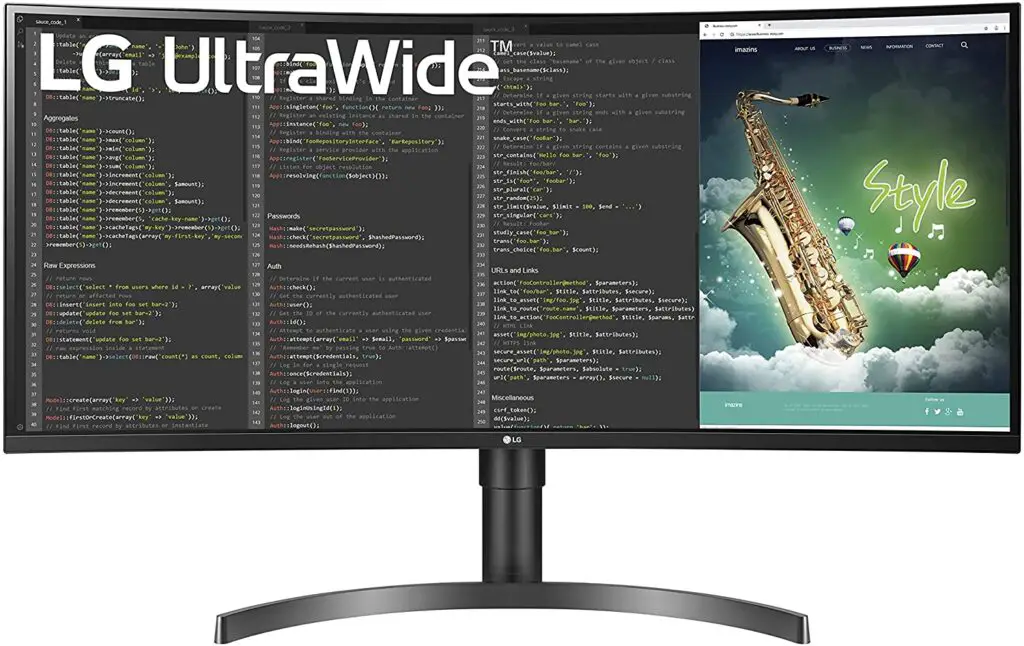 The LG 35WN75C-B is unquestionably not a viable option for an ultrawide display at this time. It fails miserably in terms of gaming features and visual quality and is also one of the worst in its price range in terms of price-performance. This monitor may be used as a gaming monitor, however, if you truly want to spend your money wisely on a good gaming ultrawide monitor, I recommend the MSI Optix MAG342CQR or the ASUS XG349C.
Pros
✓ High-quality out speakers
✓ USB-C port
✓ HDR 10
Cons
✘ Salty prices
✘ Basic features
Unlike the low-end monitor category, the high-end part has more variations and distinctions in the models that fit it. Not just in terms of functionality, but also in terms of aesthetics. Ultrawide high-end screens also follow this pattern, with one being significantly different from the other.
If you're looking for a high-end ultrawide monitor, the ASUS XG349C and the MSI Optix MAG342CQR are unquestionably one of the finest affordable alternatives currently – with lower than average prices. And in today's post, we'll take a look at another low-cost high-end ultrawide display to see if it's worth it, or if you should avoid it. Check out the LG 35WN75C-B Review to see whether this is the best option for you.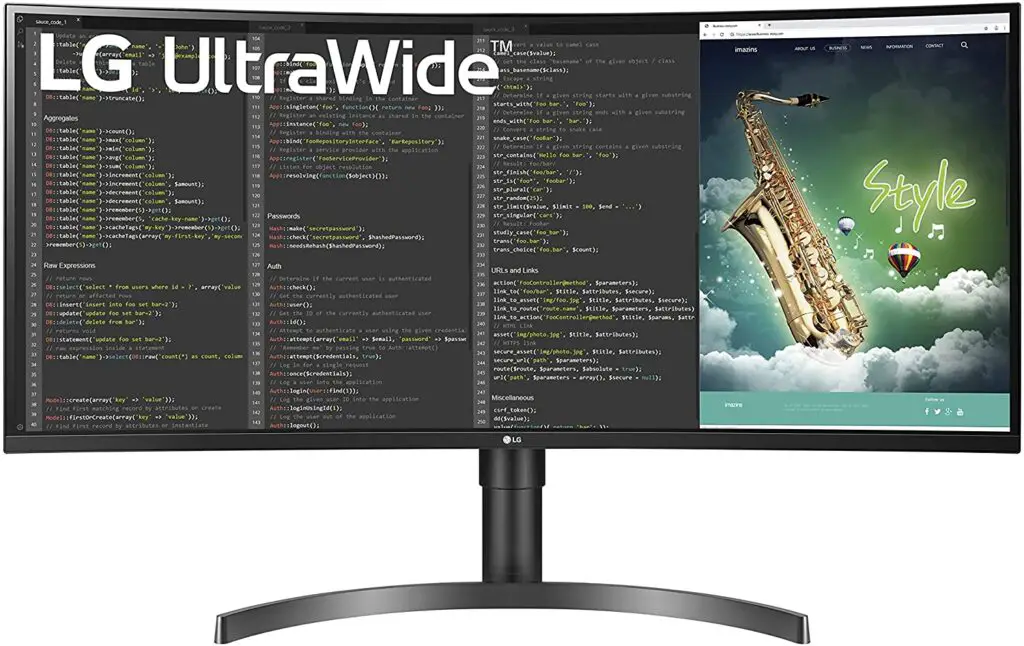 Design
Despite the fact that ultrawide displays from different manufacturers vary significantly, LG monitors in this series are often very comparable. This monitor lacks several truly unique features, and it is similar to the LG 34WN750-B.
It's also worth noting that LG monitors, (except for its Ultragear line) typically lack eye-catching accents and gaming patterns in their overall appearance, which might be a drawback for some.
This one features the 3-sided borderless bezels as well as a very thin bottom bezel, firmly placing it in the contemporary category. This LG monitor isn't the thinnest in the company's lineup, but it is within the industry's standard though. 
The LG 38WN75C-B is presently one of LG's thinnest ultrawide displays, however, it measures 38 inches instead of 34.
Speaking of which, this monitor is very huge, so make sure you have enough room on your desk to accommodate it. It has the following dimensions: 32.7 x 9.9 x 18.2 inches. The good news is that you can easily mount it on the wall thanks to the VESA support it offers.
It's also worth noting that this monitor features a very ergonomic stand that allows you to adjust it in a variety of positions – including tilt and height.
Another highlight of this display is the dual 7W out speakers, which provide excellent clarity but aren't quite up to par for a high-end monitor. Still, you can rest assured that it will provide you with higher overall quality than low/mid-end displays.
Overall, this monitor has a robust construction and very durable features, but it lacks the more gaming feel that some people want in this sort of screen. 
So, if you want a screen with such characteristics, I recommend the MSI gaming line, which includes the MSI Optix MAG301CR2, as one of their best options. 
Connectors
Also, this monitor has some high range of connectors, but nothing out of the usual for its current price range. It includes 2x USB Downstream Port, 1x USB-C, 1x DP, 1x HDMI, 1x Headphone-out.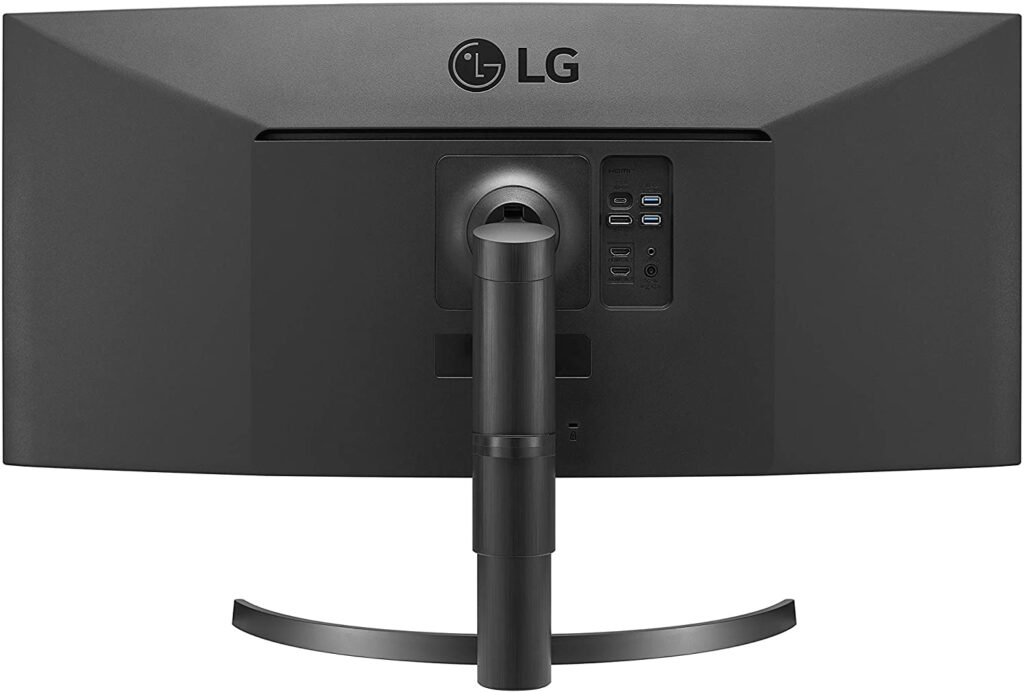 Features
Panel type
As previously stated, an ultrawide monitor with a cheap price tag is likely to have a VA panel. However, once the $700 margin is exceeded, the IPS panel emerges as the winner. 
Some argue that an IPS panel is required for a monitor to be considered professional-focused. Still, as we'll see in the image quality section, the color gamut and color coverage are key aspects to look for in a professional monitor.
This panel not only has excellent image quality, but it also has excellent viewing angles, which, when paired with a decent brightness ratio, allows you to see the colors of every displayed image clearly. 
However, now that you know all of the advantages of an IPS panel, you may understand our disappointment at learning that this monitor features a VA panel, which is inferior than an IPS panel in terms of color fidelity. 
Even so, it has the advantage of having a greater response time ratio than an IPS panel, yet as this isn't a gaming monitor, I'm not sure why they chose this panel over an IPS one.
Brightness
However, when it came to the brightness ratio, everything started to fall apart even further. Although 300 nits is more than plenty for 95% of users, I'm not going to lie: I was anticipating something in the 350 or 400 nits range at this price. 
This isn't a terrible thing for the screen's performance, but it is for its overall price performance, given cheaper ultrawide monitors with 350 and 400 nits, such as the LG 34WN650-W, are already available. 
When we state that this will not affect the monitor's performance, we mean that a monitor with 300 nits will be able to do the job even when exposed to direct sunshine, but a monitor with 350 or 400 nits will perform better.
Refresh rate and Response time
Using Freesync technology, this display can produce smooth visuals by eliminating screen tearing during casual use and gaming. Speaking of which, this monitor features the VA panel, which has some excellent response time ratios, but this monitor on its own only has a 5ms GTG, which isn't really fantastic for a monitor in this price bracket.
Aside from that, it only offers a refresh rate of 100hz, which is lower than the 144hz or 240hz suggested for gaming screens. As a result of all of this, this monitor falls short of giving a good and acceptable level of gaming features, delivering you essentially the same basic functions that you can find better even for $300 gaming displays.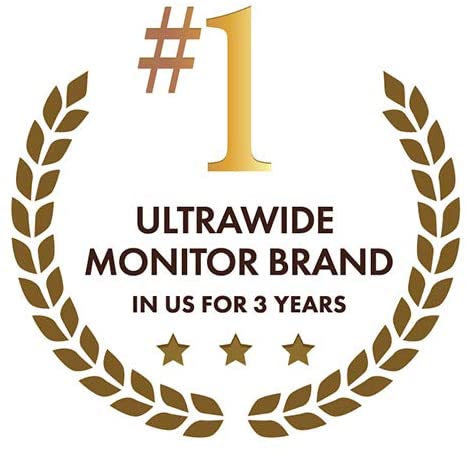 Image Overall Quality
We could stop here because this monitor is clearly not worth what it gives. But we'll tell you about our impressions of the overall image quality.
This monitor strives to be on point for all it should give, but it falls short, giving just a few casually targeted features. It includes a basic 8-bit color pattern with 16 million supported colors, which gives you reasonable accuracy but isn't as professional as a 10-bit pattern.
At the very least, it supports HDR 10, although this is just another fundamental function that can be found on far less expensive monitors. 
Overall, the VA panel and HDR 10 functionality give this screen some decent contrasting colors, but it falls well short of what we expected from an $800 monitor.
Final thoughts
When to buy it
Seen the features of the LG 35WN75C-B, if you find it roughly 600 dollars, it can indeed be a good choice – but at the prices it is being sold currently, it is indeed an option you should avoid. So, instead of buying this one, you can check the MSI Optix MAG342CQR and see if it meets better for what you need. 
You may like