Our Conclusion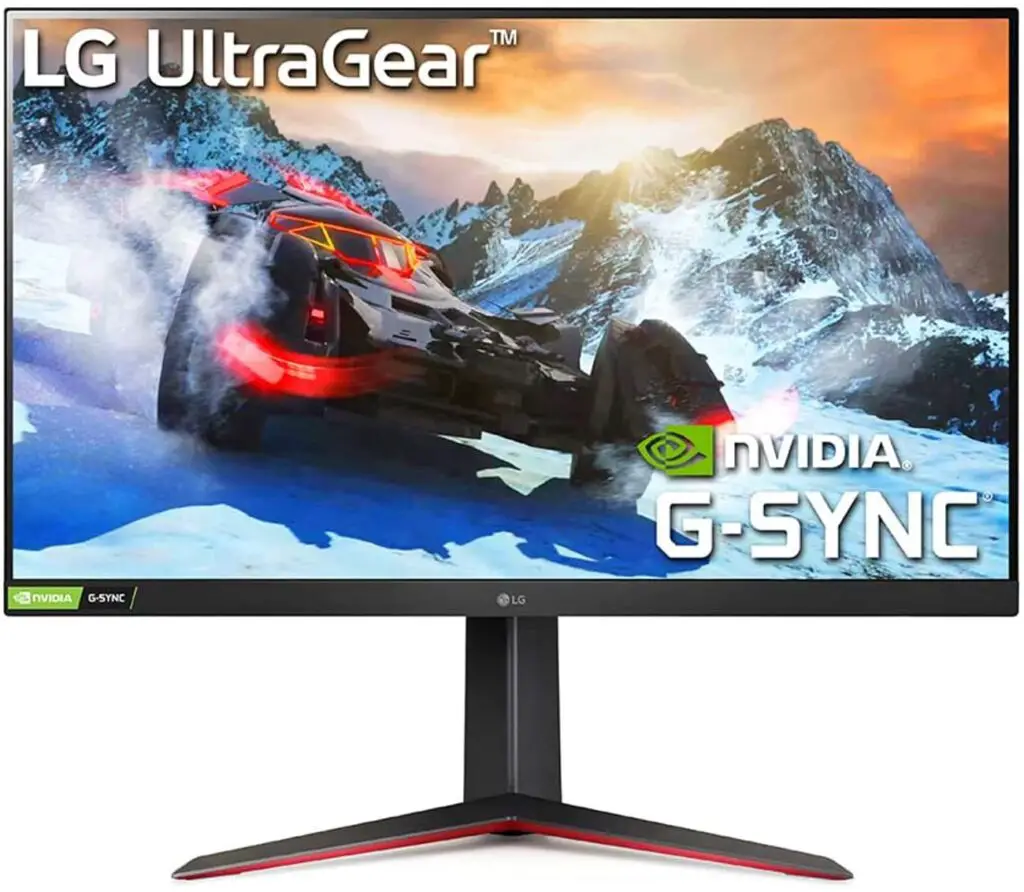 If you can get the refurbished version, the Lg 32GN63T-B is presently among the least expensive 32-inch 1440p screens with a high refresh rate. Still, the HP X32, one of the greatest 32-inch gaming panels currently available, offers a significantly better price-performance ratio for those looking for a new screen.
Pros
✓ 1440p
✓ HIgh contrast
✓ High refresh rate
✓ Budget
Cons
✘ Concerning amount of motion blur
✘ Low color accuracy
The most popular gaming monitors range in size from 24 to 27 inches, depending on the resolution. However, some consumers might not want to spend a significant premium for a 4K display even though they would like a bigger viewing area.
The quality variations you notice with the same resolution may vary depending on how far away you are from the screen, and those differences will be more evident on larger screens. Due to that, 32 inches gaming displays are less common to be trendy since players often sit closer to their monitors while playing.
But on the other side of things, there are the ones who prefer to play on a bigger screen, disregarding all the downsides.  If you are one of those, on today's post we have just the type of monitor you'd like. Check out the 32GN63T-B Review, with one of the newest LG monitors.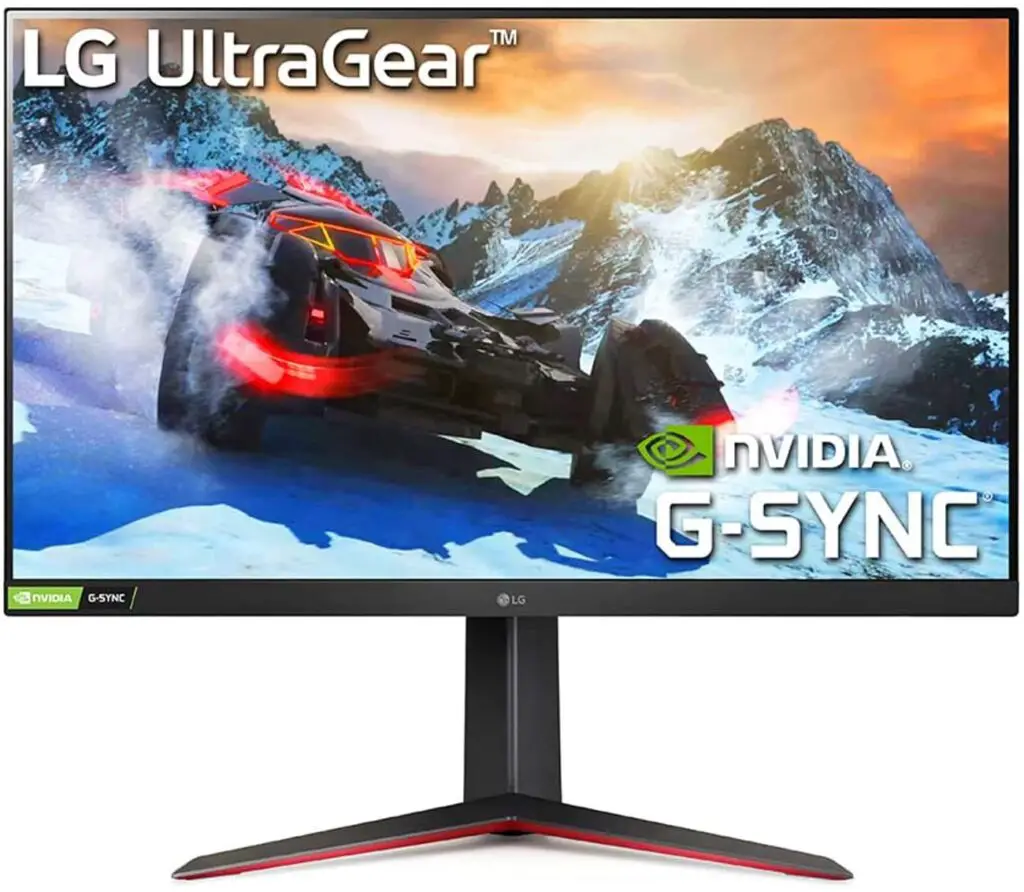 Design
The LG Ultragear series has a rather distinctive style to boast about, while not having the most praised monitor aesthetics of all time. It has some red highlights all over the screen and often comes with a rather heavy stand, which is not ideal for minimalists.
In fact, utilizing this stand might be quite negative for those with limited desk space because it takes up more room than comparable gaming monitors in its class.
However, those with enough space on their desk to use this included stand should rest easy, knowing that it will not restrict your ability to adjust it, providing pretty much everything needed for a good stand. A cable pass-through hole is located in the center of this tilt-height-pivot stand. 
We can say that this sort of screen is not suitable for individuals who seek a basic-looking and clean setup because of its bulkiness and the fact that the monitor has other elements that make it stand out. Remember that if you don't like this stand, you can get a better one and utilize the VESA support to save some desk space. 
By the way, this screen measures 28.1″ x 16.9″ x 2.0″ and weighs 15.9 lbs which is a little bit more than casual displays, but it won't make much of a difference in the end.
Only the bottom bezel must bear the burden of being full-sized because the other three have the contemporary-looking borderless type. The good news is that this won't really matter for day-to-day use, and the three-sided ones should be plenty for blending in nicely with a secondary monitor.
Considering the mentioned aspects, "matching" is still a little challenging with this screen, so unless you get a second Ultragear monitor and build a setup with a black-and-red pattern, this monitor will always stand out.
Overall, we can conclude that it has the essentials of a $200-300 screen, an adjustable stand, borderless bezels, and some basic materials, all of which must be adequate for the vast majority.
Connectors
The connections aren't exactly the masterpiece here, but they do provide most of the requirements for the display as expected for this price range, including 1x Display port, 1x HDMI, and 1x Headphone-out.
Features
Panel type
The panel is one of the primary factors that allowed them to sell this monitor so competitively—it is now listed on Amazon for $239.99. The IPS panel is now the most costly, especially when utilized for professional monitors, but that does not mean it is better in every way than the VA.
In fact, each panel has a unique set of advantages and disadvantages, and some may function better under certain circumstances.
Because of its high responsiveness, the VA is one of the most popular panels for high-end gaming, but these days, the IPS is catching up to it. This panel's high contrast level, which makes black pictures appear darker and more realistic and makes it an excellent choice to watch in a dark environment, is one of its key advantages. 
On the other hand, the IPS panel's biggest flaw -the IPS glow- makes it not suggested for this same setting. Every IPS panel emits some glow, leading to grayish blacks. This effect is easily spotted in less lit environments.
The IPS, on the other hand, provides greater overall color accuracy and typically has more opportunity for calibration advancements. Since each panel has distinct advantages, it will ultimately depend on the user's preferences and requirements. 
Even if you've used an IPS panel previously, the panel on this screen won't let you down, that much is certain. But if you feel you need an IPS one instead, you can check the: LG 32GP850-B, which has similar features but higher prices.
Brightness
As we occasionally point out in our reviews of IPS panels, a high brightness level may be a double-edged sword because the more brightness there is, the more noticeable the IPS glow is, as well. 
Contrarily, this is not a problem with VA panels, and increasing brightness will result in a stronger contrast for whites even in a dark room, therefore setting a decent peak brightness for VA monitors is always a good idea.
And fortunately, this display has 350 nits of peak brightness on paper, which is more than enough for most applications. This monitor performed admirably in a bright room during our tests, but not as admirably as some other VA panels we tried, so we can't suggest it if you need a particularly high brightness ratio. 
However, the handling of reflections is adequate, staying within the requirements of the price range and giving you sufficient glare control. With all that in mind, we can once more conclude that this monitor offers the ideal characteristics for its price range. 
And given that it has, so far, demonstrated some reliable characteristics, we can anticipate this will be a pretty nice gaming option for this season.
Refresh rate and Response time
Unfortunately, as not everything is peaches and cream, this monitor's gaming capabilities have a small number of drawbacks. First, the positives: Its refresh rate is 165 Hz, which is often only available on higher-end and pricey monitors, especially ones with such high resolution.
By the way, the sweet spot for 1440p is presently claimed to be 165hz because most graphics cards still struggle to achieve those frame rates on demanding games at that resolution. 
However, the 240hz option may be a better alternative for individuals who play mostly competitive games and other less demanding games. In fact, 240 Hz is the most suggested refresh rate for competitive games, as it will provide you a significant edge over 165 Hz and higher responsiveness.
But in the end, given that competitive gamers don't frequently choose gaming monitors with screen sizes of 32 inches or more, it goes without saying that this is not your best option if you want to participate in the competitive scene. 
Additionally, the ghosting on this screen might be a hindrance for competitive games and is quite evident while playing fast-paced titles. This monitor's GTG reaction time is just 5ms, which is far slower than the 1ms MPRT advised for the best responsiveness.
So, regrettably, these faults deter some potential consumers from purchasing this monitor, which is terrible because it easily could've been among the most economical options 32-inch gaming options of the year. 
However, keep in mind that this monitor is still suitable for casual gaming because it has FreeSync premium, assuring tear-free graphics while you play.
Image Quality
When all things are considered, the other image quality attributes on this screen, aside from the 1440p resolution, are quite lacking. Even while 1440p is a useful feature on its own, the visual clarity is undoubtedly not as sharp as it should be when paired with a 32-inch display.
When comparing such resolutions, the differences are evident. Some claim that 4k is preferred for 32 inches. For people who use the screen from a greater distance, a 32-inch 1440p monitor's PPI is sufficient because it is practically identical to that of a 24-inch 1080p monitor.
On the other hand, while viewing the images closely, the pixels are clearly visible, so take that into account when selecting a monitor of that kind. 
In terms of resolution, we can state that this monitor continues to offer a decent cost-benefit. However, a significant percentage of the gamut is unsatisfactorily lacking when it comes to color fidelity. 
It supports the usual 16M colors, but only 95% of the sRGB gamut, which may not seem like a big problem on paper but can really be noticeable to individuals with keen eyes.
The colors on the Lg 32GN63T-B are a little bit off from what you may consider a professional level of accuracy, due to the short gamut and the lack of a decent pre-calibration. 
The accuracy is far higher than the delta 2 and tends to be on the cooler side. In addition, compared to a calibrated screen, the reds and green colors and sub-colors are unreasonably dull and have inaccuracies.
The good news is that you can calibrate it to have a more enjoyable color performance. However, calibration won't make up for the 5 percent of the missing gamut, so if you require precise colors, this is not the monitor for you. On the good side of things, this monitor has some pretty nice deep black and whites due to its 3000:1 typical contrast ratio. 
Anyways, if you need a professional monitor to work with a media edition of sorts, you'll be better served with something like the: ASUS PA329CV, which costs way higher but can be worth the investment.
Final thoughts
When to buy it
We can't deny we were a little bit disappointed by the features and performance of this screen. At first, when we saw it was featuring some promising costs we thought it could've been another monitor for LG to brag about and make the consumer's wallet content. Unfortunately, the cost of such high expectations was the disappointment of seeing how it lacks some really important parts for the majority of buyers.  
Bear in mind though, currently, the renewed version of this monitor is around $220, which puts it into the most affordable 1440p 32-inch displays category. So, in that case, if you can live together with the mentioned issues, this monitor is just your choice to save some money. 
However, if you are more comfortable affording a new monitor, the HP X32 is a much better deal for you, costing just a couple of bucks more, but really worth the money being an overall better screen. 
You may like