Our Conclusion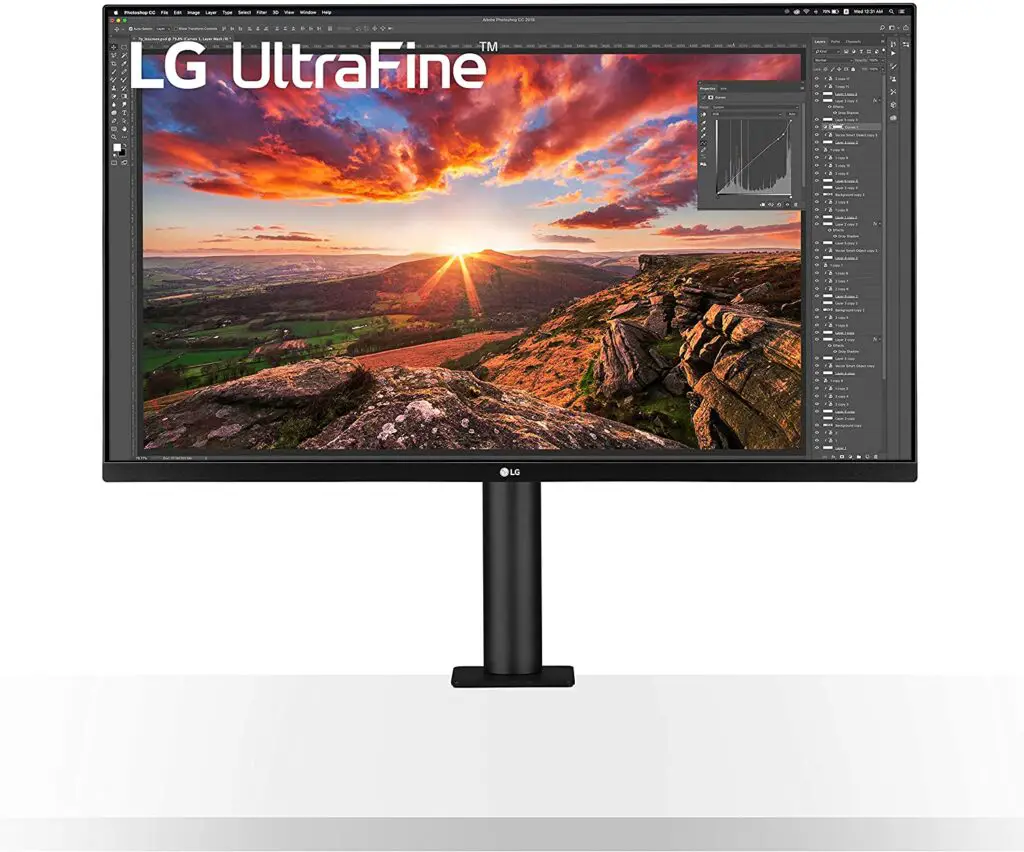 The LG 32UN880-B doesn't have any unique features for its steep price range, but it remains one of your finest options for an ergonomic display, thanks to all of its professional features and a 32-inch size that works well with the 4K resolution, providing enough screen real state. It's a fantastic option for those who need a professional/ergonomic 32" monitor. Presently, the LG 32BN88U-B is on sale and around $50 cheaper than the LG 32UN880-B making it a much better deal, given how both share almost identical features.
Pros
✓ Ergo stand
✓ IPS panel with accurate colors
✓ HDR 10
✓ USB-C port
✓ 2x 5W out speakers
Cons
✘ Salty prices
✘ 60hz of Refresh rate
One thing we can say about ergonomic high-resolution screens is that they are often more expensive than the other types.
Of course, during a sale, you may still find some at reasonable prices, but other than that, the prices usually remain consistently high, and they have been like that for a couple of years.
This sort of monitor, on the other hand, generally includes high-end features that match the high costs – usually catering to media professionals.
And in this LG 32UN880-B Review, we will examine whether the monitor's features justify its steep price. Without further ado, let's determine if this monitor truly delivers value for its current cost.
May 19, 2023 Update: We rechecked the LG 32UN880-B's current price and compared it with the LG 32BN88U-B. We also corrected typos and added more images and information about the monitor's features.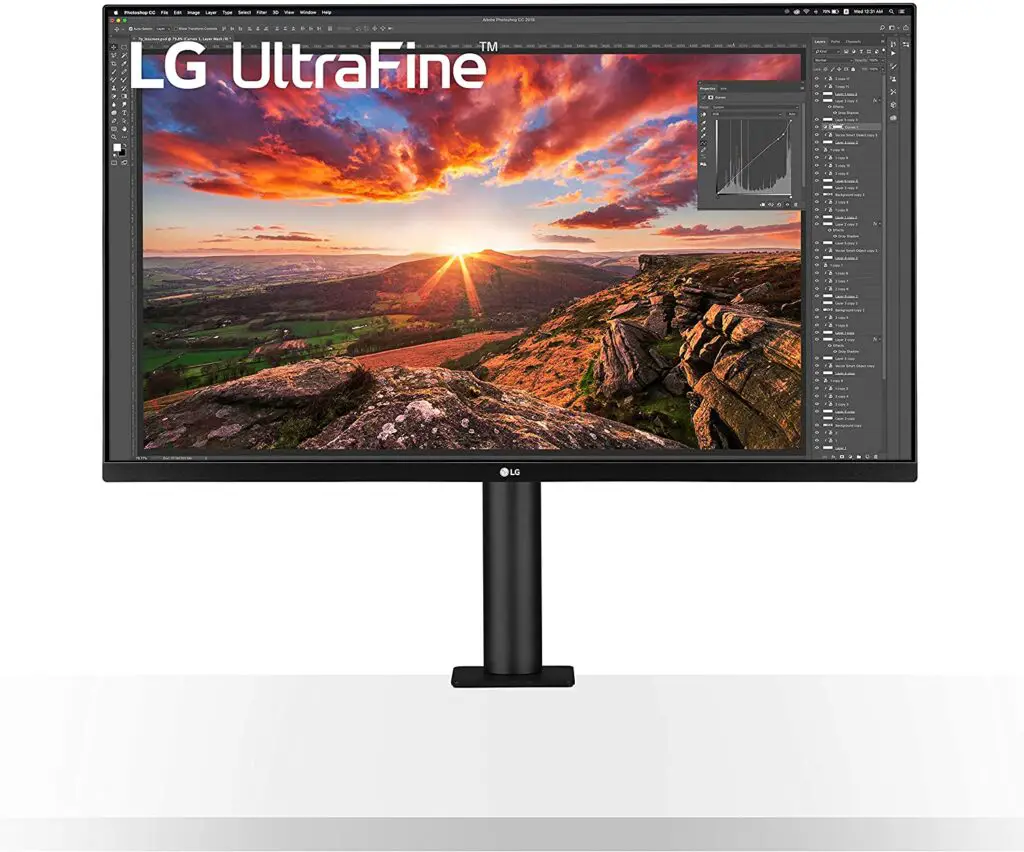 Design
This monitor, belonging to the same line as the LG 27UN880-B, bears a striking resemblance.
The main distinction lies in their sizes, with this one measuring 32 inches and dimensions of 28.1 x 16 x 25.2 inches, while the: only has 27″.
In terms of aesthetics, it sports a sleek matte black finish and boasts 3-sided borderless bezels, aligning it with contemporary design trends.
The standout feature, as is common with ergonomic displays, is the stand, which offers various adjustments such as Tilt, Height, Swivel, Pivot, Extend, and Retract, making it truly ergonomic.
Looking at the rear of the display, we can see that they chose to keep the entire panel plain and sturdy. The whole back is devoid of eye-catching features, save for the LG logo catching the eye. 
It's also worth noting that this monitor has VESA support, allowing you to mount it on the wall if desired. There are also 2x 5W out speakers with decent sound, nothing spectacular, but it does have a nice quality running in.
The speakers on this monitor offer moderate maximum volume. While they surpass the quality of low-end speakers, they don't quite reach the level of premium monitor speakers.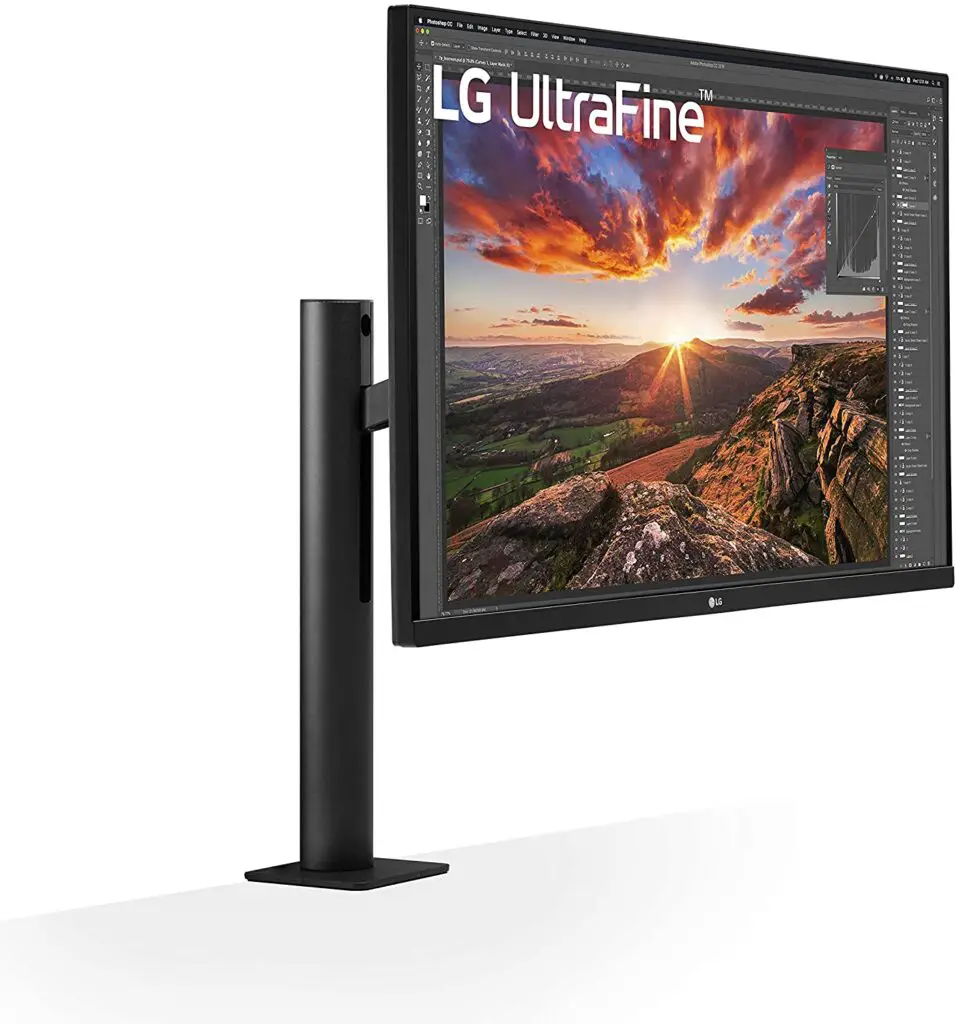 Connectors
We can also see that there is a bunch of connectors, which is typical for this price range. This display includes 2x HDMI, 1x Display port, 1x USB-C, 1x Headphone-out, 2x USB downstream ports.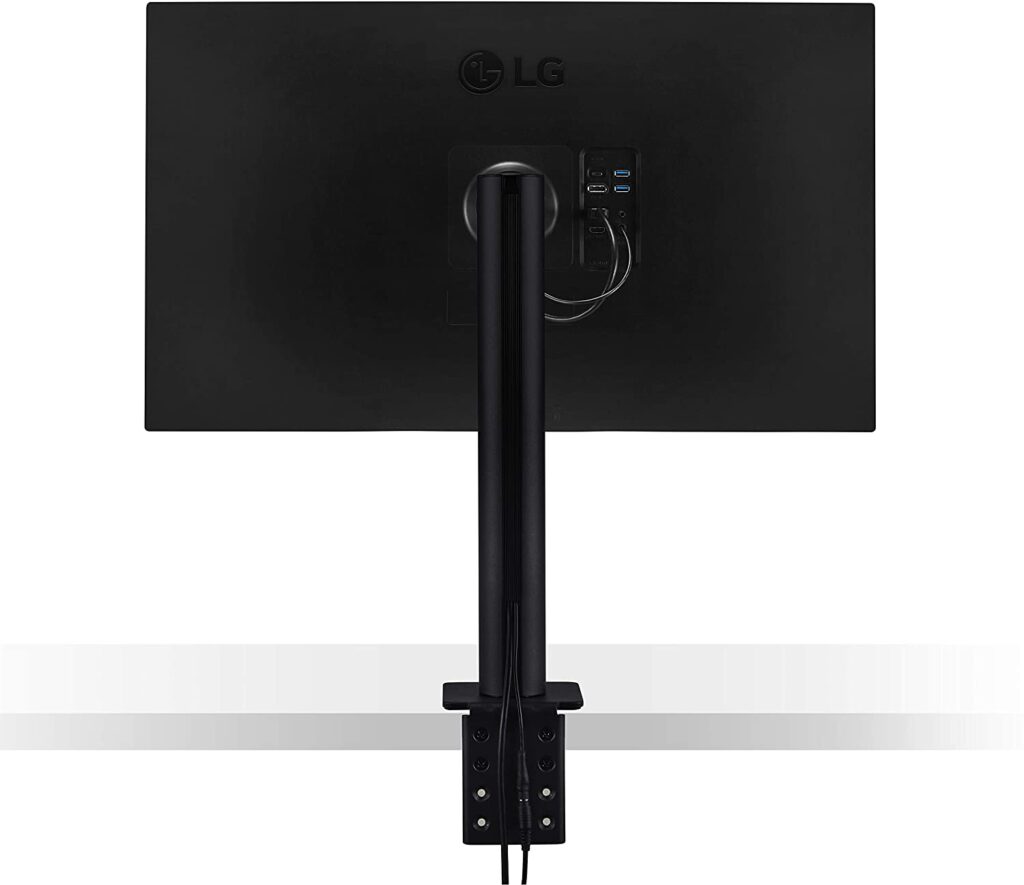 Features
Panel type
One of the clear indicators that this display is geared towards professionals is the presence of an IPS panel.
In the realm of professional displays, the two primary panel types are IPS and VA, with VA offering lower costs but inferior color accuracy.
The TN panel, known for its limited viewing angles and color accuracy, should not be considered for professional displays. It is regarded as the worse among the three in terms of colors.
While each panel type has its own strengths and weaknesses, the IPS panel stands out for its exceptional viewing angles and color accuracy, making it a top choice for professional displays.
Additionally, the IPS panel enables the display to achieve impressive color gamut and supported colors.
Bear in mind that, while this monitor has a very steep price tag, it is still far from being the most expensive you can get. Due to that, its colors aren't exactly on par with the top-of-the-line $1000+ screens, at least not out of the box.
After calibration, things fortunately turn to the good side, and only then we can see the true potential of the monitor. In any case, we'll save all that for the image quality section.
Brightness
In order to keep the pricing as low as possible, they opted not to use the best brightness ratio available for displays at the time.
Instead, they took a step back and decreased the LG 32UN880-B's brightness to 350 nits.
This brightness ratio is sufficient to ensure that you see the correct and precise images even while using the display during the day in a bright room.
Also, if the screen is exposed to sunlight while you're using it, you can be sure that the high brightness ratio and the IPS' increased viewing angles will allow you to view the exact pictures without difficulty. It also has one of the best reflection handlings we've seen in this price range, so glare wasn't spoiling the overall experience.
Unfortunately, for use during the night or in a dark room, it isn't recommended to crank up the brightness that much due to the IPS glowing. On the bright side, this monitor is far from being the worse in terms of black consistency so it isn't as bad as it could be. Either way, don't expect the deep blacks you get from VA monitors like the Asus VG32VQ1B.
Refresh rate and Response time
They included support for AMD FreeSync to keep the image smooth and compensate for the display's relatively low refresh rate, which will decrease screen tearing throughout your use. 
Unfortunately, this monitor only has a 60Hz refresh rate, which isn't the greatest you can get right now. It would've been even worse to play games if this monitor didn't have the Freesync technology. In any case, we shouldn't expect too much from the gaming features of a professional monitor.
We must keep in mind that this display is somewhat niche, and the target consumers aren't usually very concerned with the image's smoothness. 
Also, at this price range, the best this monitor could offer was 75hz, which would be beneficial but would also add a few dollars to its final price. 
Another common specification found in professional displays is a 5ms response time, which tends to be sufficient for professional usage and casual gaming.
5ms is definitively not enough for competitive games, but for the casual ones it is sometimes even more than enough. It helps with motion blur reduction, which isn't a really appealing feature to professionals.
Of course, if you are going to play some games it is always good to aim for the lower ratios, but, once again, responsiveness is clearly not the main focus of this screen.
Due to its strikingly good features for professionals and ergonomic stand, this monitor is still more expensive than a 144hz 32-inch screen like the MSI G321CU.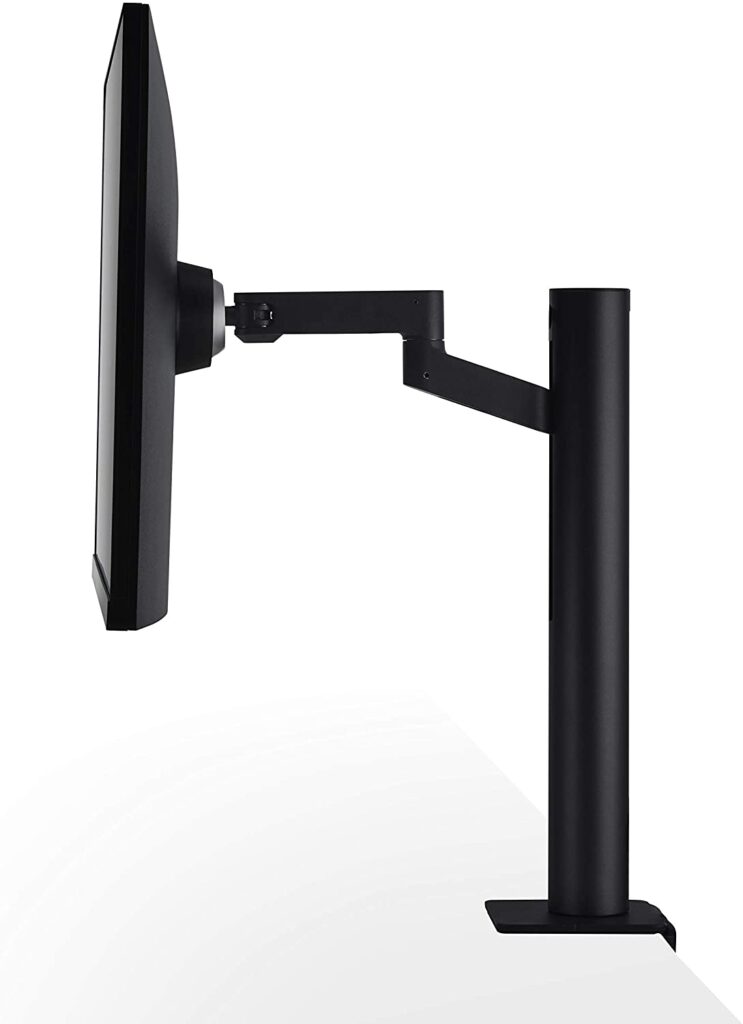 Image Quality
One thing to keep in mind is that the LG 32UN880-B and its 27-inch version have nearly identical features, so if you don't want a 32-inch screen, the 27-inch one should suffice. 
Both have the same image quality. However, owing to its larger size, this one has a weaker image sharpness. 
The 32-inch, on the other hand, is a better match for the 4K resolution, since there will be enough screen space to avoid displaying tiny pictures because of the high resolution. 
As a result, the 32-inch model has a clear advantage in terms of general usability and image quality.
Furthermore, thanks to the real 10-bit pattern supporting up to 1.06B of colors, this monitor can achieve awesome levels of color gamut, making this feature a must-have for media professionals. As a result of increasing the supported colors, when turned on, 10-bit colors will make every gradient smoother.
Besides that, this monitor offers a DCI-P3 95 percent color gamut, which is broader than sRGB, but you must ensure that the programs you use to support this type of gamut. 
To help with all of this, they chose to add HDR 10 support, which increases the contrast between colors and darkens the shadows even more. 
Of course, if you're looking for a monitor just for HDR compatibility and want to get the most out of it, an HDR 600 or HDR 1000 display is the way to go. 
So, in general, we can conclude that this monitor is a better choice than its 27-inch counterpart, at least in terms of features, as it is larger and has a higher resolution. 
However, keep in mind that this model costs $200 more than its younger brother, so the  27-inch version may be preferable for you in the end, depending on your needs.
Final thoughts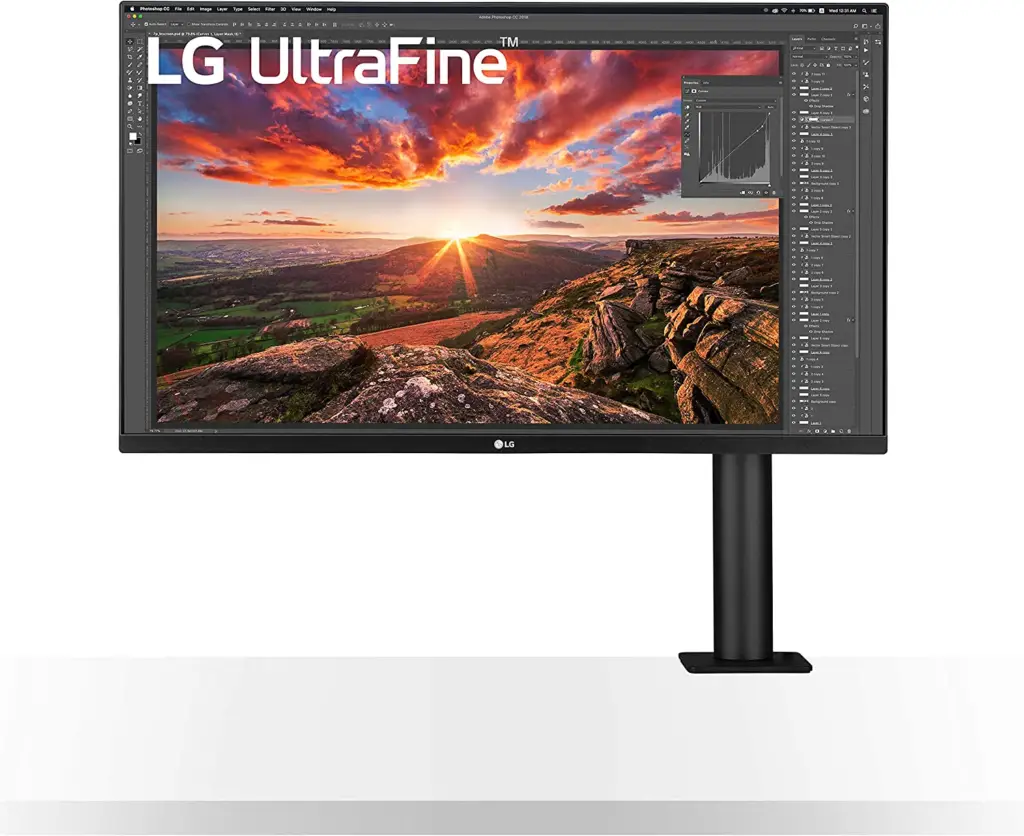 | | |
| --- | --- |
| Resolution | 4K (3840 x 2160) |
| Size | 32″ Curved |
| Panel | IPS |
| Refresh rate | 60hz |
| Response time | 5ms GTG |
| Contrast ratio | 1000:1 |
| Color gamut | DCI-P3 95%, 1.06 B |
| Brightness | 350 cd/m² |
| Ports | 2x HDMI, 1x DP, 1x USB-C, 2x USB |
When to buy it
If you need a good 32-inch 4K ergonomic monitor, you surely won't go wrong with the LG 32UN880-B. It is a great monitor and one of the only 32″ 4K choices at this price tag.
Right now, it is competing with the LG 32BN88U-B. Both share basically the same features but the LG 32BN88U-B is more often on sale, so be sure to check that one out as well before making your decision.
Note, however, that its 27-inch version is costing 200 bucks less, so depending on your needs it may be better to afford that one and save your money, as both have basically the same features. 
You may like