Our Conclusion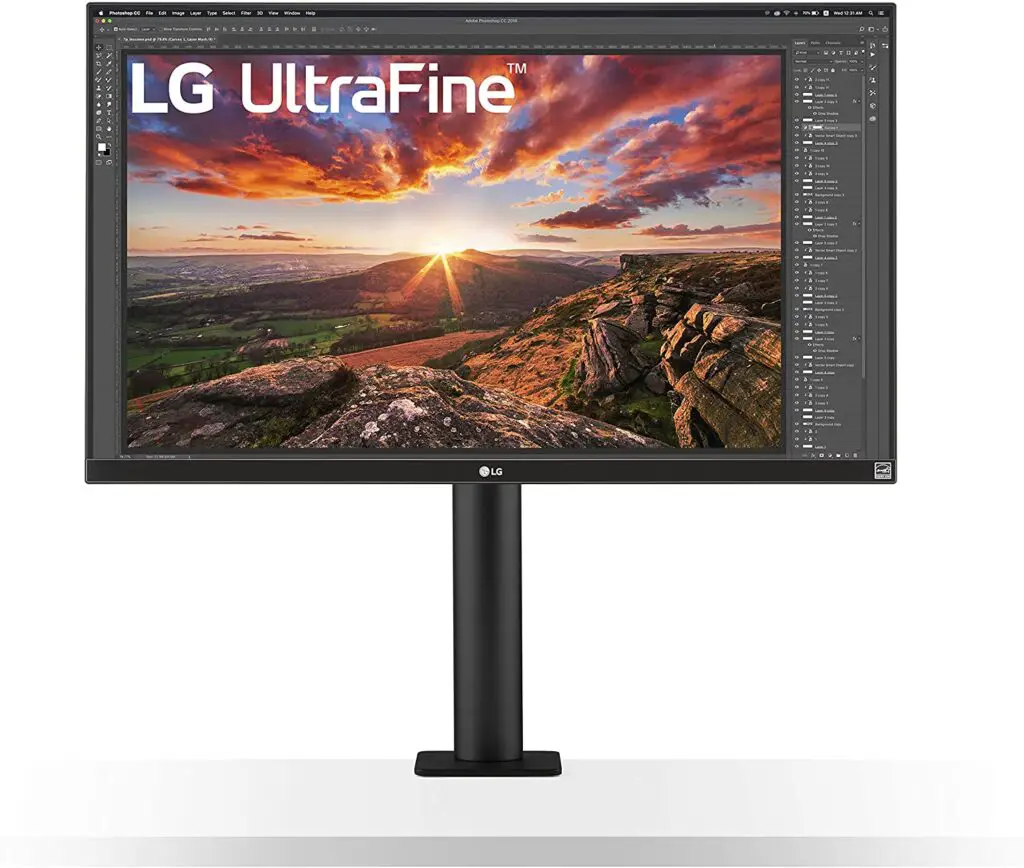 If you require an ergonomic display with professional features and excellent color accuracy, the LG 27UN880-B is an excellent choice. It has HDR compatibility and 10-bit colors, which means it has a wide color spectrum. However, due to its ergonomy features, it may be a little too expensive for some; if this is the case, you may like the Dell U2722D, which is one of the best in terms of color accuracy currently available.
Pros
✓ Ergonomic stand
✓ 4K
✓ IPS
✓ 10-bits color
✓ USB-C port
Cons
✘ Salty prices
✘ Avg quality out speakers
Professional monitors with ergonomic stands, as shown in the LG 34WN780-B Review, have an ultrawide overall size as a standard pattern. These monitors are normally quite expensive, especially when they are integrated with high-level professional features. 
But, to break with convention, for today's post, we have a new LG release, a 27-inch ergonomic monitor at currently lower-than-average costs. As a result, we decided to take a look at its features to see if it's still worth it.
So, without further ado, let's have a look at the LG 27UN880-B review to see if it's a good fit for you.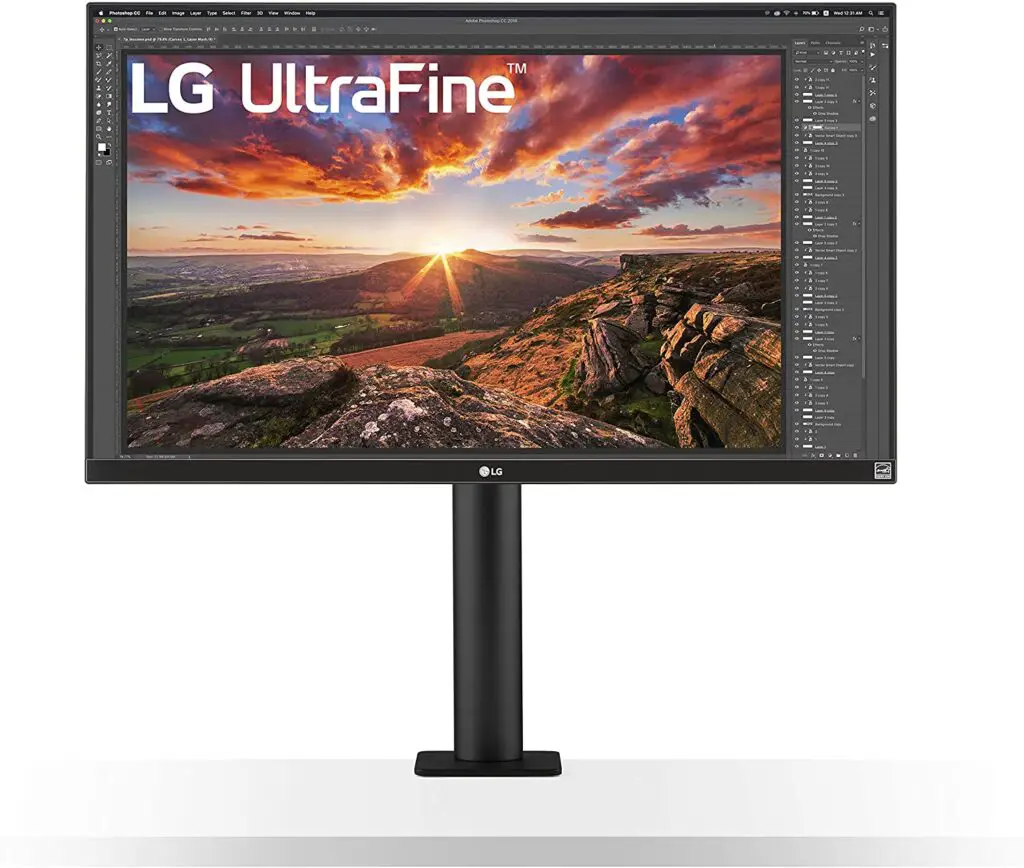 Design
At first sight, this display looks quite similar to the LG 34WN780-B, but this one is an ultrawide panel, whereas the LG 27UN880-B is a 27-inch standard monitor. 
It has fairly conventional LG patterns, is completely matte black, and has a very slim overall design measuring only: 24.1 x 15.8 x 23.5 inches. 
They also decided to adopt the 3-sided borderless bezels, which are the most significant aesthetics aspects for a monitor to fit into the modern category and match the modern vibe.
The stand is the focal point of this display since it allows for a wide range of changes, including tilt, swivel, height, expand, retract, and pivot, but it must be fixed to the desk to keep the display stable.
Looking at the back of the monitor, we can see that it has VESA support as well as a slew of ports that we'll go over in more detail in the connectors section. 
Furthermore, this display includes 2x 5W out speakers, which will provide you with average sound for its price range, i.e. not awful but not great.
In summary, this display does not appear to be particularly unique, but it does follow the LG trend in terms of aesthetics, keeping the modern vibe into it.
Connectors
Also, as expected for this price range and a professional monitor, it will provide you with a good amount of inputs, including 2x HDMI, 1x USB Type-C, 2x USB Down-stream, 1x Display Port, 1x Headphone-out.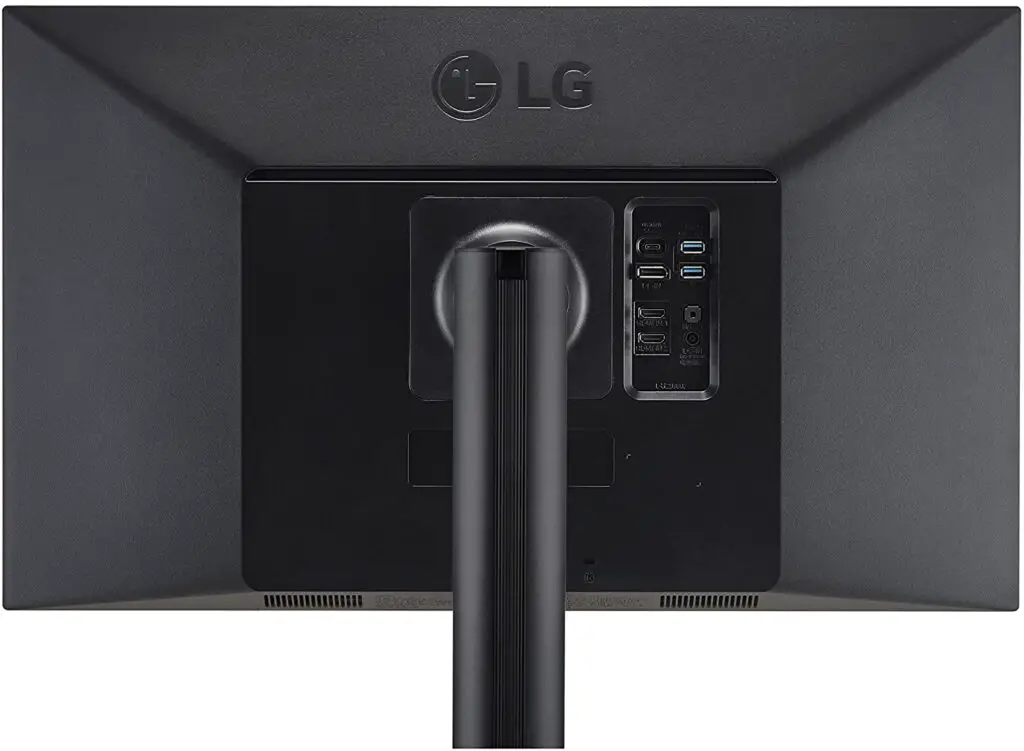 Features
Panel type
The panel type is an important component of a professional monitor since it determines how accurate the colors are and how good the image quality is. 
The VA and IPS are the most prevalent for professional displays, with the latter being the preferred option for perfect color reproduction. Despite having a higher color contrast than the other panels, the VA panel still falls short of the IPS in terms of color accuracy. 
So, for a professional display, I recommend the VA panel only if your work does not require a lot of color accuracy and you value a decent contrast ratio over accuracy.
On the other hand, if you work with media editions and require the highest possible color fidelity, the IPS is a must-have. Thankfully, they chose to include an IPS panel for the LG 27UN880-B, which is a huge advantage and fairly expected given the display's current prices.
Brightness
Also, when it comes to an IPS display, the brightness ratio can make a real difference, although it isn't as dramatic as it is with a VA panel. As a result, manufacturers have more leeway to utilize an average brightness ratio, freeing up space to improve other aspects of the display.
On the other hand, this is something to consider primarily for budget displays, but given that this one has higher-than-average costs, we hope to see a good brightness ratio at the very least. 
And, thankfully, they didn't let us down by using 350 nits for this display, which is a good compromise between price and performance. With this ratio, you should be able to use the display during the day without any problems distorting the exact colors you need to view. 
So that's another bonus for the display, but so far, things have been quite standard for its price range, and we're hoping to see more out-of-the-ordinary features.
Refresh rate and Response time
Even for high-priced professional monitors, manufacturers normally maintain the gaming capabilities at a low level of performance, with 5ms and 60hz being the norm. 
This display was no exception, as they elected to use the same standard as mentioned above. 
The 60hz or 75hz refresh rate is a standard that can be found in almost every non-gaming monitor on the market right now, but it lacks the smoothness that a higher refresh rate, such as 144hz, can provide. 
Also, the 5ms response time is not advised for competitive gaming, as it delays the command to screen speed, but this is hardly noticeable in everyday use. 
Both of these features will have no effect on the monitor's professional capabilities, therefore they've decided to keep them low to conserve space and lower prices. 
Still, you can currently find hybrid monitors such as the LG 32GP850-B which has a fast refresh rate and response time, as well as good image quality and color accuracy.
Finally, this display is equipped with AMD FreeSync technology, which reduces screen tearing during gameplay.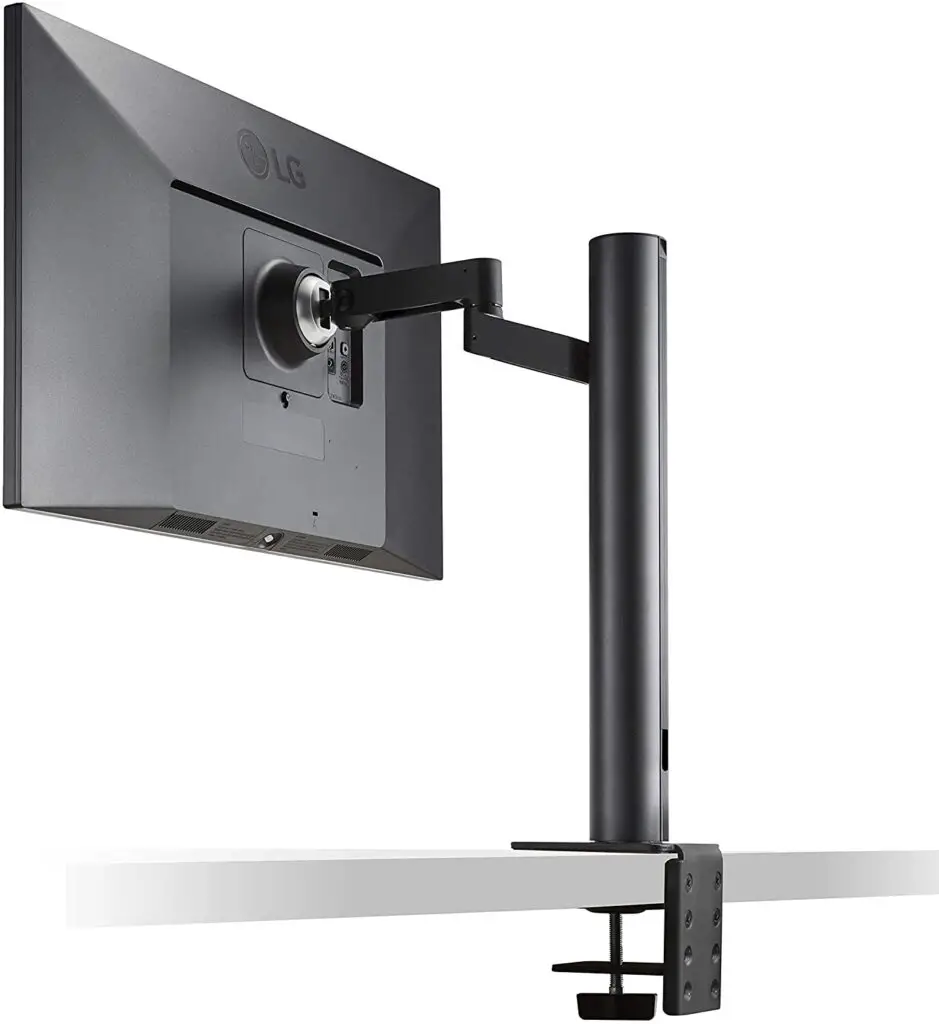 Image Overall Quality
Now it's time to look at the features we were most interested in, the image quality ones. Given that the LG 27UN880-B is a professional classified display with not-so-low costs, we anticipate seeing some fantastic features in this part.
We noted straight away when we turned this monitor on and used it that it has an amazing image clarity owing to its high resolution of 4K in a tiny screen size of 27-inch.
When we say small, we're talking about the common sizes of 4k screens, which are usually larger than 30 inches. 
When a manufacturer employs this resolution for a 27-inch screen, the result is sharp images with almost no visible pixels and a god-like pixel pitch distance of 0.1554 x 0.1554 mm, which helps to boost image crispness even more. 
When it comes to color accuracy, we can still find some top-level features. 
This monitor already has excellent color accuracy due to the IPS panel. However, to maintain the high-end features, they picked a 10-bit color scheme for the display, which allows it to replicate up to 1.07 billion colors, greatly improving color accuracy. 
They also chose to use sRGB 99 percent, which is quite close to 100 percent, as another feature to boost overall accuracy.
You may certainly find sRGB 100% monitors in this price range, such as the Dell U2722D but, this one lacks all of the ergonomic characteristics.
Finally, it supports HDR 400, which isn't the finest HDR available but still gives you deep darks and more contrast. 
In general, this monitor managed to keep on the balance of expectations for its price range, but it still manages to impress with features like 4K resolution and 10-bit color, making it an excellent choice for media professionals.
Final thoughts
When to buy it
If you need a 27-inch monitor with an ergonomic stand and awesome color accuracy, the LG 27UN880-B won't disappoint you surely. It has awesome color crispness due to the 4K resolution and a high color accuracy due to the 10-bit sRGB 99% combination. 
Still, it may cost a little too much for some, and if that's the case, you should check out cheaper options such as the Dell U2722D and the LG 32QK500-C.
You may like