Our Conclusion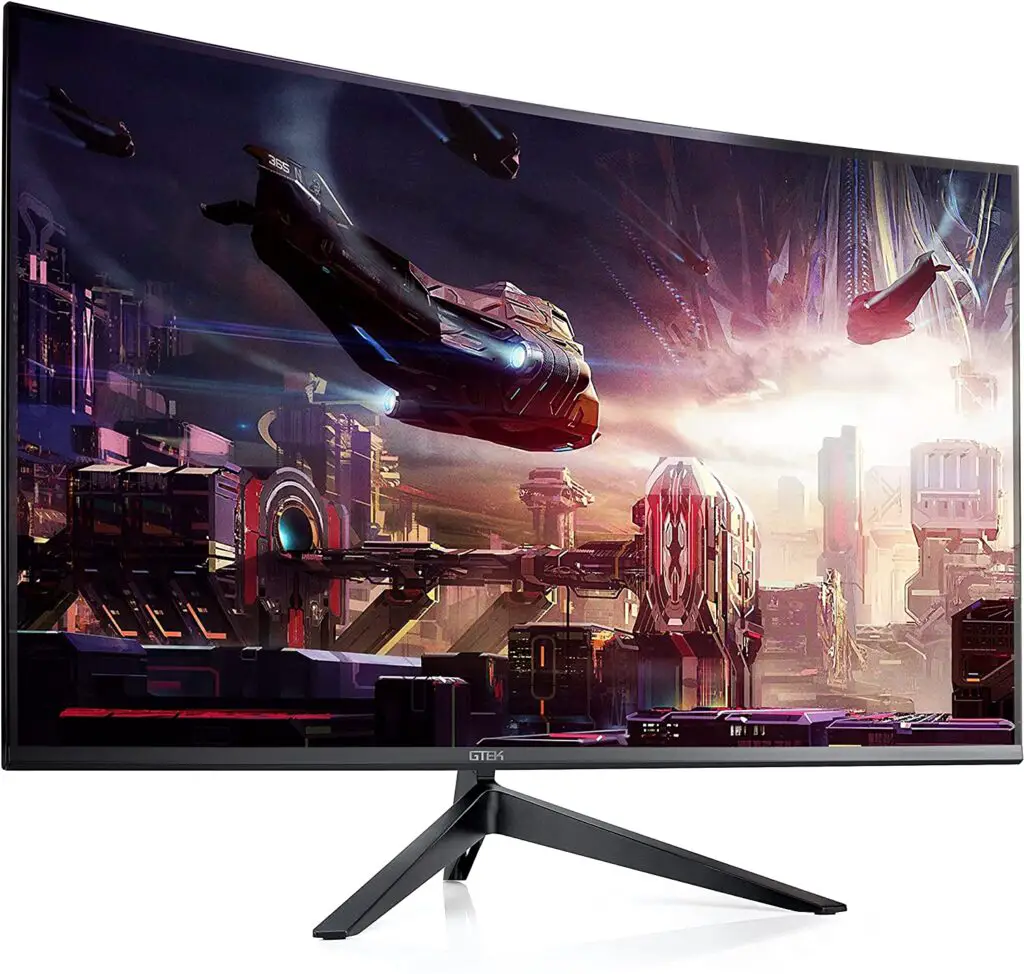 The GTEK F2740C is a 240hz gaming curved display that is currently on sale at fantastic prices. It is designed for those who require a good 27-inch curved gaming monitor with HDR support, vibrant and contrasting colors. It also counts with a wide variety of ports including a USB Type-C. 
Pros
✓ 240hz, 1ms
✓ USB-C port
✓ Budget prices
✓ HDR 10
✓ Out speakers
Cons
✘ Average brightness ratio
✘ Average color accuracy
In today's article, we'll be greeting the first Gtek monitor to be reviewed on the website, which will help to breathe new life into it.
These days, we've been expanding the brands we're reviewing for displays on the site, most recently including the Lenovo and MSI manufacturers, both of which have produced some fantastic monitors.
And today we'll check if this new Gtek monitor can impress us with its features and costs. So, without further ado, let's take a look at the GTEK F2740C review to see if it's a decent 2021 gaming monitor release or a flop.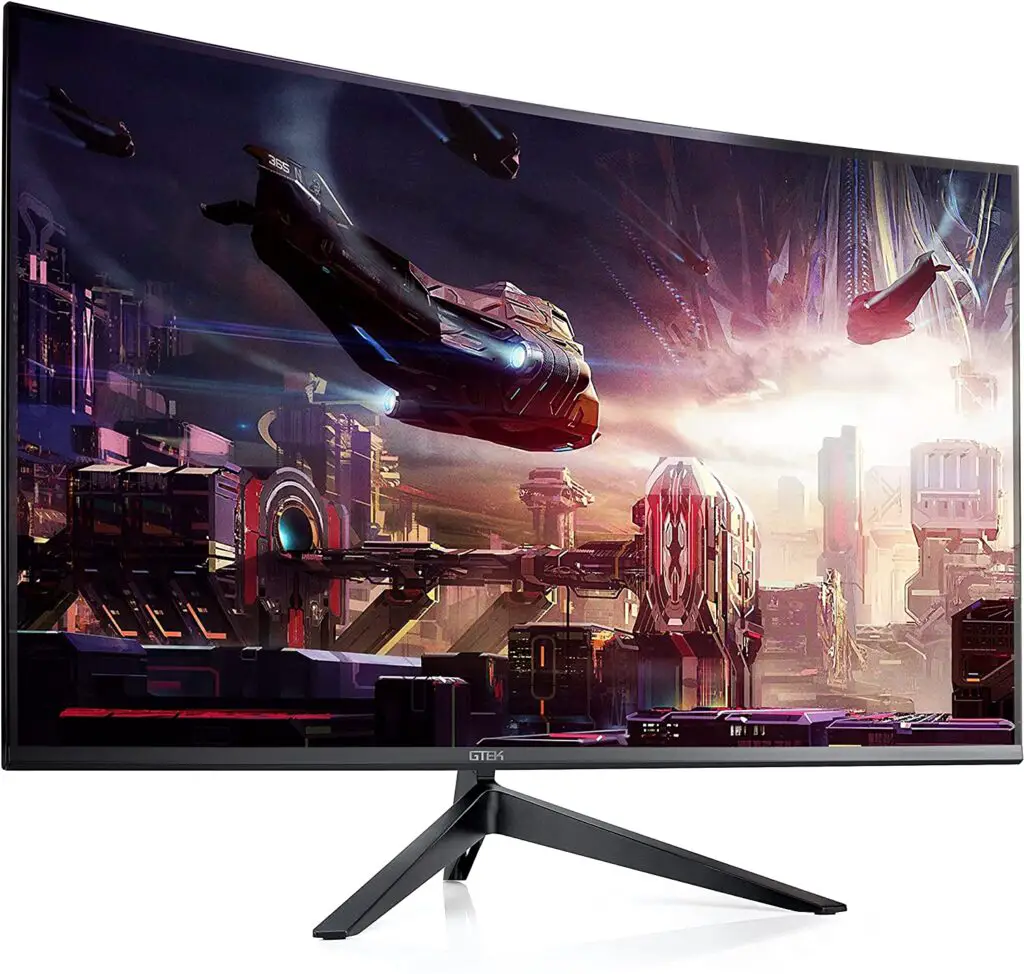 Design
The good thing about examining new manufacturer's displays is that we don't always end up with monitors that look exactly the same. 
This display gave out a very nice and modern vibe and based on its overall appearance, you could certainly call it a gaming monitor.
It has a very sharp design, with a matte black pattern throughout, 3-sided borderless bezels, and an extremely small bottom bezel, especially considering the size of the display. 
It's also worth noting that it has a 1800R curvature, which is a fantastic number for a 27-inch monitor highly improving the environment. 
It has a V-shaped stand with a very slender overall look that matches the monitor's design. This stand will only allow you to tilt, which may be a disadvantage for some users depending on the monitor's height. 
Looking at the back of the monitor, we can see that it supports 100×100 VESA, so you can rest easy if you need to mount it on the wall. You may also count on two out speakers, allowing you to use the computer without headphones if you want to. 
In summary, the aesthetics of this monitor are quite modern and thin, which is exactly what a gaming panel should be.
Connectors
As for the connectors, they really surpassed expectations, implementing really good inputs, including 1x HDMI, 1x DP, 1x USB Type-C, 1x USB-B, 2x USB-A, 1x Headphone-out.
Features
Panel type
The panel type has a significant impact on gaming displays because it determines the panel's total response time. 
The IPS panel is well-known among media professionals since it has the best color fidelity of any panel currently on the market. Despite this, it has a slow response time, which is why you usually won't find a gaming monitor with it. 
However, because it is a little more expensive than the others, the manufacturer may simply want to reduce costs. 
They chose the VA panel for this monitor, which has a somewhat faster response time than the IPS but still falls short of the TN panel's. 
TN panels aren't as popular as they once were because of their poor viewing angles and color reproduction, but they were formerly the most prevalent panel for low-cost gaming displays.
Although the VA panel does not offer higher color accuracy than an IPS panel, it does have also good viewing angles and more contrast-focused colors. As a result, this is Gtek's first smart move for this monitor.
Brightness
I'm not sure why, but Gtek elected not to reveal all of the GTEK F2740C's specifications, including overall brightness, color gamut, and the number of supported colors.
Due to that, we must compare it to other VA displays in order to determine an estimated number. We came to the conclusion that it has somewhere between 250 and 300 nits after using it during the day and comparing it to other VA monitors because it performed slightly better than the Lenovo L24e-30, a VA 250 nits display. 
As a result, this monitor will provide you with enough brightness to use during the day without any problems. That said, let's check out the gaming features of this display, which is one of the most important when it comes to gaming displays.
Refresh rate and Response time
I was expecting more than 144hz for the price this monitor is currently being sold at because you can easily find cheaper 144hz 27-inch monitors like the MSI Optix MAG274R2. 
And, thankfully, I was not mistaken. They chose 240hz for this display as it is a number that almost every competitive gamer desires. This number will provide you with a high level of smoothness, edging the levels of what your naked eyes can perceive. 
The disadvantage is that a monitor with this frequency is usually more expensive than the average, which is why most people choose 144hz monitors.
This monitor also has a 1ms MPRT response time, which reduces command to screen speed and is another feature that is recommended for gamers.
So, if you don't intend to play competitive games and just want more smoothness, I recommend going with a 144hz display, as they usually don't break the bank. 
When it comes to competitive gaming, however, 240hz is one of the best refresh rate numbers to have. So, now that we've finished here, it's time to look at the overall image quality of the display to see if they had to make up for something in order to keep the prices as low as possible. 
Image Overall Quality
The GTEK F2740C is a 27-inch display with 1080p resolution and an average PPI ratio, resulting in crisp images. Furthermore, the display's VA panel enables it to have an excellent contrast ratio, which increases image vibrancy.
The VA panel, combined with HDR 10 support, boosts overall contrast while also providing deep darks.
So, because there isn't much information available about this monitor, we decided to compare it to an sRGB 99 percent VA display, and we noticed that this one had slightly more vivid images.
As a result, we assume it has something higher than that. So, in general, this monitor delivers you contrasting colors and average image sharpness, really matching the prices it is being sold.
Final thoughts
When to buy it
If you need a gaming 27-inch curved display and have a budget of around 300 bucks, the GTEK F2740C is one of your best choices currently, delivering awesome gaming features as well as good color accuracy. 
However, if you need good color accuracy, this one is not the higher recommended one, instead, you should check out the Dell U2722D, which has one of the best features for professionals currently.
You may like