Our Conclusion
The MSI Optix AG321CR can't get rid of the low PPI issue because it's a 1080p 32-inch monitor, which results in blurry images when compared to higher resolution panels. Despite this, it has very low costs for what it provides, so if you truly need a 32-inch monitor and don't mind the low PPI, this monitor will not fail you because it offers amazing gaming features and decent image quality. 
Pros
✓ 165hz, 1ms
✓ 32-inch
✓ VESA support
✓ 4000:1 contrast ratio
✓ Budget prices
Cons
✘ Low PPI ratio
✘ Lacks USB-C port
Continuing on with our high-resolution reviewed displays of the month, we evaluated a 32-inch gaming monitor last week that had an excellent refresh rate and response time, but it also had a few flaws that you can read about in its review.
And, for today's post, we have a rival, with similar rates and possibly features? We'll go over this in more detail later in the article.
So, without further ado, let's have a look at the MSI Optix AG321CR Review to see whether it's a better option than the one and if it's a good or bad fit for you.
Design
This monitor looks a lot like the MSI Optix MAG301CR2, which is one of the top MSI ultrawide screens in the company's lineup. This one, however, is not ultrawide, with a width of 32 inches. 
One of the key reasons for this monitor's resemblance to the MSI Optix MAG301CR2 is the fact that the stand of both is practically identical. It has a V-shaped design and a variety of adjustments, such as tilt, height, swivel, and pivot. 
Aside from that, this monitor has a matte black pattern with modern aesthetics that highlight extremely thin 3-sided bezels, including a narrow bottom bezel that is one of the narrowest among high-sized MSI displays.
Looking at the rear of the display, we can see the RGB LED, which is the final feature that makes this monitor look similar to the one previously discussed. 
Both had virtually the same circular-shaped component in the center of the display's rear, with a rainbow colors pattern. 
It's worth noting that it includes VESA support with dimensions of 75 x 75 mm, so if you wish to mount this monitor on the wall due to its large size, you won't have to afford a separate stand.
However, this monitor lacks out speakers, so if those are a must-have for you, I recommend a monitor like the LG 32UN550-W. In general, the aesthetics of this display can be resumed at the 32-inch version of the MSI Optix MAG301CR2 monitor, being both with basically the same design.
Connectors
They chose to keep solid prices and remove plus USB ports from the monitor's connectors, so in the end, it will deliver you only:
 1x Headphone-out
 1x USB 2.0 Type B
 1x DP(1.2) 
 1x HDMI (2.0)
 1x HDMI (1.4)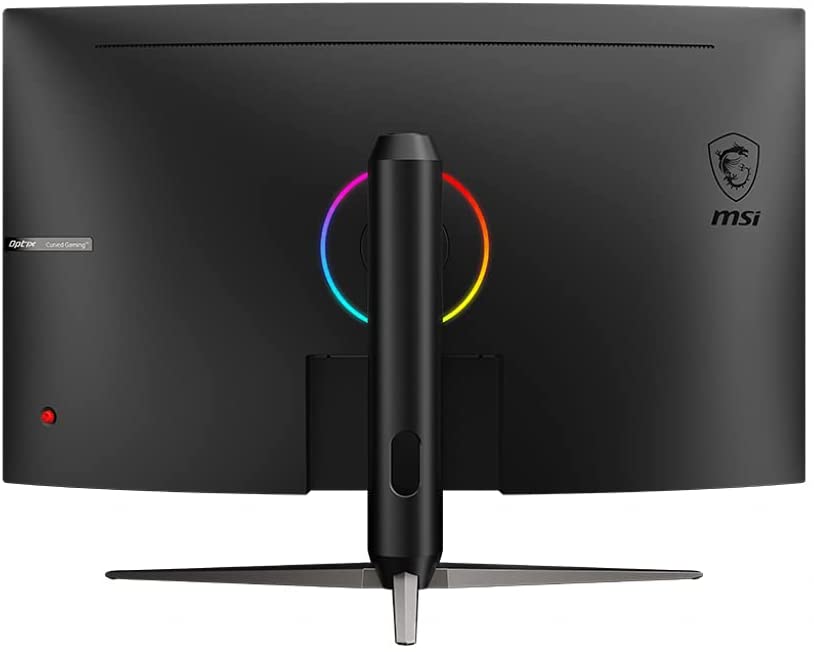 Features
Panel type
A nice thing we found about the MSI gaming line is that almost every monitor we tested from this line had the same panel type. 
I'm not sure about the rest, but as you can see, both the MSI Optix MAG301CR2 and the MSI OPTIX G32C4 have the VA panel, and this one is no different. 
Although it is not the ideal option for media professionals, it is still a fantastic alternative for those who enjoy contrasted and vibrant colors because it allows for larger contrast ratios. 
In contrast to an IPS panel, it does not provide the same color fidelity, making this one a must-have for anyone who edits images, photos, or works with media editions in general.
Among some good choices for professionals, you have currently the Dell U2722D as one of the best cost-benefit ones on the market.
Brightness
One of the first drawbacks of the MSI Optix AG321CR is its general brightness, which we can observe in the brightness section. For a VA screen, the majority of brands opt for 300 nits of the total brightness, which is the optimum compromise between cost and performance. 
When comparing two monitors with 250 nits of brightness, one is a VA monitor and the other is an IPS monitor, you'll see that the VA monitor has a slightly lower noticeable overall brightness.
Despite this, they chose to use only 250 nits for this display, which may be a disadvantage if you use the monitor primarily during the day.
So, if you think this low average brightness may spoil your daily usage, you may consider spare some money and afford a 300 or 350 nits display such as the LG 32GP850-B.
Refresh rate and Response time
Let's see if they were able to compensate for the poor brightness with a high amount of gaming features. This monitor was built with a refresh rate of 165 Hz, which is slightly better than 144 Hz but not at high levels. 
A high refresh rate is often connected with competitive gaming scenarios since it increases overall smoothness. However, I recommend that everyone have a 144hz display because it provides such a smooth experience that you won't want to go back to 60hz. 
Some claim it's as if you've been playing laggy your whole life and only see how it should look when you switch to 144hz. 
However, achieving those framerates during gaming is nearly entirely dependent on your graphics card, as well as how demanding the game is.
Competitive games aren't particularly graphically demanding, thus practically any mid-range graphics card can meet the framerate target. 
Aside from that, when it comes to gaming displays,  response time is another important factor to consider. Although it may not have the same impact on everyone as the refresh rate, it is a critical characteristic for competitive games. 
Keeping the average in mind, they added 1ms to this display, which some argue is a necessary quantity for the panel to be classified as a gaming monitor.
So, in general, this display at least delivers the expected for a gaming monitor, basically all in standard so far. 
Image Overall Quality
Another crucial characteristic for gaming displays is the resolution, which is the first thing you should look at if you don't have a particularly powerful graphics card. 
It may be very difficult to display 1440p res at high framerates, depending on the games you want to play and the graphics card power, therefore the 165hz option will be useless. 
That's why the majority of gaming monitors have a 1080p resolution, which is a wonderfully balanced resolution that makes it much easier for a graphics card to boost frame rates. 
The MSI Optix AG321CR is a 1080p monitor with a 31.5″ screen size, which results in poor visual sharpness. Because the 32-inch is too large for 1080p to maintain clear images, it will have a low PPI, resulting in blurry images. 
When comparing this display to a 32″ 1440p panel, the differences are immediately apparent: while the MSI Optix AG321CR has washed images, the 1440p display will have crisp images due to the PPI variations. 
That is primarily why a 32-inch display with a 1080p resolution is not recommended. When it comes to color accuracy, things haven't changed much. 
This monitor has 16.7 million supported colors, which is an 8-bit pattern, but it compensates by having a DCI-P3 94.55 percent, which gives the display brilliant and vibrant colors, not that accurate, though.
This, when combined with the 4000:1 contrast ratio the VA panel provides, will deliver really contrasted colors with vivid visuals. 
So, in general, this monitor can still deliver a good color reproduction, but it has a low PPI issue, resulting in blurred images.
Final thoughts
When to buy it
The MSI Optix AG321CR has indeed some great gaming features such as 165hz and 1ms of Response time, as well as some vivid and contrasting colors. 
Still, it has blurry images due to its low resolution, so, my advice is to afford a 32-inch 1440hz one such as the LG 32GP850-B or reduce the screen size to 27-inch, as you can see in the MSI Optix MAG274R2.
You may like