Our Conclusion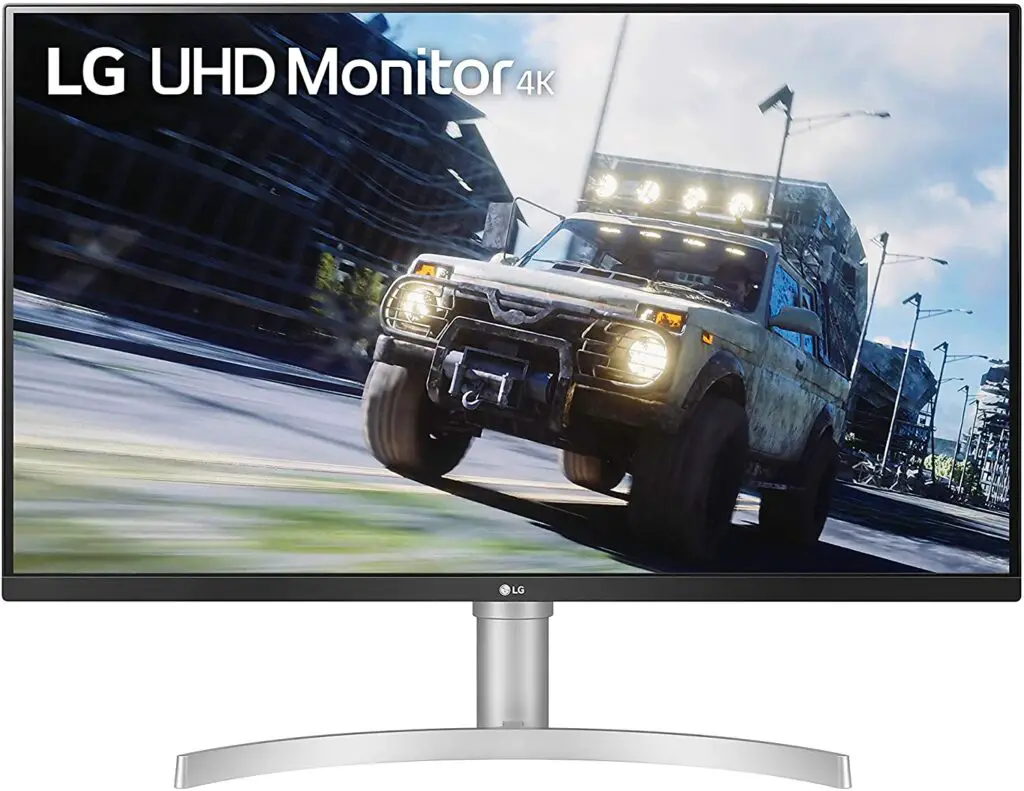 The LG 32UN550-W boasts one of the greatest image quality for VA panels of any monitor we've tested, with sharp images thanks to the 4K resolution and plenty of screen area thanks to the 32-inch size. Because it offers superior color accuracy than mid-range IPS panels, it is unquestionably a worthwhile purchase for professional or casual use. If you truly need an IPS panel, you can check out the LG 32QN600-B, which has even less contrast and vibrancy but more accurate colors.
Pros
✓ High color accuracy
✓ Crisp images
✓ 4k Resolution
✓ 2x 5W out speakers
Indeed, we've been testing a number of 32-inch monitors this week. The last reviewed one was the LG 32QK500-C which, due to its release date, had somewhat dated aesthetics.
On the other hand, it had some amazing features for its costs, which did not exactly match the prices on the positive side of things. In contrast, the one for today's post was released in late 2020, so we can expect a slightly more modern design. 
So, without further ado, let's take a look at the LG 32UN550-W Review, including all of its advantages and disadvantages, to see whether it's a good fit for you.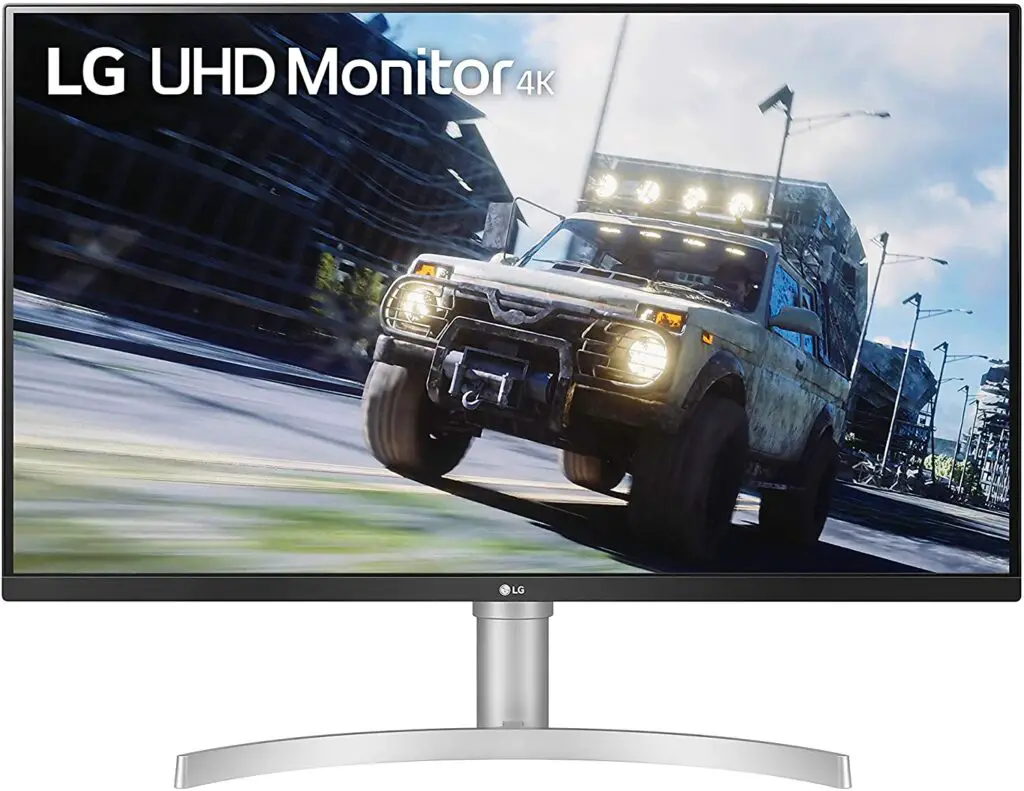 Design
This monitor seems eerily identical to the one we previously looked at, the LG 32QK500-C. It's primarily because of the three-color pattern used in both, which is a highly contentious feature of this line. 
The LG 32UN550-W, on the other hand, features 3-sided bezels, which give the monitor's aesthetics a modern vibe. It also features a very thin bottom bezel and a slim overall appearance, measuring 28.1 x 8.9 x 19.1 inches.
As previously stated, this display features LG's 3-color pattern, with matte black bezels, a gray stand, and a white back.
By the way, this monitor's stand has more adjustments than the previous one, including tilt and height, so if you require a height adjustment, this is the one to get. 
Looking at the back of this monitor, we can see that it supports VESA, so you can rest easy if you plan on mounting it on the wall. It also comes with 2x 5W of medium quality, which isn't the worst but isn't the finest you'll find at this price point. 
Overall, the aesthetics of this display looks like a 2.0 version of the LG 32QK500-C, but will this be the case for the features as well? Let's have a look.
Connectors
As for connectors, they decided to implement good ones but to keep the prices low, they had to keep some out of the list. This monitor includes 2x HDMI, 1x Display port, 1x Headphone-out.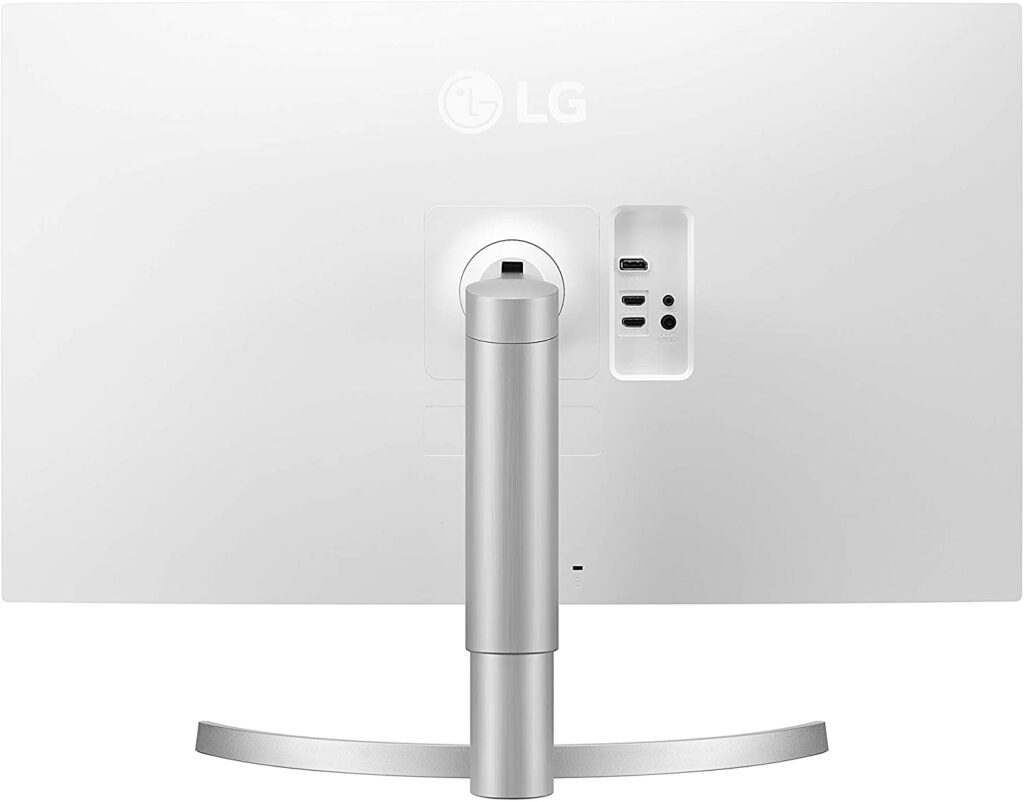 Features
Panel type
Despite having somewhat higher pricing than monitors with an IPS panel in the same price range, they decided to go with the VA for this one. So, depending on the rest of the display's features, this may or may not be a disadvantage. 
Although the VA panel has good color reproduction, it still falls short of that of an IPS screen. On the other hand, if you prefer more contrast over color fidelity, this panel allows this display to reach a maximum contrast ratio of 3000:1. It also doesn't have the IPS screen's glowing issue.
The good news is that, depending on the color gamut and number of supported colors, this panel can even achieve the same level of accuracy as an IPS panel of a mid/low-end display. But we'll look into it more in the image overall quality section, but I'm confident this VA choice will be clarified there.
Brightness
LG was able to implement a good brightness ratio for the LG 32UN550-W despite the limited space afforded by the VA screen. The brightness ratio inconsistencies are much more noticeable on that type of panel, therefore it was a sensible choice. 
They included a high-end value of 350cd/m2, which is probably one of the better options for casual users. With this ratio, you'll be able to view the images clearly whether you're using the display during the day with sunshine on it or at night.
For people who are prone to eye strain, this level of brightness may be too high to use at maximum, so consider reducing it to more comfortable levels before using the computer for an extended period of time.
Refresh rate and Response time
Because this isn't a gaming monitor, we don't expect it to have 144hz and 1ms, for example. Even for casual users, a decent refresh rate number can be useful. They added 60hz for this display, which is a significant drawback this time.
In today's world, the most prevalent ratio for casual-focused displays is 75hz. Obviously, this isn't ideal for gaming, but it does have the advantage of providing a little more smoothness than 60hz without requiring a significant price increase.
Even so, I'm not sure if adding 75hz was a popular trend at the time this monitor was produced, but in any case, they chose not to implement it.
In any case, I'm not saying 60hz isn't an acceptable figure for a casual display; I simply believe it could be better, considering the monitor's pricing.
The response time isn't really something to be concerned about for casual displays, but it's still worth mentioning. They opted for 4 ms, which is standard for this price range and for casual displays.
After finishing the "gaming" features, it's time for this monitor to show us why it costs a little more while still having a VA panel and a 60hz refresh rate.
Image Overall Quality
The LG 32UN550-W is a 4k monitor (3840 x 2160), which is a fantastic resolution for this screen size and results in clear images thanks to the high PPI ratio.
This resolution raises the price of the display significantly, thus it's possible that this is one of the first reasons for the higher-than-average pricing. 
LG decided not to cut corners and created the monitor with a fantastic pixel pitch of 0.18159 x 0.18159 mm, increasing the image's overall sharpness even more. 
When it comes to color accuracy, it's easy to see why this monitor is one of LG's best of last year. 
To begin with, this monitor boasts a DCI-P3 90 percent color gamut, which is commonly found in high-end displays and is noted for displaying images that are more vibrant and have higher contrast.
This monitor also includes HDR 10, which, while not the best, aids in improving visual contrast and deep darks. All of this, paired with the VA panel's contrast ratio of 3000:1, makes this monitor a delight for contrast fans.
We also observed that this monitor has excellent color accuracy and image quality, mostly due to its 1.07B supported colors, which is another high-end number, used to increase by a lot the color accuracy. 
Overall, despite being a VA panel, this monitor is able to provide excellent color accuracy because of the aforementioned qualities.
When we compared it to mid-range IPS panels, we found that this one, even with a VA panel, had higher color accuracy and vivid colors.
In the end, the VA panel on this display just contributed to improving image contrast and keep prices solid (at some point).
Final thoughts
When to buy it
At the beginning of the review, we were a little confused as to why they choose the VA panel for a monitor in this price range. But in the end, it was all part of the plan, while they tried to create one of the best monitor choices for contrast lovers.
The LG 32UN550-W is definitively a great choice even for professionals or for casual use since it has awesome color accuracy due to the 1.07 B supported colors and a great screen space due to the 32-inch size. 
It has awesome crispness as it features 4K resolution, being one of the cheapest displays with this resolution as well.
On the other hand, if you still need an IPS panel, you can check the LG 32QN600-B out, which has indeed worse contrast and less vivid colors than this one, but it has better overall accuracy.
You may like