Our Conclusion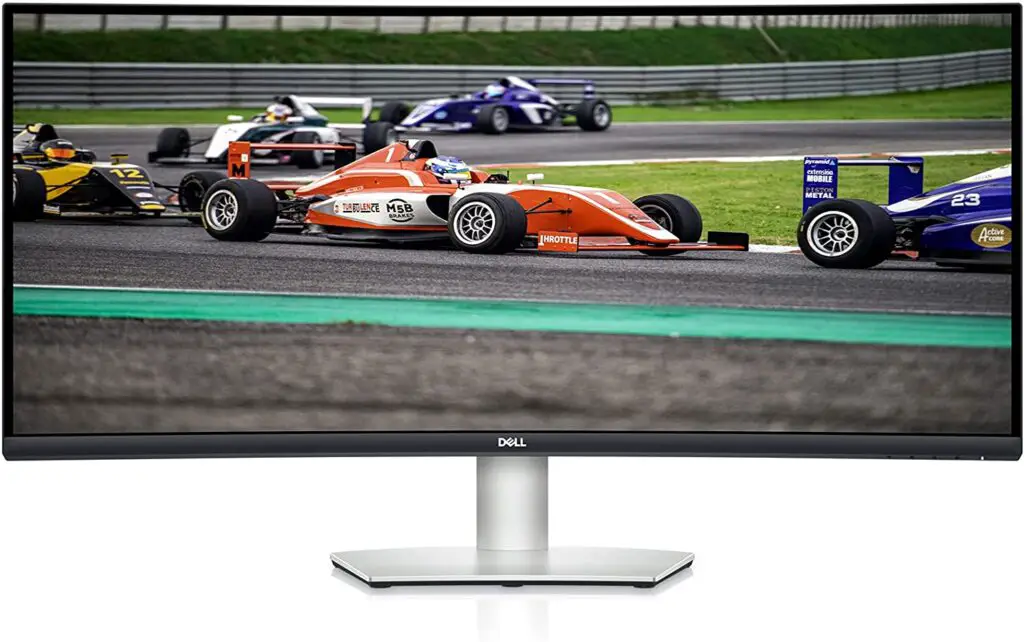 For the prices it is being sold at today, the Dell S3422DW is only a good choice if you really need a wide range of connectors, as it will deliver rather average results for the rest. The LG 34WP65C-B has even better speakers and is cheaper, while the: HP X34 has a great panel and colors and is also more affordable. Of course, both have their own flaws, so be sure to check their reviews out.
Pros
✓ Wide connectors
✓ 1440p crisp images
✓ 2x 5w Out speakers
✓ VESA support
Cons
✘ VA panel
✘ Poor cost-benefit ratio
Back in 2021 the MSI Optix MAG342CQR and the LG 34WN780-B were both the best choices for ultrawide screens. Right now they passed the crown over to the: LG 34WP65C-B and the: HP X34. When it comes to having a good cost-benefit and features that are way better than what you'd expect, those are literally the best.
In today's post, we'll look at a 2021 ultrawide Dell release with mid/high-end prices and see if it's on par with those.
So, if you need an ultrawide monitor but aren't sure if the DELL S3422DW is the best option right now, keep reading to find out who this monitor's target buyers are. Let's get started on the DELL S3422DW Review without further ado.
Mar 2, 2023 Update: We compared this one to the LG 34WP65C-B. We also compared its prices and features to a bunch of monitors in the same price range. Corrected Typos, and added further information in all sections.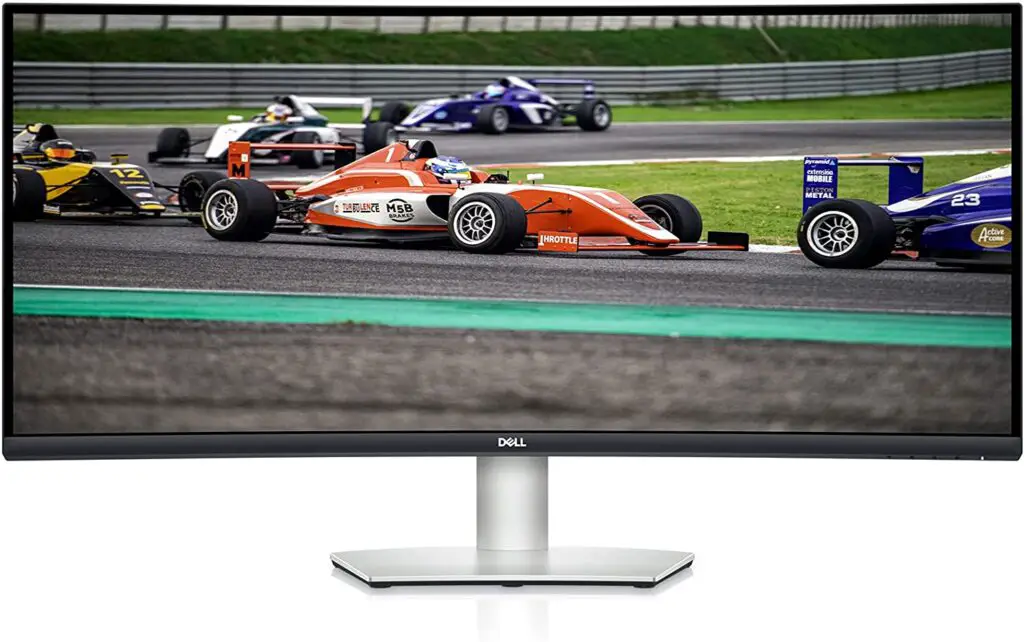 Design
At first sight, this monitor doesn't look like any other Dell monitor; it looks like an ultrawide result of a combination of some models such as the Dell P3221D and the Dell S2721HN, but it's still quite unique.
To our surprise, this monitor also includes the 3-color style, which we saw in one of our latest monitor reviews (LG 32UN550-W). It has a white finish on the rear, a gray stand, and matte black bezels. 
Unlike the stand of the majority of ultrawide displays, the dell s3422dw one includes two options of support: tilt and swivel. These are two of the most typical adjustments for ultrawide monitors in this price range.
On the other hand, this stand is one master in consuming our precious desk space, being one of the bulkiest that dell has ever made. Of course, due to its flat base, you can put some things on top of it. But we can all agree that piling things up on a monitor's stand will only make your setup look disorganized.
Surprisingly, it also has a gap for cable management, which is indeed a rare thing to see for mid-range monitors nowadays. So when it comes to having the necessary to pass muster, it ticks almost all the boxes.
That said, if you can afford a better stand, go for it – it'll be saving space on your desk while granting further ergonomy with pivot and swivel adjustments. Although, bear in mind that said adjustable stands that you buy separately can sometimes make the screen's final prices skyrocket. In that case, depending on the final sum, maybe the: LG 34WN780-B could be a better deal than this one, as it is one of the best when it comes to ergonomy.
To match the colors of the bezel, the bottom part of the stand was completed in a black pattern.
The DELL S3422DW is a curved monitor with a 1800R of curvature, which is slightly higher than typical for 34-inch ultrawide displays like this one. 
They also managed to make this display quite thin, with dimensions of only 31.82 x 8.27 x 19.27 inches. Finally, you'll see that this monitor features two 5W out speakers, which aren't the best on the market but are adequate for the job.
Those speakers have a fairly decent volume, but other than that, they are quite average. Of course, it is better than what you find in low-end screens, but it isn't even comparable to those of the: LG 34WP65C-B, for example, which has the same price range as this one right now.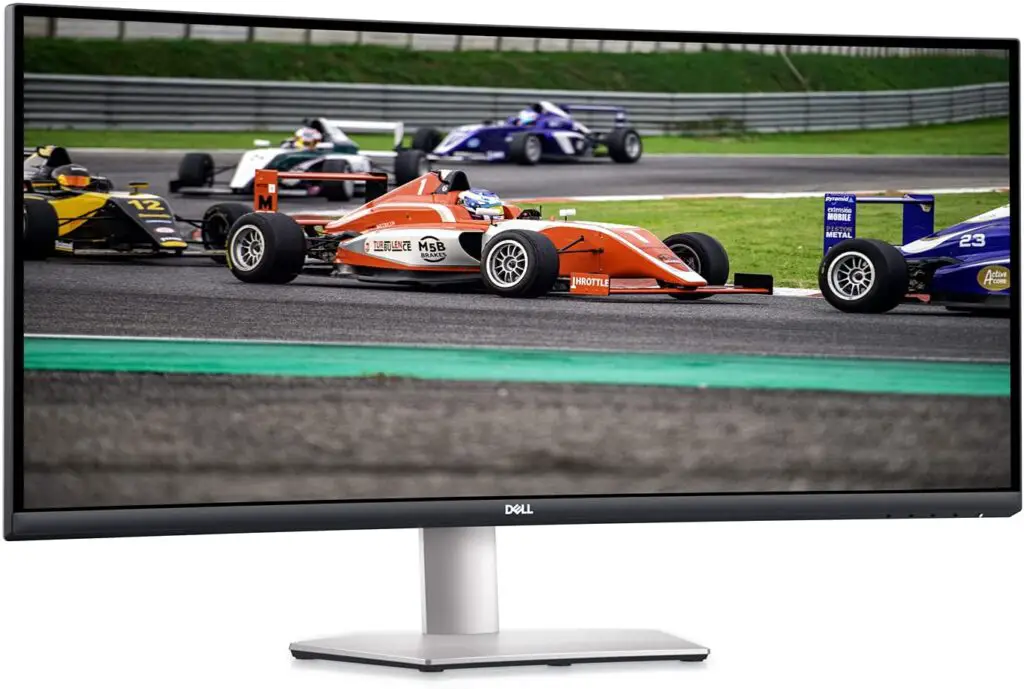 Connectors
You can rest assured if you need a good number of connectors and USB ports as this monitor has:
2 x HDMI 2.0 with HDCP 2.2
1 x DisplayPort 1.2
1 x USB 3.0 upstream
1 x USB 3.0 downstream
1 x USB 3.0 downstream with BC 1.2 charging
1 x Audio line out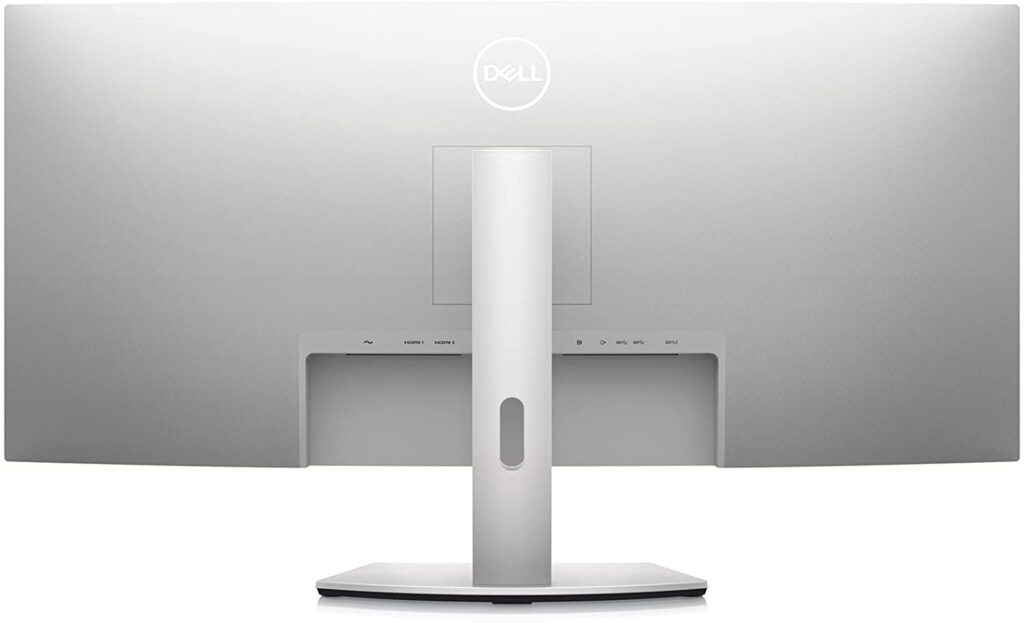 Features
Panel type
So far, we've seen some nice aesthetics and external characteristics for this display, but now it's time to look at one of the display's most significant elements: the panel type.
Even with mid/high-end costs, they elected to use the VA panel for this monitor, which surprised us. This is an excellent choice for those who require a high contrast ratio, as it typically exceeds the average when compared to other panels.
However, it is not recommended for professionals because it has a lower color fidelity than an IPS panel. Still, the VA panel is more commonly found in lower-cost ultrawide screens, which is why we weren't expecting this monitor to include one.
Of course, every panel has its own tier, varying from low to high end. Naturally, high-end VA panels will be better than low-end IPS panels in almost all regards. But that is not the point here. When we talk about those panels in an equal measurement, assuming both are mid-range ones, the IPS is the one that comes out ahead.
It is right now one of the favorites, while the VA panel is left in the shadows due to the well-known downsides that can make it a very risky choice if you are unaware.
We'll get further into colors and image accuracy in the image quality section, but for now, you should note that this monitor has very washed-out colors out of the box. Of course, you can tweak them to look a little bit better, but it will hardly meet the requirements for professional use even if you do so.
Also, the viewing angles are quite subpar, but this is something to be expected.
That said, it does have its benefits over the IPS, and those are generally why some people still prefer this panel, even if it means having to bear with all of the downsides mentioned above.
First, we have the very deep blacks due to higher contracting ratios. Usually, IPS panels have something called IPS glowing. The IPS glowing will make the blacks appear way grayish than they should, especially if you are in a dark room, or the monitor is displaying a dark image. Besides that, the VA panels are cheaper, so you often find awesome monitor prices with this panel, such as the: Acer ED273UR.
So, while it all comes down to preferences in the end, this monitor is indeed quite average when it comes to its panel, it has what you would expect in terms of color accuracy and viewing angles.
Brightness
If the manufacturer chooses a VA panel for the display like Dell did for this one and decides not to put a lot of emphasis on display brightness, there's a good chance it'll have lower brightness than average, which is a major drawback. 
Knowing this, Dell decided to keep the ratio at a reasonable level, not too high but not too low. This monitor has a native brightness of 300 nits, which is a low/mid-range value for max display brightness. 
Even still, this brightness ratio doesn't seem to match the monitor's current costs.
During the night this brightness was more than enough. Even at 80 percent, it was just fine for our tastes. Of course, as we all mention in other posts, a VA panel often makes better use than the others of a good brightness ratio.
The reason why this is true stems from the fact that they have the better black consistency of all the main three. And this monitor really surprised us here. It has a very decent black uniformity, with no gray spots whatsoever, which results in an awesome experience of watching movies or playing games with it in a dark room.
In contrast, if you'll use this monitor during the day, and the skylight will hit it, you may consider affording a 350 or 400 one, such as the Acer EI342CKR. In other cases, this number will surely be enough for most part of customers.
Refresh rate and Response time
100hz is a commonly used number for ultrawide displays, and it is mostly targeted at those who want smoothness in their daily lives but don't need to play competitive games.
The catch here is that, even though you have a decent smoothness, you are going to have to bear with the black smearing, which is one of the most annoying downsides of VA panel and also why it is considered by the majority as worse than IPS.
Naturally, VA panels have lower response times than IPS' which is a normal thing. But as competitive gaming isn't really the main focus for ultrawide screens, that doesn't matter for most. On the other hand, the black smearing of VAs is very detrimental to your gaming experience, even the casual ones. In fact, even in the dark mode in chrome, we noticed the dark artifacts that appear as ghosting behind moving objects on the screen.
You can get used to it, indeed, but it can be a very rough journey in order to do so. Anyway, this monitor does have some degree of black smearing, as expected for pretty much all VA screens, but in the end, you will have to weigh all its benefits in order to get the better panel for you.
Bear in mind that, even if you want to stick with the VA panel and gaming is your main focus, the: LG 34WP65C-B is even cheaper than this one and has an even higher refresh rate (160hz) so be sure to check that one out too, as it is better than this one in almost everything except the number of ports and black uniformity.
The 4ms refresh rate is another feature that confirms this is not a gaming display. This value is clearly not suitable for gaming, as it falls short of the 1ms ratio typically used for gaming monitors. It does however have Freesync, which will reduce screen tearing and make everything even smoother in combination with the high refresh rate.
In general, despite its higher-than-average refresh rate, this monitor is still a casual one. 
Or is it a professional one? That's what we'll look for in terms of overall image quality.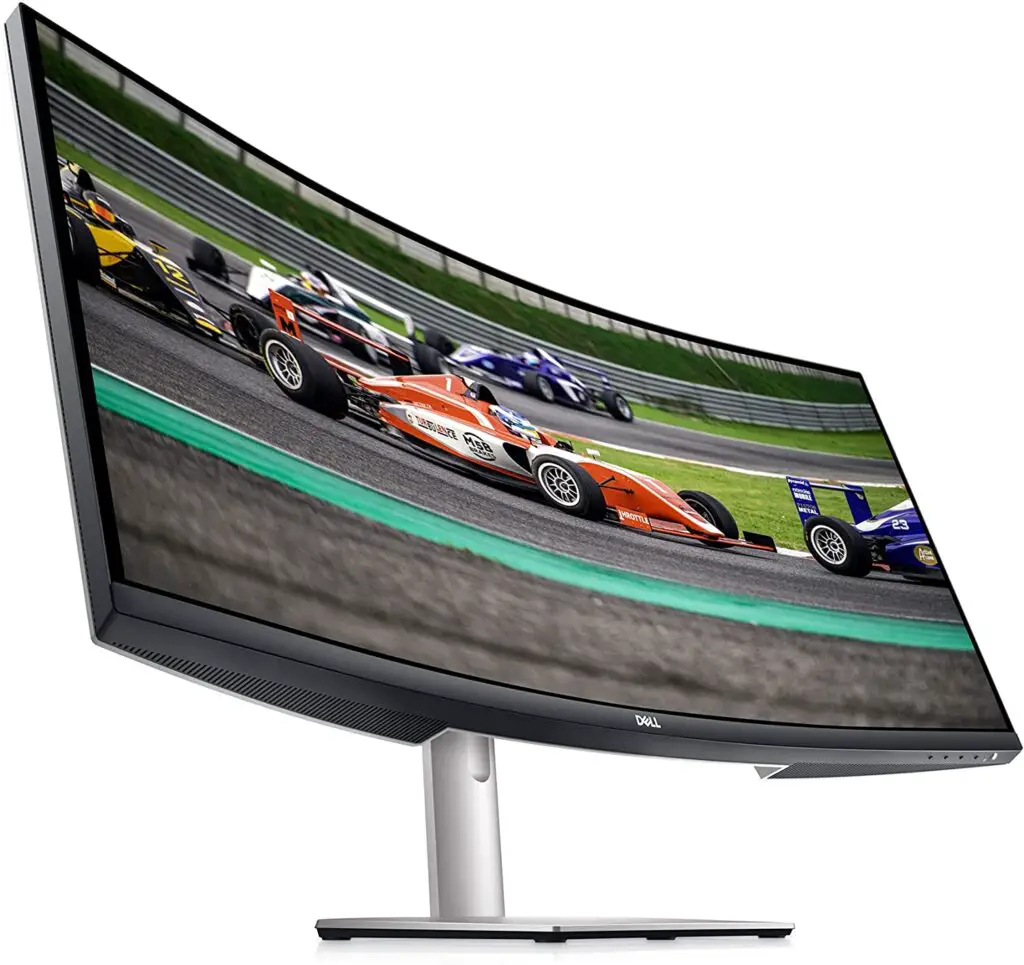 Image Quality
The Dell S3422DW is a 32-inch 1440p monitor (3440 x 1440), giving a high PPI number and boosting visual sharpness with barely perceptible pixels.
They also chose to give the pixel pitch a plus focus, reducing the number to 0.23175 x 0.23175 mm, which is fantastic for the image's overall clarity. So, in terms of image sharpness and resolution, this monitor is definitely worth the money.
When it comes to color fidelity, however, this monitor holds conventional values. It supports 16.7 million colors, which isn't the finest number for this price range, but it gives you a decent color variety.
To reinforce this, they chose a color gamut of 99 percent RGB, which is clearly not the ideal choice for a VA display like this one since it produces less vibrant colors, which would be better for a contrast-focused panel like this one.
If you compare the out-of-the-box colors of this monitor to those of an IPS panel, the juxtaposition of both is so massive that even though these aren't the worst VA colors, they could be called washed out. Of course with some tweaking they could be way better than this, so be sure to do that if you buy this screen.
The point here is, if you need color accuracy to work with the media edition, this is not the monitor for you, and the LG 34WP85C-B is right now at a better value and has great colors for its price range. By the way, assuming you aren't comparing both 100 percent of the time, the colors of this display are very acceptable, and they are even better than some of the usual screens in the price range such as the LG 34WP60C-B.
So yes, from its good contrasting colors, deep blacks, and high screen real state, this monitor is still a very great deal for watching movies and playing games in a dark room. Of course, there is always the low brightness ratio and black smearing to take into account. Still, for all the other good features it offers, it could really be worth it if it was just a tad cheaper.
Final thoughts
When to buy it
Right now, the Dell S3422DW is way cheaper than when it was released. Due to that, it is in an even better position right now, being almost at the top of the pecking order when it comes to VA ultrawide monitors.
The thing is, at the top of the heap, the is still easily securing its position: LG 34WP65C-B which is an even better monitor than this one, except for some fewer features such as ports and lower brightness. But it is still the best in terms of price to performance since it has even better speakers than this one, better smoothness, and cheaper prices.
That said, right now there are some good choices better than both we mentioned such as the: LG 34WP85C-B, but it is way more expensive, and in the VA mid-range category, the ones we mentioned above are still unbeatable.
You may like