Our Conclusion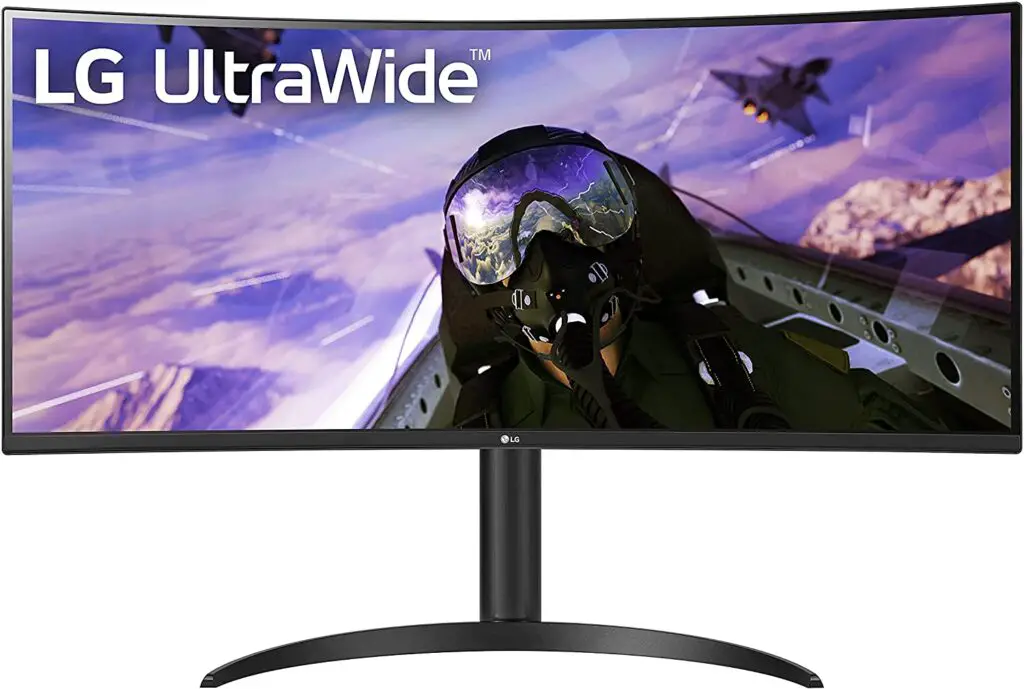 The LG 34WP65C-B is an excellent monitor for individuals looking for a low-cost ultrawide 1440p monitor with a reasonable refresh rate but don't want gaming-level capabilities. It's one of the cheapest ultrawide monitors on the market, with excellent smoothness and average image quality. It is definitively a worth investment due to its great price-performance ratio.
Pros
✓ Awesome Image Sharpness
✓ Good Brightness ratio
✓ 160hz
✓ Budget
✓ 2x 7W out speakers and VESA support
Cons
✘ Lacks USB ports
✘ Mediocre image quality
To round up our list of the top monitors to consider for Black Friday (each category): we got an ultrawide display today, and we'll evaluate if it offers a fair price-to-performance ratio during this sale period. 
We looked at a gaming monitor to keep an eye on this Black Friday in a previous post, so be sure to check it out if you're looking for a nice affordable gaming monitor.
And in today's post, we'll take a look at this new LG monitor to see if it's a good choice, given all of its advantages and disadvantages. Let's have a look at the LG 34WP65C-B Review without further ado.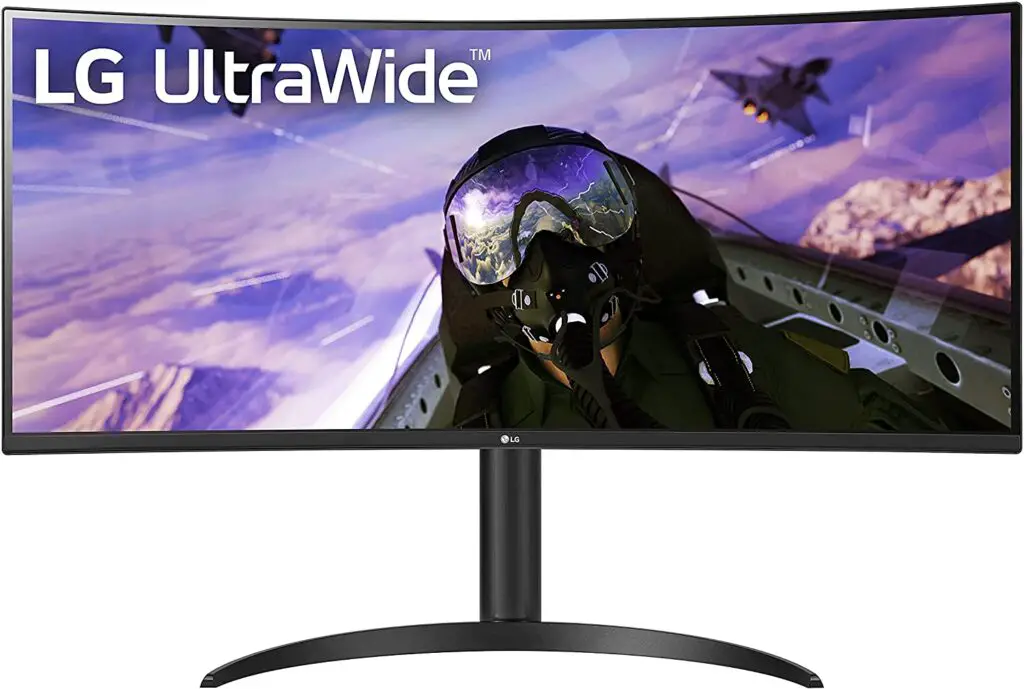 Design
Although LG was formerly known for its repeated screen designs, it's wonderful to know that they've moved on, expanding their innovations with each new release.
They were able to compensate for the bulkiness of a 34-inch screen by combining sleek and sturdy aesthetics into a really stunning display.
It boasts an infinite screen style with a frameless design and a rather sm1all bottom bezel, giving it the necessary modern vibe for recent releases.
This monitor has one of the smallest bottom bezels of any 34-inch monitor we've seen on this site. Aside from that, this monitor measures: 31.9 x 10.2 x 18 inches, so make sure you have enough room on your desk for it. If you choose to mount it on the wall, on the other hand, you can be confident that it will provide VESA support, making installation much easier.
The connectors of this monitor are likewise situated in a vertical hole on the right side of the VESA support, which differs from the usual horizontal below the VESA pattern.
If you want to use this monitor on the deck, keep in mind that you can adjust it in a variety of ways thanks to its ergonomic stand, which lets you tilt it and vary the height.
Finally, we must remark its excellent 2x 7W out speakers, which perform well given the monitor's price range, falling between top-of-the-line and ordinary speakers in terms of quality.
Connectors
Because this monitor is less expensive than typical, they had to compromise and eliminate certain features, which can be seen in the connectors, featuring pretty much the necessary for video input, including 2x HDMI ports, 1x Display port, and 1x Headphone-out.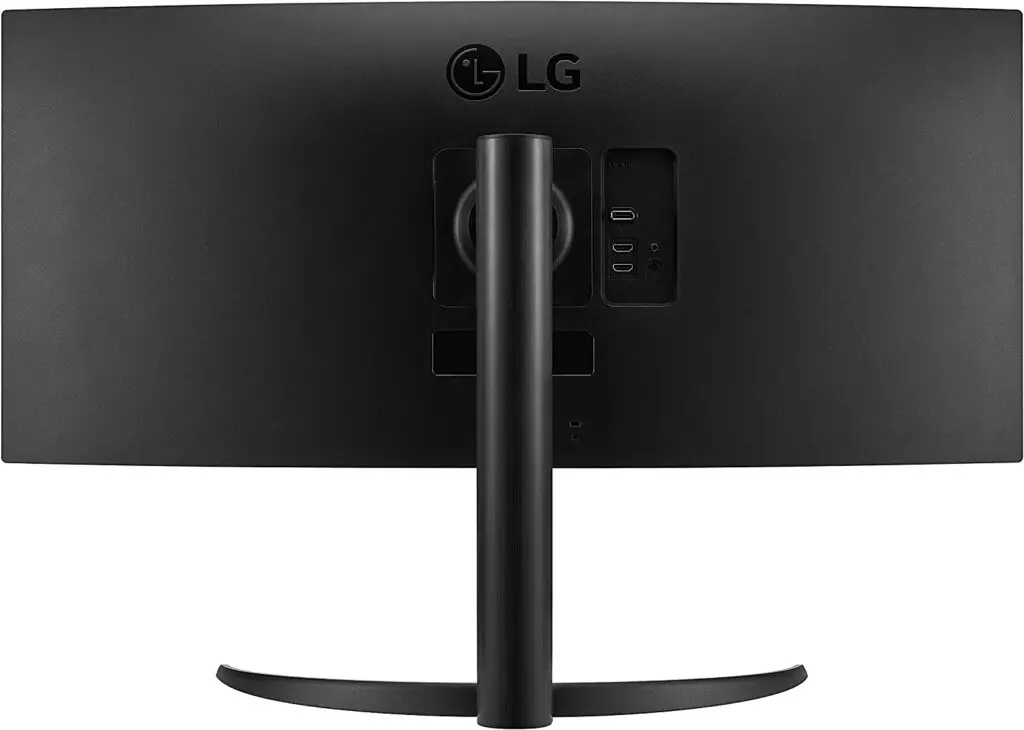 Features
Panel type
One of the most significant elements of a monitor is the panel, which determines whether it belongs in the professional, casual, or gaming categories. 
A VA panel is used on this monitor. This is the panel with the most contrast of the three, as well as the one with the highest price-to-performance ratio. 
On the other hand, we can't recommend it for media professionals because it has a large color accuracy difference from an IPS panel, which might be critical if you work with media editions or similar. 
Some people prefer the VA for watching content since it has superior contrast and doesn't have IPS glowing, which is a drawback of IPS displays. 
Due to its rapid response time ratio, the VA is a popular option for gaming displays, thus there's a good probability this monitor will be placed in the gaming category. 
So, given this screen's panel, we can already remove the professional role for this display to play. As the review continues, we'll look at the image quality and gaming features in greater detail.
Brightness
The LG 34WP65C-B has a peak brightness of 300 nits, which isn't the finest, but it's also not the worst for its cheap prices. This ratio is more than enough for daytime use. However, if sunlight hits the screen, you'll have trouble viewing the displayed graphics properly. 
So, if you feel you need a monitor with higher peak brightness, consider the LG 34WN650-W. Although, keep in mind that 400 nits ultrawide panels are notoriously expensive. 
We didn't even have to turn the display on maximum during our usage of it, even during the day in a well-lit room, because the 80 percent was well than enough for us. 
However, as previously stated, even at maximum brightness, it was not enough to give clear images when placed in direct sunlight.
Refresh rate and Response time
The VA panel has an excellent response time ratio on its own, which is why some firms continue to use it for gaming monitors today. 
However, if you still want a competitive gaming monitor but don't want to sacrifice image quality for speed, you may go for Fast IPS displays, which have an even faster average response time than VA panels but come at a much higher price. 
Despite the fact that this monitor has a respectable refresh rate of 160Hz, it only has a response time of 5ms GTG, which is not ideal for competitive gaming but adequate for regular use. 
160hz will give you a lot of smoothness, and it's also a quite uncommon figure for inexpensive ultrawide monitors, so it's a big bonus for this screen.
It also boasts AMD FreeSync Premium technology, which improves the fluidity of the pictures even more when you're playing. 
With that stated, my suggestion to you is that if you have a little extra money to spend and want a high-end gaming ultrawide screen, you should not consider this one and go for other options such as the MSI Optix MAG342CQR or the MSI Optix MAG301CR2 instead. 
On the other hand, if you simply want a monitor to play all types of games, not just competitive ones, this can still be an excellent option, depending on its overall image quality, which we'll examine now.
Image Overall Quality
The LG 34WP65C-B has a resolution of 3440 x 1440 and a screen size of 34 inches, giving in a high PPI and excellent visual sharpness.
They also put a lot of effort into the pixel pitch, increasing it to 0.07725 x 0.23175 mm, so if you're looking for sharpness and clarity, this monitor will provide it. 
When it comes to color accuracy, the VA panel falls short of the IPS. The VA, on the other hand, offers the highest contrast of any of the other panels, so if contrast is more important to you, the VA may be the correct pick.
Also, depending on the quality of the VA panel, it can produce results that are comparable to those of an IPS panel, which is prevalent in high-end VA monitors like the ASUS VA32UQ, and it's the same with this one. 
It also includes simulated 10-bit colors to improve color coverage, which leverages the high refresh rate to try to recreate 1.06 B colors. As a result, despite the fact that it lacks professional color accuracy of genuine 10-bit colors, it performs better than average for VA panels. 
However, if you're looking for an ultrawide monitor for work with media edition in general, this isn't the best option; instead, go for one with superior image quality. 
Lastly, this display includes HDR 10, which, as we all know, is of poor quality and is definitively not necessary for modern monitors, as the thing it does best is only increase the final prices.
Final thoughts
When to buy it
If you want an ultrawide monitor to play games, but are not a really competitive person, the LG 34WP65C-B is for sure one of your best choices. 
Note, however, that due to its 1440p resolution and depending on the games you want to play, it'll be harder to achieve the high FPS ratio this monitor can reproduce, in case you have a low-end graphics card.
So, if you have a feeling that your graphics card won't be enough for you to avail of those extra frames, I recommend you opt for a 1080p monitor such as the MSI Optix MAG301CR2.
You may like