Our Conclusion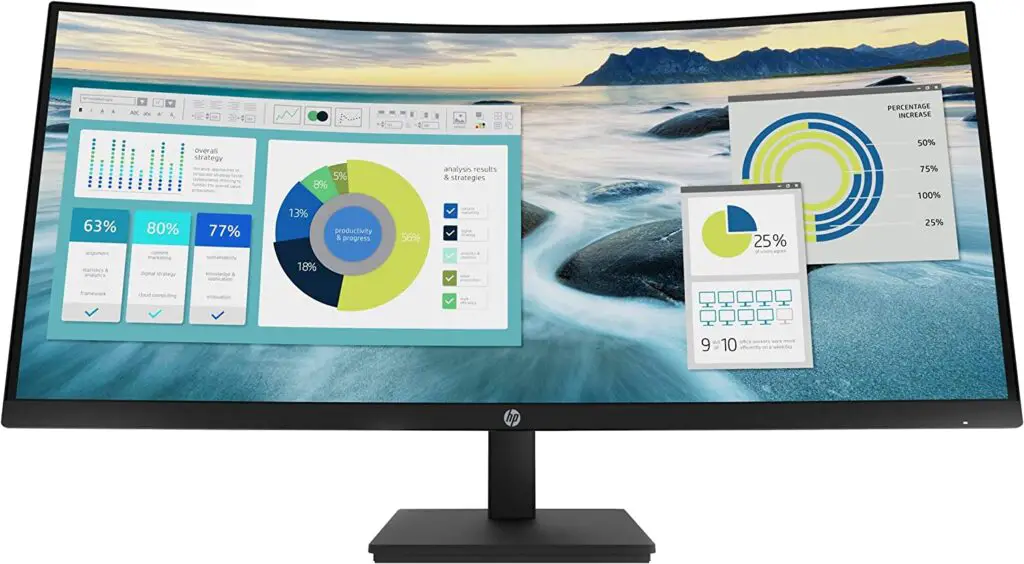 When we compare both, we can say that the main difference between the HP P34hc G4 and the Hp M34D is that the former is the younger brother with vibrant colors, while the latter has down-the-earth colors with an accuracy within the VA's boundaries. In the end, neither cost as what they should, to be worth it, so keep those out of your lists and get something like the: LG 34WP65C-B or the: MSI Optix MAG342CQR with better price performance.
Pros
✓ 100hz
✓ Good contrast
✓ USB ports
✓ High resolution
Cons
✘ Pricey
✘ Poor peak brightness
The legendary debate over whether or not to use two monitors or a single ultrawide has been tormenting our heads ever since ultrawide displays became more affordable a few years ago.
When it comes down to it, it might be challenging to choose which is better when each person's tastes and demands are taken into account. Some prefer a single display for aesthetic reasons or the productivity increase that a dual monitor provides, while others can't use less than three or more displays.
The truth is that purchasing a single ultrawide monitor is almost always less expensive than affording two similarly priced high-resolution screens. And for today's review, we'll look into an early 2021 ultrawide monitor release from HP, which prices aren't the lowest on the market, but we're hopeful that its features will stay up with the times. Follow below the HP P34hc G4 review, and find out if it is worth your money.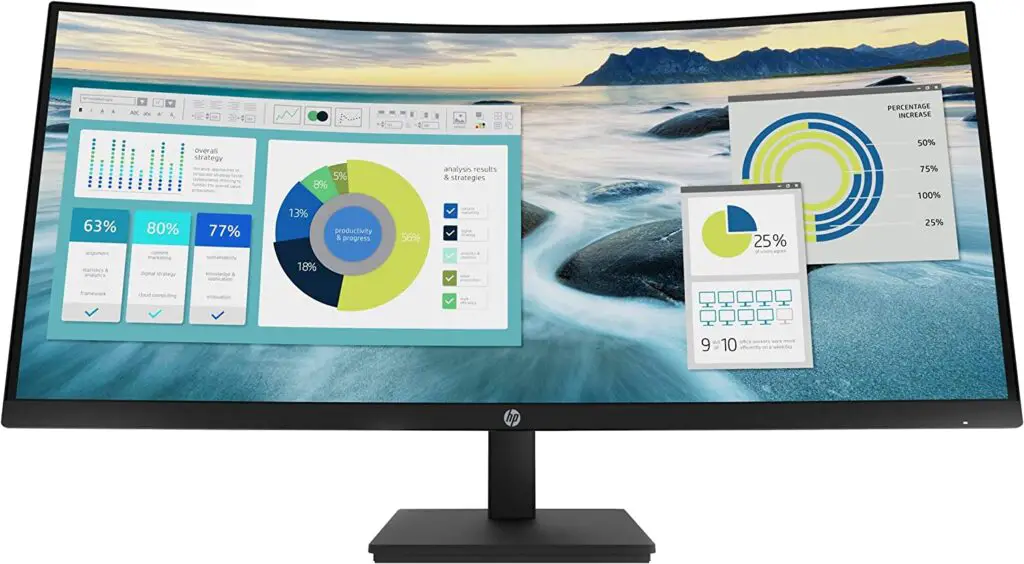 Design
The bulkiness of this display's design was the first feature that drew our attention. Despite being fairly large, it doesn't feel that wide because of its curvature.
That said, this is a quite significant curvature of 1500R, so if you're not really a fan of this feature, you should pass it up in favor of something like the: HP X34.
By the way, considering the costs of this screen, we had anticipated it to be a bit more sturdy than it actually is – featuring instead materials that have essentially the same surface as those on the previously mentioned screen, which is a way cheaper model.
It is not as if this will influence hugely on something or this monitor would break if it falls, but they surely had the meaning to keep it a little bit sturdier and decided not to, which is a shame.
Moving on, let's talk about the positives. First, it includes a height and tilt adjustable stand. Although this is what the majority will need for an ultrawide display, this is far from what we consider suitable for the ergonomic category. If we consider the typical pattern for ultrawide displays in this price range, then yes, this is an ergonomic stand that will provide you with pretty much all the necessary you're going to need for a huge screen like this one. Unfortunately, though, this stand doesn't have a gap to pass the cables through.
When things come down to overall style, this monitor is quite solid. It has no flashy patterns or RGB LEDs and has a single overused color: matte black.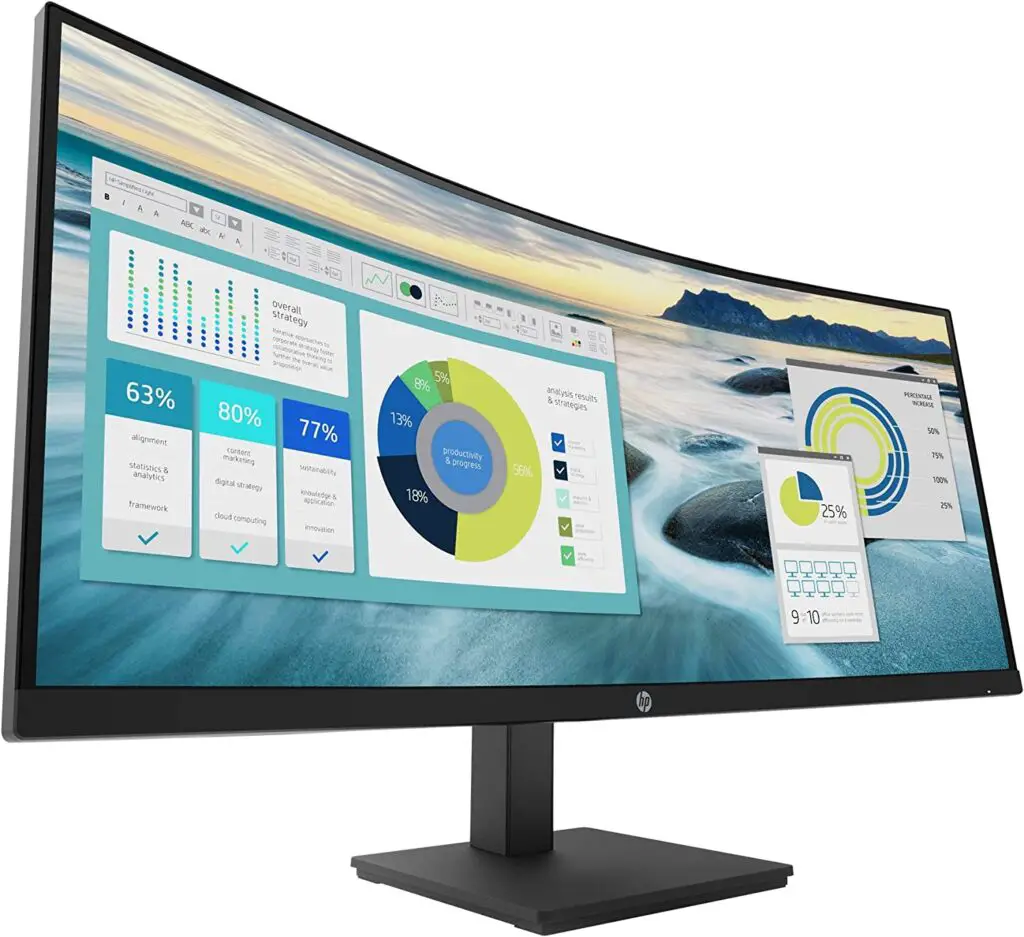 The fact that this color is really good for your screen to blend in with the setup and match with other colors can't overshadow the fact that almost every display has it nowadays. In my opinion, a monitor with some different colors but still a solid overall design and premium-looking style such as the MSI Optix MAG342CQR is much better for an office environment. 
The HP P34hc G4 looks decent enough for a home office, but it still appears to be pretty cheap due to its overall style, which might be a major disadvantage in an office setting. Its buttons replace the joystick, its bezels are somewhat bigger than those of other ultrawide displays, and its dull matte black color all make it a poor pick if how the monitor appears is going to have a significant impact on your view of it.
Finally, it features two 3W out speakers, which are more of a bonus than a true utility given that the audio quality and maximum volume aren't all that great.
In conclusion, we can note that while this monitor still performed within the acceptable range for a typical mid-range ultrawide screen, when we take its price into account, it, sadly, lags well behind its rivals.
Connectors
Fortunately, though, they didn't skimp on adding frills on the connectors section, including almost all the necessary for its KVM feature, which we will get further into later in the review. It includes: 1 x USB Type-C™, 1 x HDMI 2.0, 1 x DisplayPort 1.2, 4 x USB-A 3.2 Gen 1.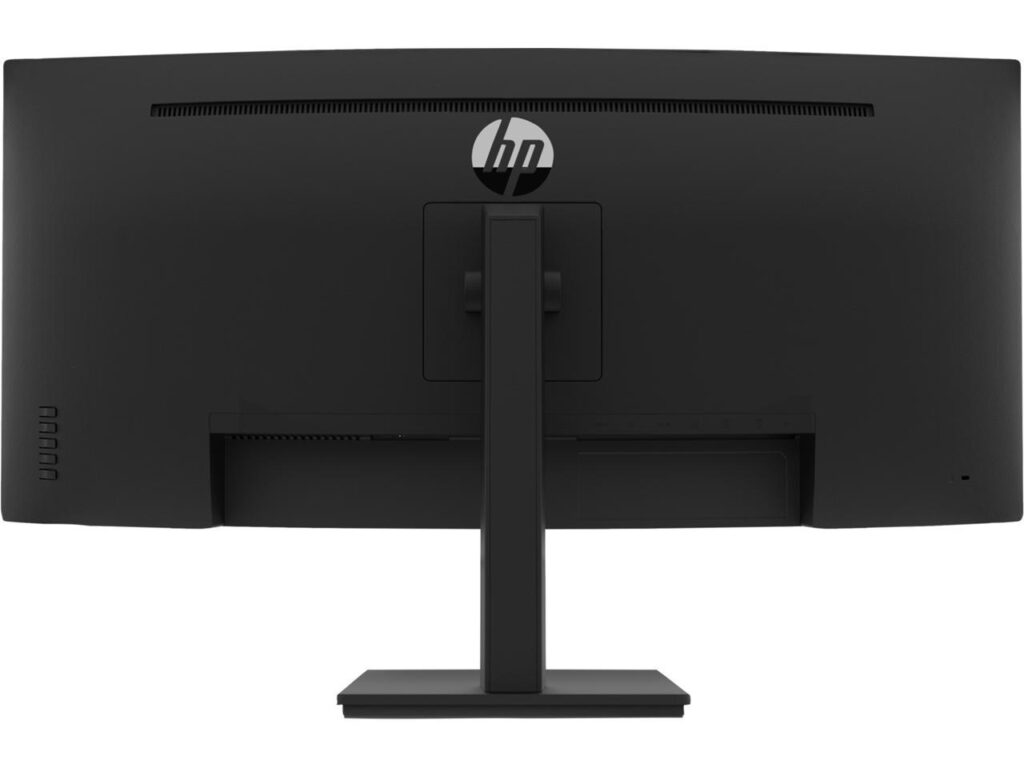 Features
Panel type
The VA panel, depending on the monitor it is used for, can occasionally be a concerning feature. Such a panel is frequently utilized nowadays for expensive, high-end responsive monitors and is also great for black and white contrast.
Still, this one lacks the higher responsiveness of gaming panels as well as the high peak brightness needed to improve the high contrast experience. As a result, don't anticipate the finest VA experience from this screen.
On the good side of things, the colors are quite accurate for a budget VA like this one, especially when we consider it has a lower gamut than the recommended for professional accuracy. In the end, if color accuracy is the main focus, the IPS is almost always your best bet within the same price range.
Even if we compare this screen with an even cheaper IPS ultrawide one such as the: LG 34WN750-B, the colors are visibly better out of the box on that one. 
Contrarily, the VA panel is the one you should get if you prefer rich blacks and stark whites for usage in a dark environment or if you dislike the IPS glow of IPS panels.
Unfortunately, though, the panel used here is quite subpar compared to other VA ultrawide screens in the same price range. And one of the culprits of that is the poor max brightness this screen provides.
Brightness
We have terrible news for you if you plan to use this screen in a brightly lit environment: glare issues are undoubtedly going to arise. The maximum brightness of this monitor is undoubtedly sufficient for use at night, in a dim room, but if your monitor is across from a window and your room is excessively bright, we advise against choosing it.
We noted the whites weren't really jumping out during the tests in a dark room with the brightness set to average, but the blacks were still sufficiently deep. However, the VA demonstrated its maximum brightness capability when producing some white and black contrast that was unquestionably superior to practically every IPS screen at the same price.
For IPS panels, the IPS glow gets worse when the brightness is increased and it is even more noticeable in completely dark rooms. However, because the VA lacks the IPS glow and has superior whites with a suitable brightness setting, it benefits even more from a high peak brightness. Its maximum brightness is one of the primary drawbacks of this monitor because of this.
Anyway, as was already mentioned, a sizable part of consumers may find this brightness enough, but given the pricing of current monitors, we can't help but wish we had gotten a little bit more.
Refresh rate and Response time
The HP P34hc G4 has a 100hz refresh rate; if it were any lower, this screen would already fall into the "don't purchase" category. When we consider its price range, 144hz is actually the greatest option, but they have the justification that they are saving room for the other – maybe less significant – features.
You will definitely see the changes if you place 144 Hz and 100 Hz side by side. Although the differences are tiny, they are noticeable, and you can definitely see that 144 Hz is a little smoother. However, if you aren't comparing or playing competitive games, it can't really be a dealbreaker, especially for regular usage.
We can say in advance though, that if you want a competitive screen, this is definitively not your best choice. It has a considerable amount of motion blur due to the half-assed refresh rate and 5ms of GTG response time. Besides, ultrawide screens don't usually have the right size for competitive gaming, and you'd be better with something like the: Acer EI342CKR if you need the plus responsiveness. 
Putting that aside, we can't deny that for casual games in a dark room, this monitor really shined. Considering your graphics card can push the resolution at high framerates, you're going to have a good experience with this monitor while playing. Of course, it is not the best experience due to the low brightness, but it is good enough when we consider gaming itself isn't the main focus of this screen. 
Unlike the: Hp M34D, which has similar prices and features to this one, this monitor does not have the PBP and KVM functions, so be sure to check that one out if you need those. 
Image Overall Quality
As mentioned before, the colors of this monitor are quite accurate for a VA screen leaning slightly towards the warm side. Surpassing the usual 99% sRGB, the NTSC gamut pattern, which is the one this monitor features, shares the vibrancy of other color patterns like the DCI-P3.
The thing is, those colors are indeed warmer than usual, even for IPS monitors. Of course, if you need more accuracy instead of vibrant colors, you can calibrate it yourself to have better results than those out of the box, but that may not be that worth it in the end, when we consider the final prices of adding the colorimeter to the cart.
Either way, if you don't care about having vibrant colors that aren't really accurate but give a plus to your gaming sessions, this is the VA monitor that won't disappoint you. If you do care about accuracy, however, bear in mind that you'd be better served with an IPS panel in the same price range such as the: LG 34WP85C-B.
Moving to the other good image quality features of this monitor, we have the resolution, which is one of the main benefits here, hands down. The 3440 x1440 does its job almost perfectly keeping the cramped pixels in perfect balance for crystal clear images.
The PPI is awesome here and will surely give you enough room for multitasking if that's your main concern. The 3500:1 also does its job, while the low brightness drags it down, but it still manages to give the expected VA panel contrast.
When we consider all image quality features here, we can see this monitor stands within a pretty typical range of budget monitors, but it costs a little bit more for some reason. In the end, the HP P34hc G4 delivered us a bit of everything: some mediocre speakers, a VA panel with cold colors, a brightness that could be better but does its job, a smooth refresh rate but poor motion blur, and a good resolution for its size – all of those average features for higher than average prices while not on sale.
Final thoughts
When to buy it
Unfortunately, the HP P34hc G4 falls into the don't buy category of hp's screens. It features pretty much all the features of the Hp M34, but it costs about the same. The only thing better in this screen compared to that one is the warm color pattern, but that comes down to personal tastes and needs.
This monitor could be an acceptable option to consider in a parallel universe where it costs roughly $150 less than it does now, but at $510 right now, it is unquestionably not the one you should add to your list.
Therefore, even on sale, you should keep in mind that it is easy to find a better screen than this one, such as the: HP X34 or the: LG 34WP65C-B. 
Besides, you can even go for cheaper choices but with similar features like the MSI Optix MAG342CQR and the Acer EI342CKR.
To wrap things up, if you find those monitors in a good sale, choose the: HP P34hc G4 if you prefer the warm colors, or: Hp M34 if you need the KVM feature and dull but accurate colors.
You may like