Our Conclusion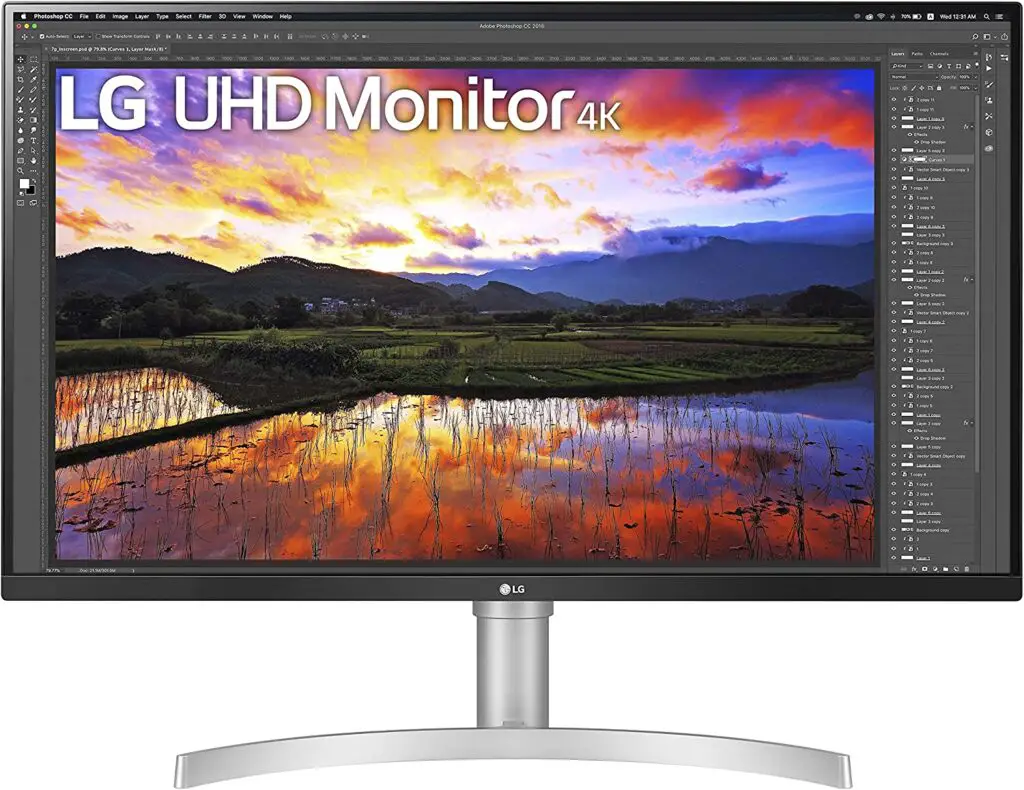 The LG 32UN650-W would have been among the finest in the $400–500 high-resolution category of displays today if it weren't for its high IPS glow. Before purchasing this one, I advise you to compare it to the LG 32UP83A-W, one which is a little more expensive but has better brightness and stand adjustments. But keep in mind that you will get a terrific deal with either one you choose.
Pros
✓ Good colors
✓ High pixel density
✓ Good prices
✓ Out speakers
Cons
✘ Lack of USB ports
✘ Below average brightness
While outdated monitors quickly become overshadowed by their competitors in the current market once they reach a certain age, the likelihood of discovering hidden gems among them sharply increases.
You can find several affordable options with fantastic price performance if you look hard enough, such as the LG 32QK500-C and the LG 32UN550-W. However, such monitors typically have several characteristics that aren't up to date with new demands, and it is up to you to decide if the prices and features are in perfect balance for your needs.
And for today's review, we'll examine this somewhat old LG monitor to see if it still merits our attention or if its age renders it unworthy. Check out the LG 32UN650-W Review, along with all of its benefits and drawbacks.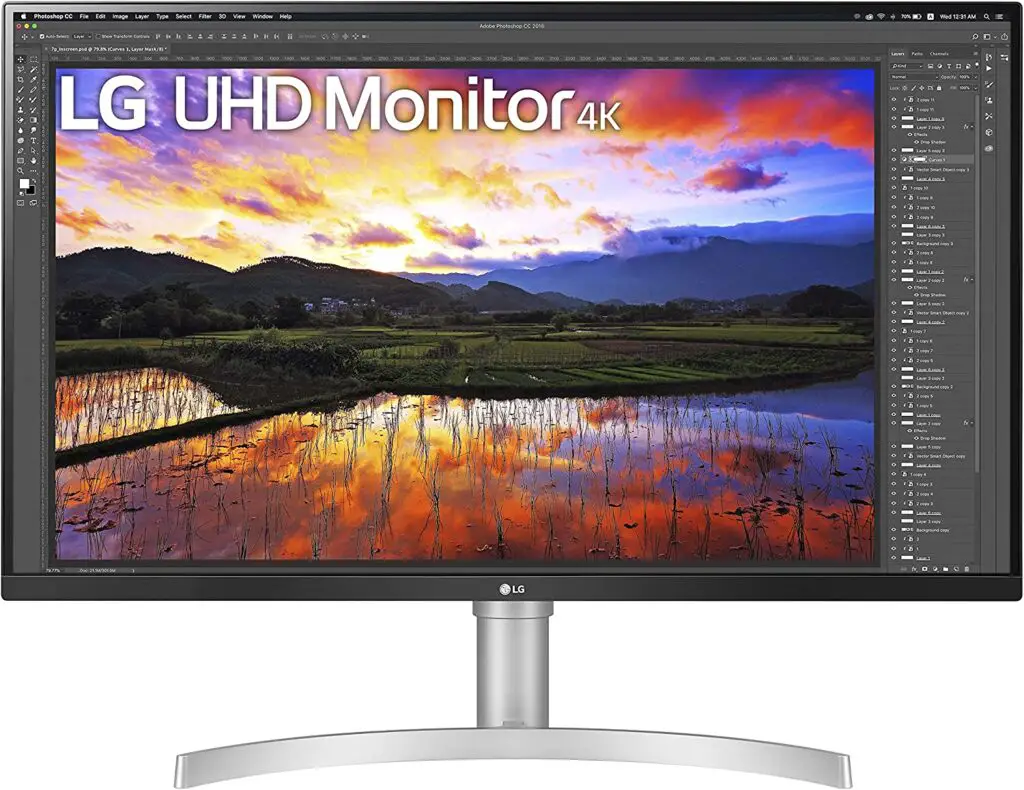 Design
Surprisingly, even by modern standards, the design of this monitor is still fairly sound. In reality, it's easy to find LG monitors that resemble this one exactly or very closely, such as the LG 32UP83A-W, a 2022 LG screen.
Keeping this traditional design is advantageous since it is solid enough for both casual- and professional-oriented screens, but it might also indicate that LG is not making enough effort to develop the look of its recent monitors.
With white on the back, metallic gray on the stand, and black on the bezels, it sports the traditional three-color design. Speaking of, the bezels here are also within the acceptable size to be considered "borderless", so that may not be the biggest concern here either. 
With only tilt and height support, the stand isn't excellent, but it's also not the worst in LG's portfolio, so if you want the additional ergonomy it lacks, think about adding another stand to the final cost.
Since the majority of LG screens that cost more than $400 these days frequently have superior stands, the LG 32UP83A-W and the Lg 32GN63T-B are two obvious examples, we can really include this stand as one of the key aging con aspects of this screen.
On the plus side, this stand won't take up a lot of room on your desk thanks to its U-shaped design.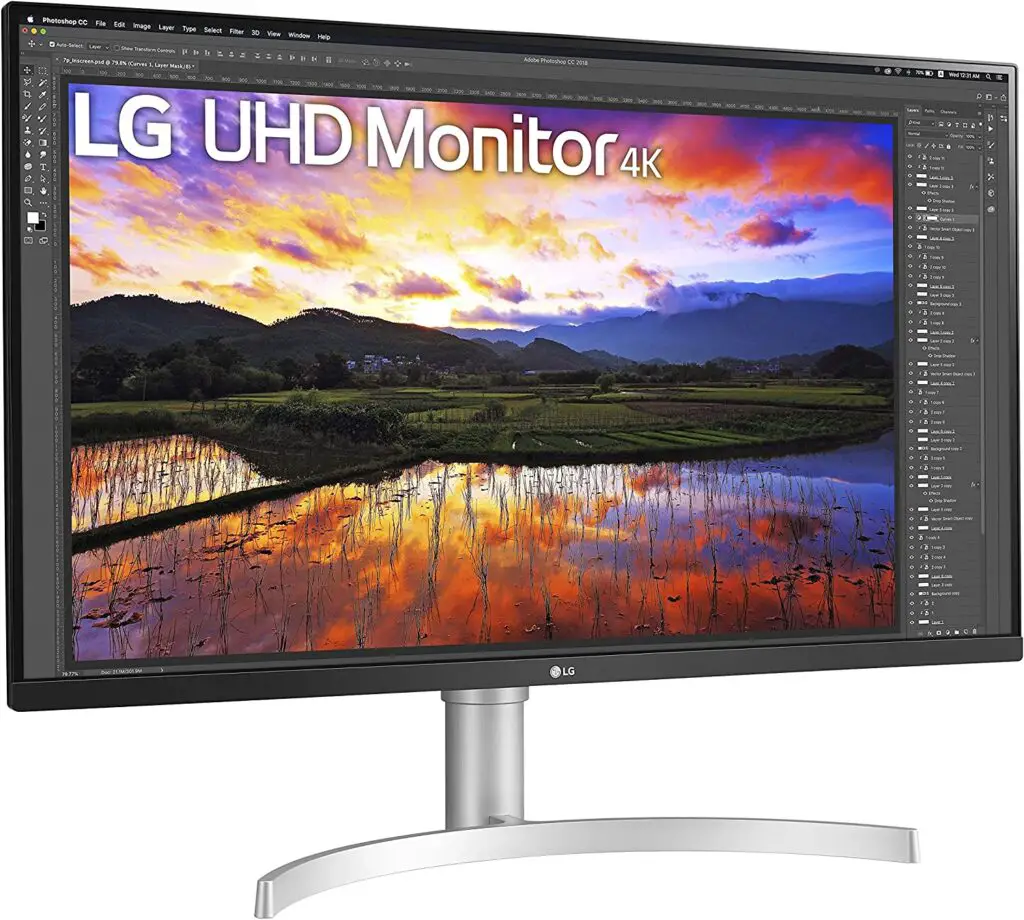 By the way, this screen is 32 inches wide, 8.9 by 28.1 by 19.1 inches, and weighs 18.1 pounds. Make sure your desk has adequate space for it. You may mount it on the wall using the VESA support if it hasn't.
As we continue with the aging drawbacks, we should also point out the absence of a joystick, which makes navigating through the menu always a clumsy hassle. 
Last but not least, we must point out that this screen contains 2x 5W speakers as well, which has a very reasonable sound quality but nothing too outstanding. Just consider it as a plus feature. 
Despite all of those tiny drawbacks, this screen ultimately complies with current LG casual screen trends, even being a little bit slimmer than usual. 
With that, even if it lacks the traditional and overused matte black color, you can rest easy if you need to use it in the office because it won't stick out too much or appear to be an outdated screen.
Connectors
The connections are quite mediocre here, and they decided to keep these basic to lessen the impact on final prices. This monitor includes only 2x HDMI, 1x Display port, and 1x Headphone out.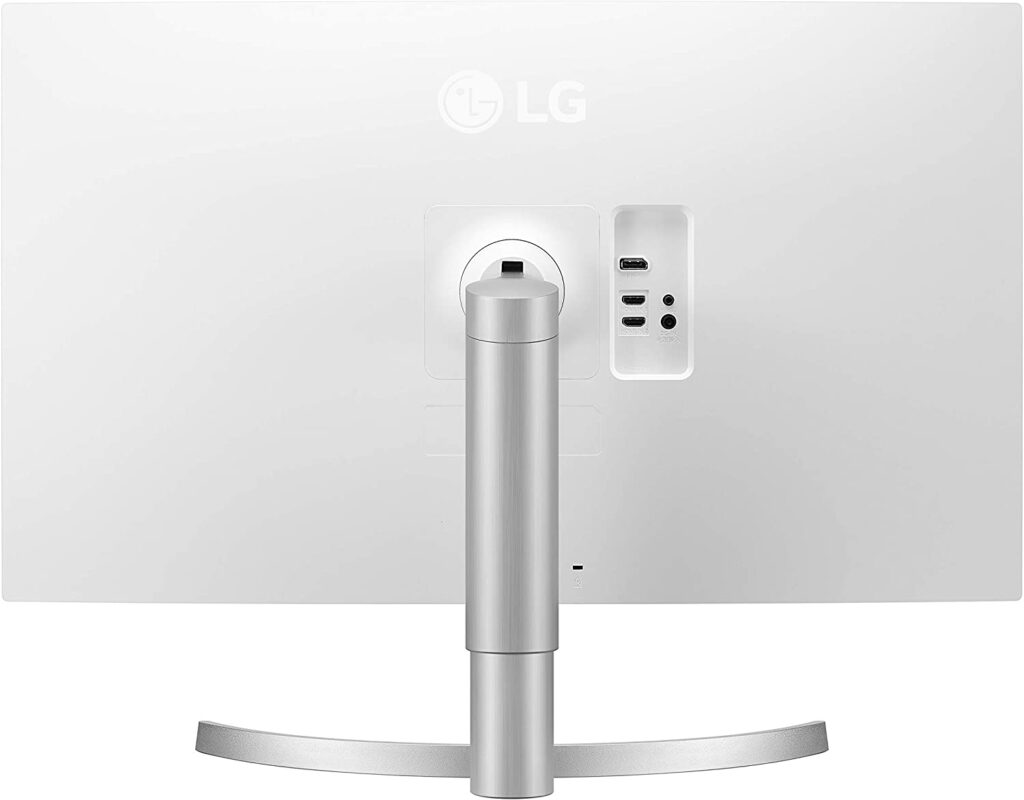 Features
Panel type
The LG 32UN650-W easily outperforms the bulk of its rivals in this price range when it comes to colors and panel quality. Due to its vibrant colors right out of the box and substantial possibility for improvement after calibration, this IPS panel is among the finest for the money.
Unfortunately, there is a cost associated with all of this: the IPS glow. Unquestionably, the same problem frequently plagued a significant number of older LG displays.
One of the biggest drawbacks of IPS panels, if not the only one, is the IPS glow, and this is where it really hurts this monitor. Fortunately, you'll probably experience some problems with this in a dark room, but if you set the brightness to an average setting, it might not even be that big of a deal.
However, keep in mind that the IPS glow varies from unit to unit, so yours could not have any glowing light at all. Having said that, the consistency of the IPS glow between models is also influenced by the panel's construction quality, which directly affects the price of the monitor.
In other words, cheaper IPS panels typically have a higher propensity to bear higher levels of IPS glow. And taking into consideration that this is not a cheap monitor at all, the IPS glow is an ever larger drawback.
Brightness
It is barely able to comply with the HDR criteria while having a relatively good peak brightness. On paper, it has 350 nits, which is slightly less than the required 400 nits for HDR 400.
In spite of this, you're probably not even utilizing the maximum brightness if you don't place this screen across from a window or in an extremely bright setting.
When it comes down to it, the majority of consumers are quite OK with even 250 nits, which is typical of the less expensive displays like the Lenovo l27e-30.
Additionally, I advise you to go with a lower brightness level because the higher you raise the brightness, the more the IPS glow is seen on IPS screens.
During tests, this brightness was even enough to have a slight advantage over your opponent in a dark place.
In that scenario, you can crank up the brightness to its maximum, and it will probably be enough to clearly see your opponent. Besides that, the reflection handling here is quite average, some may even argue it is subpar, but the glare wasn't that big of an issue with our unit.
Refresh rate and Response time
It's unfortunate that this monitor only has a 60Hz refresh rate, which is a significant turnoff for some. Still, we weren't expecting the LG 32UN650-W to have anything greater than 60hz because even today, the 75hz is a bit of a rarity for inexpensive UHD panels. 
Given that it has a significant influence on your everyday work and general use of the screen, this feature should be carefully considered before making your decision. Going down to 60hz may be quite difficult, especially at first, if you are used to anything higher.
It all boils down to how well you can handle this drawback in the end. It feels like playing laggy games to me when I go from 144 Hz or higher to 60 Hz. The influence extends to routine activities like web searching. 
Having said that, some people find that the 4k resolution makes up for the lower refresh rate, but we'll talk more about this feature in the following section.
For now, it should be noted that the 60 Hz/5 ms combination does not provide the smoothest gaming experiences possible with monitors in this price range due to the degree of motion blur and lack of smoothness. 
Naturally, 4K displays and the 32-inch size are not the best options if you want to play competitively. In that case, you may choose a monitor that is comparable to this one in terms of overall characteristics but that has a larger emphasis on responsiveness, such as the HP X32, which sacrifices high resolution for improved responsiveness and is in the same price range. 
However, if you just play casual games sometimes, this monitor's IPS screen and high resolution may already be more than enough to provide an amazing gaming experience, even if it isn't as smooth. We must not forget that the LG 32UN650-W also features FreeSync technology, so at least the screen tearing won't be an issue for you when playing.
Image Overall Quality
If the image quality is your primary concern, you can rest assured because this monitor is among the finest in its class in every way, and you won't be let down.
The 32-inch screen size and 4K resolution (3840 x 2160) maintain the pixels close together enough to provide crisp images with a higher PPI than even the 1440p 27-inch combo, which is now one of the most popular for affordable displays.
Having said that, the colors on this screen are even richer and are without a doubt one of the highlights of the LG 32UN650-W. The after-calibration performance of this screen is amazing for its price range, even though there are better options for out-of-the-box colors, such as the ASUS PA329CV or the Hp U32.
The out-of-the-box colors here are leaning towards the warmer side with vibrant greens and reds. After calibration, the colors will appear more realistic, however, you can choose to keep them vibrant if you wish.
The DCI-P3 95% Color Gamut, which is significantly larger than the standard 99 sRGB, is what gives colors their vibrant appearance. On the other hand, the 10-bit color pattern and expanded gamut together allow for an accurate colorimeter calibration.
With that in mind, we can state with certainty that, provided you calibrate it, this is one of the greatest displays you can purchase to deal with media.
If you want to get the fullest of what a high-sized screen offers and colors aren't your major concern, I recommend that you go for an ultrawide screen or anything 4k larger than 32 inches, such as the LG 34WP65C-B.
Since not everything is a bed of daisies, this monitor exhibits a fair degree of IPS glow, which may be a deal-breaker for certain people. But in the end, it feels wrong to demand too much of a low/mid-end screen like this one with such great features.
Final thoughts
When to buy it
The LG 32UN650-W still performs better than most of its rivals in the same price range despite its age. It boasts vivid colors, a nice high resolution, and, to put it mildly, fantastic discount pricing.
It does, however, have a few drawbacks that make other displays like the: LG 32UP83A-W and the Hp U32, even if they are a little more expensive, preferable.
It is one of the greatest displays you can get for the money if you find it being offered at a reasonable price premium compared to the monitors I listed above.
You may like