Our Conclusion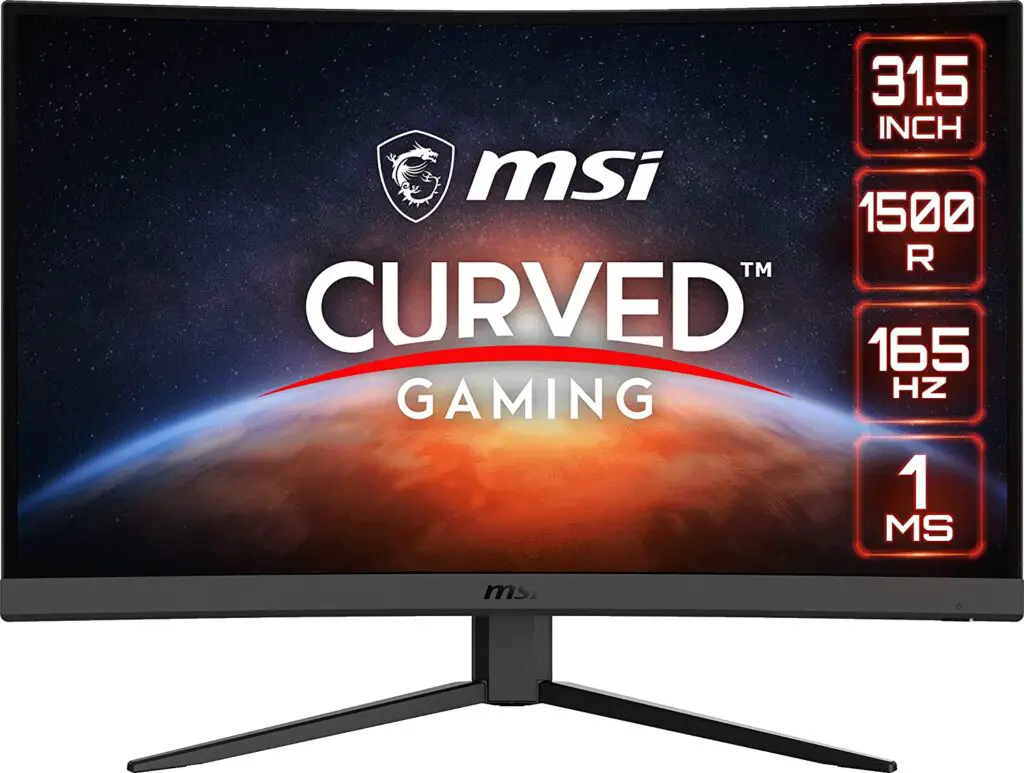 The MSI Optix G32CQ4 is one of the most affordable gaming displays by MSI with a decent resolution and size. However, there are a few drawbacks that make the category "gaming" a poor choice for it to be included to. It is adequate for the price it is being marketed at and as a casual screen, but if you want a higher edge in responsiveness, spending an additional $10-20 on something like the HP X32 is the better choice.
Pros
✓ High refresh rate
✓ Great aesthetics
✓ Affordable
✓ Nice colors
Cons
✘ VA panel
✘ Elevated Motion Blur
As a long-time competitor in the monitor industry, MSI is aware that not everyone likes the standard 27-inch 1440p displays and that they should make an effort to provide budget-friendly 32-inch monitors as well.
This one was released quite some time ago, which led to its pricing reaching a decent position currently – far better than what it was being offered post-launch. All we'll examine in today's review if it still complies with current standards for this kind of screen and whether its features are worthwhile considering the cost.
See the MSI Optix G32CQ4 Review, which includes all of the monitor's advantages and disadvantages, below.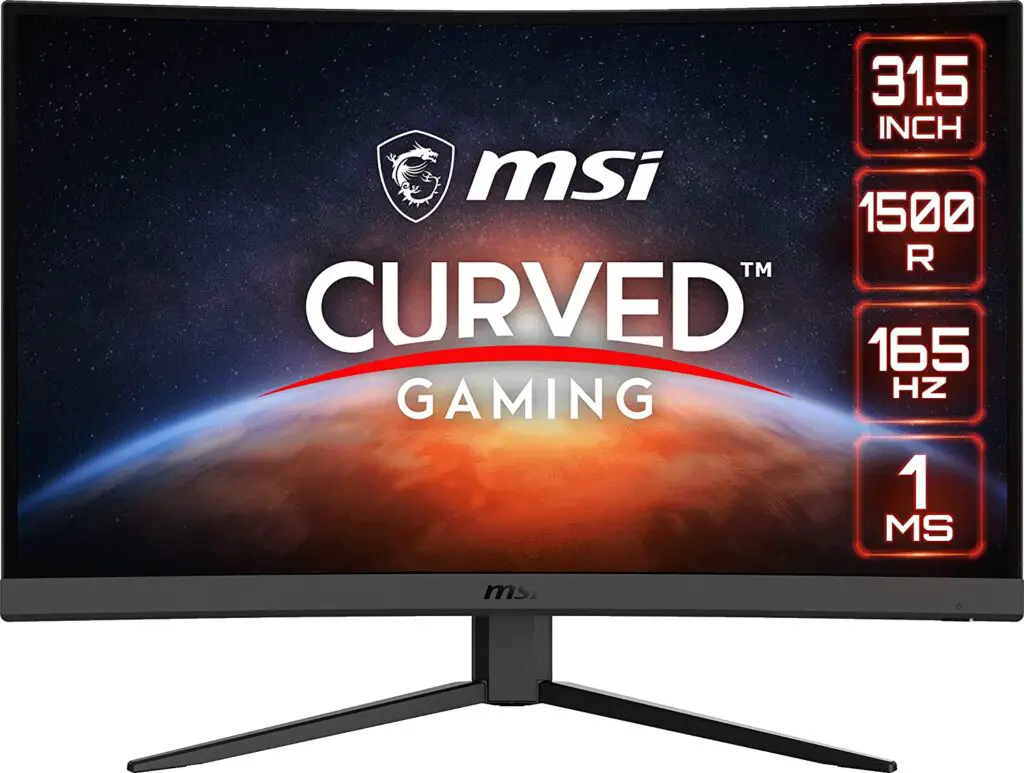 Design
If I told someone that this monitor was just over three years old, I wouldn't find it strange if they believed me to be lying. Anyone unaware of the facts can be fooled by its overall thinness.
In fact, if you had asked me before I knew this, I probably would have responded in the same way. 
One feature that stands out as a dead giveaway is the bottom bezel, which is among the largest I've seen for MSI Optix displays. The bottom one is what throws everything off, however, while the three-sided ones can still be referred to as "borderless." 
The good news is that, if you don't care too much about the aesthetics of your monitor, this won't be a huge concern during routine everyday use. 
By the way, this display precisely adheres to the Optix monitor design pattern except for the bulky bezel. It is completely matte black and has a few crisp touches on the rear to give off a hint of the gaming vibe that MSI is renowned for. It isn't overly showy, though. 
Of course, this is obviously not the monitor you should choose if you want some RGB LEDs and fine details to stand out more; if you do, you should be prepared to pay a little bit more for something like the HP X27I. 
The 1500R monitor's curvature is another factor that can turn off a sizable number of consumers. This feature is fairly contentious; some people adore it and simply couldn't live without it, especially for large screens like this one, while others just don't care for it at all.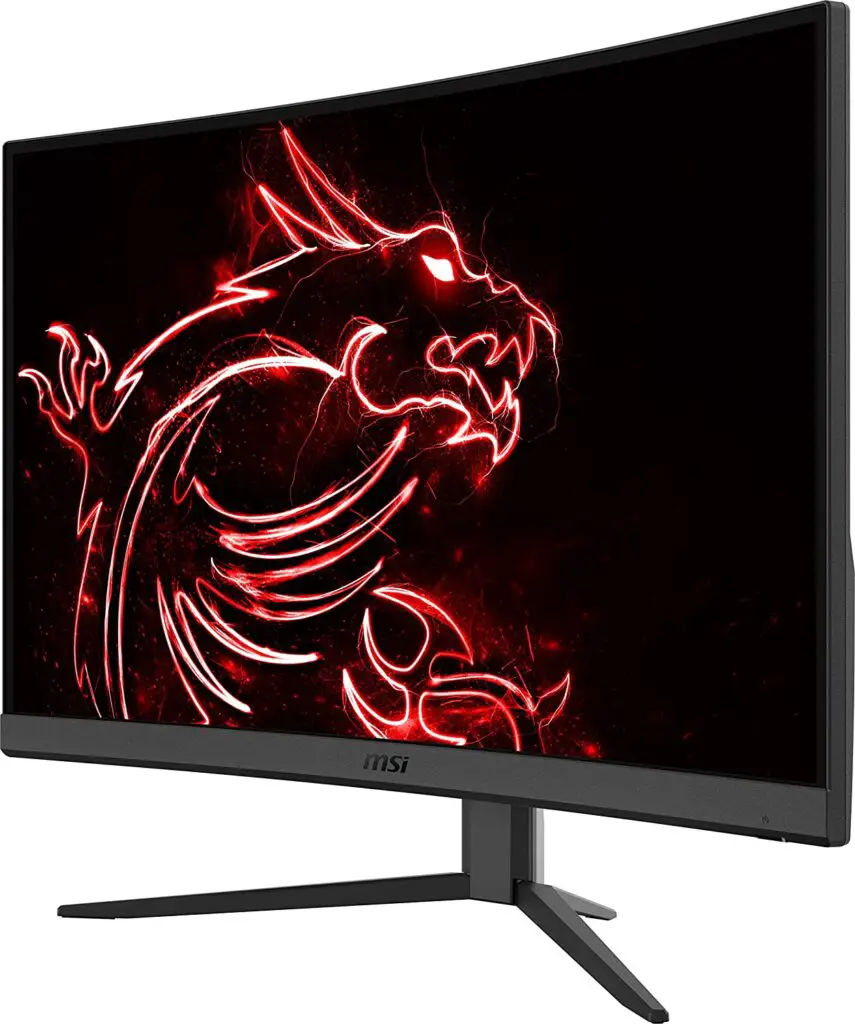 By the way, this monitor is 32 inches long and weighs around 13 lbs; thus, make sure there is adequate room on the desk for it.
For me, this monitor's stand is without a doubt one of the best-designed stands in the MSI lineup. It is thin, with sharp edges that complement the aesthetics of the whole display, and takes up little desk space.
The drawback of this particular one is that you can just tilt it; it lacks pivot and height adjustments, for instance. Fortunately, it features VESA support, allowing you to mount the screen on a wall or use it with a better stand.
In general, MSI did a really excellent job making this one solid enough, even for people who want to use it for an office setting, despite being renowned for its "gaming" displays with colorful LEDs and flashy patterns for its panels.
Even the logo complements the color of the bottom bezel rather nicely. The joystick is the only item that, for some reason, isn't the usual matte black hue and is instead a solid shade of red.
In either case, it is a proven truth that MSI seldom makes huge blunders in the design of their displays.
Connectors
Besides the good aesthetics, this monitor does not have that many impressive features here in the connectors section, having only the usual: 1x Display port, 2x HDMI, and 1x Headphone-out, which is expected somewhat if we see the prices it's being sold at today.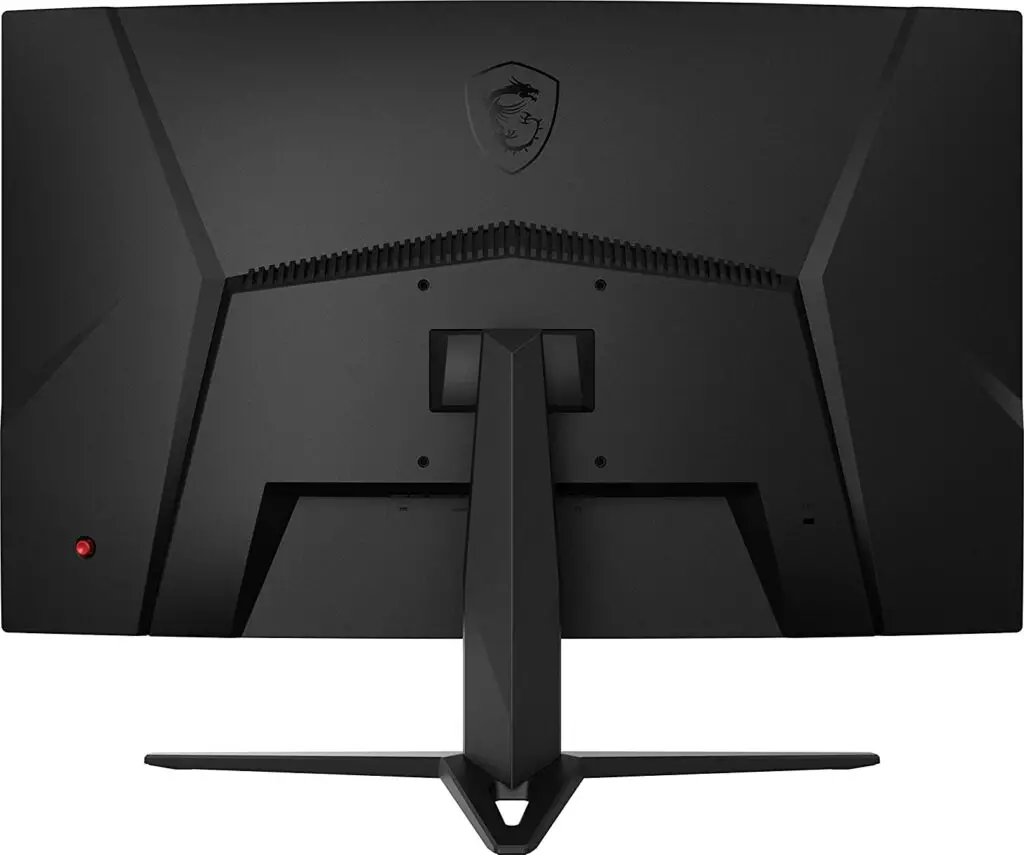 Features
Panel type
Although the overall design of the MSI Optix G32CQ4 is fairly outstanding, there are a few flaws we should mention about its other features. 
I'll start with the VA panel. Don't get me wrong, this is not a bad panel per se, but when it is utilized for a cheap gaming screen like this one, it has a higher likelihood of performing poorly. 
Although it is still true that this panel usually aids in the monitor's overall responsiveness, when compared to an IPS display in the same price range, it hardly helps for cheap displays like this one.
Additionally, when comparing the two, the IPS panel definitely has better colors right out of the box and often has a wider color gamut range.
That said, the colors on this monitor are excellent within the limits of the VA gamut; yet, it would've been even better if the monitor had an IPS panel, bear that in mind.
The wonderful thing about VA panels, though, is that they don't have the infamous IPS glow and can render deep blacks and stark whites. This is the main reason why some people still favor this panel over IPS. 
If you're deciding which one to go for, in the end, you'll have to choose between the VA panel's excellent contrast and less accurate colors vs the IPS panel's beautiful colors but IPS glow, depending on your own preferences.
Although it has certain gamut restrictions, a VA panel may achieve very similar levels of color to the IPS when correctly calibrated, which is also important to note. So be aware of that if you have a colorimeter to use. We'll get further into the color accuracy in the image quality section.
Brightness
Good peak brightness is even more important for VA panels than for IPS panels, as we usually point out in our reviews of VA monitors. Although this monitor has a respectable one, it falls short in this area. 
Its brightness is slightly above 250 nits, which is to be expected for a monitor in this price range, but it doesn't change the fact that it is a little underwhelming. 
Due to the poor management of reflections, glare is a significant problem if you use it next to a window, and having a low brightness like this one further exacerbates the drawbacks.
On the other hand, this brightness is enough for most people who won't use the screen in a brightly lit environment or at night. By the way, if you enjoy using your computer in a dark environment, this panel is ideal. 
The blacks on this display are extraordinary since they don't have the IPS glow, which makes nearly all IPS panel blacks appear gray. Of course, a greater peak brightness would have been preferable, but we shouldn't hold high expectations for a cheap display like this one. 
In summary, the MSI Optix G32CQ4 does have a little less brightness than what we think is great for VA panels, but when utilized at 100%, it provides what most consumers would require. Just be sure not to place it across from a window, and you'll be good.
Refresh rate and Response time
This monitor, although having a few drawbacks, managed to balance out its negatives with its positives in terms of responsiveness.
It boasts a high refresh rate, which is uncommon for a panel this cheap, especially a cheap MSI monitor. It has a maximum frequency of 165 Hz and provides a good, smooth experience for gaming or even more banal activities like browsing the web. 
Naturally, a 240 Hz rate would be preferable for individuals looking to enter the competitive gaming scene, but 32 inches is not the ideal screen size for this application anyways. 
When playing competitively, you should choose a screen that has a higher PPI and a smaller size, such as a 24-inch or 27-inch screen. Contrarily, casual gaming is significantly more flexible and solely depends on the player's preferences.
I believe that 1440p 165hz is good enough, depending on the graphics card I'll be using and the games I'll be playing. However, if I wanted this resolution, I certainly wouldn't choose a 32-inch screen; but, this is a topic for the next section. 
The significant amount of motion blur this display exhibited, which was a major inconvenience for the fast-paced games played, comes next on the list of drawbacks.
On paper, it appeared to have 1ms of motion blur, but in practice, the results were far worse; in fact, we may even declare that this MSI monitor is among the worst we've recently experienced. This prompts me to reiterate that if you need a monitor for competitive gaming, you should get something like the Asus XG27AQM or the Dell S2522HG rather than this one. 
Sometimes the motion blur was observable enough to be hindering the experience with the screen, even for casual games at slower pacing than FPS but slightly faster than your typical casual game. 
I guess being one of the cheapest 32-inch "gaming" displays out there comes with a price in the end.
It also has FreeSync Premium support, so at least you won't be having to deal with screen tearing.

Image Overall Quality
There is no doubt that this VA monitor is a good value for the money, at least in terms of image quality. It boasts decent resolution for its size, good, higher-than-average colors, and a strong contrast ratio of dark blacks to dazzling whites. 
Naturally, none of the aforementioned features are the best in class, but they are excellent given that this is a $250 screen when on sale.
The resolution and PPI are the only factors that can potentially make this display less desirable. 1440p is still not the optimum resolution for 32 inches, although being better than 1080p (and believe it or not, you can easily find 1080p 32-inch screens with prices to the moon).
Don't anticipate the sharpness to be of the highest caliber, since the pixel density is approximately the same as that of a 24-inch 1080p display. 
The 1440p 27-inch is one of the greatest options you'll have and is unquestionably superior than this one if visual clarity is something you care about deeply but don't want to spend the money on a 4k high-end screen. 
And if you want a larger screen size, I advise choosing a 4K 32-inch model, which would provide you incredible crispness but sometimes at the cost of a chunk of responsiveness, especially in low-end versions. 
However, because 1440p is less expensive and not as awful as 1080p for higher screen sizes, I can understand why some people still want a monitor like the MSI Optix G32CQ4. 
Yes, the colors are good here but don't expect them to be precisely accurate to a professional standard. If you calibrate it, you can probably get quite near to that, but the limited gamut won't let the colors go as close as they would on an IPS panel. 
Due to the expanded DCI-P3 color gamut, the colors will be vivid right out of the box, and some people still favor this for gaming. On the other hand, those are categorically inaccurate for the media edition, so if you need a professional one, disregard this one and think about investing in a low-cost entry-level professional model. 
As previously said, the contrast is excellent, which is wonderful if you use the monitor in a dark environment, but the screen's low brightness and significant motion blur can occasionally make for a poor casual gaming experience.
Final thoughts
When to buy it
Before buying this screen, you should first compare its low costs with its drawbacks, including the VA panel, the subpar PPI ratio, and the significant amount of motion blur.
The MSI Optix G32CQ4 is not an easily recommendable screen. This is not a monitor I wouldn't put on my list with all of these drawbacks, especially when you can find something better in the same price range.
Instead, I'd choose something slightly more expensive but with better features and a higher overall quality standard, such as the: HP X32 or the LG 32GP850-B.
You may like