Our Conclusion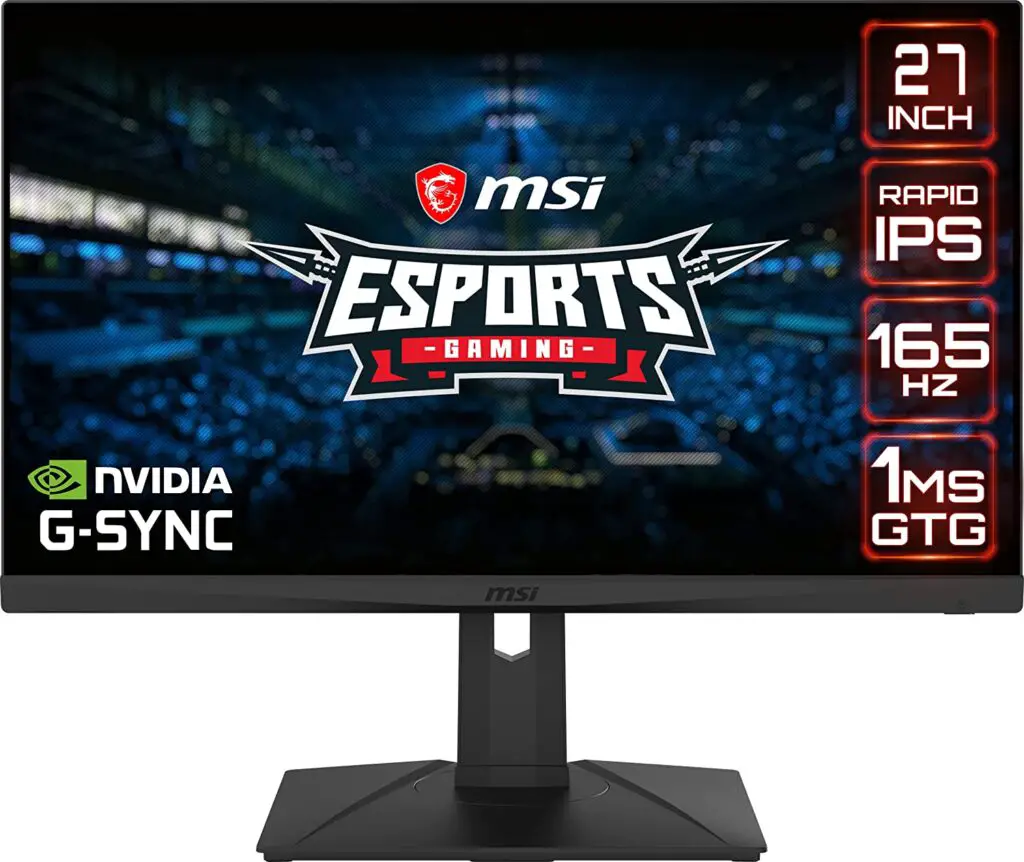 For those looking for a decent 27-inch monitor with vibrant colors and gaming features for the competitive scene, the MSI Optix G273QPF is a perfect choice for you. It is presently one of the most affordable options with Fast IPS technology, putting it among the best in its class.
Pros
✓ 144hz, 1ms
✓ Vivid colors
✓ Fast IPS
✓ Budget
Cons
✘ Low PPI ratio
✘ Lacks "gaming" details
MSI has gotten off to a great start this year, releasing amazing display models every month since January. Due to their ridiculous price-performance ratio, the MSI Optix MAG274R2 and the Dell S2522HG are unquestionably strong contenders for the finest gaming monitor of the year.
And for today's article, we're looking at another MSI release from 2021 to see whether it can match the performance of its predecessors. 
So, without further ado, let's have a look at the MSI Optix G273QPF Review to see if this is a monitor worth considering, or if it's just a waste of money.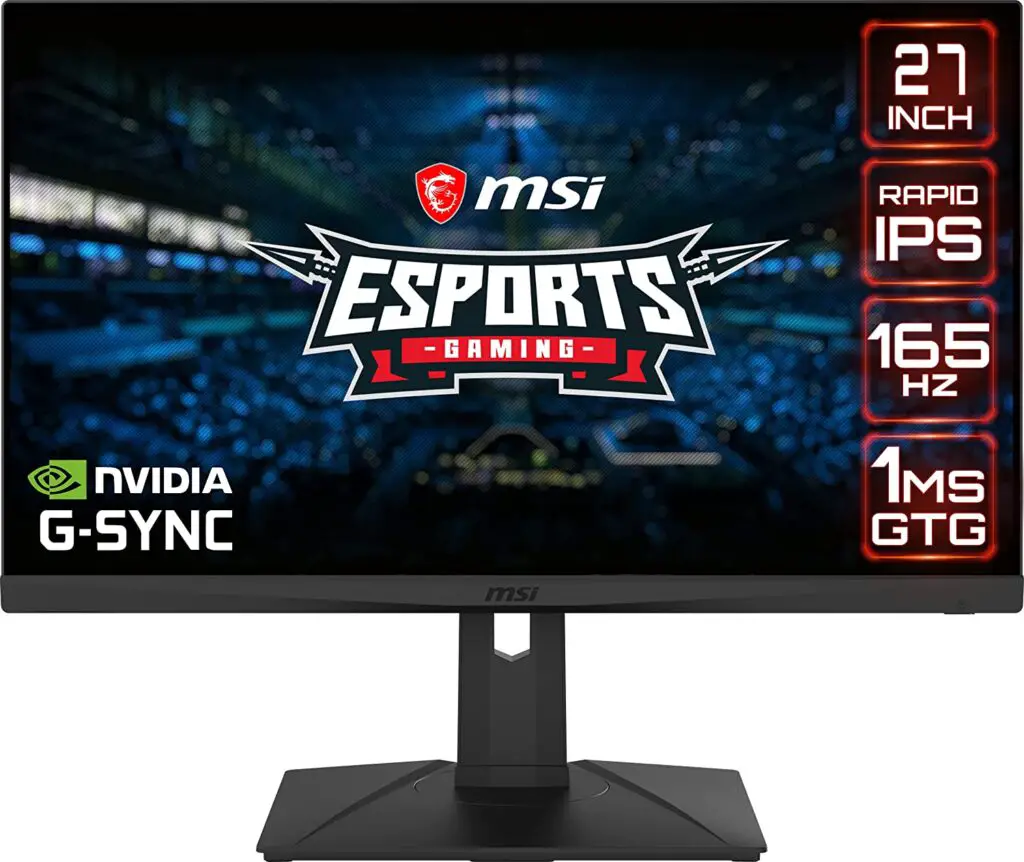 Design
You can't look at this monitor without thinking of the MSI Optix MAG274R2. It has a very distinct aesthetic, which MSI opted to apply for this model as well. The MSI Optix G273QPF features a highly detailed bottom bezel and is completely matte black. 
The sturdy stand, on the other hand, is what really makes it appear like the others.
This stand is square in design and is very large for a 27-inch monitor, which may be a disadvantage for some. It, on the other hand, offers several adjustments, including tilt, swivel, height, and pivot, being indeed an ergonomic pick.
Looking at the rear of the display, we can see that they opted to use distinctive features for this portion of the panel. 
This monitor has the same back style as the other displays in this range reviewed on reatbyte. It has sharp details as well, but it's more subtle, with only a few eye-catching elements, so if you didn't like the rear design of the MSI Optix MAG274R2 due to its flashiness, you should probably like this one.
This monitor also includes VESA support, so you can easily and inexpensively mount it on the wall. It's also worth noting that they opted to remove the monitor's out speakers, which is a regular practice for this line.
So, in general, we can say that this monitor does have some "gaming" aesthetic patterns, but it can still somewhat bends towards the professional-looking category. 
Connectors
Also, for this price range, you can already expect it to lack a wide range of connectors, and it is just like we imagined. They added just the necessary: 1x Display Port (1.2) 3. 2x HDMI (2.0b) 4. Earphone out.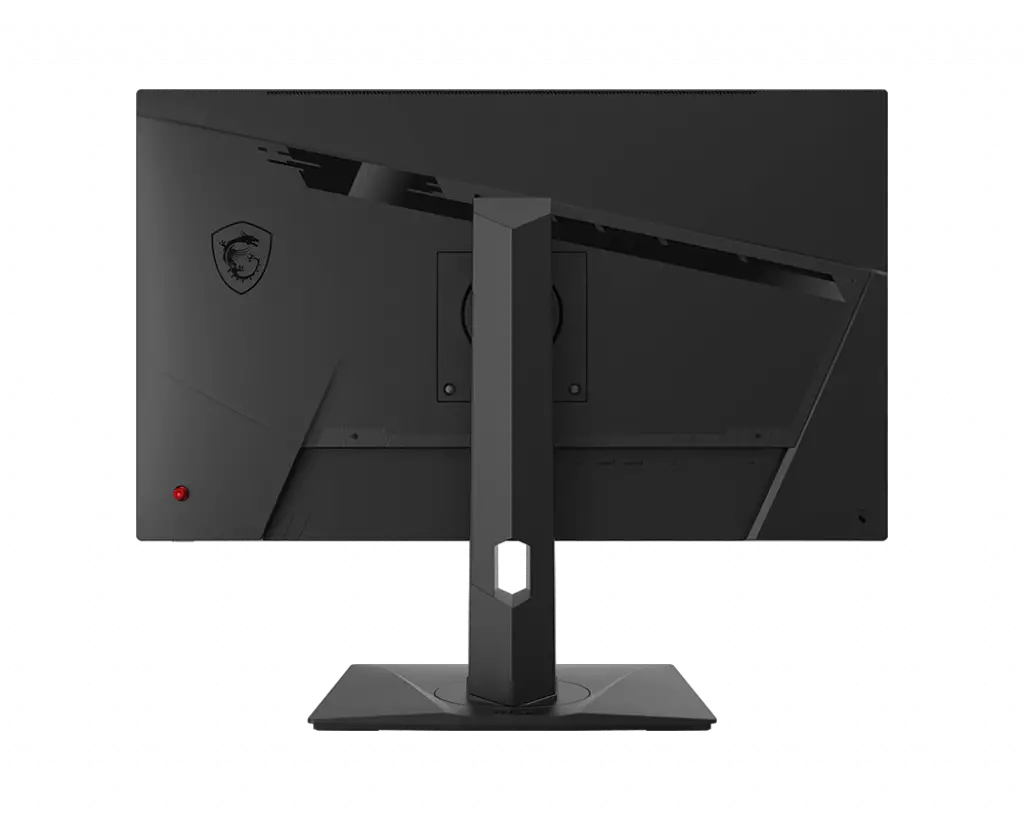 Features
Panel type
Despite releasing it with below-average pricing, they were nevertheless able to include the Fast IPS function in this monitor, which surprised us. 
This feature alone can be a decisive factor in assessing whether or not this is a worthwhile investment right now. 
As you may know, standard IPS displays offer a wider color spectrum than other panels (VA, TN), resulting in more accurate color reproduction. However, it still falls short in terms of response time, with poor response time numbers, which might be a major drawback for gaming displays. 
The Fast IPS function, on the other hand, proved to be sufficient on both sides, providing the same accuracy as the conventional IPS without reducing response time metrics. It is indeed the most expensive panel currently, but its benefits can easily make up for its costs.
Brightness
Furthermore, the IPS technology gives excellent viewing angles, allowing the manufacturer to save by lowering the peak brightness, as they did with this monitor. 
Another reason for this MSI Optix G273QPF's low price is that it lacks top-tier overall brightness. Instead of the normal 400 nits seen on high-end gaming monitors, this one only has 300 nits.
A screen with 300 nits may display pictures that are clearly visible even throughout the day, even when placed in a well-lit room. 
As a result, you can be certain that this monitor will have just enough brightness for your needs as long as the screen is not exposed to direct sunlight. In this case, it'd be a better deal affording 400 nits one.
Refresh rate and Response time
In terms of gaming functionality, this monitor follows the standard of its own series once again. 
You can get it to go up to 165hz if you use a DP cable with it. If you use an HDMI cable instead, the maximum frequency will be 144hz. 
It also boasts a response time of 1ms, which is a good figure for gaming displays and is much better when combined with the fast IPS function. 
It also features G-sync technology, which eliminates screen tearing during games, increasing the overall pleasant experience even more. 
As a result of all of this, we can confidently state that this monitor meets the criteria for being designated as a gaming monitor. 
And now, let's check out its image quality to see if it lacks something over there. 
Image Overall Quality
Because the MSI Optix G273QPF is a 1440p monitor, keep in mind that if you don't have a strong graphics card, you won't be able to make use of the high refresh rates, depending on the games you play. 
If that's the case, a 1080p gaming monitor like the Acer Nitro VG272 is a good option. In a 27-inch panel, this resolution ends up in pressed pixels, resulting in clear and sharp pictures for the overall experience. 
Furthermore, we noted that this monitor has the same vibrant color pattern as its siblings in the same series. That's because of its DCI-P3 93 percent color gamut, which makes the colors seem as vivid as ever. 
However, if you choose precision above vividness, this one might not be adequate, thanks to its high color gamut ratio and average 8-bit color pattern, which can handle up to 16 million colors. 
As this monitor is geared primarily toward gaming, if you want a high level of color accuracy, you should consider the Dell U2722D, which is one of the finest in its class. 
That said, we can definitely state that, if not the greatest, this display is presently one of your finest options for a 27-inch gaming monitor these days.
Final thoughts
When to buy it
If you need a budget gaming monitor with the Fast IPS technology, you surely won't go wrong with the MSI Optix G273QPF. Still, due to its 1440p resolution, you may or may not prefer to afford a 1080p one, and if you do, note that you can find awesome similar monitors such as the MSI Optix MAG274R2 and the Dell S2522HG. 
You may like