Our Conclusion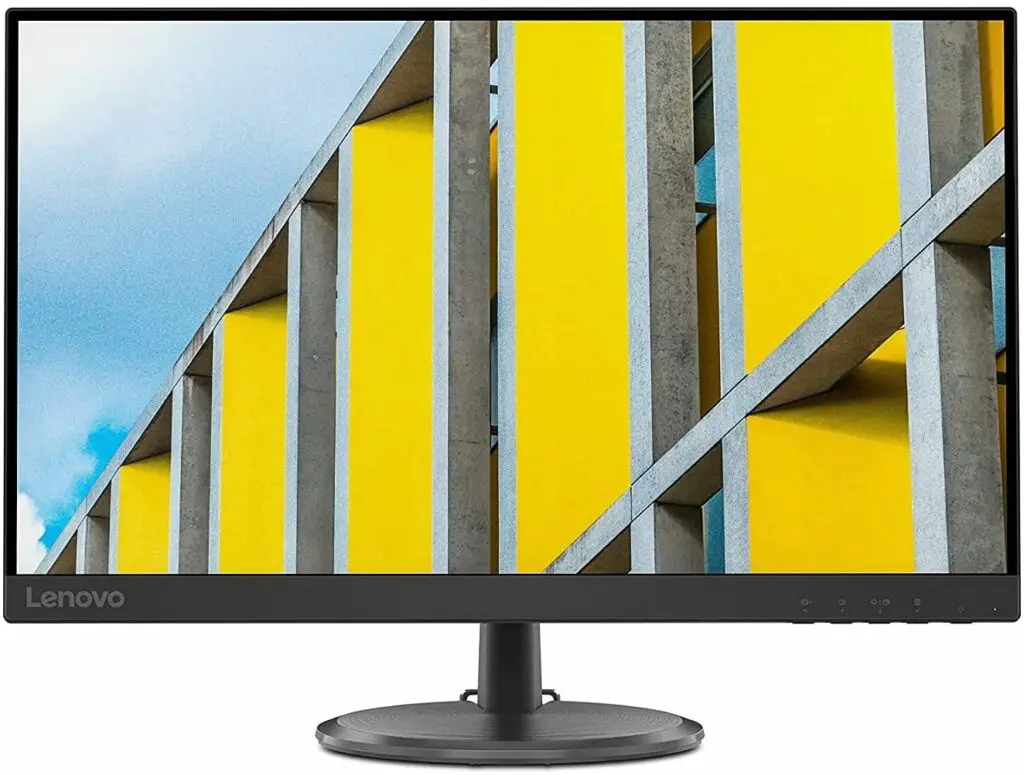 The Lenovo D27-30 is unquestionably one of the most affordable 27-inch displays available right now. With its present costs, it is unquestionably a viable option if you want a cost-effective 27-inch screen with decent image quality. However, because of the VA panel, it does not provide very accurate colors.
Pros
✓ Vivid colors
✓ 75hz
✓ Solid aesthetics
✓ Affordable
Cons
✘ VA panel
✘ Lacks out speakers
Due to picture sharpness differences, almost every 27-inch monitor now has a 1440p resolution instead of 1080p, which makes a significant influence on pricing and consumer decisions. 
Some people are looking for a 27-inch display with basic features and low pricing, but finding one is getting increasingly difficult.
Nonetheless, some manufacturers focusing on low-cost, high-performance displays are working to bring those panels to market, releasing monitors like the Dell S2721HN.
In today's post, we'll look at a 27-inch monitor with basic features and low costs. So, without further ado, let's have a look at the Lenovo D27-30 Review to see if it's a viable option right now.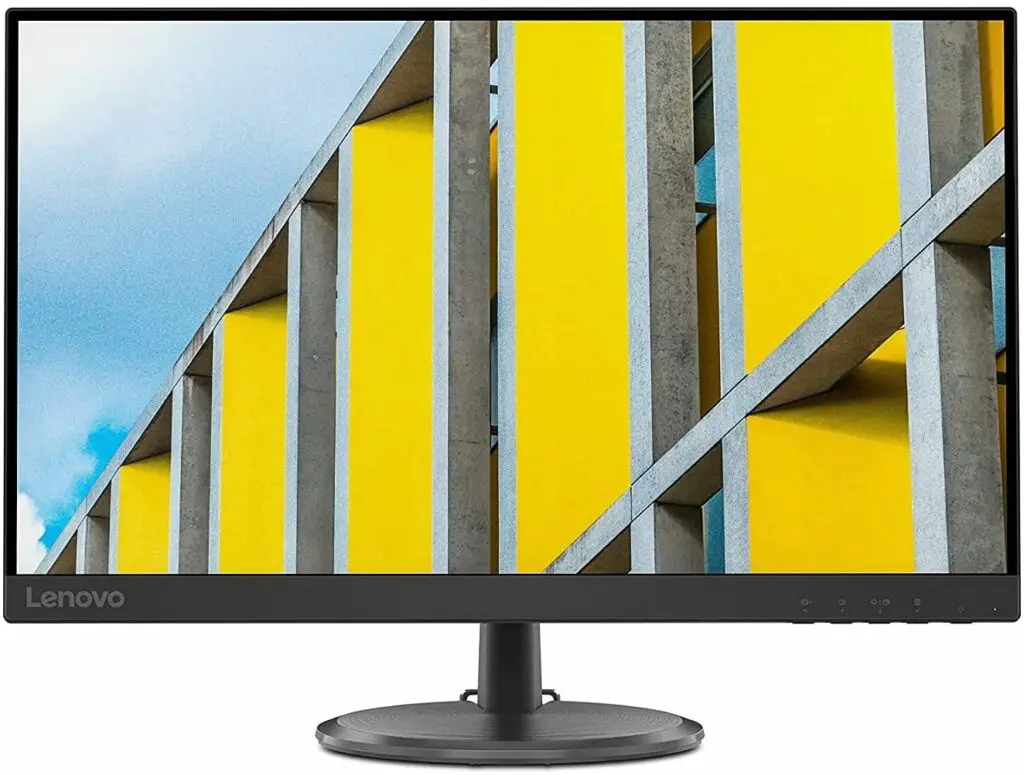 Design
When we look at this monitor as a whole, we can clearly see that they chose to save money on the materials by using low-cost ones.
Its somewhat thick bottom bezel also caught our eye, although this is most of a personal preference for it to be a little smaller. 
Fortunately, they did utilize the borderless 3-sided bezels, which assist this monitor to convey a contemporary vibe that fits current trends. 
This monitor isn't really innovative, and it reminds us of other Lenovo models. It features a circular-shaped stand with limited adjustments, enabling just forward and backward tilting.
Looking at the rear of the display, we can confirm that they chose to save money by making the entire monitor basic and without any eye-catching features. 
If you need to mount it on the wall, remember that it includes VESA compatibility, which means you won't need to buy any other equipment in order to do so. 
However, it does not have speakers, so if you want them, you should skip this monitor and instead go for something like the Dell E2720HS. 
In conclusion, we can say that this monitor is an excellent choice for an office setting because it follows a very solid route of casual looks and solid characteristics.
Connectors
As for its connectors, it won't deliver you anything out of the usual for its price range, but still, at least it has the necessary, including:
1 x HDMI 1.4
1 x VGA
1 x Audio out (3.5mm)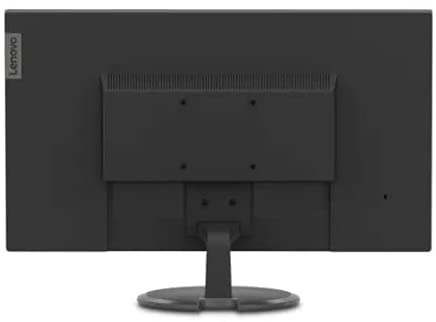 Features
Panel type
Almost every display in this line of Lenovo monitors does not have the hoped-for IPS screen, and it's a frequent pattern we've noticed.
That's probably why these monitors are priced a little lower than normal given their other features.
Of course, because of its color accuracy, the IPS panel is primarily suggested for media professionals, but it is a widespread belief that any display, whether casual or not, should have some accurate colors.
They employ the VA panel, which is still a decent panel in terms of viewing angles but lacks the color accuracy of the IPS panel, being the VA one, as said, featured also in other displays in this series. 
As a result, the Lenovo D27-30 is an unquestionably poor choice for media professionals. 
It can, however, provide vivid colors for casual users depending on other features such as color gamut and color coverage. In the image quality section, we'll look into it more.
Brightness
As previously said, the VA panel may offer decent viewing angles, but not as well as an IPS screen. 
As a result, if the manufacturer does not place a strong emphasis on peak brightness, this monitor will likely perform poorly while displaying images during the day. 
This possibility is boosted even more when the manufacturer chooses a low brightness ratio, such as 250 nits, as they did for this model.
During the night, you won't have any problems, but during the day, the projected graphics on this screen might be proven difficult to be watched with precise colors.
Due to that, if you plan on using the display mostly during the day, I strongly suggest you afford an IPS 250 one or even 300, as both figures are relatively easy to find on cheap displays currently.   
Refresh rate and Response time
The VA panel's advantage over the standard IPS panel is that it may give faster response times, which is why it's so popular in gaming displays. 
Nonetheless, with a monitor designed for casual users such as this one, this advantage is rendered useless. 
This monitor has a response time of 5 ms, which is in line with the current trend for this sort of screen. 
A good response time number, on the other hand, isn't a characteristic to be concerned about for casual displays because it merely enhances the speed at which your instructions show on screen, which is something that a gamer wants, but at the same time, it isn't really necessary in everyday use. 
Aside from that, this monitor has a 75hz refresh rate, which is a significant feature these days, even for casual users, because it enhances the smoothness of the displayed pictures.
When looking for a cheap casual monitor, you should go for a 75hz ratio, thus they did a nice job here. 
This monitor also has AMD FreeSync technology, which eliminates screen tearing then providing even more smoothness.
Image Overall Quality
One thing we didn't mention about the VA panel is that it typically has greater contrast on images than the IPS panel, which is most likely why there are still some people who prefer it over the IPS panel. 
This display has a 3000:1 contrast ratio, which makes it stand out from other IPS displays, which have a 1000:1 contrast ratio. 
Even though this monitor uses a VA panel, you can see that it can reproduce some vibrant colors. 
This is due to a high contrast ratio combined with the 72 percent NTSC color gamut, which has a little broader range than the well-known sRGB 99 percent. 
It, on the other hand, features a basic 8-bit color pattern that supports up to 16M colors, which is standard for this price range. 
As a result, we can confidently state that this is not a monitor that a media professional should purchase; instead, better choices such as the Dell U2722D are available. 
Finally, it features a 27-inch screen with a 1080p resolution, resulting in clear pictures with an average PPI ratio and plenty of screen space. 
As a consequence of all of this, we can surely say that this monitor indeed offers the visual quality that is anticipated of a casual display with even more vivid colors than usual.
Final thoughts
When to buy it
If you need a good VA, 27-inch monitor and do not care about its lack of speakers and some connectors, the Lenovo D27-30 is indeed one of your best choices nowadays. 
Still, bear in mind that you can find 24-inch displays at the same price range and with an IPS panel, delivering even more image quality, like the LG 24MP400-B and the ASUS VL249HE. 
You may like