Our Conclusion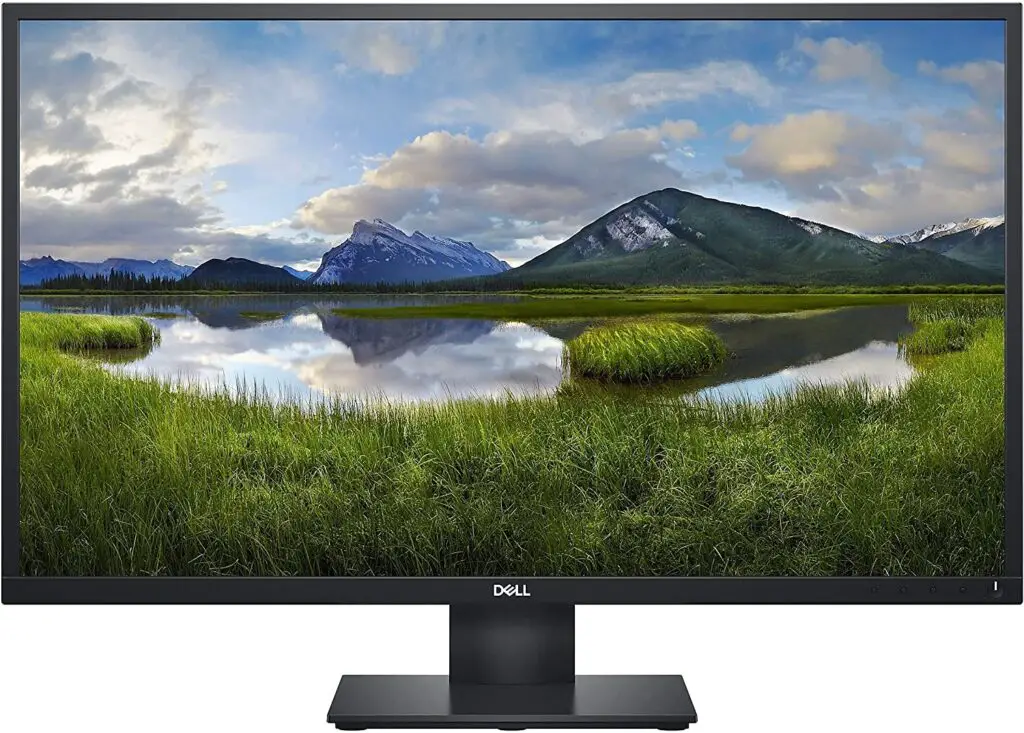 The Dell E2720HS has the same problem as the previously reviewed Dell monitor (Dell S2721HN) in that it has a low PPI ratio and a high Pixel pitch number resulting in washed images. If you still require a 27-inch 1080p monitor, I recommend the LG 27ML600M-B, which has superior overall features and cheaper prices.
Pros
✓ IPS panel
✓ VESA support
✓ 300 nits of brightness
Cons
✘ 60 Hz
✘ Low PPI ratio
✘ Dated aesthetics
We were looking for cheap 27-inch monitor models for this week's reatbyte reviews when we came across the Dell S2721HN, which has incredibly fantastic costs but washed images compared to a 24-inch one. And for today's post, we got this Dell release from last year, which has the 27-inch as well. 
It does, however, have the disadvantage of costing slightly more than the average. As a result, in order to satisfy our curiosity, we'll be reviewing it to see if the features will truly match the costs. So, without further ado, let's have a look at the Dell E2720HS Review and see if it's a good investment.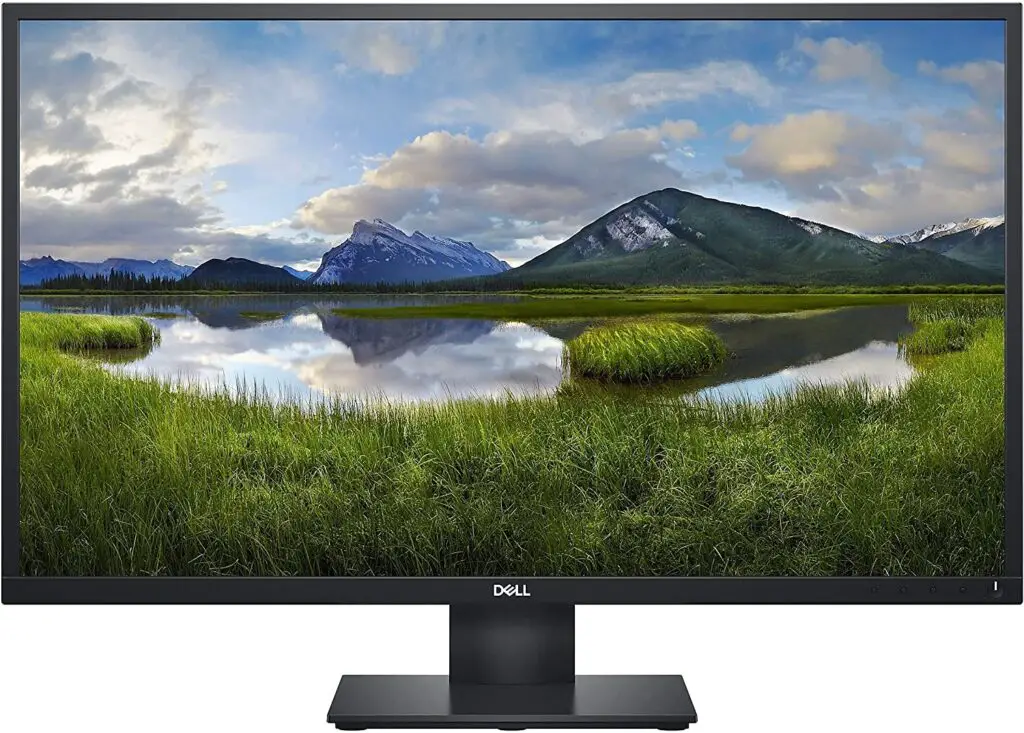 Design
Because this monitor was released in 2020, I assume that some of its aesthetics will match monitor trends at the time. The lack of 3-sided borderless bezels, which is the current trend in monitor aesthetics, is the first thing that attracts your notice when you first look at it.
Nowadays, 3-sided bezels are used to modernize the display's overall looks. The display's bezels, on the other hand, aren't overly thick. Apart from that, this monitor features a matte black design, which is common even among newer screens. 
In addition, it measures 24.47 x 20.01 x 7.36 inches, which gives it a very thin appearance. It is, however, slightly heavier than other Dell 27-inch monitors, such as the Dell S2721HN. 
It features a squared stand with a nice range of adjustments, which is the first characteristic that could explain the display's high costs. It has tilt and height, which may or may not be sufficient for you, depending on your needs.
Looking at the back, we can see that it, thankfully, has VESA support, allowing it to be easily mounted on the wall. It's also worth noting that it has two 1W out speakers, which are unquestionably among the worst of all the monitors we tested.
In general, the aesthetics of this monitor are unremarkable; in fact, it disappointed us a little.
Connectors
About connectors, this monitor disappointed us again, featuring only an HDMI and a VGA port, lacking some important connectors.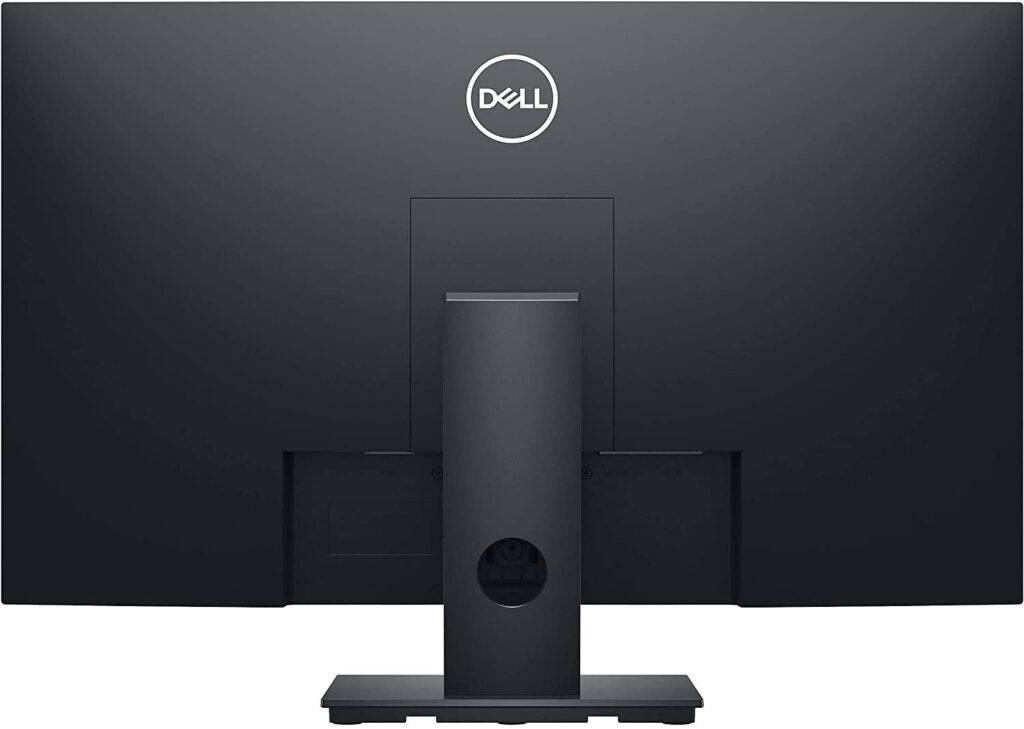 Features
Panel type
If this monitor, which is described as a casual one and costs roughly $250, didn't include an IPS panel, it would be a non-viable alternative at this price.
Fortunately, they chose the proper panel for this display and used an IPS panel. This panel offers improved viewing angles and color fidelity, making it a must-have for professionals. 
However, this panel is no reason for the display's high costs, given comparable IPS displays, such as the Dell S2421HS and the Acer K243Y, are less expensive. If you prefer more contrasted colors, you can go with a VA panel, but you'll lose accuracy compared to an IPS panel.
Brightness
Another advantage of the IPS panel is the little variances in brightness levels, which vary based on the manufacturer's preference. Of course, there are still significant variations between, say, a 250 nits IPS panel and a 400 nits IPS monitor. 
The point is that the differences between 250 and 300 will not be as significant as they would be for a VA panel. 
However, in order to keep the features in line with the pricing, Dell chose 300 nits for this monitor, which is a common ratio that will provide you with everything you need. Even during the day, this ratio will offer you enough brightness to utilize the computer for gaming or even work.
Speaking of which, it's time to evaluate this display's gaming capabilities and see whether there's anything unusual about it that makes it stand out.
Refresh rate and Response time
Given this monitor's "gaming" features, I'm afraid it'll be one of the first Dell monitors I don't suggest to you. To start with the disadvantages, this monitor has a 60hz refresh rate, which is definitively unsuitable for this price range. 
It's been a long time since manufacturers abandoned 60hz for casual monitors, and the 75hz revolution began. The smoothness variations between a 60hz and a 75hz display are extremely evident, especially when comparing both sides.
While 60hz may provide you slower images, 75hz will give you an excellent smoothness ratio for your gaming or everyday use.
Aside from that, this monitor has a response time of 5 ms, which is still considered acceptable for casual monitors today. 
Keep in mind that neither of these numbers is recommended for competitive gaming; instead, if you want to go hard on the games, consider purchasing a 144hz 1ms monitor such as the Dell S2522HG.
Image Overall Quality
The Dell E2720HS has the same issue as the previously reviewed Dell 27-inch monitor (Dell S2721HN) for being a 27-inch Full HD display with a low PPI ratio of 81 and a high pixel pitch number of 0.311 mm x 0.311 mm. 
The pixel pitch number becomes much more important when it comes to a 27-inch display with a 1080p resolution. The pixel pitch is the distance between the center of one pixel and the center of another on the screen, with the smaller the number, the clearer the image. 
A 27-inch, 1080p monitor like this one already has a low PPI (pixel per inch) problem, which causes blurry images.
When a manufacturer chooses not to lower the pixel distance on a display of this size, the result is a washed image compared to a 24-inch screen. 
Overall, this monitor has essentially the same features as the Dell S2721HN; it costs significantly more and has the same issue of washed images like this one. As a result, I can't suggest it to anyone looking for a high-quality 27-inch monitor. Instead, I suggest using a higher resolution, such as featured on the Acer Nitro VG280K.
Final thoughts
When to buy it
Even costing more than the Dell S2721HN the Dell E2720HS has worse features such as 60hz, thus, I do not recommend you to afford it currently at this price range. 
As for a recommendation, you can check out the: Acer Nitro VG280K and the LG 27ML600M. Both are good 27-inch monitors with awesome image quality and way better price-performance than this one.
You may like