Our Conclusion
Standing in the standard but functional category, the LG 27ML600M-B, with its current prices, is today no more than the cheapest 27-inch professional monitor on the market. Still, it has 1080p of resolution, so if you need plus sharpness, I suggest you take a look at this LG affordable 1440p monitor: LG 27QN600-B.
Pros
✓ Up to date aesthetics
✓ IPS panel
✓ 27-inch, 75hz
✓ VESA and AMD FreeSync support
Cons
✘ Lack of USB ports
✘ No out speakers
✘ Lack of a DP port
LG is a well-known brand that consistently releases cutting-edge displays. This year, they went above and beyond with the LG 24QP500-B, which is by far the best LG 2021 release and likely one of the most affordable 1440p monitors. 
However, as with every other brand, not every release becomes a hit. We have the not-so-popular LG MK430H on the market, which increased its prices this year but was still the cheapest 1080p IPS display in mid-2020.
And for today's post, we've got another LG 2020 straight-to-oblivion release that doesn't seem to get the recognition it deserves. Check out the LG 27ML600M-B review below to see if this monitor is right for you.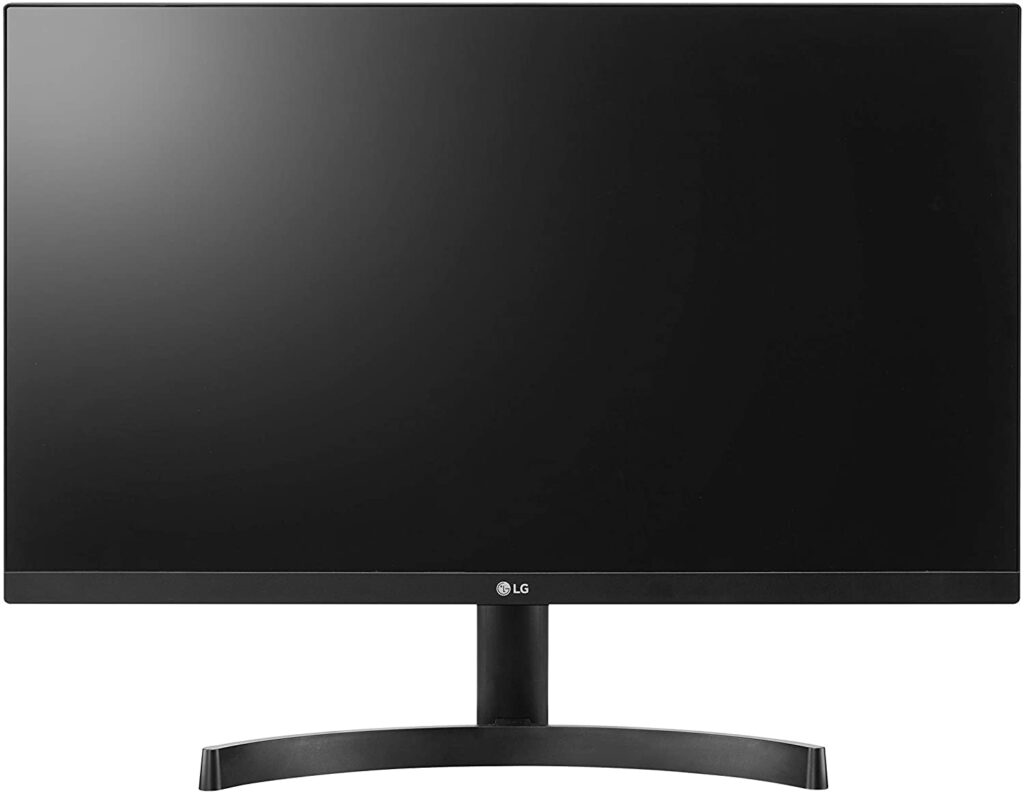 Design
Although this is not a trendy monitor, it closely resembles the mainstream in terms of design. So far, I'm perplexed as to why this display is so left forbidden.
This monitor is almost identical to the LG 32QN600-B, except for the fact that it is a 27-inch monitor with a smaller and thinner display. Aside from that, both have the same half-circular stand, entirely in a black finish, and the popular borderless bezels style, which gives you a wider field of view.
Looking at the back of the display, we can see that it has VESA support, allowing it to be easily mounted on the wall.
Unfortunately, this monitor does not have out speakers, which would be a good combination with the VESA support, but, probably to reduce prices, they decided not to add those. 
Connectors
Continuing on the back, looking at the connectors, we can see 2x HDMI, 1x D-Sub, and 1x Headphone out. Note that this monitor has AMD FreeSync support, but it does not have a display port connector. So, if you need a sync feature, be aware when choosing this display depending on your graphics card.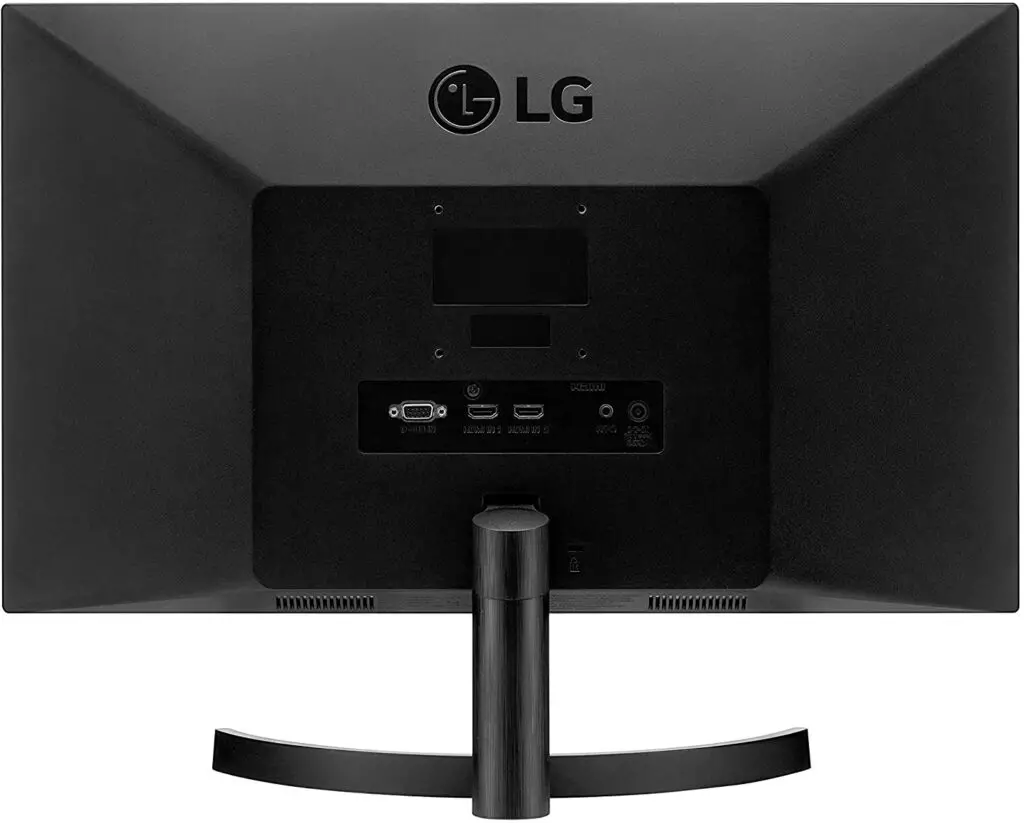 Features
Now, let's take a few looks at the features of the LG 27ML600M-B to see who is its target buyers.
Panel type
Starting with the panel type, one of the first indicators that this display is more professional-focused than gaming-focused is due to its panel type. When it comes to color precision and viewing angles, the IPS panel outperforms the other two (TN and VA). As a result, media professionals who want the highest picture quality typically choose the IPS.
The TN and VA panels, on the other hand, have their own merits, with the VA panel usually having higher contrast ratio margins, while the TN has the advantage of being less expensive and with low input lag.
For this monitor, LG decided to implement the IPS panel, together with the NTSC color gamut of 72% (CIE1931), which is the equivalent to the typical sRGB 99%.
Not very clever by LG, though, as laypeople can believe that this number is inferior to the sRGB 99%, while these numbers are completely standard. If you need higher coverage than this, you have to spend a lot more than the budget of this monitor.
Besides, this monitor features 16.7M of color depth, which is again the standard for this price range. Even so, they say the human eyes can only see 10 million colors, so you'll be good with 16.7M probably.
Still, if you're willing to spend more and really need the plus colors, you can check out the LG 32QN600-B with its 1.07 Billion supported colors.
Brightness
Also, this monitor counts with 200 cd/m² of minimum brightness and 250 cd/m² of maximum. These numbers are obviously not the best you can get on a display, but once again, you have the typical.
So far, this display has shown to be pretty standard, with nothing out of the ordinary for this price range. Nonetheless, this is probably one of the cheapest 27″ displays available this year.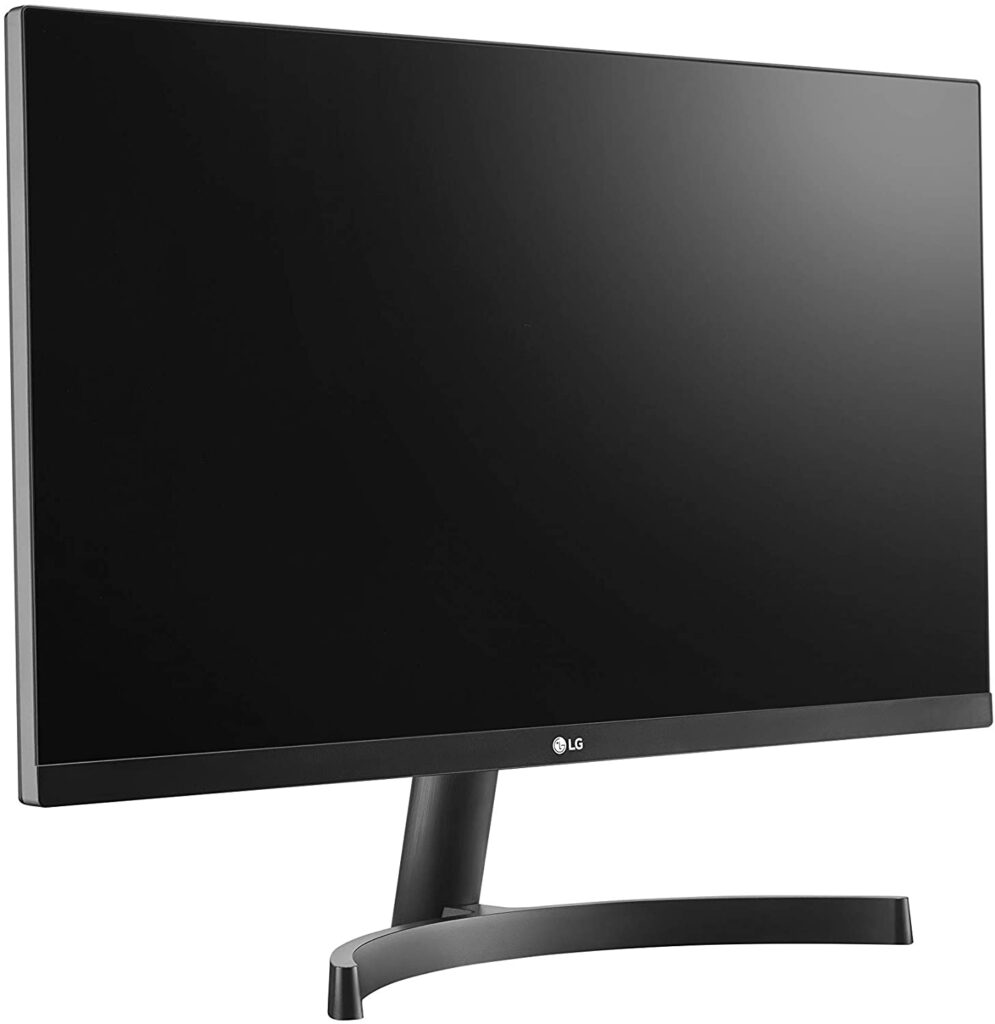 Refresh rate and Response time
Here it is, just as I figured out when I first saw the prices of this monitor. When you see an affordable monitor with an IPS panel, you can already imagine that it won't have the best gaming features ever. And it's the same for this one.
Even so, LG decided to implement 75hz, giving a slight difference from the 60hz, making things a bit smoother, but still, this is not competitive gaming recommended refresh rate. 
However, if you're a casual player, 75hz is a decent amount to go for.
Also, they opted to add 5ms of response time for this monitor and 1 ms of virtual Motion Blur Reduction, which is useless given that this is clearly not a gaming model.
Image Overall Quality
Unfortunately, depending on the display's resolution, one of the biggest drawbacks of having a monitor larger than 24 inches is the poor PPI (pixels per inch).
The LG 27ML600M-B is a 27-inch display with a 1080p resolution and a pixel pitch of 0.3114 x 0.3114 mm. The pixel pitch is the difference in millimeters between two pixels, measured from one to the other's center. 
While a higher pixel pitch indicates a greater gap between pixels, which blurs resolution, a lower pixel pitch results in clearer images with the highest resolution.
For those that like sharper frames, the recommended maximum size for 1080p is 27 inches; beyond that, 1440p is a better option.
Fortunately, as compared to a 24″ monitor, the LG 27ML600M-B does not exhibit the high pixel pitch issue as much, so you can relax at this concern.
Aside from that, this display has a maximum contrast ratio of 1000:1, which is on average for IPS screens.
Final thoughts
When to buy it
If you need a casual display with good image quality, affordability, and 27 inches, the LG 27ML600M-B is one of your best options this year.
When not to
However, it may disappoint you if you want a gaming monitor. In this case, I suggest you check out this budget 27″ model: HP X27I.
You may like