Our Conclusion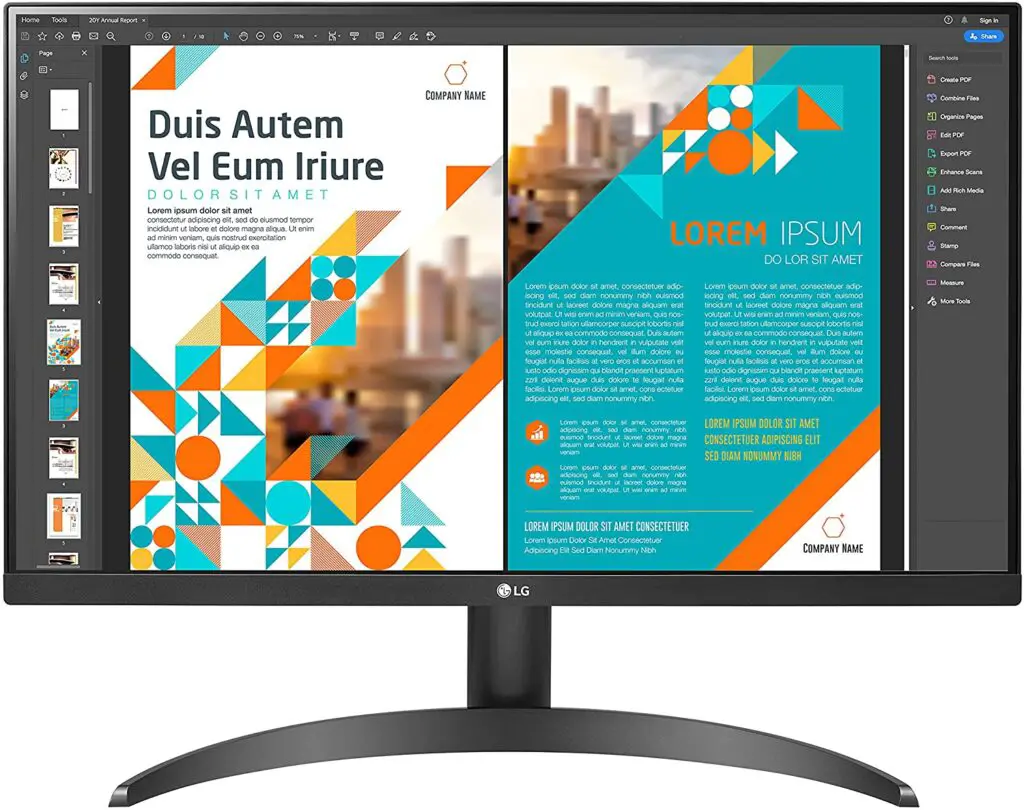 The LG 24QP500-B is, without a doubt, the best LG monitor release of 2021 by far. LG did an excellent job of keeping the design straightforward while investing in the display image quality. You won't be able to find a decent monitor with these features for less than this one, at least not right now. However, if you're a competitive gamer, this isn't the best option due to the total response time number; in that case, check out this 1440p gaming option, HP X27I.
Pros
✓ IPS panel
✓ Affordable 1440p monitor
✓ HDR 10 support
✓ 75hz
Cons
✘ Limited stand adjusts
✘ 5ms of response time
This month in reatbyte, we're looking at some high-resolution, high-image-quality monitors for those who need a decent monitor for working with image/video editing.
The Dell P2421D and the LG 32QN600-B were by far our best choices in terms of price-performance options. When it comes to picture quality and color accuracy, these are all true monsters.
And now, we have a brand new insane competitor from LG, which, at first glance, appears to have even better quality than the previous choices. Find out whether you can add the LG 24QP500-B to your shopping list by reading the LG 24QP500-B Review below.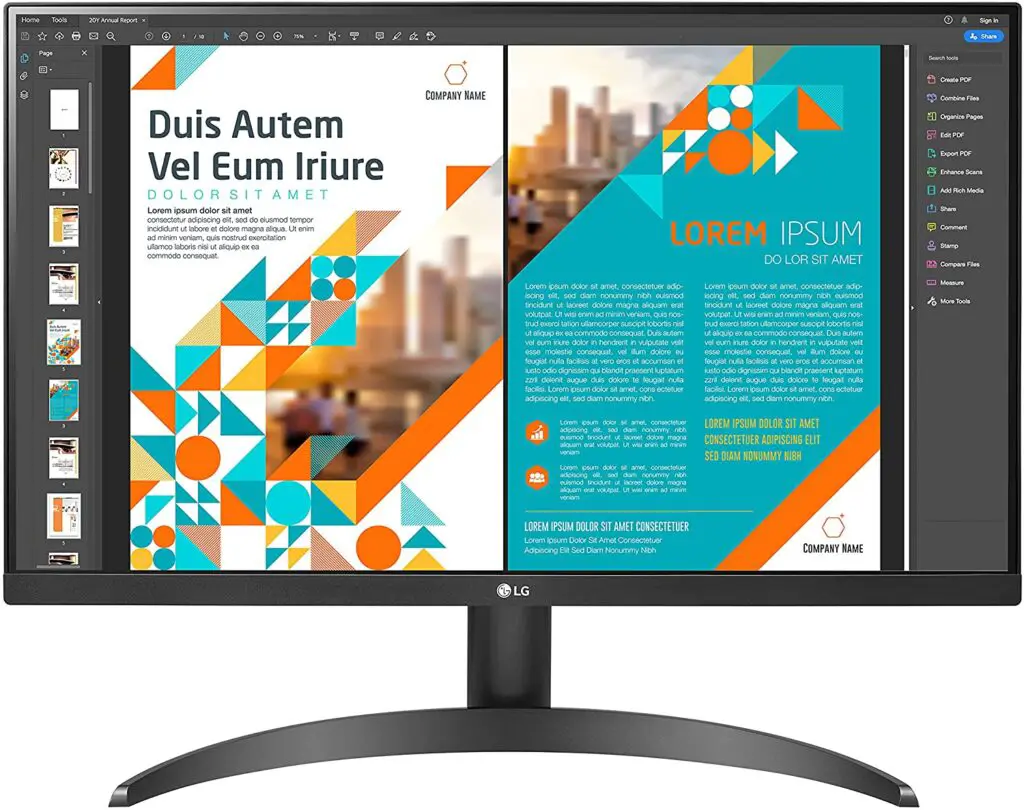 Design
At first glance, we find that this is yet another overused and popular design among newly released LG monitors. Other versions, such as the LG 32QN600-B and the LG 27QN600-B, already have this design with the half-circular stand.
The LG 24QP500-B happens to be a 24″ variant of the LG 27QN600-B, which has a 27″ display. In the Features section, we'll look at the differences between these two.
Overall, this monitor has a basic but solid black finish and, as previously said, a firm half-circular stand with only tilt support. Unfortunately, unlike the previously reviewed monitor (HP X27I), this one lacks RGB LEDs, so we can already rule it out as a gaming display. About dimensions, this monitor measures 21.3 x 8.3 x 16.3 inches and weighs 8.80 lbs.
Connectors
On the back, we have 2x HDMI ports, 1x Display port, 1x Headphone-out. Also, this monitor has VESA support, which will help you in case you want to place it on the wall.
Design downsides
Fortunately, this monitor's simple architecture does not have any flaws. However, some may be concerned that it is not as thin as other 24 inch displays, but it is also not as thick as some other LG versions.
Features
Finishing on the design, let's head now to the features of this monitor.
Panel type
Let's start with one of this monitor's masterpieces, the panel type. When it comes to color quality and viewing angle, the IPS panel has the best quality on the market right now.
The IPS panel is said to be the priority chosen for those who need a monitor for working with images and videos. Besides, some say this panel turns this monitor a bit more expensive than it would be with a TN panel, for example. 
Due to that, gamers tend to avoid the IPS panel when they need to save some money. However, what really turns a monitor expensive enough is the combination of gaming features like 144hz and 1ms, together with the IPS panel like the HP X27I monitor.
One of the main downsides of choosing an IPS panel is the possible IPS glowing depending on the monitor's building quality. The LG 24QP500-B, luckily, does not have excessive light bleeding.
Color gamut and Color accuracy
Besides the great viewing angle, the IPS panel also provides great color accuracy support. Precisely, supporting 16.7M colors and sRGB 99% (CIE1931) of color gamut.
Brightness
Further, this monitor has 300 cd/m² of the total brightness, which is a good number for this monitor's price range. Still, trust me when I say you're probably not going to use it at maximum brightness since LG monitors are known for their bright monitors.
Refresh rate
Now, we're getting into the non-gaming features of this monitor. Starting with the refresh rate, the LG 24QP500-B has 75hz. Although some say it has not too many distinguishable differences between 60 and 75hz, as a 75hz user, I can say that there is indeed some noticeable difference. 
Of course, it lacks the smoothness of a 144hz display, but for casual gamers and those looking to save money, this is the best refresh rate choice.
As a result, we can add this feature to the LG 24QP500-B monitor's list of advantages. However, if you are a competitive gamer who needs 144hz, I recommend looking into other inexpensive options such as the LG 24GL650-B.
Response time
Lastly, here we have our first downside of this LG monitor. Unfortunately, 5ms of response time might be too much when it comes to a good number for competitive FPS games. As a result, we can claim that this is not the right monitor for you if you need a gaming model.
Image Overall Quality
The image quality of the LG 24QP500-B positively amazed us all. It has, without a doubt, the highest image quality in this price range. This monitor, which has a 24″ display with a 1440p resolution, has a high Pixel density or Pixel per Inch (PPI) of 0.2058x 0.2058mm, which will give you clearer images and improve sharpness.
This, combined with the IPS panel and HDR 10 support, enhances this display's image quality to new heights. About the other versions of this monitor, the LG 32QN600-B and the LG 27QN600-B, I will recommend you the 24″ version due to its lower price and higher PPI, or the 32″ version if you require a larger display. You can check its current prices here and find out which is the best for you. 
Final thoughts
When to buy it
If you need an affordable monitor with a great image for work but at the same time want to play some casual games, the LG 24QP500-B certainly won't disappoint you.
When not to
However, if you are a competitive player and need a competitive gaming monitor as well, you have some other cheap options like the HP X27I as a 1440p gaming one and the LG Ultragear 24GL600F-B as a 1080p cheap choice.
You may like